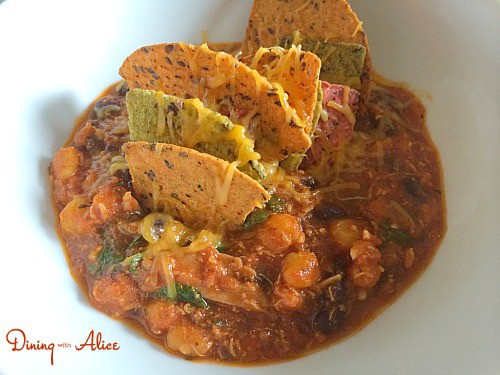 Ah spring, you know-the weather warms up, sun shines and flowers poke through the dirt.  Or, the snow falls, then the rain pours and we cling any moment of sunshine. Waiting in-between seasons, not sure what will be next sun, rain or maybe even snow.  The other day I laughed at the irony of my coffee-an iced pumpkin latte.  It embodied what is going on in our weather right now-we can't decide if it's fall, winter or spring, it may in fact be a combination of all.  So when we still need some warm comfort food to get us through until spring really arrives this will do.  And really, what soup isn't amazing when cheese-covered chips are on top?
Ingredients:
1 medium onion
2 TB Olive Oil
1 tsp Cumin
1 tsp Salt
2 cans (15.5 ounces) Black Beans
2 cans (15.5 ounces) Golden Hominy or Corn
2 jars (26 ounces) Marinara/Spaghetti Sauce
2 cups Chicken (cooked and pulled)
2 cups Cheddar (finely shredded)
1 cup Cilantro leaves
Topping: Nacho chips, Cheddar (finely shredded)
Directions:
In a soup pot over medium heat sauté onion and olive oil until tender. Add cumin, salt, beans, hominy, marinara/spaghetti sauce and heat until bubbling.  Reduce heat to low and add chicken, cheddar and cilantro. Top bowls of soup with chips and cheese, use oven, microwave or toaster oven to melt cheese on chips.
Serves 8-10