Smoky and Saucy BBQ Crock Pot Ribs easy recipe made right in your slow cooker.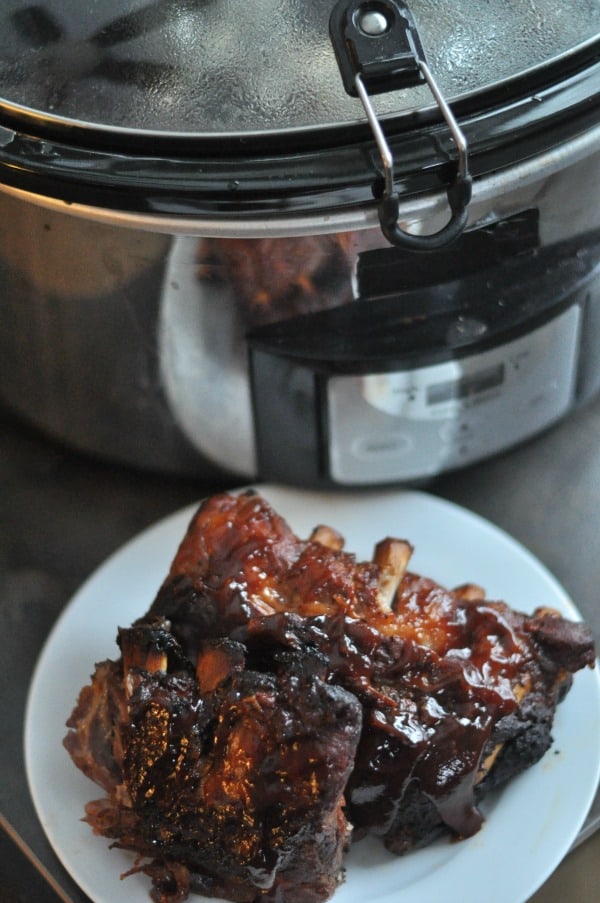 An easy recipe for smoky and saucy BBQ crock pot ribs made right in your slow cooker. Seasoned with a dry rub and brown sugar, these pork baby back ribs are steamed and fall off the bone. These saucy crock pot BBQ ribs are just what you need when you don't feel like grilling. The ribs are seared brown to give texture and rich flavors and then steamed slowly in your slow cooker.
During Super Bowl this year, my husband and I decided to have a rib cook-off and we named our kids as the judges. My husband can cook three things: hummus, pesto and ribs. It is well-known in our house that he is the rib master so when I threw down the gauntlet to challenge his grilled ribs it was a real competition. He steams his ribs in the oven and then finishes them off on the grill. His process is an all-day, consuming process that requires the grill and that certainly results in great ribs but I wanted to see if I could create ribs just as delicious without as much effort.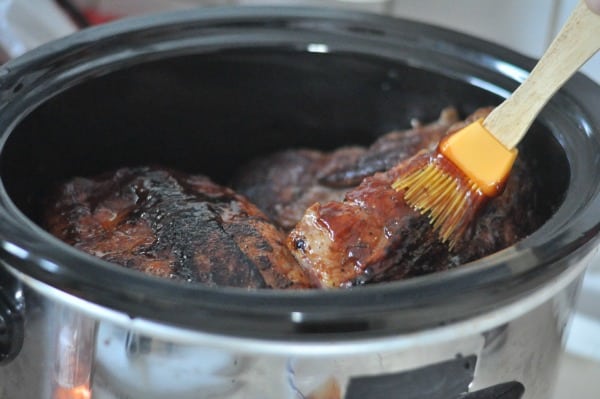 The reality is that sometimes I don't want to mess around with the grill and I just want dinner cooked in the crock pot. The first step for these crock pot ribs is to rub them with seasoning and searing them brown in a skillet. Searing the meat gives the ribs great flavor and texture.
[bctt tweet="Smoky and Saucy BBQ #CrockPot Ribs easy recipe made right in your #slowcooker."]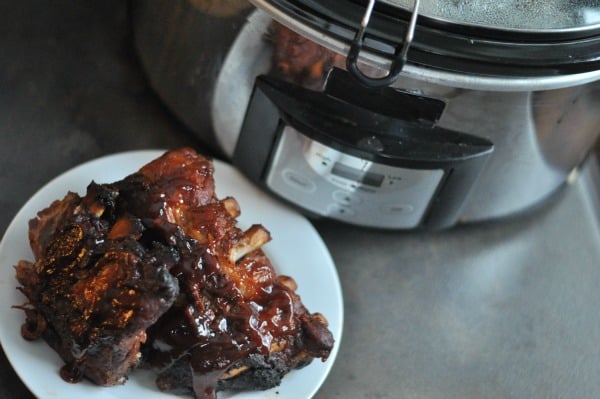 Another one of my tricks you'll find in this recipe is that I make tin foil balls inside the crock pot and rest the ribs on top. This ensures the meat doesn't sit in the water liquid that is used to steam the ribs. I put the ribs right on top of the tin foil and brush the ribs with butter and BBQ sauce.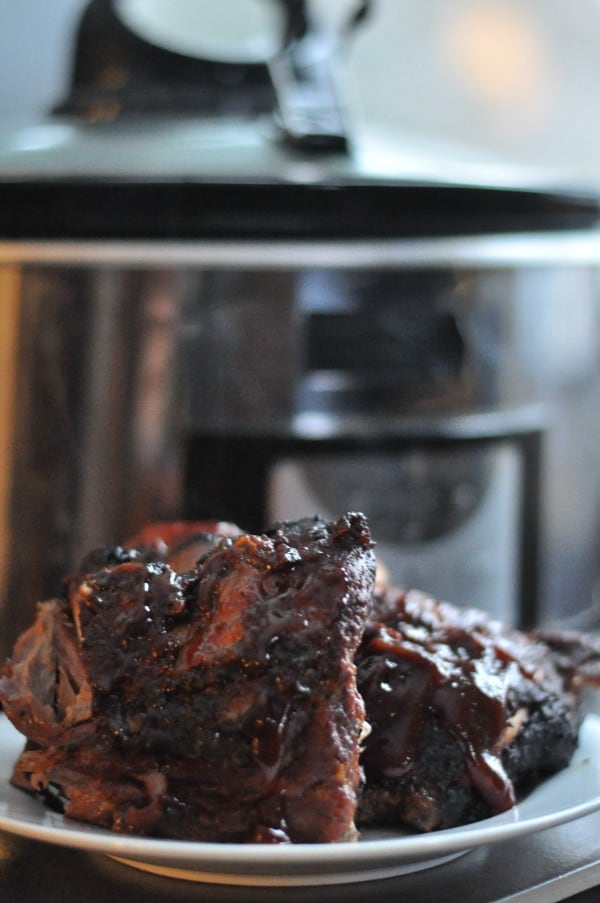 Steaming these Crock Pot ribs makes them fall off the bone and when they come out I brush more sauce on and season with salt. If you want to, you could put them on the grill after to get more texture but we enjoy them right out of the crock pot. And the winner of the rib cook off? The kids declared a tie. "Dad's are crispier and Mom's are more tender."
[bctt tweet="Crockpot rib recipe inspired by @RevenantMovie #TheRevenant @Oscars_Live #oscars2016″]
This recipe was created for a blogger collaboration for the 2016 Academy Awards Best Picture Nominees (My 2015 Oscars Inspired Recipe was a Nutella Milkshake).  These Crock Pot ribs were inspired by the movie, The Revenant. The movie is about a frontiersman who fights for survival after a bear attack. For my inspired recipe, I knew I wanted to create a hearty meat dish. One of my favorite parts of the movie was when Hugh Glass, the lead character, finally finds a friend and shares a meal from a bison. The movie, while filled very disturbing images of survival and betrayal, was beautifully shot and I loved the images of winter and wilderness. Check out the other 2016 Academy Award Best Picture inspired recipes below:
The Big Short: Jenga Veggie Towers with Creamy Cilantro Dip from Flour Arrangements
Bridge of Spies: Bitesize "TV Dinner" Meatloaf Appetizers from Pickles Travel
Brooklyn: Chocolate Stout Cannoli from Femme Fraiche
Mad Max: Fury Road: Ruby Red Grapefruitcello from Making It With Stephany
The Martian: Homemade Cheddar and Chive Tater Tots from The Honour System
Room: Victoria Sandwich Cake from Savoury Table
Spotlight: Cheesy Boston Clam Dip from Cheap Recipe Blog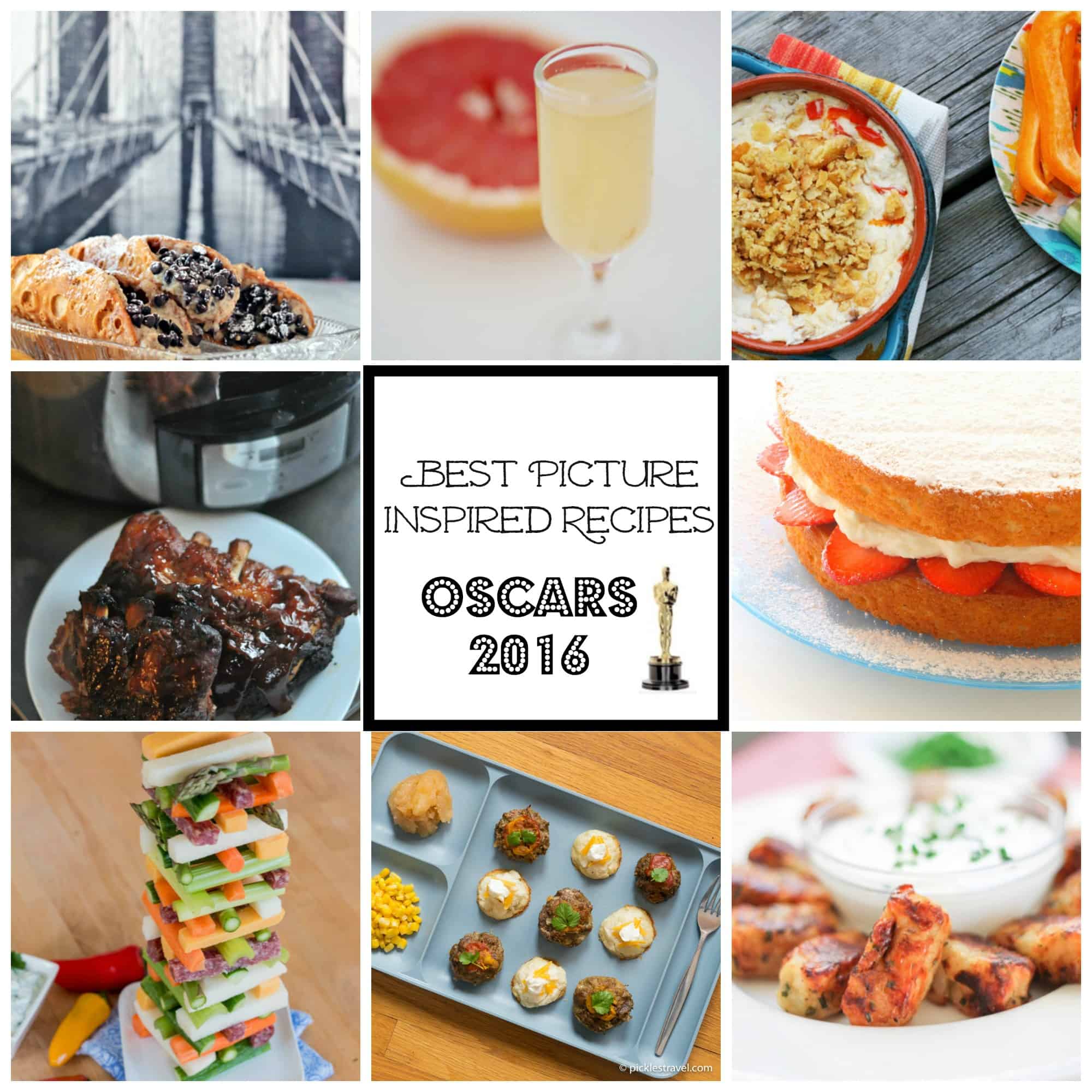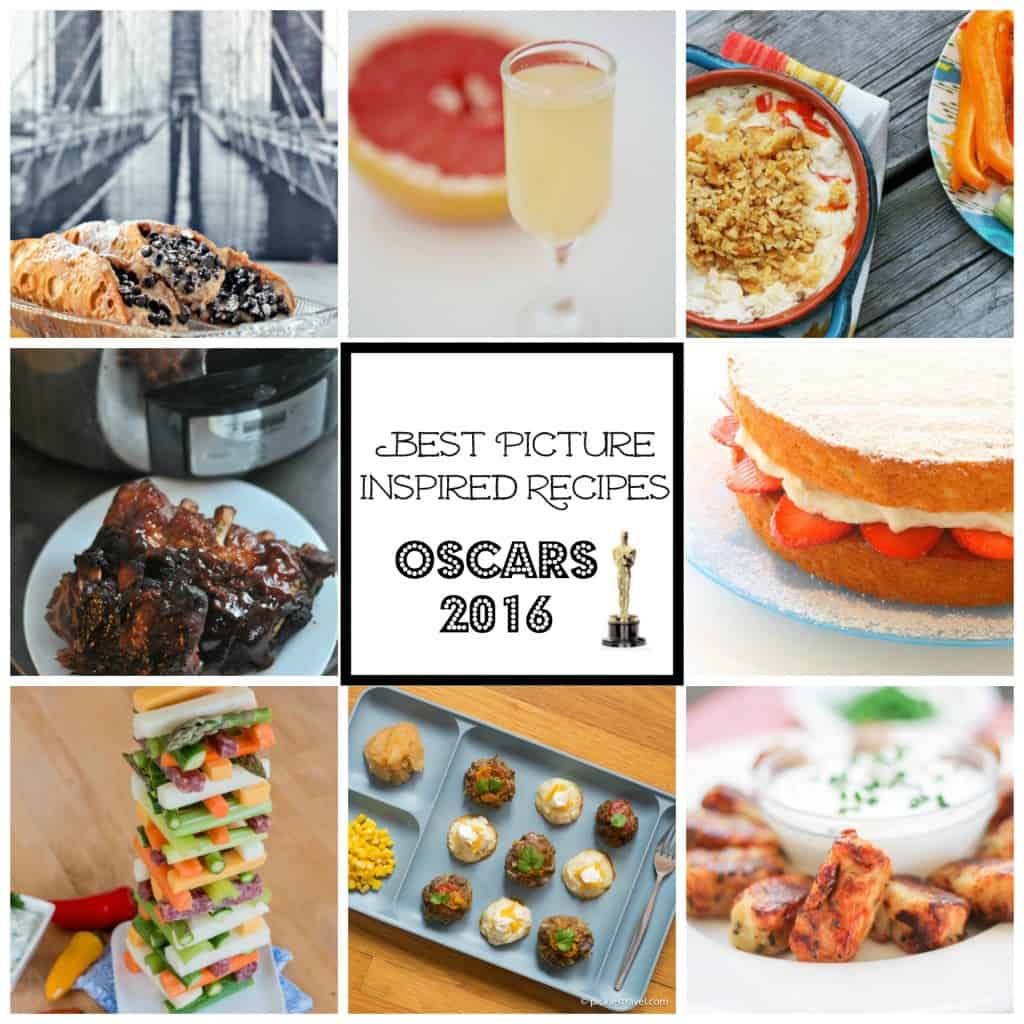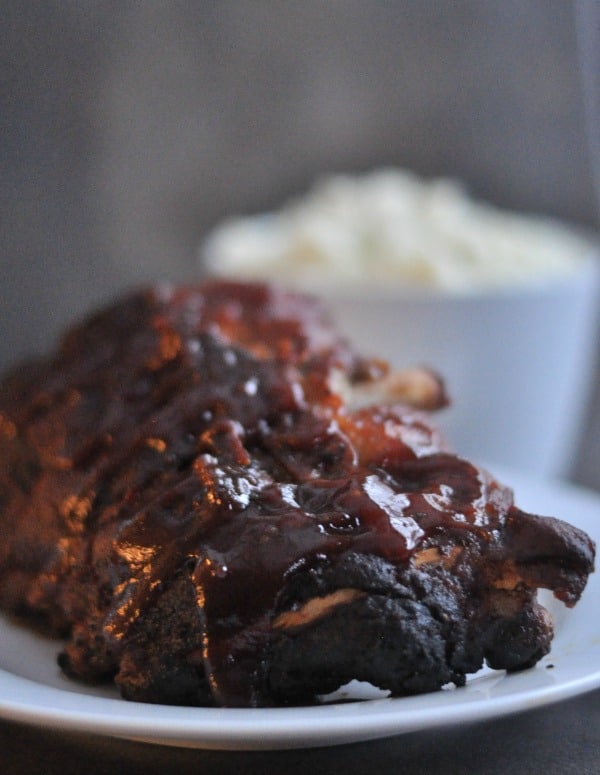 Crock Pot Ribs
Ingredients
3lbs Baby Back Pork Ribs
¼ cup Brown Sugar
2 tsp Salt, divided
1 tsp Garlic Salt
1 tsp Onion Powder
1 tsp Smoked Paprika
2 TB Olive Oil
8 TB Butter (melted)
1 cup BBQ sauce, divided
1 cup water
Instructions
Cut the baby back ribs into three sections. Place ribs on a rimmed cookie sheet. In a small dish, combine the seasoning rub: brown sugar, 1 tsp salt, garlic salt, onion powder and smoked paprika. Pat the ribs dry with a paper towel and rub with seasoning.
Heat a cast iron skillet with the olive oil over medium-high heat and in batches, brown the ribs by cooking a few minutes on each side. Do not crowd your pan.
Cut three squares of tin foil at least 12 inches long. Make each sheet into a ball and place the tin foil in the bottom of your crock-pot slow cooker.
Place ribs on top of the tin foil. Pour the butter over the ribs and brush the ribs with ½ cup of BBQ sauce. Pour the water in the bottom of the crock pot (not over the ribs).
Cook in your crock-pot slow cooker on low for 8 hours.
Once cooked, brush on remaining BBQ sauce and season with remaining 1 tsp of salt or to taste.