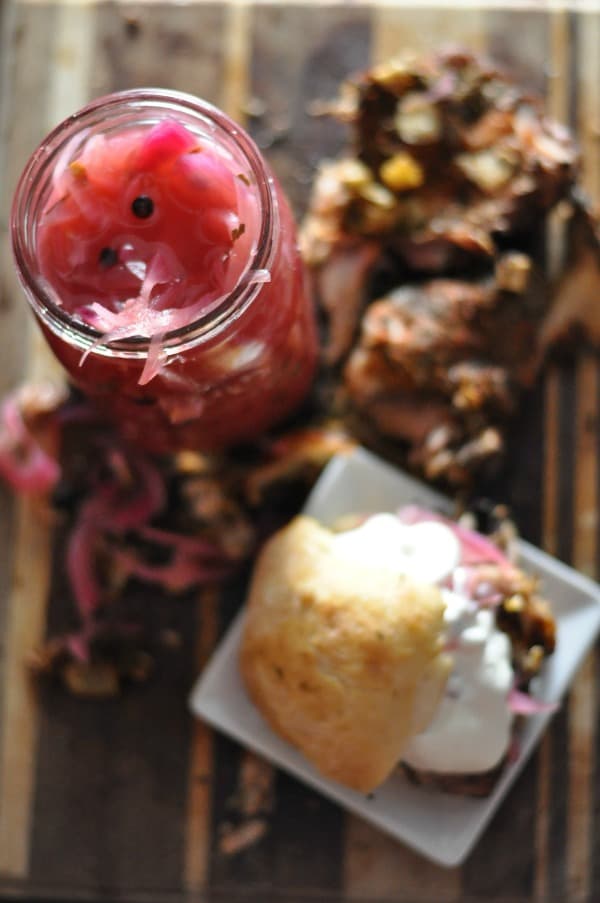 Sweet and tangy pickled onions are e.asy to make and great on tacos and sandwiches.
This post contains affiliate links.
Pickled onions are perfect on tacos, pizza, burgers or by the fork, these tangy gems are so easy to make and bring out an abundance of flavor in so many dishes.
It was Friday night, I was exhausted. It was a long week and my lady had already cooked dinner. She worked all day long, eight hours in fact, slow roasting a Minnesota favorite, Porketta.
The week was filled with busy shuffling and all I wanted to do was sit down and enjoy the dinner my Crock-Pot had made.  But it wasn't complete without pickled onions.  Even my husband questioned my intentions. What are you cooking?
This is a common interrogation in our house.
Nothing. Just something.
This is my I'm not paying attention to you but I kinda am. So I'm responding.
I bought two big red onions earlier in the week and knew they'd be the perfect complement to my Porketta sandwiches.  That little zing from pickled onions was needed. The zing Minnesotans have. My sandwiches needed these sweet and tangy onions.
I used my Cuisinart food processor thick slicing disc (this is an affiliate link) to first slice the onions.  This slices them into perfect 1/4 inch slice.
The pickling liquid is simple for the onions, it really was just things I had in my pantry.  The taste is a tangy vinegar onion spiked with flavors of anise and a bite of spice.
I made them on a Friday night, exhausted and were they worth it? Yes. Do they pair perfectly with my Porketta? Yes. Should you make these this week. Yes, friends, do it now.
This makes a giant jar quart size jar (affiliate link).  You can half the recipe I suppose but think of the endless possibilities for these onions: scrambled eggs, goat cheese and crackers, burgers, brats, sandwiches, meatloaf, wow. Seriously, you need to make these.

Pickled Red Onions
Ingredients
2 Large Red Onions
1 cup Apple Cider Vinegar
2 cups White Balsamic Vinegar
1 cup water
½ cup Sugar
2 tsp Salt
1 TB Juniper Berries
½ tsp Star Anise (ground)
1 TB Pickling Spice
Instructions
Slice onions into ¼ inch slices.
In a sauce pan over medium heat combine apple cider vinegar, white balsamic vinegar, water, sugar, salt, juniper berries, ground anise and pickling spice. Stir to combine.
Bring to a boil and remove from heat. Once cooled place onions in quart canning jar and then add liquid until filled.
Store in fridge for 2 weeks.