I am currently serving as a Smart Play Ambassador with the Minnesota Children's Museum and each month we explore various topics and share the educational learning opportunities at the museum as well as apply it to our own lives.  This month we are talking about about the 7 C's.
At the begining of ECFE last fall we brainstormed the values we hoped to instill in our children as they grew.  Collectively we came up with one list and our teacher created a word cloud and hung it at the front of the classroom.
There it hung.  So simple, the things we most hoped we would foster in our children.  But it wasn't meant to just hang there, it was meant to challenge us during our future parenting conversations. It was to ground us and bring us back to the place we originally wanted to be as parents, or rather who we wanted our children to be.  This list helps us think about how our decisions and actions are helping us get to that list of values we hope to instill in our children.  I think about this list often, even when I'm not in the classroom. At times I find myself conflicted with the values I am hoping to teach and the methods by which I think I am going to achieve that goal.  The list forces me to be true to my intentions while at the same time vulnerable to evaluation and assessment about how I'm getting to the place I most want to be.
Our first topic of the 2014-15 Smart Play Ambassador Program is about the skills we as parents want our children to have to live, learn, work and contribute in the 21st century.  I think it fits nicely with the conversation and evaluation I've been having lately on values.  Understanding and supporting the 7 C's is part of the foundation for success for our children and as parents, we can grow these skills at home and at the museum.  It's also important to note that the 7 C's grow with us throughout our life and need to be continually developed not just in early childhood.  So what are these 7 C's? Here's a list from the Minnesota Children's Museum:
Confidence: Exhibiting a willingness to try new things and having a genuine belief in own abilities. Examples: Persistence, willingness, risk taking, dedication, integrity, curiosity, initiative, leadership, belief, satisfaction, happiness, participation, self-concept and resiliency.
Control: Managing attention, emotions, and behavior while immersed in play and activity. Examples: Focusing, awareness, responsibility, empathy, adaptive, regulation, coping, rational, and inhibition.
Creative Thinking: Considering and experimenting with alternatives and applying multiple ways. Examples: Imagining, innovating, inventing, reinventing, improvising, interpreting, wondering, freedom, inquiry, and decision making.
Critical Thinking: Discerning knowledge, information and interests to discover new knowledge, information and interests. Examples: Questioning, goal-setting, organizing, planning, predicting, executing, observing, problem-solving, strategizing, contemplating, recalling, working memory, cognitive flexibility, analyzing, synthesizing, concluding, evaluating, reflecting, retaining.
Communication: Expressing thoughts and ideas, listening to and comprehending other's thoughts and ideas. Examples: Talking, listening, reading, writing, reasoning, narrating, comprehending, responding, and role-playing.
Collaboration: Engaging with others in a positive, productive, and accepting manner. Examples: Connecting, friendship, cooperation, interacting, trusting, turn taking, sharing, conflict resolution, perspective-taking, compromising, accommodating, negotiating, accepting, and tolerating.
Coordination: Displaying large and fine motor skill competence with a desire and effort for effective use and delivery. Examples: Precision, strength, balance, endurance, stamina, accuracy, flexibility, agility, dexterity, body awareness, large motor, and small motor.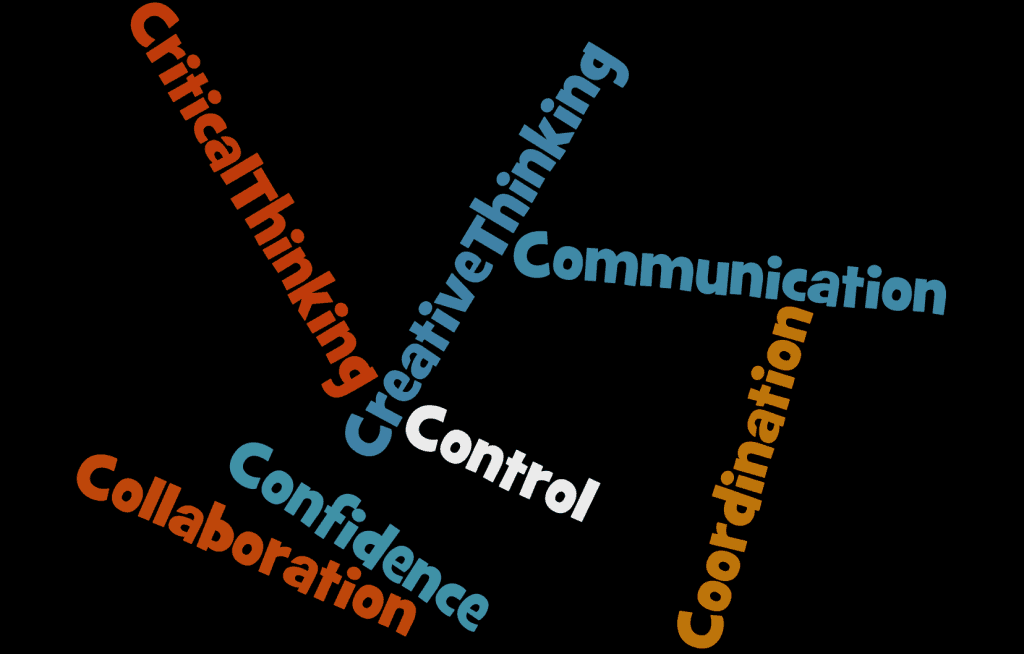 I'm leaving you with this word cloud so you can think about how your kids are developing these skills.  We'll be talking about these important tools over the next few months and how they surface in early childhood and how we as parents can foster their development at home and at the Minnesota Children's Museum.
If you are ready to get the conversation started, tell me what you think about the 7 C's and share the hashtag #MCM7Cs on facebook, instagram or twitter for a chance to win a family four pack of passes to the museum. I also have a special offer for my friends-$2 off admission through 5/31/14 with the coupon below.