This Pumpkin lasagna is easy to make and filled with all the great flavors of fall. Stuffed with cheese, spinach, pumpkin, chicken sausage and creamy alfredo.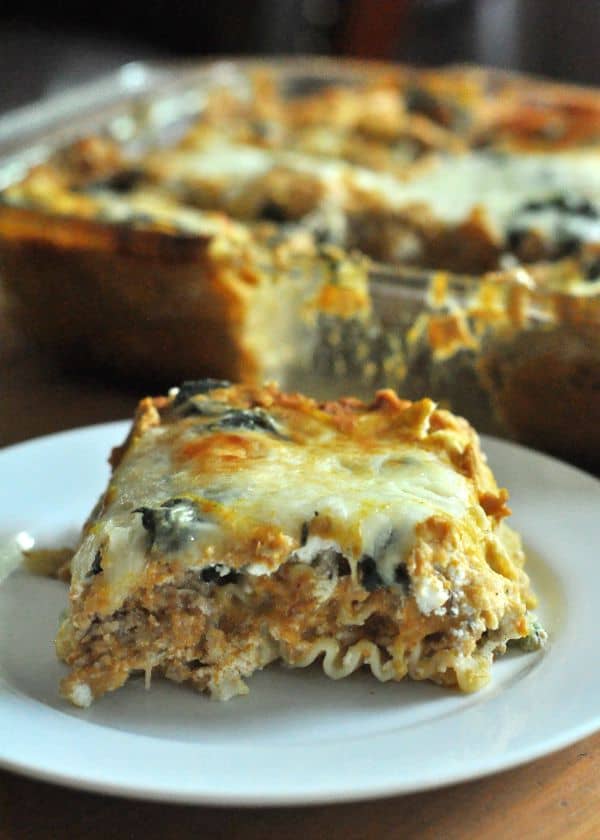 Fall is here and I'm in my pumpkin diet mode. Pumpkin Spice Lattes, pumpkin bread and those pumpkin marshmallows they sell next to the candy corn. What are they? I don't want to know. Gosh, I love them. I just really love pumpkin.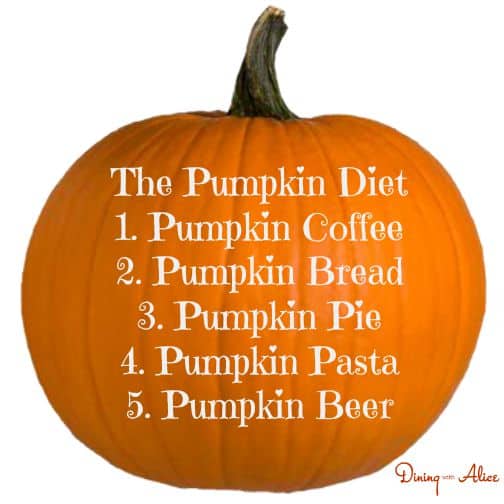 And there's evidence of all the pumpkin love here on my blog, you can find recipes for Pumpkin Milkshakes, Pumpkin Monkey Bread and Pumpkin Waffles. I even have a Halloween Trail Mix recipe using those candy pumpkins.
I've been making squash lasagna for years and I thought a pumpkin lasagna would be perfect for fall.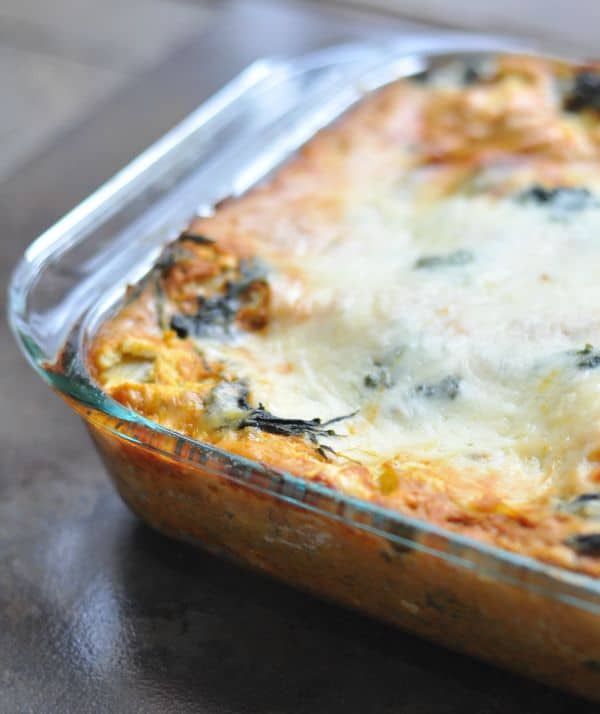 I've been working on this recipe to get it to the right sauce level. I noted in the recipe, I really like a saucy lasagna. If you want less sauce, just decrease or eliminate the second jar of alfredo. I really like adding cooked chicken apple sausage to the pumpkin lasagna, but you leave it out if you want to make it vegetarian or save on the cost of the meal.
[bctt tweet="Pumpkin lasagna filled with all the great flavors of fall #recipe #pumpkin #fall"]
Pumpkin lasagna is a great dish to make for a big family gathering or potluck and perfect for weekend meal planning and you can even freeze individual pieces to serve later. Whatever event you make it for, it's a perfect cozy comfort food for fall.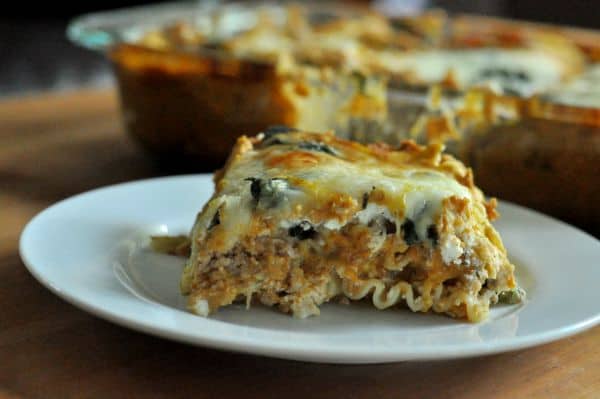 Pumpkin Lasagna
Ingredients
Oven-Ready Lasagna Noodles
2 jars (14.5 ounces) Three Cheese Alfredo Sauce
28 ounces Pure Pumpkin
2 TB Brown Sugar
1 tsp Pumpkin Pie Spice
32 ounces Whole Milk Ricotta
1 tsp Garlic Salt
1 tsp Italian Seasoning
2 (12 ounces) packages Chicken Apple Sausage
2 (10 ounces bags) frozen spinach, drained
2 (8 ounces) bags Shredded Mozzarella
Instructions
Preheat oven to 375.
Mix one jar of the alfredo sauce, pumpkin, brown sugar and pumpkin pie spice together. Set aside.
Mix the ricotta with garlic salt and Italian seasoning, Set aside.
Finely chop the chicken sausage in a food processor. Set aside.
In a 9x13 pan spread 1 cup of the pumpkin mixture. Arrange three lasagna noodles across the pan and break another noodle into a ¾ piece so it can lay vertical so the pan is covered.
Layer the following in three layers (evenly distribute):Noodles (for each layer, place three noodles horizontal and a ¾ one vertical), Ricotta mixture, Pumpkin mixture, Alfredo sauce, Spinach, Mozzarella and Chicken sausage.
Bake for 45 minutes covered and 20 minutes uncovered. Let cool before slicing.
This is a saucy lasagna,if you'd like less sauce either eliminate the second jar of alfredo or use less sauce.