A super easy Cheesy Mini Corn Dog Muffins recipe that makes a great weeknight meal, fun school lunch, or game day appetizer.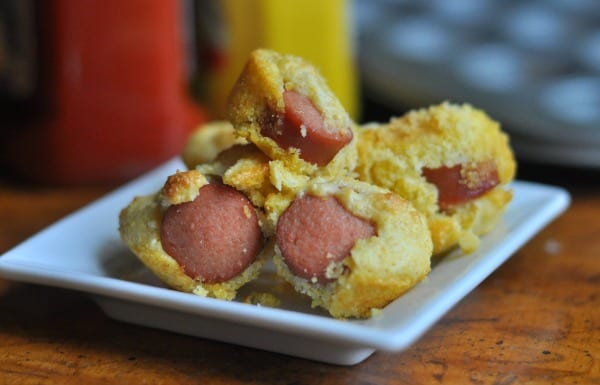 I've partnered with Cow Candy to share this post. Thank you for supporting the organizations, companies, people and events that I choose to work with, sponsored content grows my blog and supports my family. This post contains affiliate links.
I shared over on my Facebook page that I've been trying to find ways to trade time. Basically, invest some extra time now in order to have more later. I was finding that the weeknight shuffles were becoming overwhelming, making dinner, going through homework and reading, bedtime routine and then by the end of the night, I was exhausted. I wanted to just relax but I still had to make school lunches and sometimes it was late in the week so I was piecing together random lunches for the kids. In an effort to trade time, I've been spending every Sunday afternoon making lunches for the whole week. And you know what happened? My kids have fun and creative lunches with fruits and veggies (I stock up on Sundays) and I've gotten more time in the evenings to unwind with my husband. I'm on my third book since starting this process and almost all caught up on my tv shows, This Is Us and Homeland. So it's working! I've finally found some weeknight time to relax.
Something that came out of this discussion about time trading, was that a reader over on my Instagram page, suggested I do the lunch prep time as a family and have the kids help. Brilliant, right?
The kids have been helping and I think they like it because they have ownership of picking sides and I've noticed less complaining about what I pack. We went away for the weekend and when we came back on Sunday I knew I needed to get the lunches done and I wanted to make an easy meal for school lunches. Cheesy Mini Corn Dog Muffins are a favorite of my kids and so easy. I decided to put that reader suggestion to work and have the kids help make the recipe.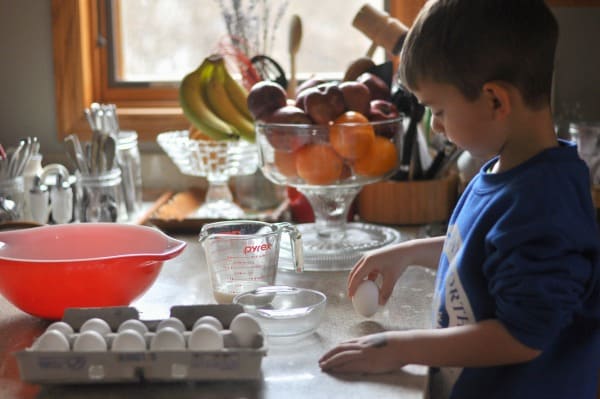 For this mini corn dog muffins recipe, I use a boxed corn muffin mix to keep it simple. Just add 1/2 cup milk and 1 egg.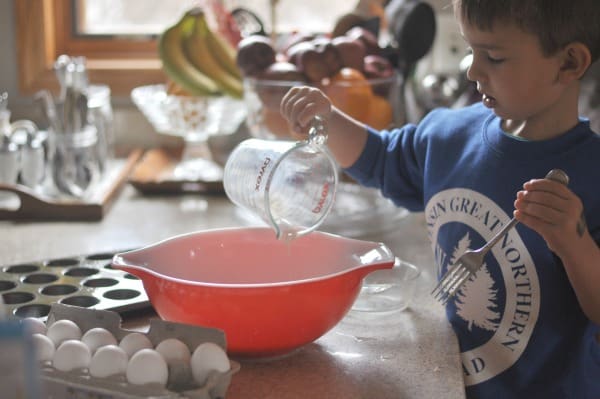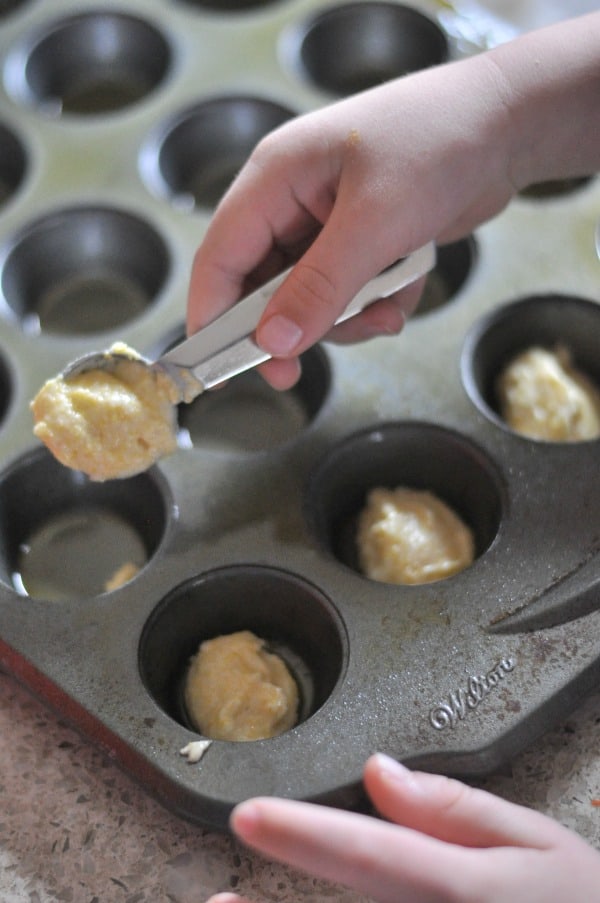 I recommend using paper muffin liners so none of the muffins stick, but if you are like me and totally forgot the liners, just coat the pan extra well with non-stick spray. Some of the muffins will stick, and then you'll have to stand in your kitchen over the pan eating the sticky ones, right? I may have experienced this delicious accident.
Distribute half the corn muffin mix and then get the hot dogs and cheese sliced.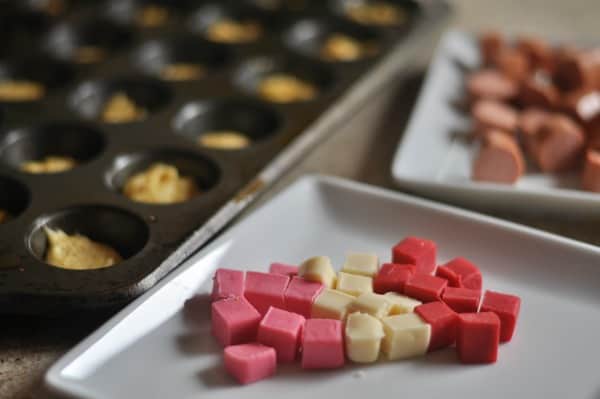 For the cheese in this cheesy mini corn dog muffins recipe, I'm using Cow Candy, a high-quality Wisconsin Monterey Jack cheese combined with only natural flavors and colors from natural sources; absolutely no artificial ingredients. While packed with 15% dv calcium, and 4g of protein in every serving, Cow Candy only contains 1-2g of sugar per serving, much less than most children's yogurts.
Pictured above is the Pinkie Pie (Strawberry Jack Cheese), Bee's Cheese (Honey and Jack Cheese) and Prime Punch (Fruit Punch Jack Cheese).
I love the fun colors and think it is a great addition to the mini corn dog muffins. I had the kids slice up the hot dogs and the Cow Candy cheese and then had them distribute the pieces into the muffins.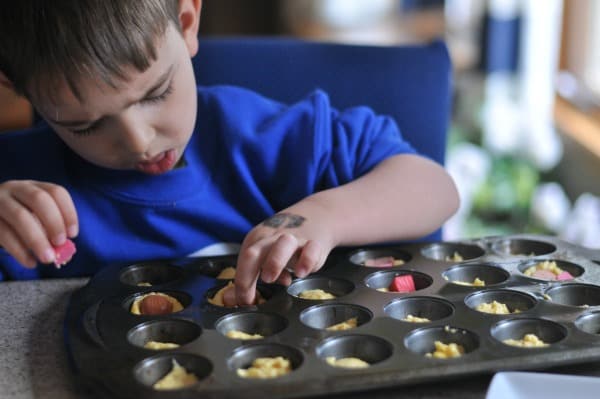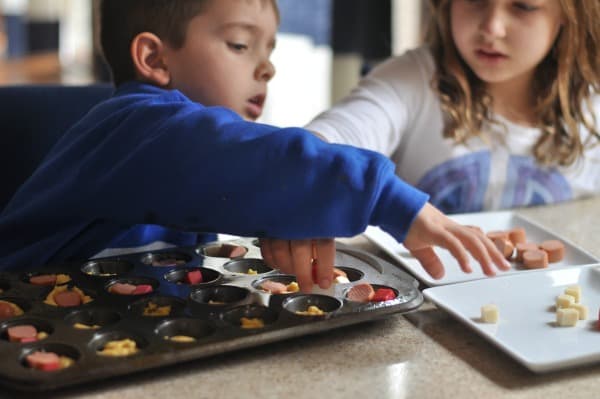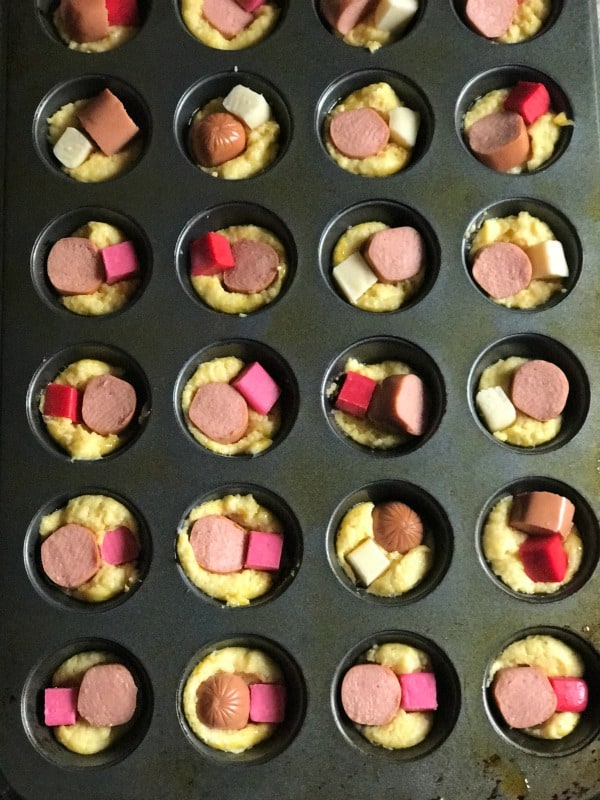 Once the muffins are filled with the hot dogs and Cow Candy, put the remaining corn muffin mix on top.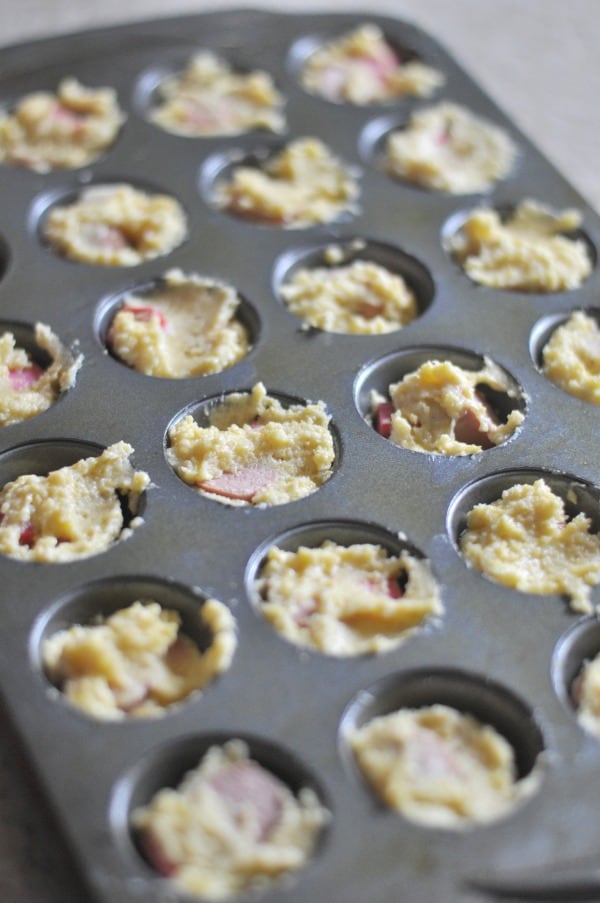 Once baked, pop out the mini muffins, dip in some ketchup, and pop them in your mouth! This easy recipe isn't just for kids, it would make a great game day appetizer, too.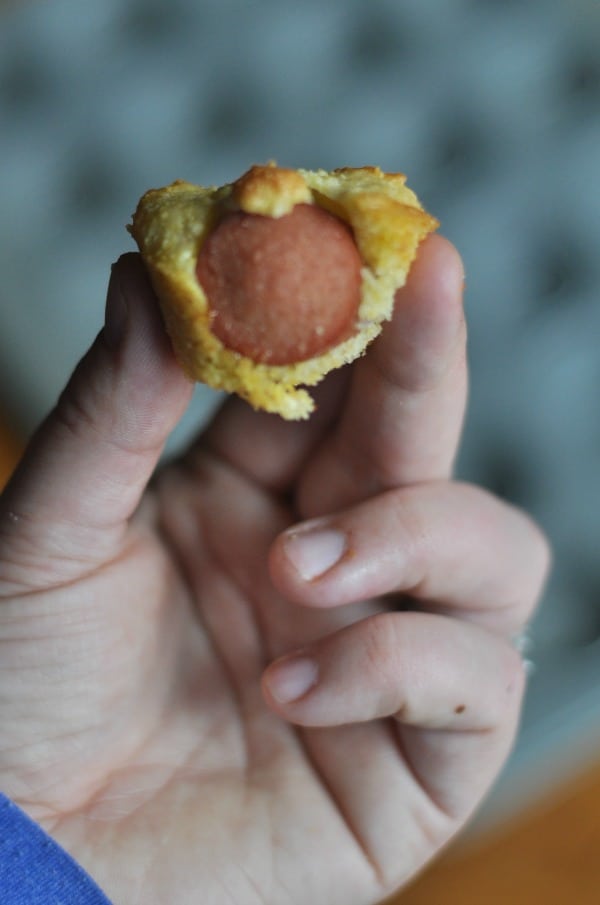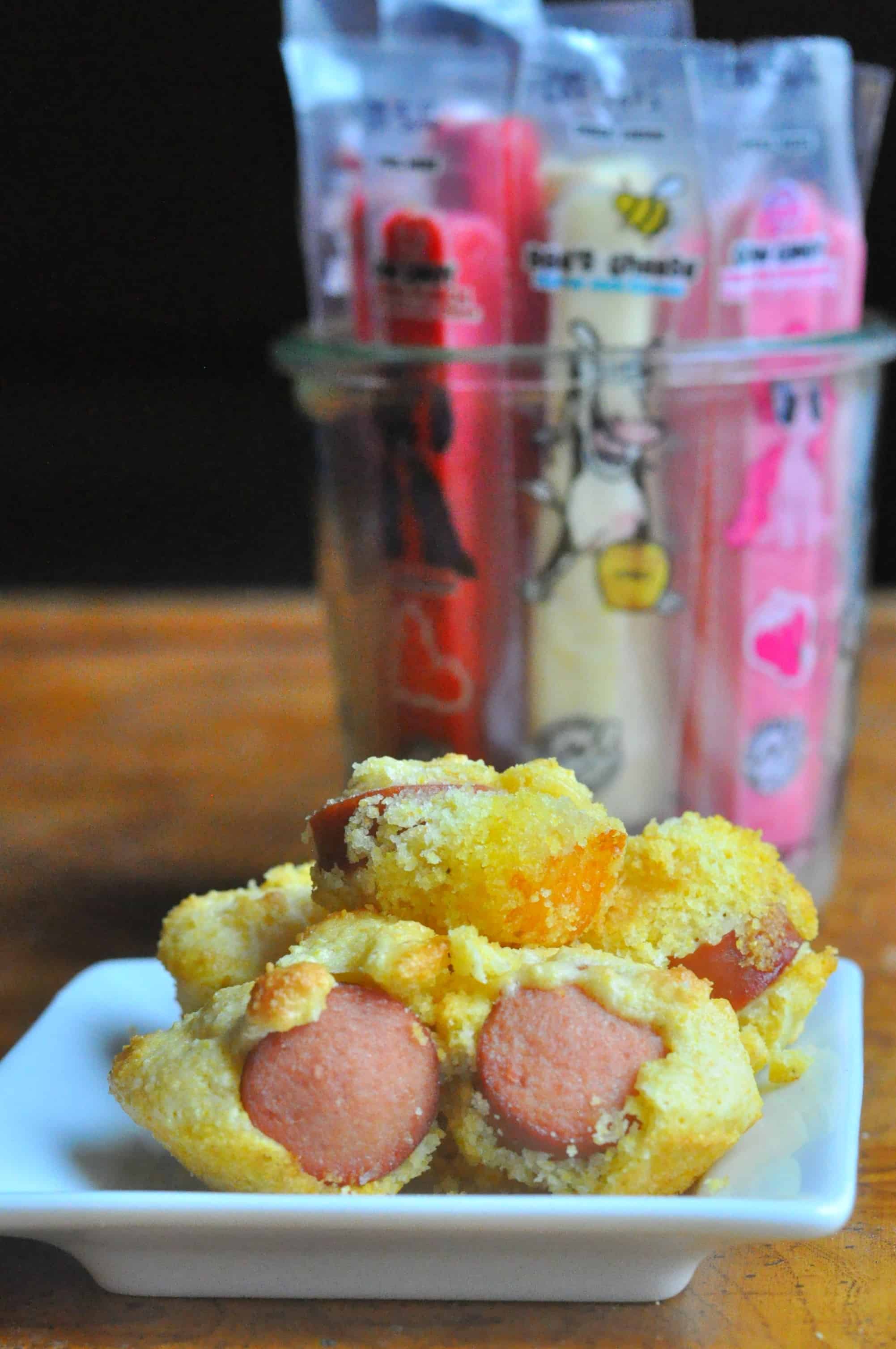 Cow Candy's fun flavors concept and colors were the brainchild of lifelong Midwesterner Danyel O'Connor; a loving mother to two young children, aunt to 6 unique and bubbly personalities, and the owner of Danyel Ann Foods, LLC (DA Foods).
Cow Candy is a perfect way to incorporate fun and flavor into school lunches and it is a great food to keep in your fridge for a quick grab and go snack. I keep a glass jar in my fridge stocked with Cow Candy so the kids and mom, can grab some quick protein when we are on the go.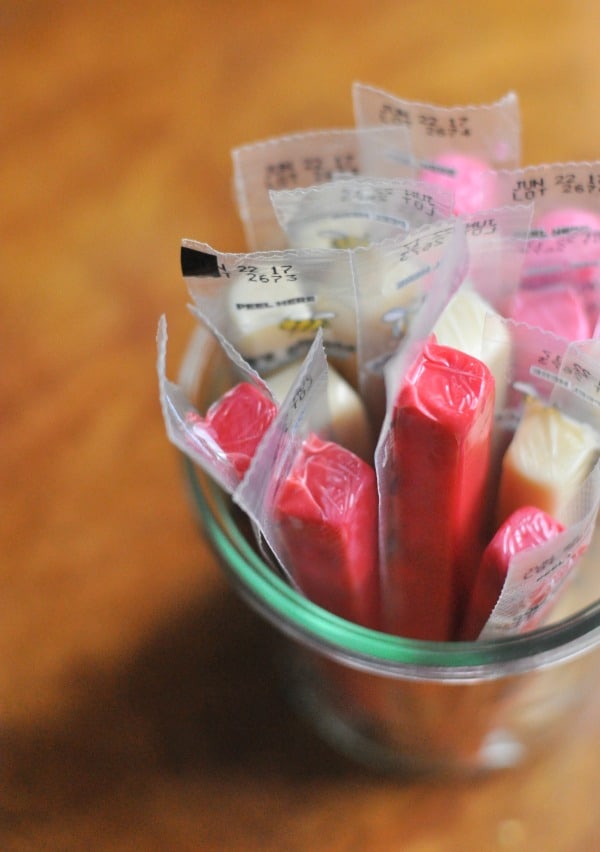 To locate the nearest retailer or to view Cow Candy products visit www.cowcandy.com. You can also connect with Cow Candy on Facebook, on Twitter or on Instagram.
Minneapolis metro-area Lunds & Byerly's now stock three of Cow Candy's most popular flavors: Honey Jack Bee's Cheese, My Little Pony Pinkie Pie Strawberry Jack and Transformers Robots in Disguise Prime Punch Fruit Punch Jack.
Thank you for your support and giving me the opportunity to share my favorite companies and products with you!
For more fun and creative kids lunch ideas, check out my post, 5 Tips for Making School Lunches Creative and Easy. My favorite school lunch boxes are FS Kitchen lunch boxes, they are dishwasher-safe and BPA-free. The 6 piece set is $11.95 and available via Amazon Prime.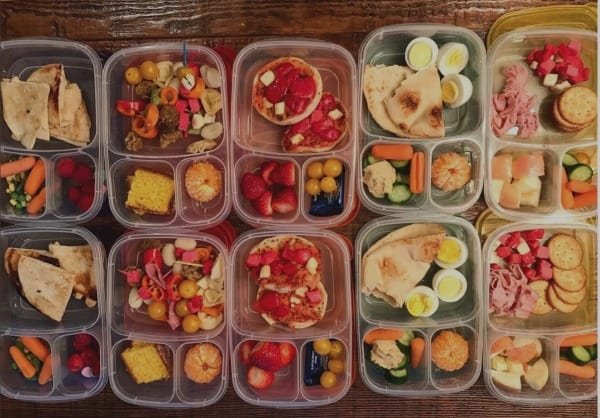 This post is in partnership with Cow Candy. All opinions are my own.

Cheesy Mini Corn Dog Muffins
Ingredients
1 (8.5 oz) Box of Jiffy Corn Muffin Mix
½ cup Milk
1 Egg
3 Hot Dogs
3 Cheese Sticks (I like to use Cow Candy)
Instructions
Preheat oven to 375.
Line a mini-muffin pan with 24 paper liners. Or, you can heavily spray the tin with non-stick spray but some muffins still may stick, I recommend using the muffin liners (if you use paper, then the muffins can be reheated in the microwave).
In a medium-sized bowl, combine the Corn Muffin mix with the milk and egg.
Distribute half of the corn muffin mixture into the muffin tins.
Slice the hot dogs into a total of 24 pieces (each hot dog should be sliced into 8 pieces). Repeat process for slicing the cheese sticks.
Place one piece of hot dog and piece of cheese into each muffin. Top muffins with the remaining mixture.
Bake for 10 minutes.
Serve with ketchup and mustard.
[bctt tweet="Fun and Creative Lunch Idea! Cheesy Mini Corn Dog Muffins Recipe with @CowCandyCo" username="diningwithalice"]