This berry smoothie bowl is packed with fresh strawberries, raspberries, and blackberries. It is a super easy breakfast that is perfect for kids.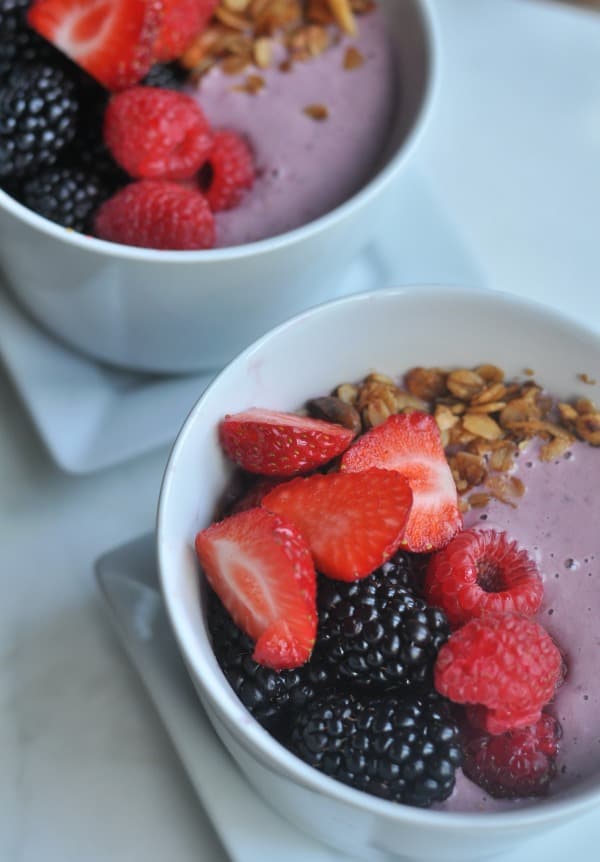 When my husband and I were in Hawaii, we absolutely loved getting smoothie bowls. They were packed with fresh fruit and just felt like such a great way to start the day. I wanted that fresh and easy breakfast idea for my kids for an easy breakfast so I created this Berry Smoothie Bowl recipe.
My daughter was so excited when she saw this Berry Smoothie Bowl because of the bright purple color! I loved it because I packed it with great tasting-berries (I really love Driscoll's) and protein (Almond milk, yogurt, and peanut butter) which helps kids feel fuller longer and helps them learn.
Weekday mornings can be super chaotic but it helps to have good breakfasts that are easy to make. Making a Berry Smoothie Bowl is a super easy way to help your breakfast routine be more smooth.
This Berry Smoothie Bowl just takes a quick whirl in your blender, then pour into bowls and top with your favorite toppings. I like to top ours with fresh fruit, granola (here's my homemade granola recipe), coconut, and honey!
Wishing you a great back to school season! I hope you enjoy this easy breakfast and I hope it helps make your morning less chaotic!

Berry Smoothie Bowl
Ingredients
½ cup Blue Diamond Almond Milk (Vanilla)
½ cup Driscoll's brand Raspberries
½ cup Driscoll's brand Blackberries
½ cup Driscoll's brand Strawberries (de-stemmed, quartered)
2 TB Peanut Butter
1 Banana
½ cup Vanilla Greek Yogurt ( I like Greek Gods Honey Vanilla)
Instructions
Combine all ingredients in a blender, blend until smooth.
Pour smoothie into two bowls.
Top with fresh berries, granola, coconut, honey, or other favorite toppings.