Crock Pot Philly Cheesesteak sandwiches are slow cooked thin slices of steak with onions, peppers, and seasoning. Topped with Cheez Whiz or provolone.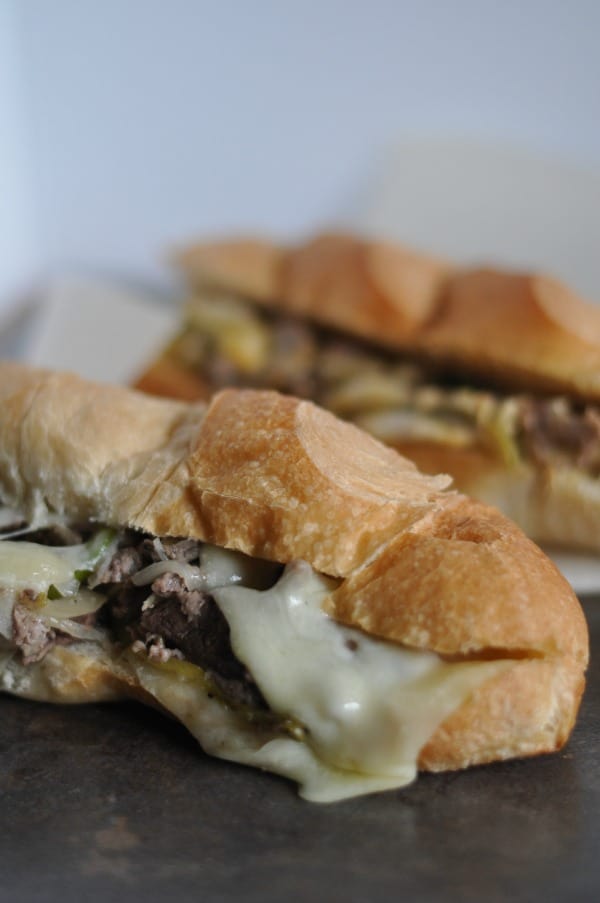 Anyone who has gone to Philly knows that trying a Philly Cheesesteak is an essential part of your travel experience.  And of course, everyone has their favorite place, kinda like our favorites for Juicy Lucy burgers here in Minnesota. When I was in Philly visiting my sister, I was a bit intimidated at ordering my first Philly Cheesesteak, so I had my husband order it!
My husband used to be an East Coaster, so he could follow the fast-paced, yelling, order now and correctly or you don't get anything rules. Ordering correctly was essential, in fact, there are keywords to use. You needed to know that "with" means with onions and you have just two cheese options "wiz" (Cheez Whiz) and provolone.  Anyway, I was scared to mess it up and end up without a sandwich so Will ordered and I fell in love. In Philly, while you stand in line, the garlic and onion smells fill the air. It's classic take-out comfort food!
When I returned home to Minnesota, I knew I had to find a way to have another Philly Cheesesteak sandwich so I created this Crock Pot Philly Cheesesteak sandwiches recipe!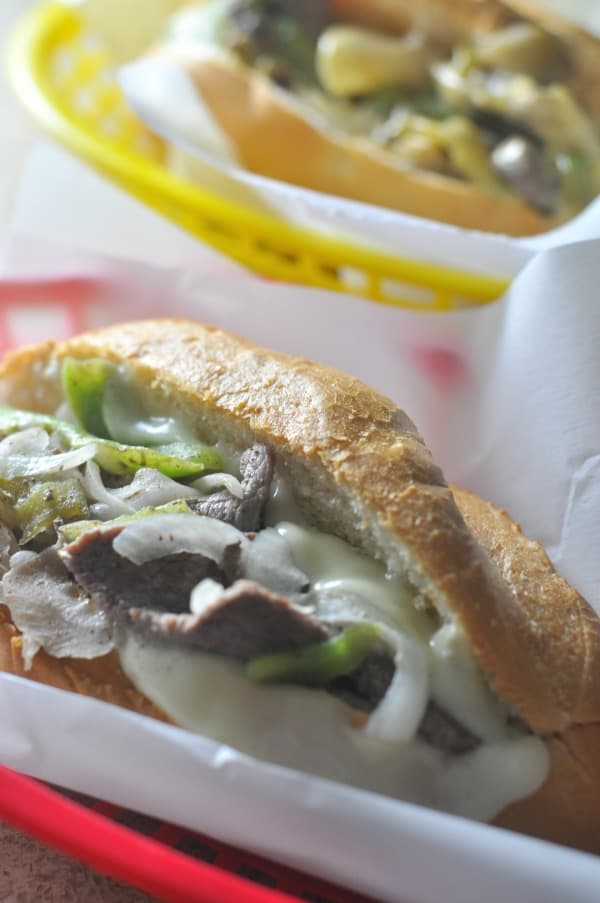 Tips for Making Crock Pot Philly Cheesesteak Sandwiches
Do some research ahead of time and find a butcher who will slice the tip sirloin for you. If you are going to a butcher at a grocery store, you may need to call a day ahead or check on the meat slicer's hours (they usually aren't always available).
The thinner you get the meat sliced the better!
If you must have Crock Pot Philly Cheesesteak Sandwiches and you can't get it sliced, you can always buy a tip sirloin roast and put it in your freezer for 20 minutes and slice it as thin as you can.
I use the slicing blade on my food processor to get the thinnest onions and peppers.
Make sure you use sweet onions for this Crock Pot Philly Cheesesteak Sandwiches recipe.
You can also make this recipe on a griddle on your stove top. I just toss the meat, onions, and peppers with seasoning on saute with butter.
This makes a great freezer meal and this recipe is featured in my ebook, Freezer Meals for Moms, available for purchase here: http://www.e-junkie.com/293628/product/504555.php
Crock Pot Philly Cheesesteak Sandwiches
Ingredients
Ingredients:
2 medium Sweet Onions (thinly sliced)
2 Green Peppers (thinly sliced)
1 tsp Salt
1.5 pounds Tip Sirloin (ask the Butcher to slice it as thin as possible, thinner than sandwich sliced)
1 tsp Garlic Salt
1 tsp Ground Black Pepper
8 TB Butter

Hoagie Rolls

Cheez Whiz or Provolone Cheese
Instructions
Line the bottom of your crock-pot with crumpled tin foil (this keeps the peppers and onions from cooking in the butter water) Toss the sliced onions and peppers with salt. Layer the sliced onions and peppers on top of the tin foil. Then toss the steak with garlic salt and pepper and layer on top of veggies. Slice the butter on top of the steak.
Cook on high for 1 hour and 30 minutes or until steak is no longer pink. If meat needs more time, flip the meat around and cook an additional 10 minutes.
Once cooked, remove foil with tongs and allow veggies and steak to mix with the juices. Use a food scissors to cut up the steak and mix with veggies. Mix the mixture with Cheez Whiz or top with Provolone and serve on hoagie rolls. I use ½ cup of meat/veggie mixture per hoagie and use 2 TB of Cheez Wiz per ½ cup meat mixture for the Cheez Whiz style. Sandwich amounts may differ based on your size of hoagie roll.
Save
Save
SaveSave
SaveSave
SaveSave