Easy Crock Pot Chili made right in your slow cooker.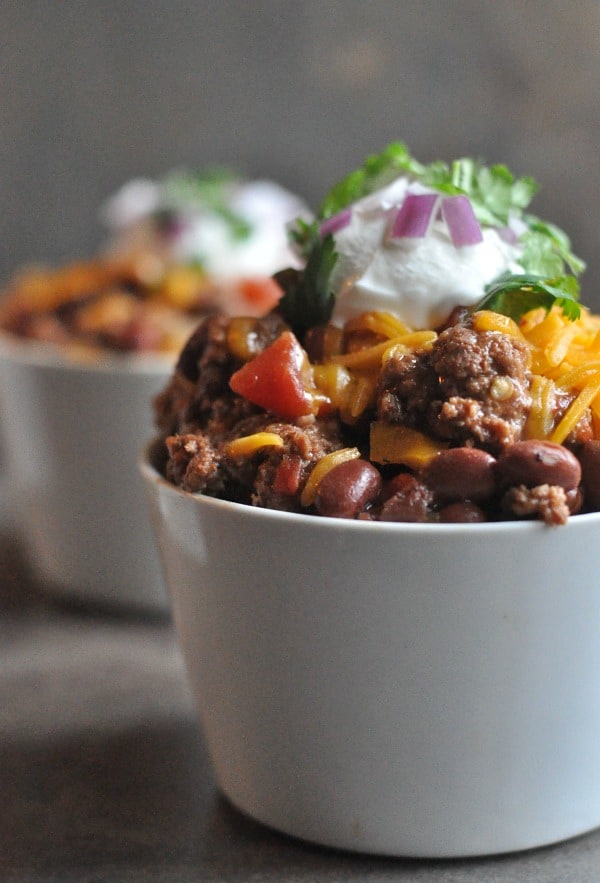 Sometimes the best defense against frigid cold weather is eating a big bowl of chili on the couch. In your pajamas. Cozy under blankets. Even better? If you just put all the ingredients right into a slow cooker and make Crock Pot Chili without having to do any cooking. No dishes, no dirty pans, just put everything right in the Crock Pot and press a button. Yes, that's how I handle winter when you can't go outside.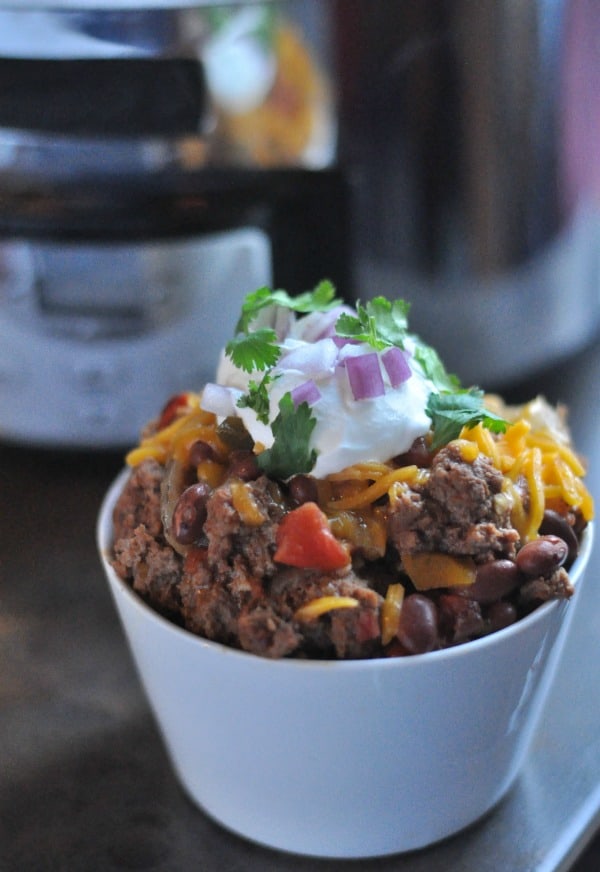 What makes this Crock Pot Chili unique is that you don't have to cook the beef before putting it in the slow cooker. I just put the beef right in the bottom and then the spices right on top and mix it up. Since I'm not browning the meat before I put it in, I'm using spices that will give the meat a nice smoky flavor.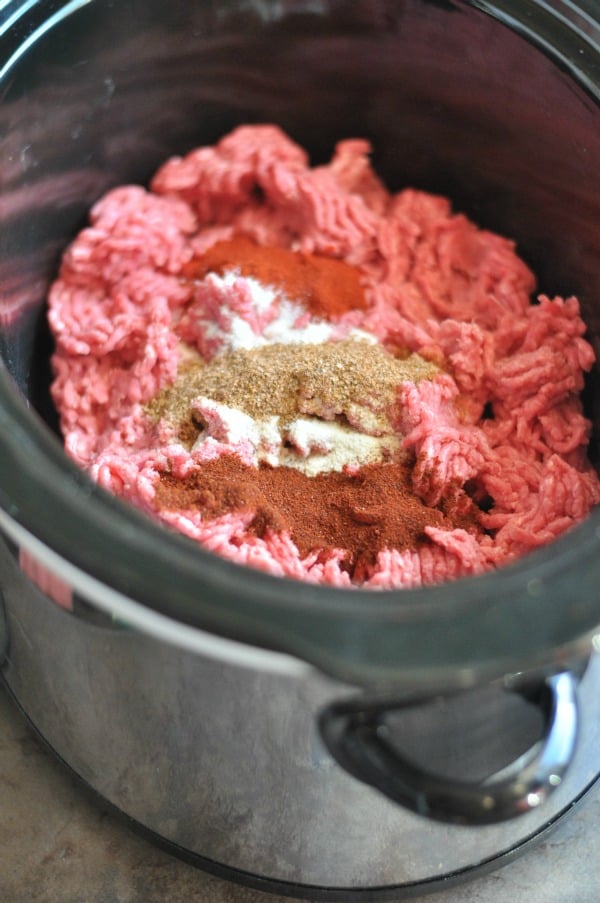 Follow the notes in the recipe for adding beef stock, add more or less based on how much liquid you like in your chili. When the Crock Pot Chili is done cooking, I use a spoon to break up the big pieces of beef and get everything nicely mixed up. I always serve my chili with sour cream, shredded cheese, fresh cilantro and crackers or corn chips. And beer. Yes, there is usually one or two beers served on chili night.
If you love cooking in your Crock-Pot, try my most popular slow cooker recipe, Crock-Pot Maple Bourbon Pot Roast and then make my Pot Roast Grilled Cheese Sandwiches.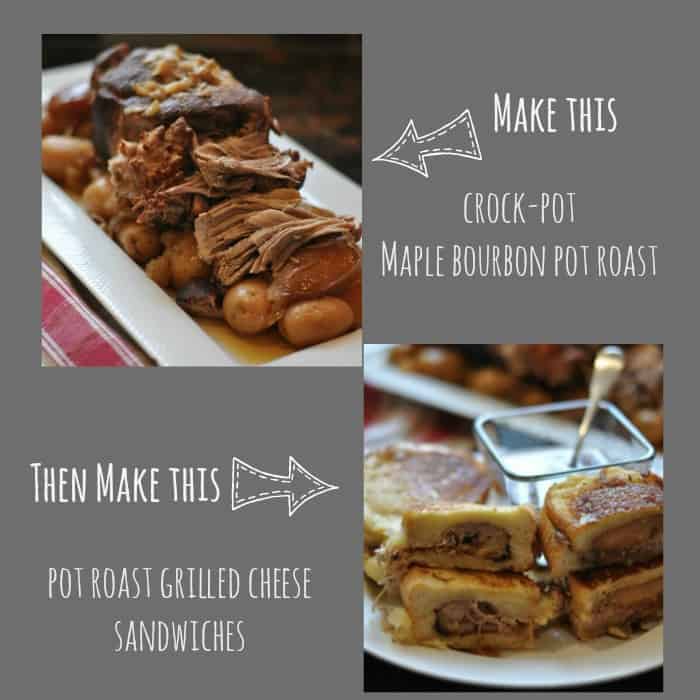 Make this Crock Pot Chili in a NEW slow cooker!
One of my very favorite kitchen appliances is my Programmable Crock-Pot Slow Cooker (affiliate link) I work outside the home and sometimes I can't make it back in time to shut the Crock Pot off. So I'm in love with my programmable slow cooker that turns to warm after it is done cooking! To celebrate a new year of blogging and to thank my readers for their love and support I'm running a giveaway for a new Programmable Crock-Pot. Follow the Rafflecopter directions below and tell me what you'd love to make in your new slow cooker!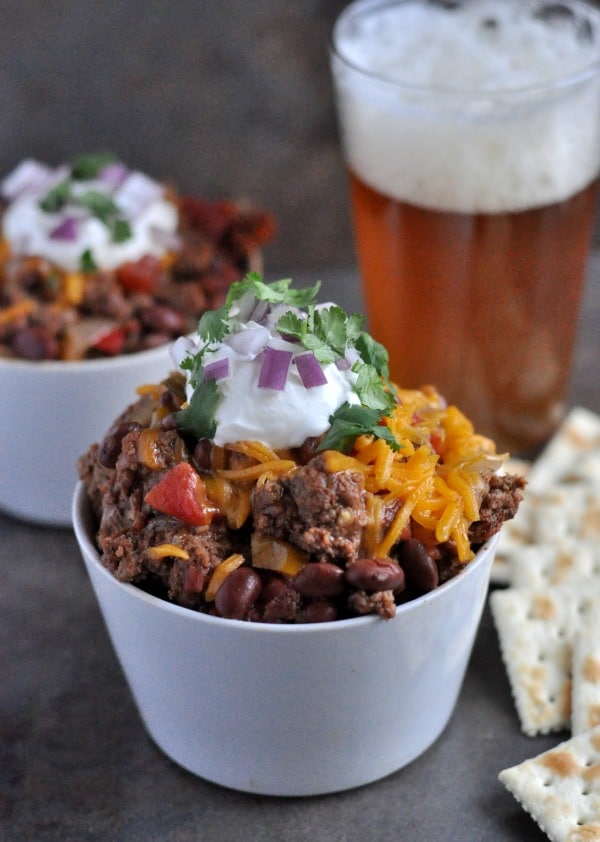 Yield: Serves 8-10
Crock Pot Chili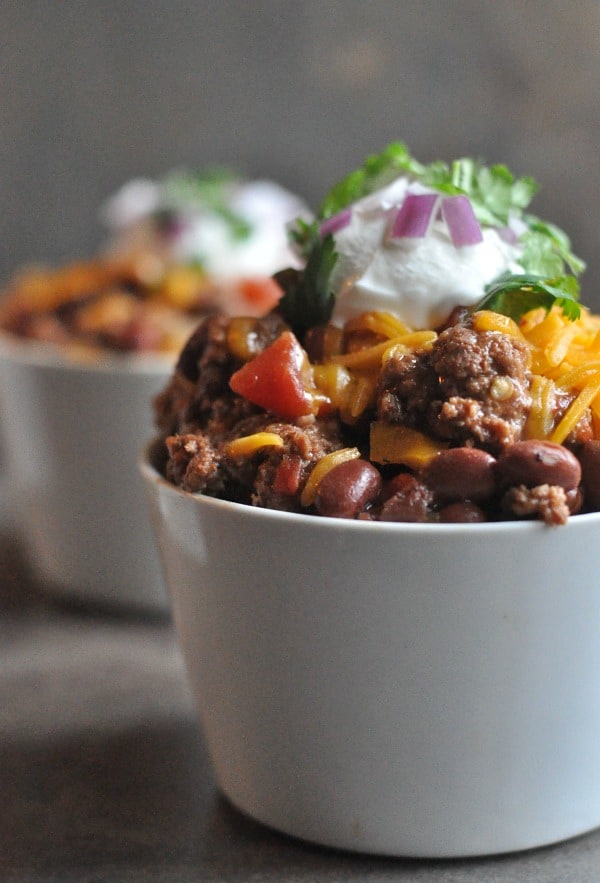 Ingredients
2 pounds Beef (85/15)
2 tsp Smoked Paprika
1 tsp Garlic Salt
2 tsp Fajita Seasoning
1 tsp Onion Powder
2 tsp Chili Powder
1 (14 ounces frozen) bag Roasted/Grilled Peppers and
Onions
1 (28 oz) can Tomatoes with Green Chilies
(drained)
2 (15.5 oz) cans Medium Chili Beans
2 (15.5 oz) cans Mild Chili Beans
2 cups (16 ounces) Beef Broth

(reduce amount based on how much liquid you like for your chili)
Garnish:
Bacon pieces (cooked)
Sour cream,
Shredded Cheddar Cheese, fresh Cilantro
Instructions
In a slow cooker, combine beef, smoked paprika, garlic salt, fajita seasoning, onion powder and chili powder. Mix until combined then place frozen peppers and onions on top, then drained tomatoes with chilies, beans and broth. Cook on high for 4 hours. Once it is finished cooking break up large pieces of meat with a spoon.
Serve with bacon, sour cream, cheese and fresh cilantro if desired.