Porketta roast recipe made in your slow cooker with a homemade seasoning. This is Minnesota's favorite Crock Pot meat cooked with fresh fennel, smoked paprika, garlic and Italian seasoning. Here's how to make this Minnesota Classic at home.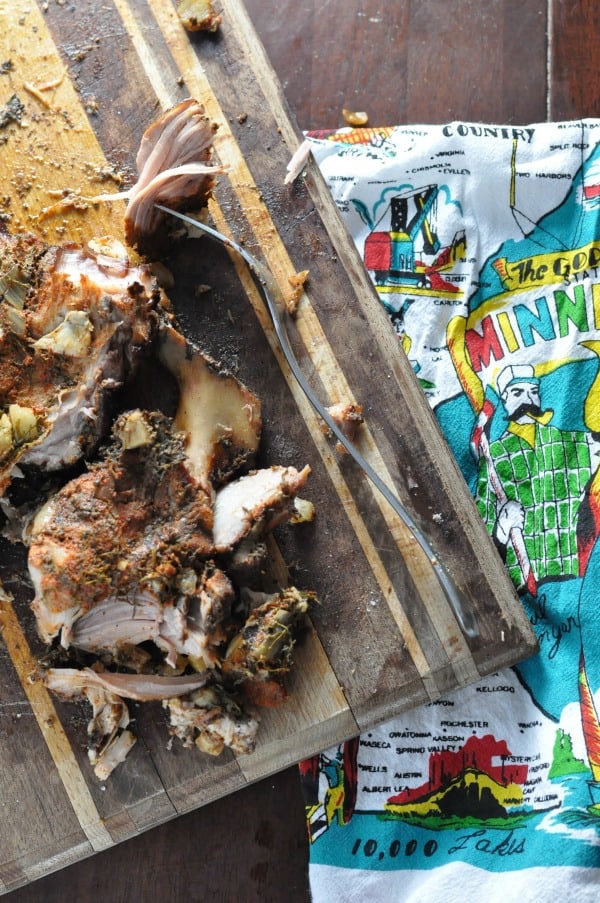 Minnesota's favorite Crock Pot meat, Porketta, made simple and delicious.
I've bought Porketta from our butcher since I can remember.  A pork shoulder rubbed with beautiful spices, tied up and ready to bed in your Crock Pot. From an eight-hour day of cooking emerges a tender meat ready for sandwiches or if we are honest, straight from the cutting board.
I make Porketta several times a year, it is one of Will's very favorite meals.  We don't care if the kids eat it, more for us.  Unfortunately, they love it too. The scoundrels. We fight for the scraps. The little one stealing pieces from the cutting board says, "Mommy I love it."
Most people would probably be just fine continuing to buy the packaged and seasoned meat. Me, I need to get to the bottom of this Minnesota favorite and figure out how to make my own.
Secrecy.
Just like Alice from the Brady Bunch I've started making friends with my neighborhood butchers. I wouldn't call it flirting per se. Well maybe.
"So tell me about these Porkettas." I'd say.
I'd play dumb.
"So what kind of spices do you put on them?"  Oh let me check, Miss.
Bingo.
I started gathering intel. Butchers would tell me a few things, Rangers would tell me just a bit more. You don't know Rangers? Rangers or Iron Rangers are people from Minnesota's Iron Range. They are the experts of Porketta, a food of the miners.  Again, not much talk on what's in this dish.  As I'd talk to the Rangers, I'd say, "I think x, y and z is in it." They'd respond, "that sounds about right." And I knew I was on the right track.
The experts according to many, was Fraboni's. I noticed on their web page, in large font, NEVER put a porketta in a crock pot. Hmmm. Friends, we are going to put this baby in a Crock Pot.
Honestly, I've been scared of this baby. I bought the pork roast and waited. I waited until my husband said, "So what about that Porketta?"
It was a Friday, I woke up early. Many Fridays I am at work by 6 am. This Friday, no meetings, I could sleep in but it was Porketta time.  I woke up early and I was finally ready to tackle the beast.

First step is starting out with a Pork Roast also referred to as a pork butt or shoulder. My pork roast had a bone so I had to line up the roast for the right cuts.  The first cut was a cut right down the middle of the roast (not through). This cut opens up the roast, peel it back and make a cut on the bottom right to open up the roast then make a similar cut on the bottom left of the roast. Now your roast is butterflied and ready for fun.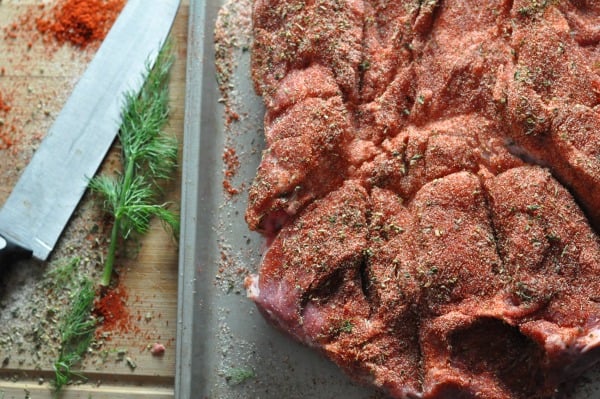 Wowsa. You see that beautiful color? That's Porketta. Bronzed with smoked paprika.  I like to put mine on a cookie sheet to contain the spice and get it all rubbed in. Now's the fun part.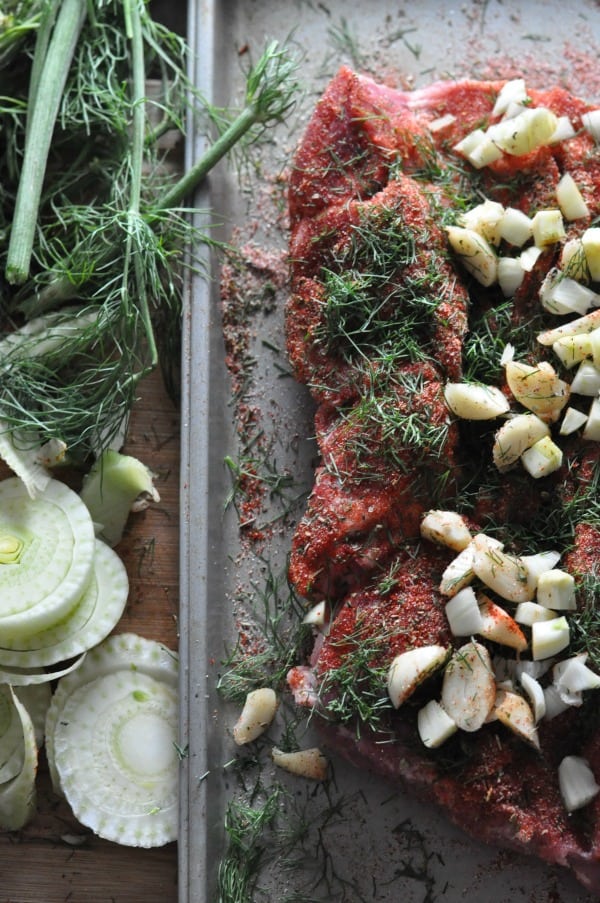 One of the secret ingredients I've discovered for the Porketta is fresh fennel and garlic cloves. When you get the Porketta rubbed down it's covered inside and out with seasoning, the butterflying is so you can stuff it with fresh garlic and fennel. Now we're going to tie it up and tuck in all that goodness.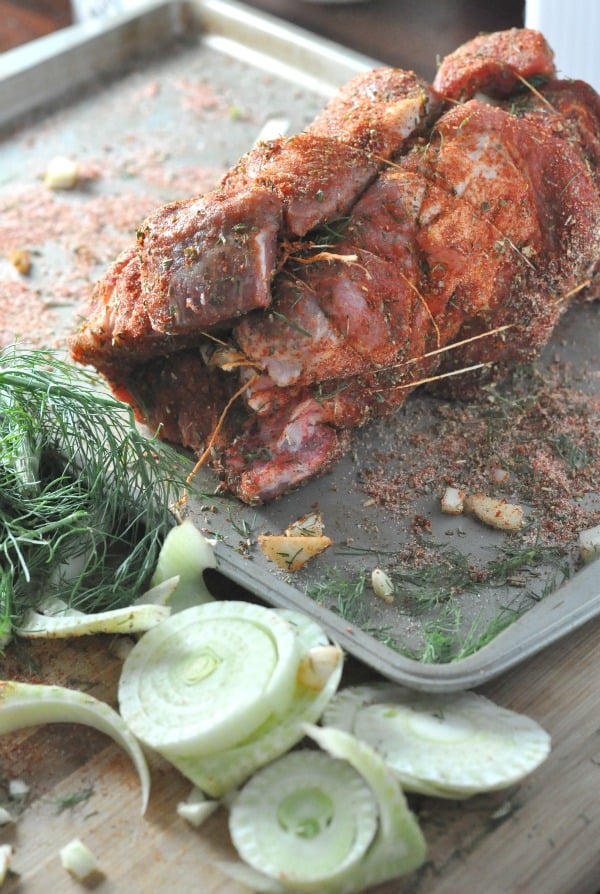 We're not done. Settle down. It's hard work but its worth the wait. Time for some browning and then set it gently on top of some potatoes and set that Crock Pot for 8 hours on low. Let it do the work. Relax. Have a cup of coffee, take a nap, or go to work. Whatever. Once it's ready, don't let anyone else in the kitchen. Trust me, you want the first bite.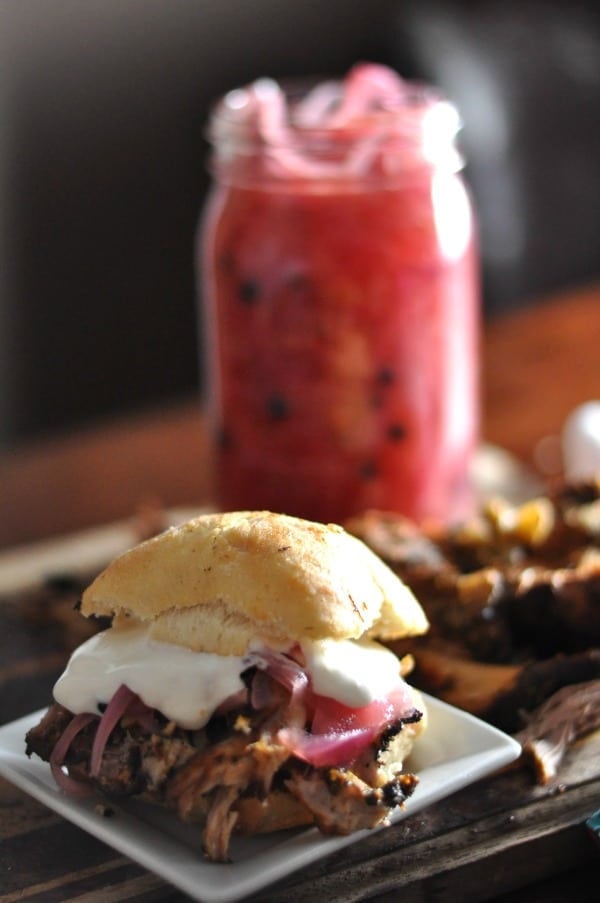 I make this Porketta into sandwiches.  Minnesotans love enjoying Porketta with a creamy mayonnaise or Miracle Whip.  I make mine with my Pickled Onions and a creamy horseradish sauce (equal parts Mexican Crema and Horseradish sauce).
Hide this from the children. Hide it from your husband. Seriously. Don't count on leftovers.

Porketta
Ingredients
3-4 lb Pork Butt/Shoulder
½ TB Salt, plus 1 tsp for after cooking
2 TB Smoked Paprika
2 TB Onion Powder
2 TB Italian Seasoning
1 TB Sugar
12 Peeled Garlic Cloves (various sizes, chopped)
⅓ cup Fresh Fennel greens (chopped)
2 TB Fresh Fennel Bulb (chopped)
¼ Vegetable Oil
Mixed Potatoes
1 cup Chicken Broth
Instructions
Butterfly Pork Roast by making a vertical slice and then slicing on the left and the right bottom sides to open up roast.
In a bowl combine salt, paprika, onion powder, Italian seasoning and sugar.
Rub on all sides of the pork.
Stuff pork with chopped garlic, fennel greens and fennel bulb. Then tuck up roast and tie with kitchen twine.
In a large pan heat vegetable oil,
Brown meat for two minutes on each side.
Line bottom of Crock Pot with potatoes and chicken broth. Place roast on top.
Cook on low for 8 hours.
Salt with remaining 1 tsp of salt after cooking