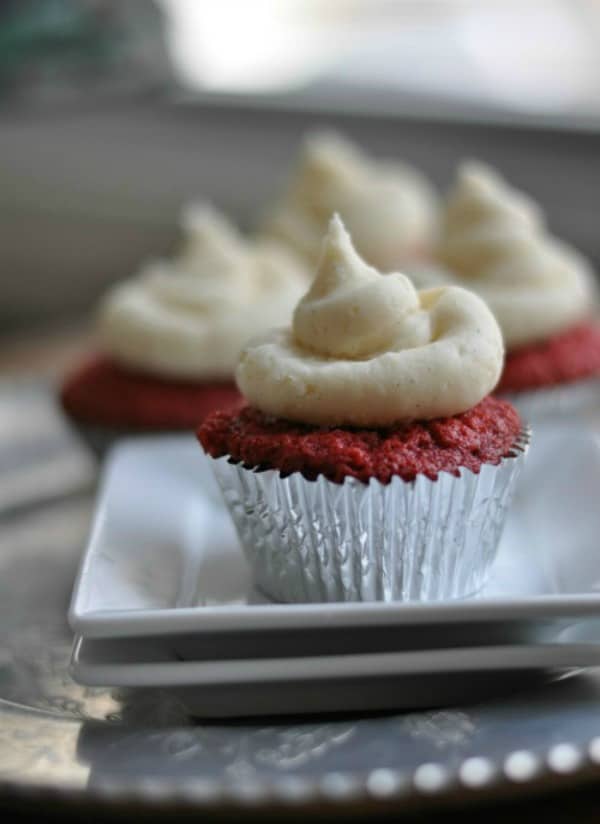 Red Velvet Cupcakes. Our very favorite drool-worthy bakery creation.
A couple of years ago, my very good friend was getting married and she asked me to make cupcakes for her reception.  Yes, I was completely crazy and nervous.  So I went to work for months making Red Velvet Cupcakes over and over, trying to get it right.  Stella started playing "cupcakes" and regularly asking for cupcakes for dinner.  I was creating a monster. It wasn't just Red Velvet. I also made Honey Sunflower and Lemon Lavender too.  I swore I never wanted to see another cupcake ever again.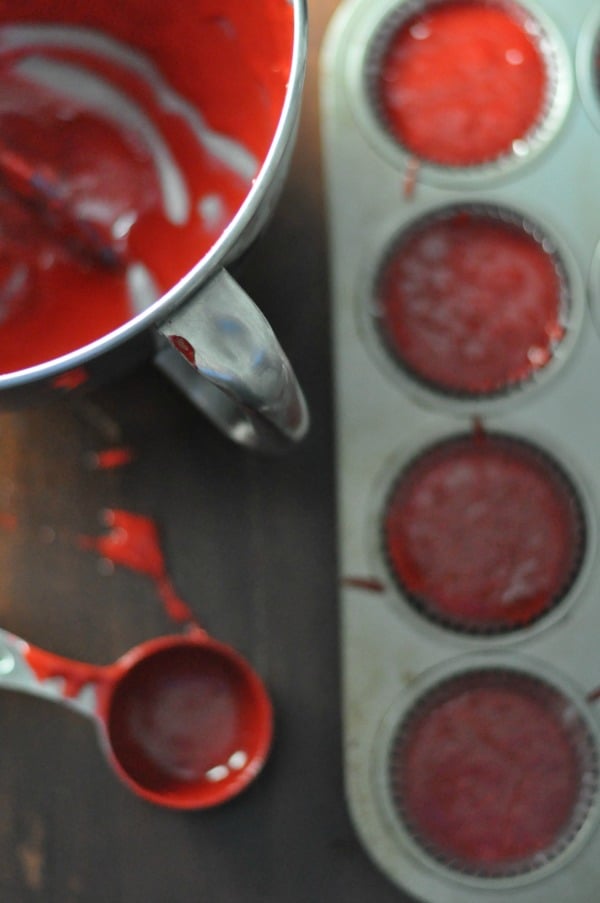 Red Velvet is  essentially a chocolate cupcake with a critical mass of red food coloring. One thing is certain, people LOVE Red Velvet.  I think it is probably on most people's comfort foods lists. Without a doubt if I want to make a dessert I know people will love, I make this. Plain and simple, people love it.
Most Minnesotans get a bit squirmy mid-winter.  I am just down-right sick of winter. I know I chose to live here but seriously we depend on seasonal changes!  So it's mid-April and we just got 10 inches of snow in the Twin Cities last week and now tonight they are calling for 6-8 inches more! My husband and I got married in April and I remember when we came home in May it snowed. I really should have better expectations.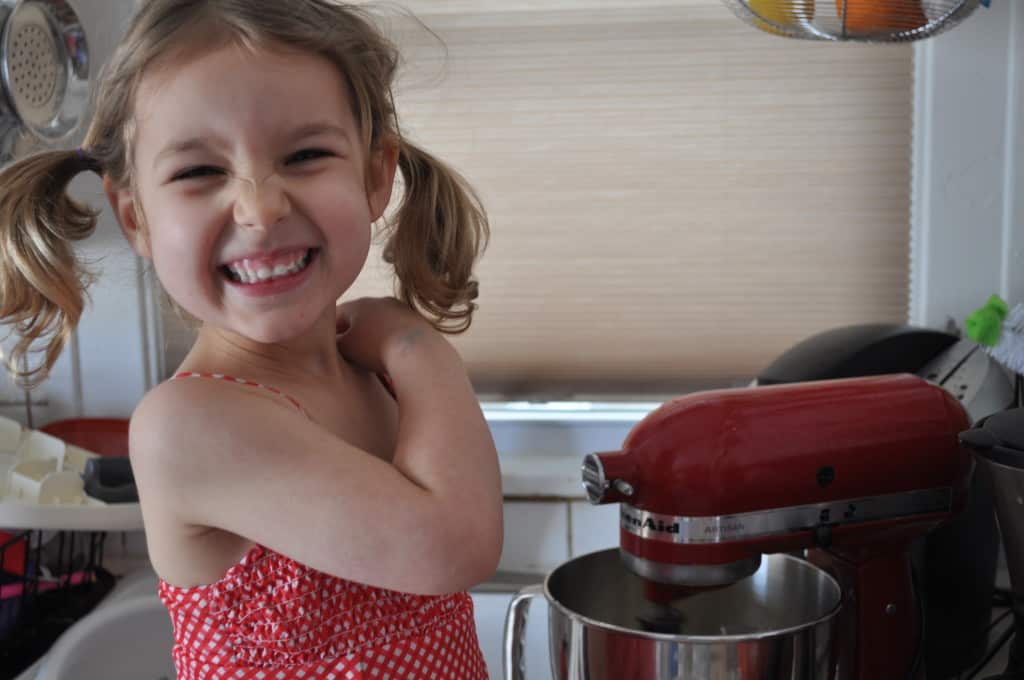 So what's a girl to do when dealing with snow and a seemingly endless winter?
Bake Red Velvet Cupcakes of course.  Because for some unknown reason, I needed them, red fingerprints and all.  Stella has been protesting winter by wearing her swimsuit instead of clothes when we are at home.  Dressed in a swimsuit, with a foot of snow outside, we made Red Velvet Cupcakes and waited for spring.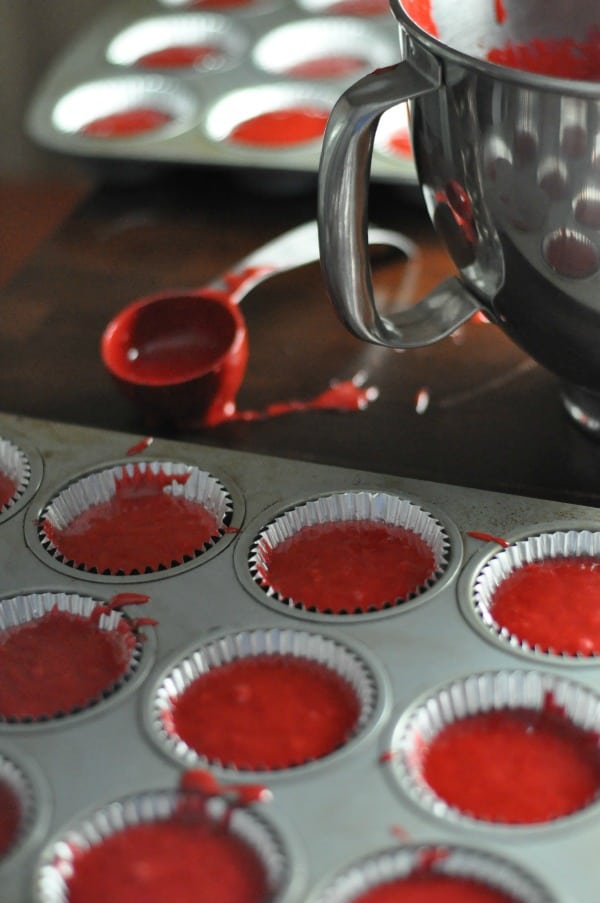 2015 Update: Years have gone by since I first wrote this post and a new Seuffert has since joined our family.  My big boy, also has a love for baking.  I woke early one morning to get these red beauties baking for some friends.  Out of his bedroom I heard his sweet baby boy voice.  "Mama I cook with you?" Now we all know cooking with kids is time-consuming and messy but friends, we miss out on moments like this.  And for that I will take the red stained counters, fingertips and lips. It is worth it.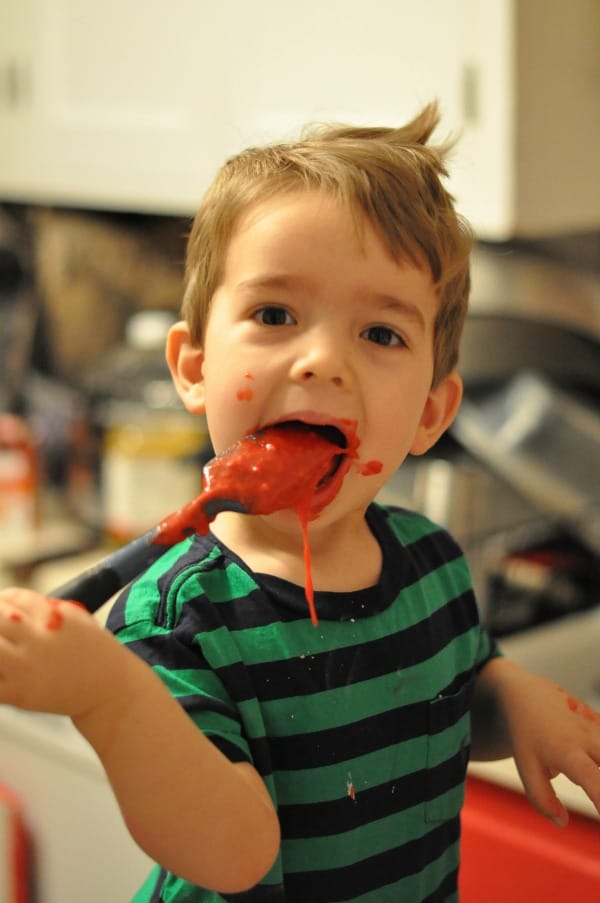 Red Velvet Cupcakes
Ingredients
3 cups Flour
¼ tsp Salt
1 ½ tsp Baking Soda
2 TB Cocoa (Ghirardelli sweetened)
1 ¼ cup Vegetable Oil
2 cups Sugar
2 tsp Chocolate Extract
4 eggs (room temp)
1 bottle red food coloring (1 ounce)
1 cup Buttermilk (1 cup milk and 1 TB lemon juice)
Instructions
Preheat oven to 375.
Mix flour, salt, baking soda and cocoa set aside.
In a mixer, blend oil, sugar and chocolate extract until creamy. Add eggs one at a time until combined. Add red coloring and mix. Gradually add buttermilk and flour mixture. Pour mixture into 2 muffin tins with cupcake liners. Do not overfill the liners of your cupcakes. They will not cook properly in the middle, they will spread and sink. I like to put about a ¼ cup in each liner so it's about half full. It's tempting to overfill but don't, there will be some extra batter left.
Bake for 16 minutes. Cool before frosting.
Cream Cheese Frosting
Ingredients
16 ounces cream cheese
2 sticks butter (softened)
6 cups powdered sugar
2 tsp vanilla paste
Instructions
In a mixer on medium speed, blend cream cheese, butter and vanilla. Gradually add in powdered sugar until creamy. Allow to chill in fridge for 15 minutes and place in pastry bag with large open tip. Swirl to frost.