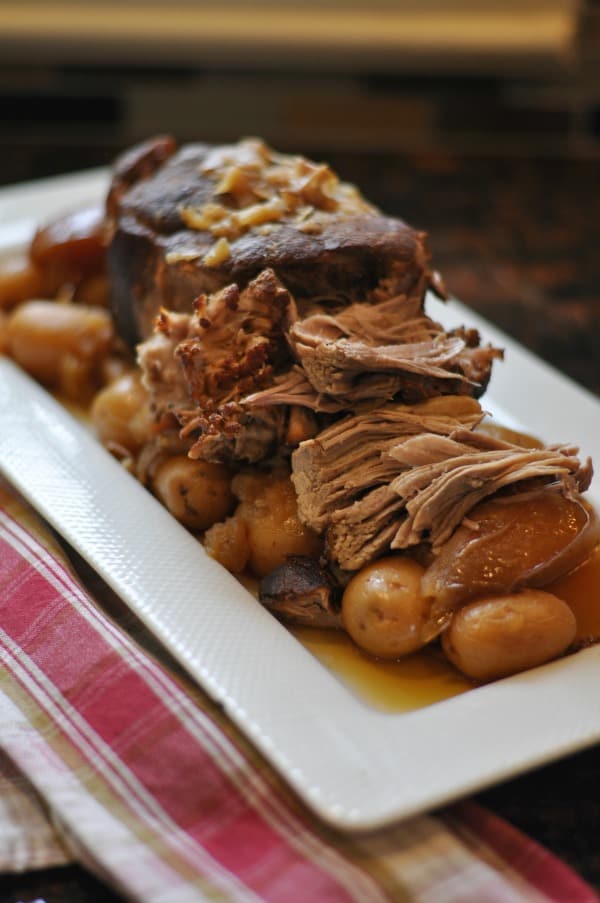 Maple Bourbon Pot Roast cooked in your crock pot with bourbon, apple juice and maple syrup.
You watch the step-by-step process for making this recipe above when I made it with the Creative Kidstuff tv show, The Happi House.
"Do you have any Bourbon?" I said to my husband one Saturday afternoon.
"Little early for Bourbon, no?"
"I'm going to cook with it, if I need to buy some I just need to know what I should buy."
"Buy the good stuff because when you are done cooking with it, I'll be drinking it."
So out I went, picked up my bourbon and got ready to drink some bourbon cook.  I'm really loving pot roasts this time of year.  Maybe it's because I got a magical new Crock Pot or maybe because well, don't most girls love good comfort food?
Ok first let's talk about pot roast. Pot roast can be beef or pork.  In this recipe I'm using pork. When you go to the meat department wouldn't it be great if they had nice stickers on the meat that said, "Pot Roast." Gosh that would be nice.  Maybe some stores do, but in case they don't look for pork shoulder or butt roast.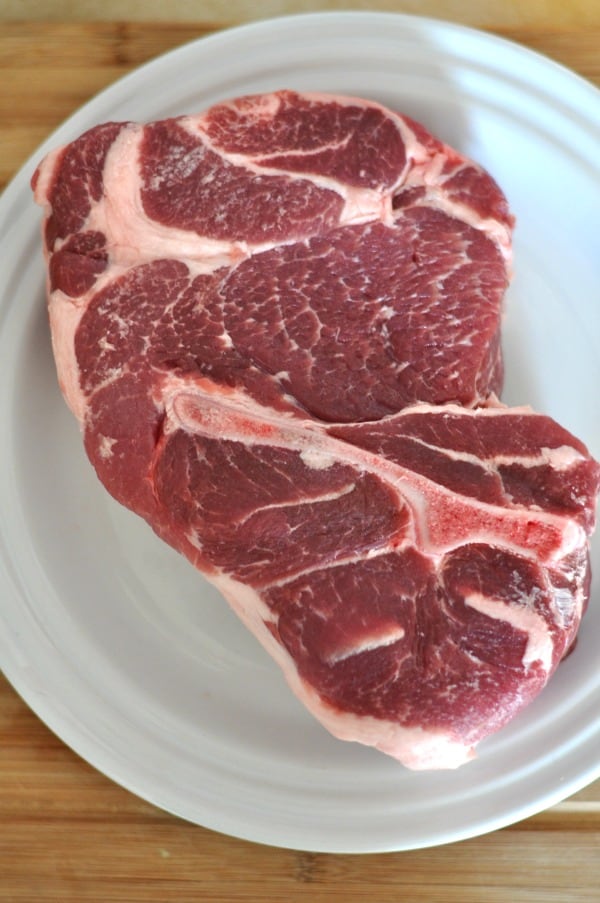 So what size pot roast? Bigger the better, right? Well not necessarily.  I like to get a roast between 3-3.5lbs.  Too much bigger and it can't fit properly in your crock pot and you won't get a proper sear when browning because trying to squeeze a big roast into the pan will just steam the meat not sear it.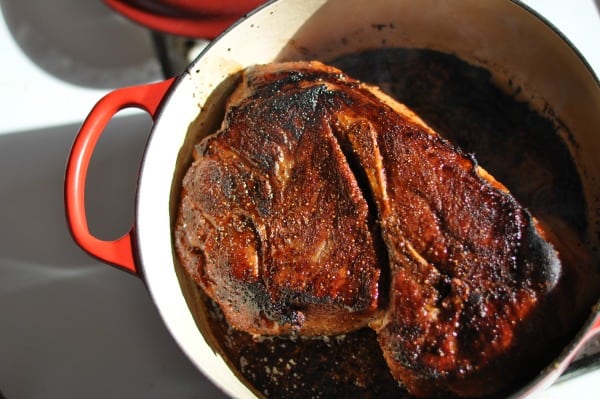 Well good morning, gorgeous. Now that is some beautiful browning.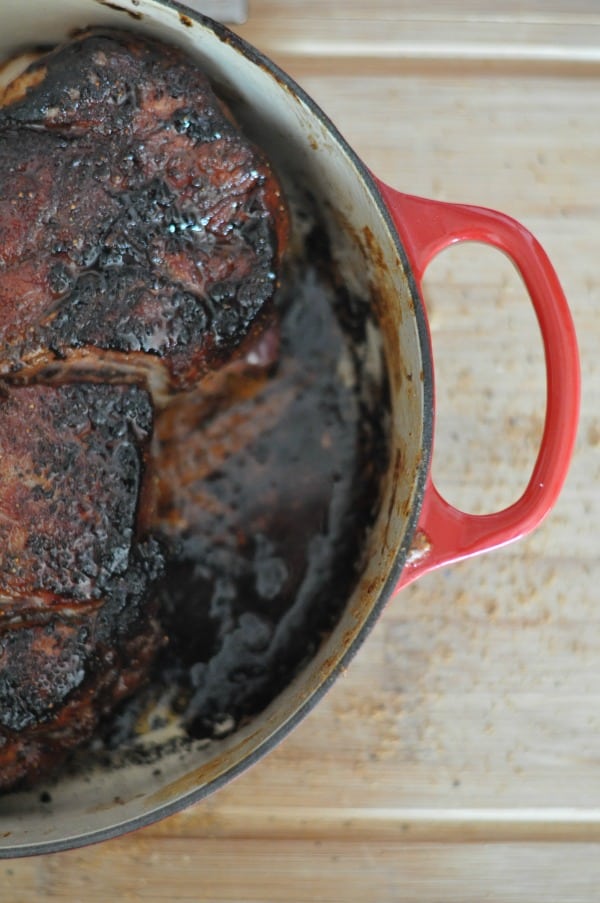 Beautiful, huh? If you don't want to be washing your most prized Le Creuset piece for days, brown the pot roast in cast iron. Luckily, I don't do dishes in my house. But don't tell my husband I said that, he'll get cranky.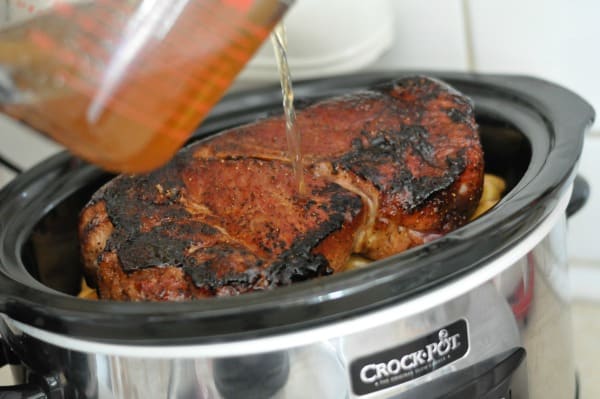 Now let's get back to bourbon.  Mix that bourbon up with apple juice and vanilla paste.  Restrain yourself from shaking it with ice and drinking it like a martini. Seriously. Put that roast on top of potatoes and apples and then pour that bourbon mix right on top. Oh and that maple syrup you were wondering about? Pour it in. Yep, you heard right.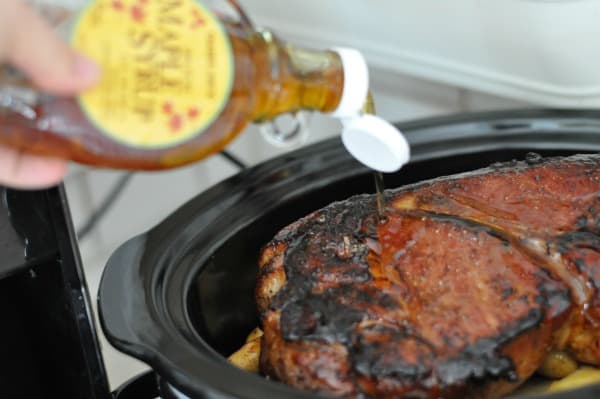 Seal up that crock pot, set it to low and get out of the house for eight hours. Maybe go to work, maybe just leave so you can walk back into the house and smell the cinnamon and apple smell or maybe just put your feet up for the day and have an afternoon bourbon. I think you earned it.
Looking for a way to use up these pot roast leftovers? Try my Pot Roast Grilled Cheese Sandwiches.

Maple Bourbon Pot Roast
Ingredients
3-3.5 lb Pork Shoulder/Butt Roast
¼ cup Vegetable Oil
⅓ cup Brown Sugar
1 tsp Cinnamon
1 tsp Ground Coriander
1 tsp Salt
1 tsp Ground Black Pepper
2 cups Apple Juice
½ cup Bourbon
1 TB Vanilla Bean Paste
1 lb Fingerling Potatoes
4 large Apples (cored and quartered with skin on)
4 ounces Maple Syrup
Instructions
Heat a pan large enough to fit your pot roast with vegetable oil over medium-high heat.
Pat the pork roast dry with paper towels. Set aside.
In a small bowl combine brown sugar, cinnamon, coriander, salt and ground black pepper. Once combined, rub the seasoning mixture over all sides of the pot roast.
Brown pot roast 3-4 minutes each side.
In a small bowl combine apple juice, bourbon and vanilla.
Line the bottom of the crock pot with potatoes and apples. Once meat has finished browning, set meat on top of the potato and apple mixture.
Pour the bourbon apple juice mixture over the pot roast, then drizzle maple syrup over the pot roast.
Cook on low for 8 hours. Reserve some of the liquid after cooking for drizzling on the meat, for au jus or for keeping the meat juicy when storing leftovers.