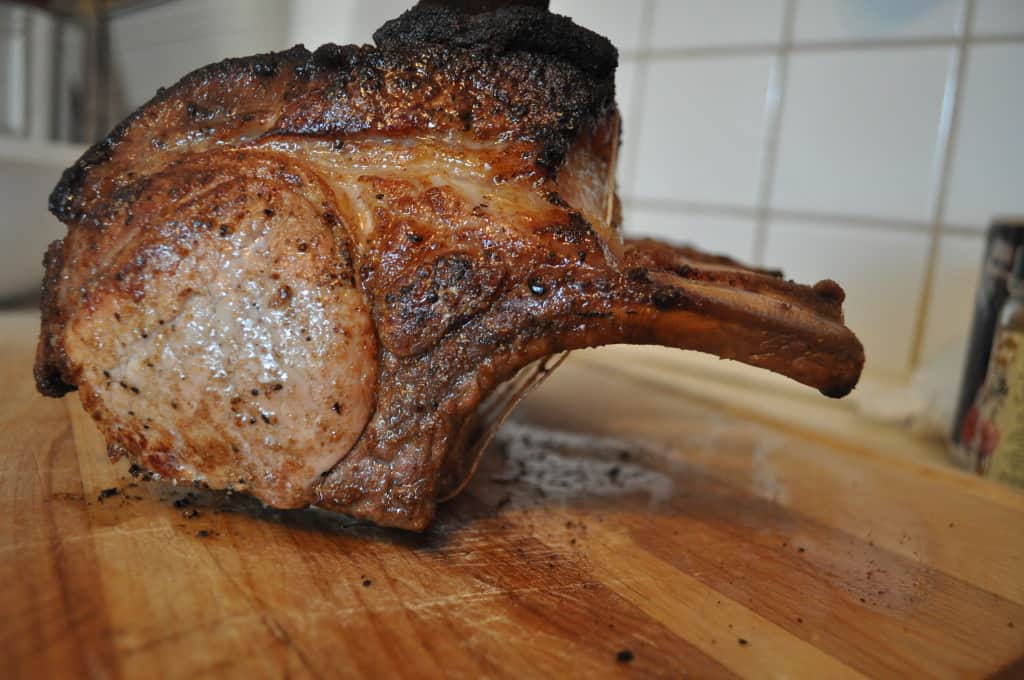 It has been a rough couple of weeks in our house.  I think at last count our family has been to the doctor's office close to ten times and the emergency room twice in the last month.  Oh yeah and one of the emergency visits was for me.  On top of all of this my husband started a new job.  When the stuff hits the fan in my house, I cook and I eat comfort food.  Oh you know it.  Those foods that just melt your heart and soul and no matter what's happening in your life, just for that moment you escape.  You forget about the loads of laundry, the toys you need to disinfect and the projects that haven't forgotten about you while you were taking temperatures, throwing away Kleenex and pushing fluids.
So there it was.  This beautiful glistening pork roast, staring at me from the cover of Bon Appétit magazine.  It's fall here in Minnesota, the weather has started to dip into the 50s and I'm ready for something yummy from the oven and even better if I can use some apples and apple cider from the local apple orchard.  Pure fall comfort food goodness!  Inspired by the magazine's challenge to bloggers to recreate the cover recipe at home, I set out to make the Cider-Brined Pork Roast with Potatoes and Onions.  I will tell you, this isn't a meal you set out to make or complete on your way home from work with the kids howling in the back seat.  This meal requires some preparation and love and for that you will be rewarded.
If you live in St. Paul, I've done some of the legwork for you and called some of our local butchers to get prices on pork roasts.  You will see the recipe calls for an 8-bone pork loin roast (mine had 7 bones) with the chine bone removed and rib bones frenched (ask your butcher to do this) that weighs about 5 pounds. Prices quoted below are per lb and includes the chine bone removal and rib bones frenched.
University of Minnesota Meat Sale
612-624-9260
Call ahead to order.  Pick up can be arranged with Tristan or at the meat sale (Wednesdays 2-5pm).
$3.75/lb
Kowalski's Grand Avenue
651-698-3366
You can call ahead or order at the meat department while you shop.
$7.99/lb
Korte's Supermarket
651-698-0713
Call early in the morning for same day pick up.
$3.99/lb
Cub Foods University Avenue
651-646-1003
Call and order with 24 hours notice.  Ask to speak with Dean in the meat department.
$4.69/lb
Whole Foods Market St. Paul
651-690-0197
Call ahead to order.
$7.99/per lb
This recipe required several steps for me.  I ordered my meat over the phone through the University of Minnesota and picked it up at their meat sale on Wednesday, did the brine on Thursday night (I let it brine 2 nights) and then cooked it on Saturday.  On Saturday afternoon, I started carving the juicy pork and there all four of us were in the kitchen-me, my husband, my 4 year-old daughter and 1 year-old son, standing around the cutting board devouring pieces of pork dripping with salty goodness.  It was a funny sight, my daughter trying to sneak more, my husband cutting more "snack pieces" and my son, sitting on the ground actually gnawing on a pork bone.  It was quiet except for the smacking and oohing coming from everyone's mouths.  For that moment there we were, squished in my tiny kitchen just forgetting about all that troubled us in in the last few weeks and relishing pure comfort food that was truly providing comfort.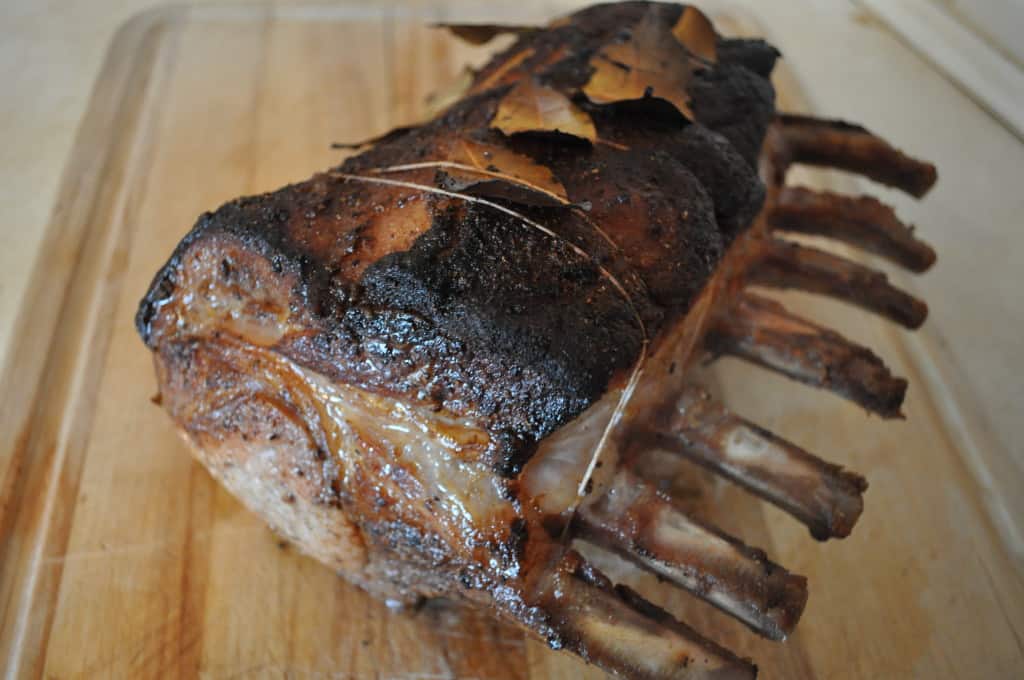 Adapted recipe of Cider-Brined Pork Roast with Potatoes and Onions
Ingredients:
1 (7 or 8-bone) Pork Loin Roast (about 5 pounds). Ask butcher to remove chine bone and have rib bones frenched.
1 cup Dark Brown Sugar
1 cup plus 2 tsp Salt, divided
8 Bay Leaves, divided
3 TB Ground Coriander
1 tsp Black Peppercorns
1 quart Fresh Apple Cider
2 lb Small Red Potatoes (whole)
2 Sweet Onions (quartered)
3 Sweet Potatoes (sliced)
3 Honey Crisp Apples (sliced)
6 TB Olive Oil, divided
2 tsp Ground Pepper
Directions:
Remove pork from packaging and wrap pork tightly with kitchen twine.  I wrapped mine next to each rib bone.
In a medium saucepan, bring brown sugar, 1 cup salt, 2 bay leaves, 1 TB of coriander, 1 tsp peppercorns and 2 cups of water to a boil.  Reduce heat and simmer for 8 minutes.  Prepare a bowl with 2 cups of ice and cider.  Add brine mixture.
In a 2.5 gallon resealable plastic bag, add pork and cider brine.  Seal bag and place inside your roasting pan and chill in refrigerator between 8 hours and up to 2 days.  I rotated the pork in brine half way so all of the pork had a nice soak. Once brined, dry off pork with paper towels and allow to sit at room temperature for about 45 minutes.
On a cookie sheet, toss potatoes, onions, sweet potatoes and apples with 4 TB of olive oil, 1 tsp salt and 1 tsp ground pepper.
Preheat oven to 425 and place rack in bottom third of oven.
Rub pork with 2 TB coriander, 1 tsp salt and 1 tsp ground pepper.  Heat 2 TB olive oil in a large skillet over medium-heat.  Brown pork on all sides.  Reserve pan for later use.
Transfer vegetables to the roasting pan and place pork on top, with fat-side up.  Put the remaining bay leaves under the twine.  Wrap the bone tips with tinfoil.  Cook for 60 minutes or until internal temperature reaches 140.  Remove foil and transfer pork to a cutting board to rest for 30 minutes.  Once rested, slice roast between ribs into chops.   Reheat large skillet and sear each chop.
8 servings