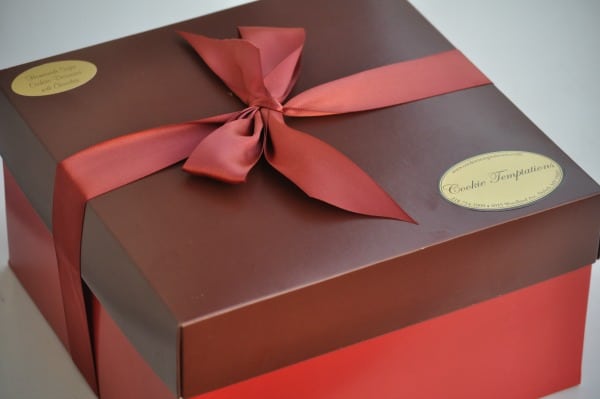 I'm a big fan of Cookie Temptations, a Minnesota cookie delivery company based in Duluth. I told you about how much I loved these cookies in a post earlier this year.
You know how some ladies swoon over those robin's egg blue boxes?
Not me.
I like brown and red boxes.
You know what comes in brown and red boxes?
Cookie Temptations cookies!
I recently received a birthday cookie delivery from Cookie Temptations. I was so excited when that brown and red box arrived.  I carefully untied the beautiful red bow and inside were beautifully decorated birthday cookies just for me! Really! One cookie even had my name on it!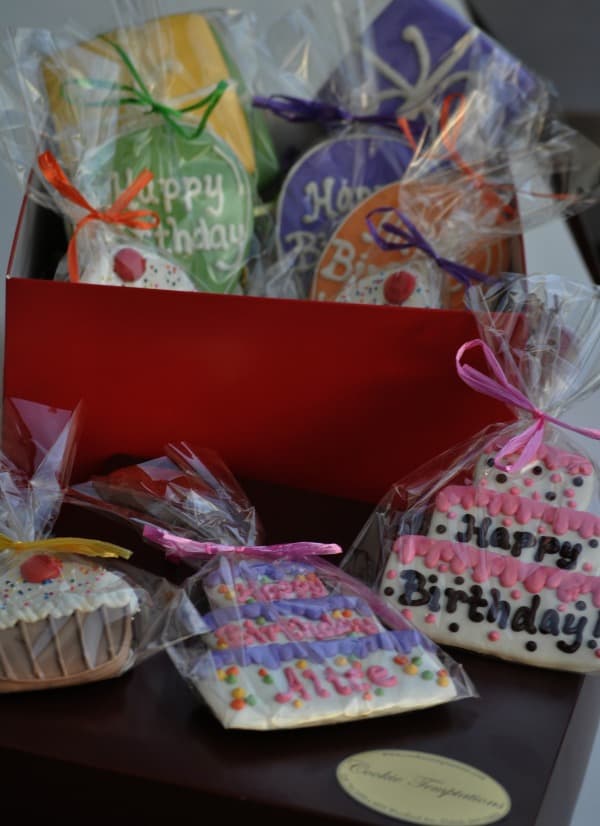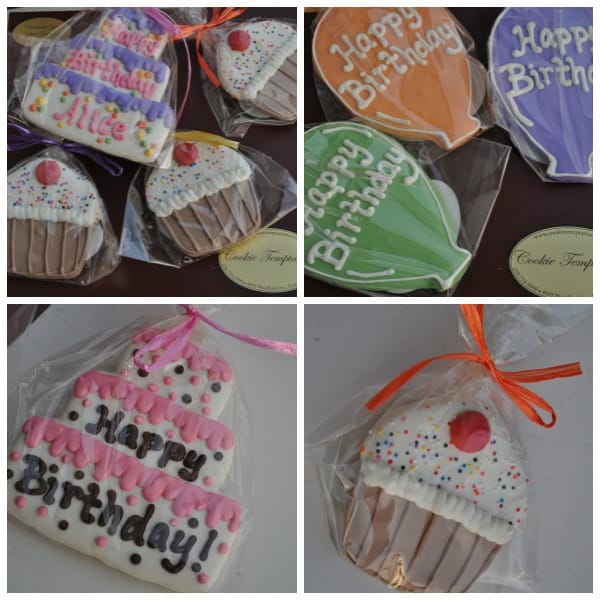 Cookie Temptations cookies are gorgeous and they are so delicious too.  They have so many different designs and even offer gluten free cookies! Whether it is for a birthday, corporate gift or new baby, Cookie Temptations make a perfect edible gift that can be shipped to anywhere in the United States. I also love that they have a cookie of the month club-now that's an awesome holiday gift idea!
I also wanted to tell you about something else that makes Cookie Temptations special. They have a Cookies for Hope program and each month they raise money for a family with a life threatening disease or accident.  Each month all of the net profits from their support square cookies go to a designated family. Ongoing donations that Cookie Temptations has given to local families is over $15,000!
I was really excited when Jennifer from Cookie Temptations agreed to give my readers a chance to win a birthday cookie delivery! You can send it to yourself or someone else!  Follow the Rafflecopter instructions for a chance to win and for a blog comment tell me your favorite birthday memory.
Have you read my Why Birthdays Matter post? Check it out and enter to win some of my favorite Minnesota products and services!
Go give Cookie Temptations some love on social media too!
Cookie Temptations Facebook Page
Cookie Temptations on Pinterest
Disclosure Information. I received a cookie delivery from Cookie Temptations.