A comfort food classic, Goulash is an easy weeknight dinner option and meal that whole family will love.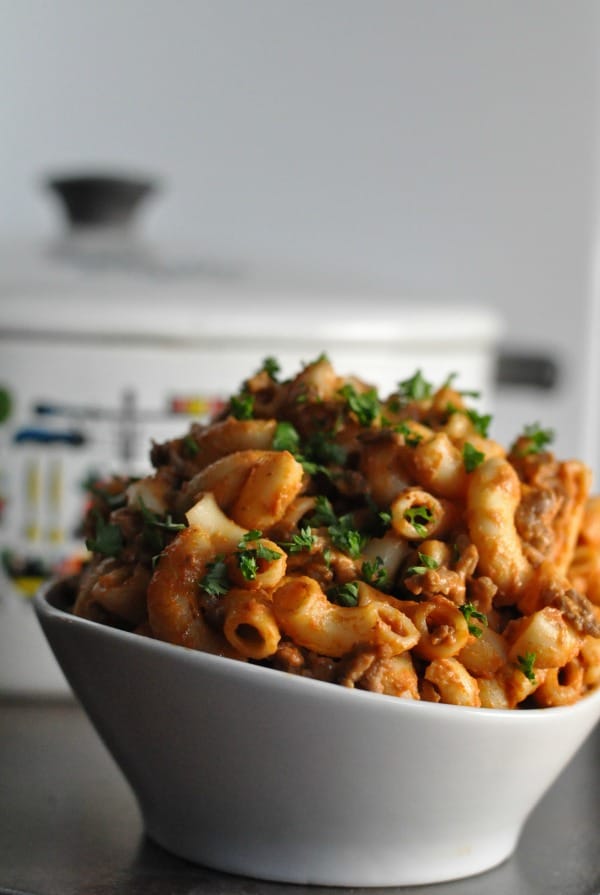 My recipe for Goulash was featured on Nellie Bellie where I contribute easy and creative recipes.  Coming over from Nellie Bellie? Thanks so much!
When I think of favorite meals from my childhood, Goulash tops the list.  I remember my mom, a busy single mom, rushing after work to get dinner on the table. Three kids barking "What's for dinner?" from our squishy brown booth in a kitchen adorned with orange and brown flowered wallpaper. Mom cooking dinner in her work clothes, a long pencil skirt with a blouse stitched with shoulder pads and bouncing brunette hot rolled hair. It was the 1980s.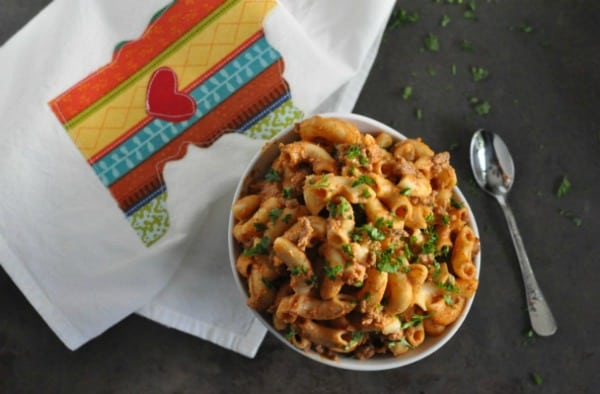 The Goulash meal was simple enough, cheap in cost to prepare and a great alternative to spaghetti night. My mom could quickly make it and settle into the next part of the evening and maybe even have time to take off her work clothes. A luxury I now treasure when I return home from work.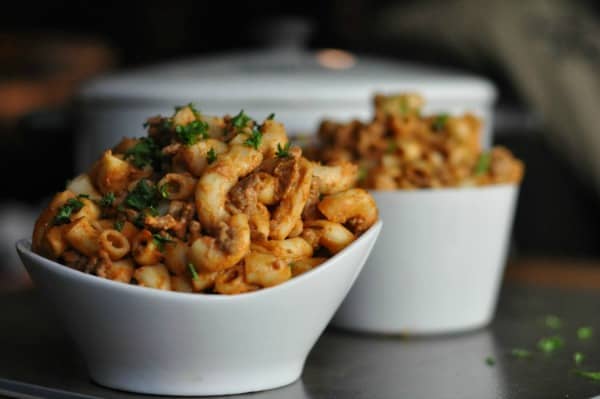 When I ask friends how they make Goulash there is never a same response. But it's usually inspired by their mother's recipe. My mom always made it with molasses but I've adapted mine to include brown sugar. I've heard of chunky tomatoes as an addition and even Velveeta cheese, no matter the additions or changes, it remains a family classic, especially in Minnesota.

Goulash
Ingredients
1 box Large Elbow macaroni
1 lb. Ground Beef (85/15)
¼ cup Brown Sugar
1 tsp Smoked Paprika
1 tsp Onion Powder
1 tsp Garlic Salt
26 oz Can of Tomato Condensed Soup Family Size (The family size cans come in 23 or 26 ounces, either is fine. Or use 2.5-3 cans of the regular size depending on how creamy you'd like it. Do not add additional water, just add the soup from the can).
8 ounces Sour Cream
garnish: Parsley
Instructions
Prepare pasta according to package directions. Drain and set aside.
In a skillet over medium heat, fry the ground beef with brown sugar, smoked paprika, onion powder and garlic salt. Once fully cooked add meat to a large pot and combine with pasta, tomato soup and sour cream. Allow to warm and serve.
Garnish with parsley.
Ingredients
1 box Large Elbow Macaroni
1 lb. Ground Beef (85/15)
1/4 cup Brown Sugar
1 tsp Smoked Paprika
1 tsp Onion Powder
1 tsp Garlic Salt
26 ounces Tomato Condensed Soup
8 ounces Sour Cream
Garnish: Parsley
Instructions
Prepare pasta according to package directions. Drain and set aside.
In a skillet over medium heat, fry the ground beef with brown sugar, smoked paprika, onion powder and garlic salt. Once fully cooked add meat to a large pot and combine with pasta, tomato soup and sour cream.
Garnish with parsley.
Serves 8
https://diningwithalice.com/comfort-foods/goulash-2/

SaveSaveSaveSave