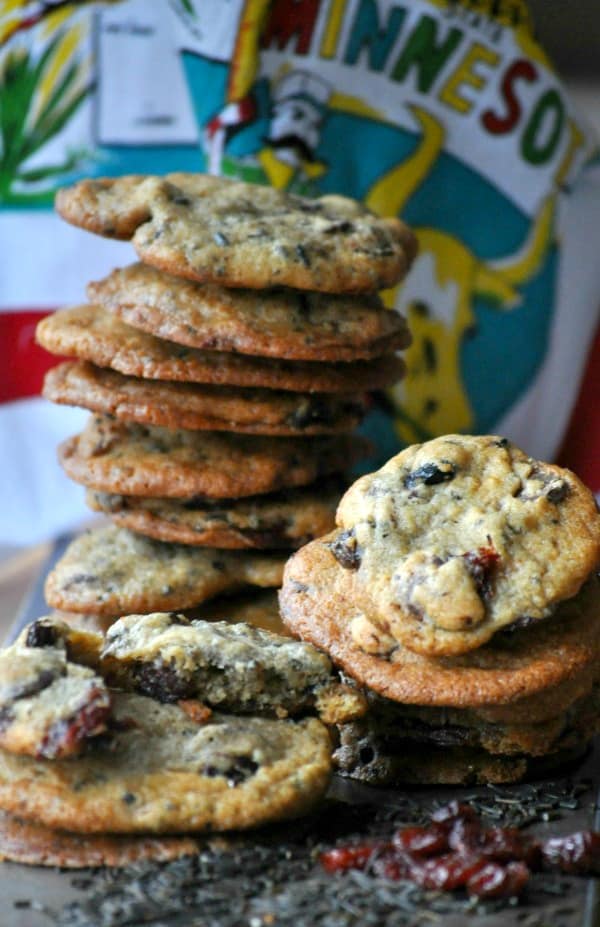 These aren't any ordinary chocolate chip cookies.  Browned butter, dark chocolate and cooked wild rice make an extraordinary cookie.
I'm such a proud Minnesota. I love our great state and love food products from here. I've made Guinness Corned Beef Wild Rice Soup, Creamy Minnesota Wild Rice Soup, Venison Wild Rice Meatloaf, and one of my favorites, my Northwoods burger stuffed with wild rice and blueberries!
Click here to watch the segment from Twin Cities Live when I made this recipe.
Did you know that Minnesota is one of the leading producers of wild rice in the country?
Some important information to know when making wild rice cookies.
Cultivated wild rice is grown in a man-made paddy instead of a lake.
Traditional wild rice is grown in lakes or rivers.
Most wild rice is packaged uncooked. You will need to cook the wild rice for this recipe.
Some wild rice is packaged cooked and this is a great time-saver.  If you use cooked wild rice, still follow the directions to process it in a food processor until finely chopped.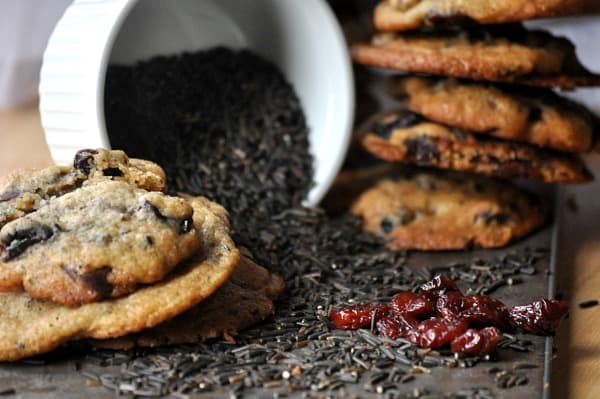 I love adding oatmeal and berries to my chocolate chip cookies.  When I've made the recipe I find that browning the butter gives the cookies a really nice, rich flavor.  Also very important when you make the recipe is to finely chop the wild rice in a food processor.  This is important because the wild rice will harden during the baking process and you want the small bites in the cookies to be tiny.  The rice then gives it nice almost nutty texture without being too overbearing.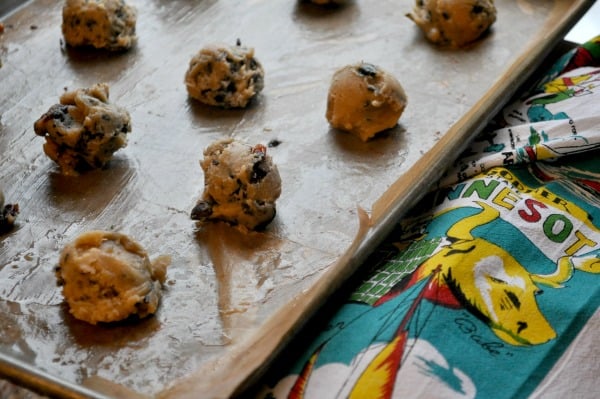 When I made the wild rice cookies I used a cookie sheet I had left over from the morning's breakfast, what was leftover? You guessed it. Bacon.  The little bit of bacon gave these cookies a smoky bacon flavor on the outside. I rarely let my bacon cookie sheet go without a second use, vegetables including potatoes are great to roast on the leftover cookie sheet.
These cookies are the very best right out of the oven, just like another Minnesota favorite, Sweet Martha's at the Minnesota State Fair.
Wild Rice Cookies
Ingredients
1 cup Land O'Lakes Butter, divided
1 cup Brown Sugar
1 cup White Sugar
2 tsp Vanilla
2 eggs
2 ¼ cup Flour
1 tsp Baking Soda
1 package Ghirardelli 60% Cacao Bittersweet Chocolate (10 ounces)
1 cup Wild Rice (cracked, cooked)
8 ounces Dried Berries
Instructions
Preheat oven to 350
In a saucepan, brown one stick of butter on low heat until golden brown in color. Add browned butter, stick of butter, sugars and vanilla to stand mixer. Once combined add eggs one at a time.
In a bowl combine flour and baking soda. Add flour mixture to butter mixture.
In a food processor, chop cooked wild rice until finely chopped. Then add chocolate, rice and berries.
Chill dough 10 minutes and then scoop into balls and bake for 14 minutes. Keep dough chilled while other cookies are baking.