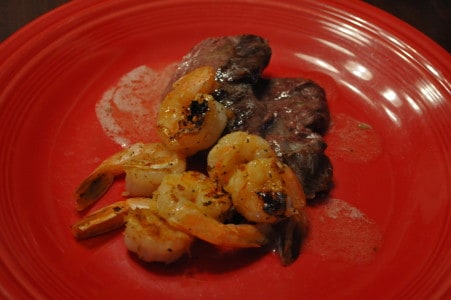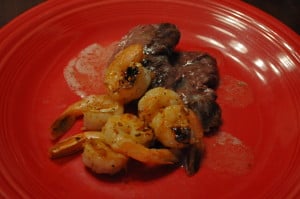 Surf and Turf: No Name Steak Topped with Pizza Seasoned Grilled Shrimp with a Beer Butter Glaze
Click here to watch the June 14, 2013 Twin Cities Live segment when I made this recipe.
Ingredients:
4 No Name Petite Cut Steaks (4 ounce cuts)
1 lb Jumbo Shrimp
2 tsp Pizza Seasoning
½ cup Butter (salted)
½ cup Beer
Directions:
Cook steaks on outdoor grill until desired internal temperature is reached. For medium doneness cook until 160° F. If using a George Foreman Grill, cook on preheated grill sprayed with non-stick spray for 5 minutes.
While steaks are cooking, combine shrimp and pizza seasoning. Add to grill and cook until charred.
In a glass measuring cup, add butter and beer, heat in microwave about 45 seconds or until butter is melted.
Serve steaks with grilled shrimp and drizzle beer butter glaze on top.
Makes 4 Servings