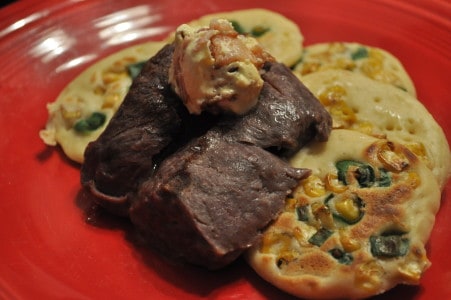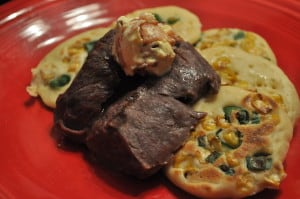 No Name Steak with Savory Mini Pancakes and Maple Bacon Butter
If you are looking for some fun steak toppings this summer, try out these fun breakfast, lunch and dinner ideas!
Click here to watch the June 14, 2013 Twin Cities Live segment when I made this recipe.
Click here for Steak Toppings: Lunch
Click here for Steak Toppings: Dinner
Ingredients:
4 No Name Petite Cut Steaks (4 ounce cuts)
Pancake Mix
1 egg
¾ cup Green Onions (chopped)
1 cup grilled corn
¼ cup Spreadable Butter
2 tsp Maple Syrup
¼ cup Bacon (chopped)
Directions:
Cook steaks on outdoor grill until desired internal temperature is reached. For medium doneness cook until 160° F. If using a George Foreman Grill, cook on preheated grill sprayed with non-stick spray for 5 minutes.
While steaks are cooking, in a medium bowl, follow pancake directions for the 11-12 pancake recipe (add water and egg according to directions). Heat nonstick pan to medium heat and drop mix by 1 TB spoonfuls. Add green onion and corn to each cake, once bubbles appear flip cakes.
In a small bowl, combine butter, syrup and bacon. Set aside.
Serve each steak with 5-7 mini pancakes and top each steak with 1 TB of Maple Bacon Butter.
Makes 4 Servings