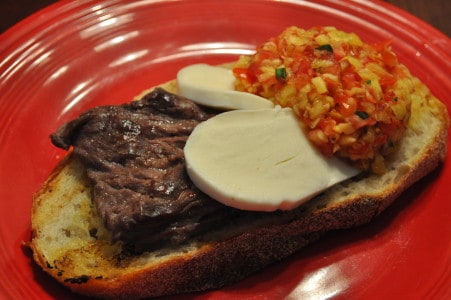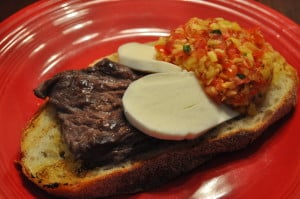 No Name Steak with Fresh Mozzarella and Peach Bruschetta served over Grilled French Bread
Click here to watch the June 14, 2013 Twin Cities Live segment when I made this recipe.
Click here for Steak Toppings: Breakfast
Click here for Steak Toppings: Dinner
Ingredients:
4 No Name Petite Cut Steaks (4 ounce cuts)
4 slices Artisan Bread or French Round Loaf
4 TB Spreadable Butter
3 Peaches (sliced)
1 cup Cherry Tomatoes
1 Garlic Clove (minced)
6 Basil Leaves
8 Slices Fresh Mozzarella (1/2 inch pieces)
Directions:
Cook steaks on outdoor grill until desired internal temperature is reached.  For medium doneness cook until 160° F.  If using a George Foreman Grill, cook on preheated grill sprayed with non-stick spray for 5 minutes.  After you are done grilling the steak, place bread (spread with butter) on grill until crusty.
While steaks are cooking, in a food processor, add peaches, tomatoes and garlic.  Pulse until chopped, then add basil leaves and pulse until chopped. Set aside.
Serve steaks on top of grilled bread, top each steak with 2 slices of mozzarella and ½ cup bruschetta.
Makes 4 Servings