I told you about how I was obsessing over cupcakes a few years ago because I was making Red Velvet cupcakes for a friend's wedding. I think I might have said that I never wanted to see a cupcake again. Then time passes and your daughter's absolute favorite thing to make is what? You guessed it, cupcakes. I love this cupcake because it has become a bright spot for us in the winter when both the snow and grapefruits are plenty. If you have never made your own frosting, oh my. This frosting is so good. Good like hide in the kitchen so your kids can't see while you eat spoonfuls good.
Click here to watch the Twin Cities Live segment when I made this recipe with Stella.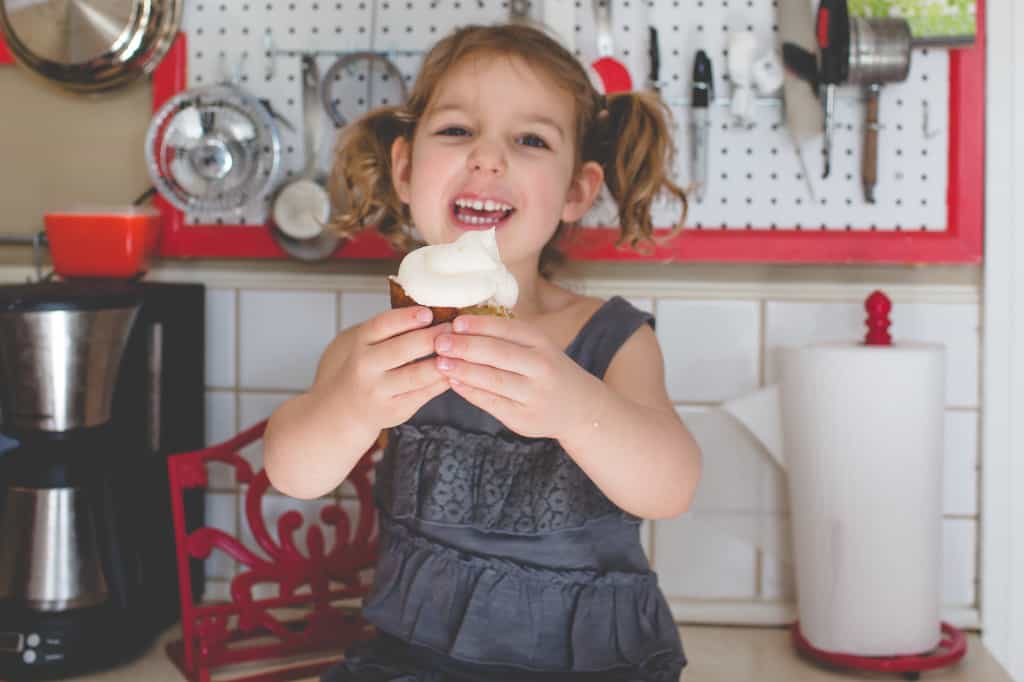 If you follow me on Facebook, you see that my kids and I spend quite a bit of time together in the kitchen. Yes, it takes way more time to get anything done and yes it is incredibly messy. But man I love it. Cooking with my kids is something that gives me pure joy. I do laugh when the mixer goes on full blast and when the kids experiment and taste something super sour or even super sugary. I don't think Will feels the same, he gets a bit anxious when I start making frosting with the kids as it is usually a two-day cleaning project (like, when you are finding frosting on misc things for two days). Anyhow, do what works for your family and comfort level when it comes with getting your kids involved in the kitchen. Looking for some ideas? Here's a list I came up with cooking ideas for kids birth-3+.
Ingredients:
1 ½ cups Flour
1/8 tsp Salt
¾ tsp Baking Soda
¾ cup Vegetable Oil
1 cup Sugar
1 tsp Vanilla Bean Paste
2 eggs (room temp)
½ cup Whole Milk
½ TB Lemon Juice
2 grapefruits, divided
1 stick butter (room temperature)
3 cups powdered sugar
Directions:
Preheat oven to 375.
In a large bowl, blend flour, salt and baking soda. Set aside.
In a mixer, blend vegetable oil, sugar and vanilla bean paste until smooth. Add eggs one at a time until well blended.
In a dish combine milk and lemon juice. Set aside.
Add zest from 1 grapefruit to mixer. Squeeze juice and pulp from the grapefruit and add pulp and 3 TB of juice to mixer, blend. Reserve additional juice.
In batches, add flour and milk mixture to the mixer, blend until combined and scrape bowl well to ensure flour is incorporated.
Fill muffin cups with batter. Bake for 17 minutes at 375.
For frosting, blend butter, powdered sugar and zest from 1 grapefruit. Gradually add grapefruit juice until frosting becomes light and fluffy.
Makes 12 cupcakes