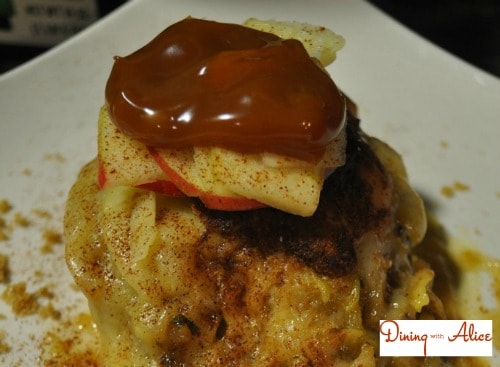 There are so many reasons to love fall but probably one of my favorite reasons is apple picking. Did you see my post about Afton Apple Orchards? Go check it out-my new favorite place in the Twin Cities to pick apples and enjoy a fall day! Ok so you get your apples home and you could make crisp, pie, sauce-but what about something savory? I love this savory and sweet, perfect for fall recipe! And did I mention it's easy? The chicken bakes in a foil pack and seals in all the yummy flavors of fall-apple, brown sugar and cinnamon-making you the most delicious Apple Pie Chicken!
You can watch the September 28, 2013 Twin Cities Live segment when I made this recipe here.
Ingredients:
4 Chicken Breasts (6 ounce fillets)
1 ½ cups Stuffing Mix (prepared)
1 cup Honey Crisp Apples (thinly sliced)
1 cup White Cheddar (thinly sliced)
½ cup Brown Sugar
1 tsp Cinnamon
Caramel Sauce for garnish
Directions:
Preheat oven to 375.
Butterfly chicken breasts and lay each chicken breast flat in its own tin foil.
Divide stuffing, apple slices and cheddar into each chicken.
Combine brown sugar and cinnamon, sprinkle evenly on each chicken and seal foil pouches tightly and place in a 9×13 pan. Bake for 35 minutes.
Once cooked, drizzle with caramel sauce.
Serves 4
Disclosure and Privacy Information Sponsor Information: I was compensated for my television appearance using this recipe.