The best creamy New England Clam Chowder recipe made with bacon. An easy recipe to make this homemade classic for friends and family.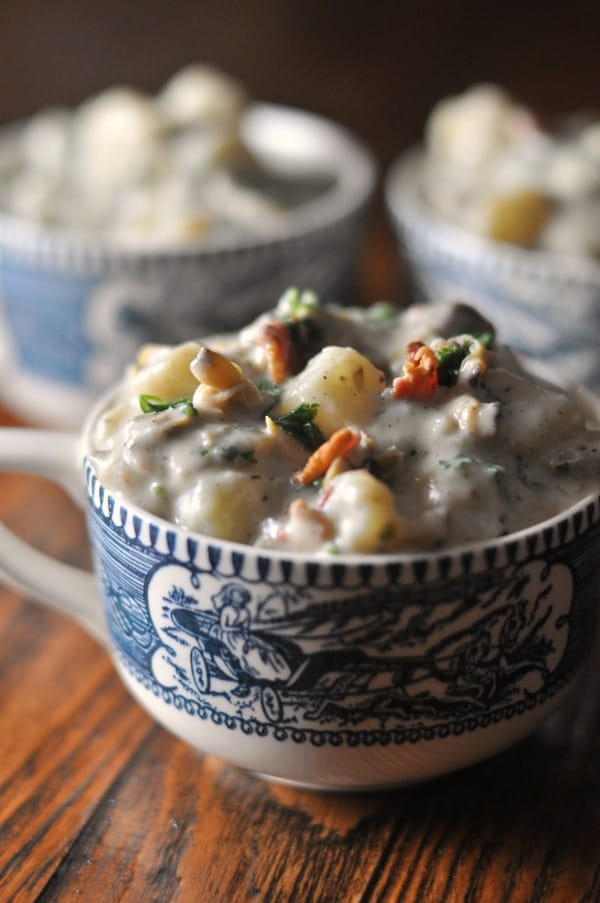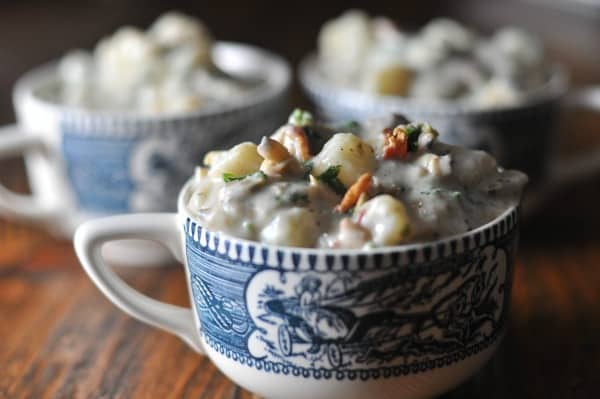 My husband is from New England and has been a big influence on me when it comes to trying seafood. I remember the first time I visited his family in Rhode Island and his dad came over to the dining room table with a giant bowl filled with lobster, I think there were like eight lobsters in there. Sides for the meal included scallops, shrimp, and swordfish. I was so overwhelmed. As a kid in Minnesota, I remember we had lobster once. It was on New Year's Eve and our family of five shared one lobster!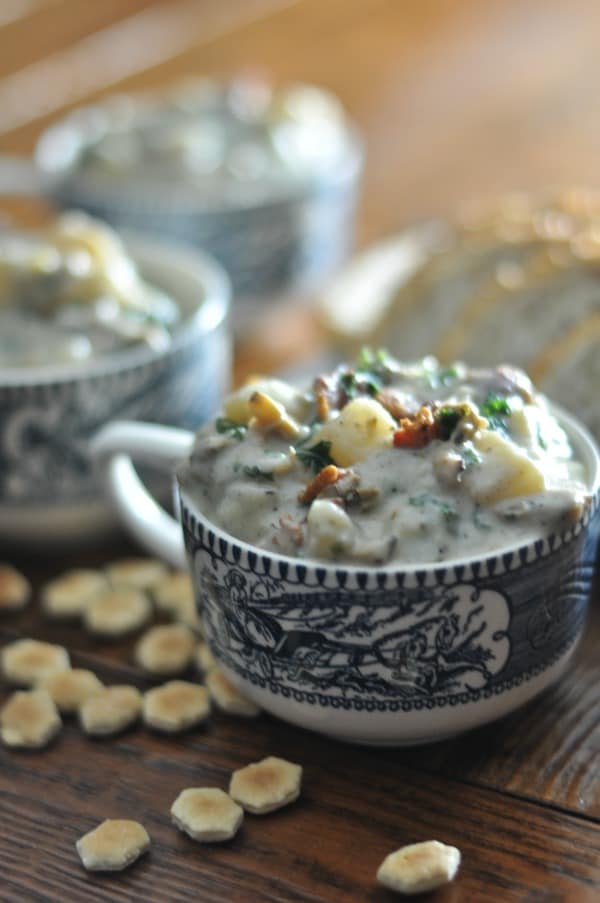 Our love for seafood has continued and I eventually convinced him to move to chilly Minnesota. One of my husband's favorite foods from home is New England Clam Chowder.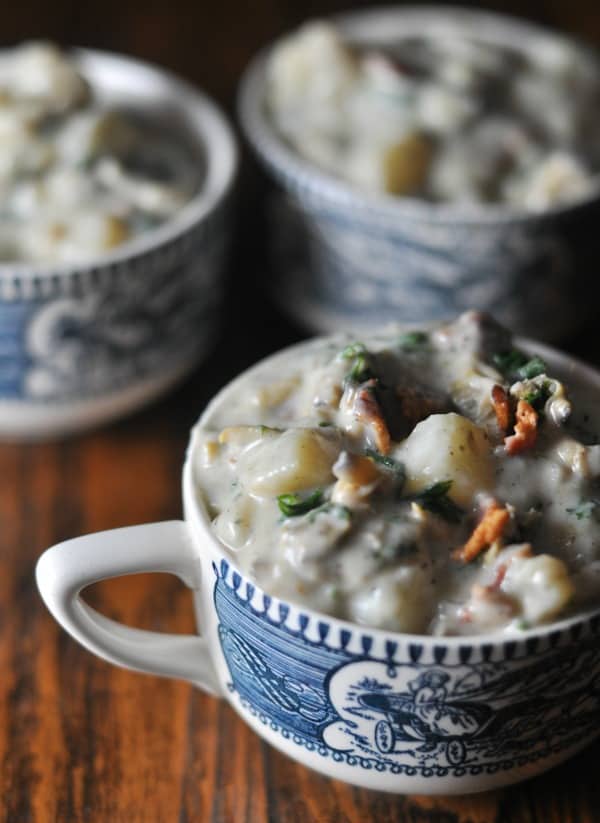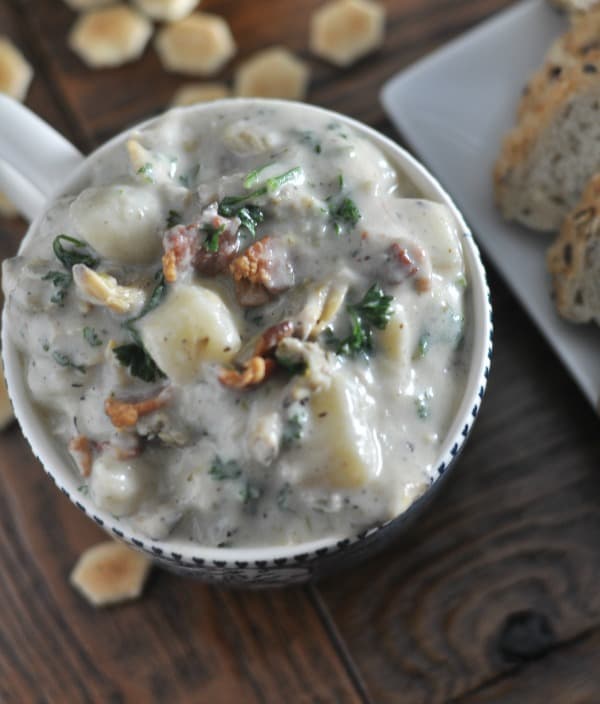 Part of my recipe research for this New England Clam Chowder was to ask my husband what is important for this soup. He mentioned creaminess, parsley, pepper, good seasoning. So I got to work and using my background in making Creamy Wild Rice soup and Creamy Salmon soup as my foundation, I created what my husband calls, "the best New England Clam Chowder" he has ever had. It has a nice kick of seasoning and spices, it is full of flavor and not fishy. I made this on a chilly Saturday night with family and we all enjoyed seconds, dipping in crusty bread and I loved how my husband's heritage from New England combined with my Minnesota heritage of making the base of a creamy chicken wild rice soup.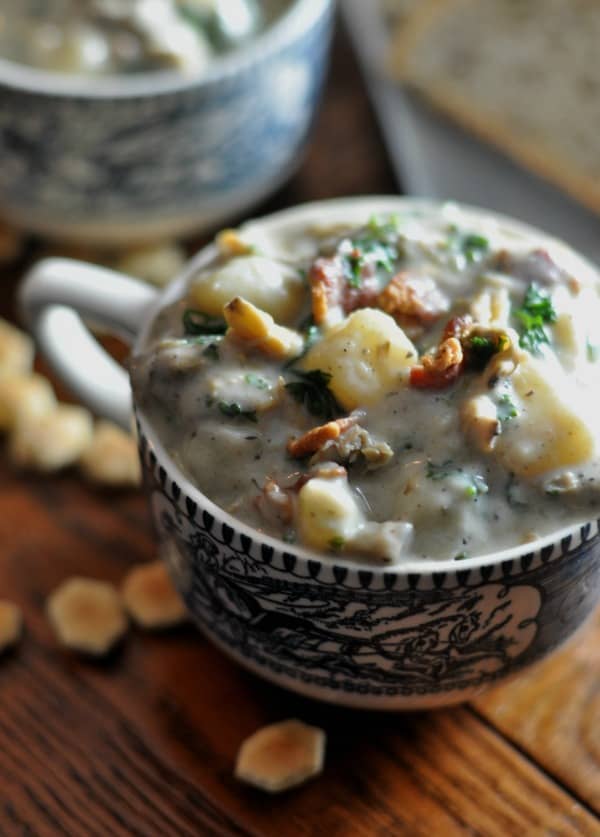 This recipe was inspired by the film, Manchester By The Sea. The story is set in New England, when an uncle unexpectedly is given the duty to care for his nephew. For this recipe, I wanted to create a New England-inspired dish that has feelings of comfort food and family, and I thought New England Clam Chowder was the perfect dish for this movie. It is a great recipe for serving right out of the Dutch Oven for your family, or for a big crowd at a party, just transfer it to a Crock-Pot slow cooker on low and serve with mini sourdough bowls and all the favorite sides like oyster crackers and hot sauce.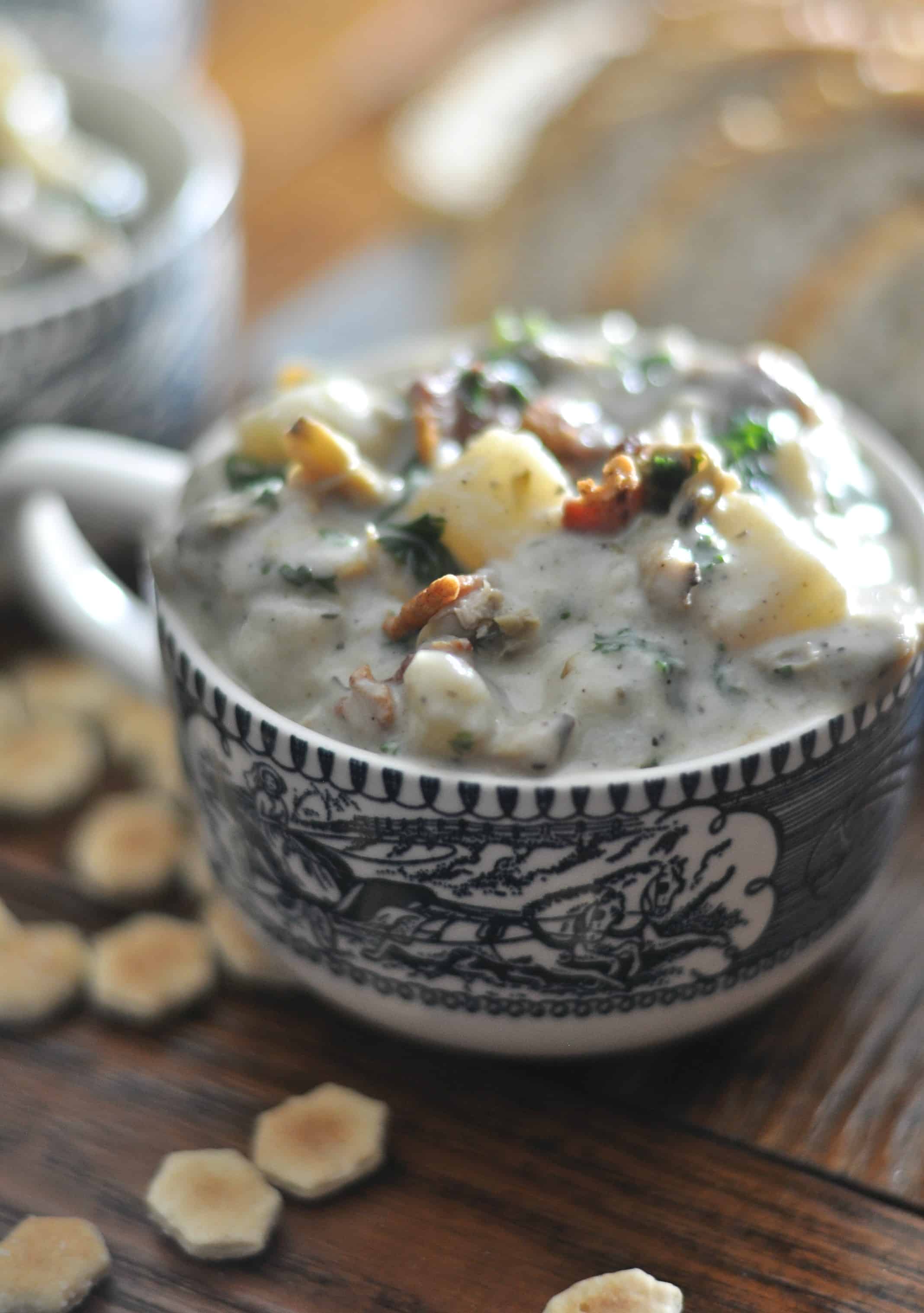 I teamed up with 9 other food bloggers to present treats and recipes inspired by this year's Academy Awards nominations for Best Picture. This is my third year participating in this fun project, my past recipes include Nutella Milkshake and Crock-Pot Slow Cooker Ribs. When you are done checking out this recipe, scroll to the bottom of this page to check out their Academy Award-inspired recipes!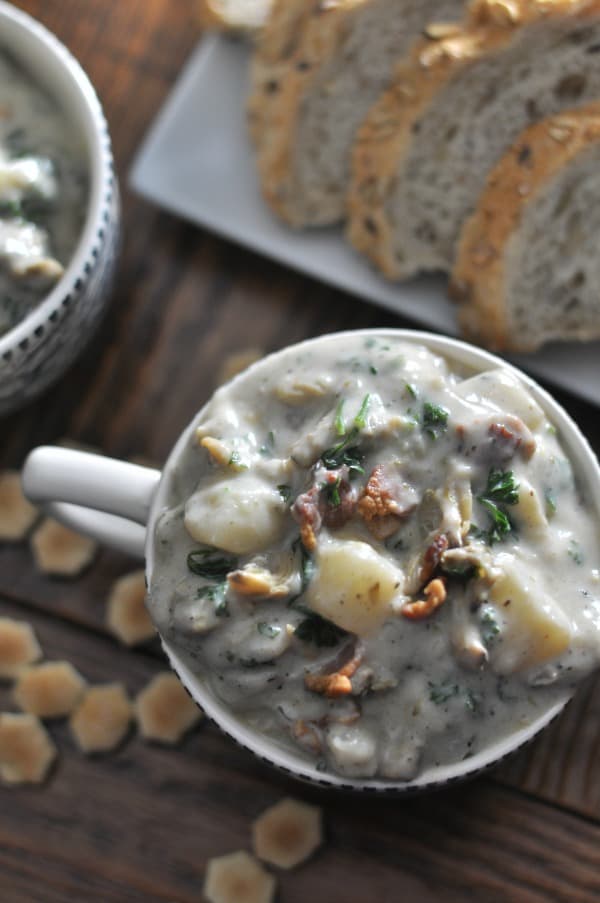 New England Clam Chowder
Ingredients
6 slices Thick-cut Bacon (not cooked, chopped)
4 TB Butter
2 Stalks of Celery (finely chopped)
1 medium Yellow Onion (finely chopped)
1 tsp Old Bay Seasoning
1 tsp Garlic Powder
1 tsp Italian Dried Herbs/Seasoning
1 tsp Ground Black Pepper
½ cup Flour
2 (10 oz cans) Whole Baby Clams (save juice from cans)
32 ounces Stock (chicken)
2 Bay Leaves
4 Medium Russet Potatoes (peeled and cubed)
1 cup Fresh Parsley (chopped)
1½ TB Fresh Thyme
2 cups Half and Half
1 tsp Salt
Instructions
In a Dutch Oven, over medium heat, fry chopped bacon. Once cooked, remove bacon and set aside. Remove and dispose of the bacon grease from dutch oven.
In the Dutch Oven, melt butter and sauté onion and celery until soft.
Add Old Bay seasoning, garlic powder, Italian herbs, and black pepper. Blend in flour. The flour mixture should stick together and be clumpy.
Open the cans of clams and pour clam liquid into a liquid measuring cup. It should be about 1 and ¼ cups of clam liquid. Set both the liquid and the clams aside.
Gradually add the chicken stock and clam liquid into the Dutch Oven and whisk into the flour mixture until blended. Add the bay leaves and cubed potatoes. Bring the mix to a boil. Once bubbling, cook 6-10 minutes or until the potatoes are soft.
Turn heat down to low and add the clams, parsley, and thyme. Add half and half and bacon and then turn heat up to warm soup. Continue stirring, let stand 10-15 minutes to thicken.
Serve with hot sauce, oyster crackers, and fresh bread.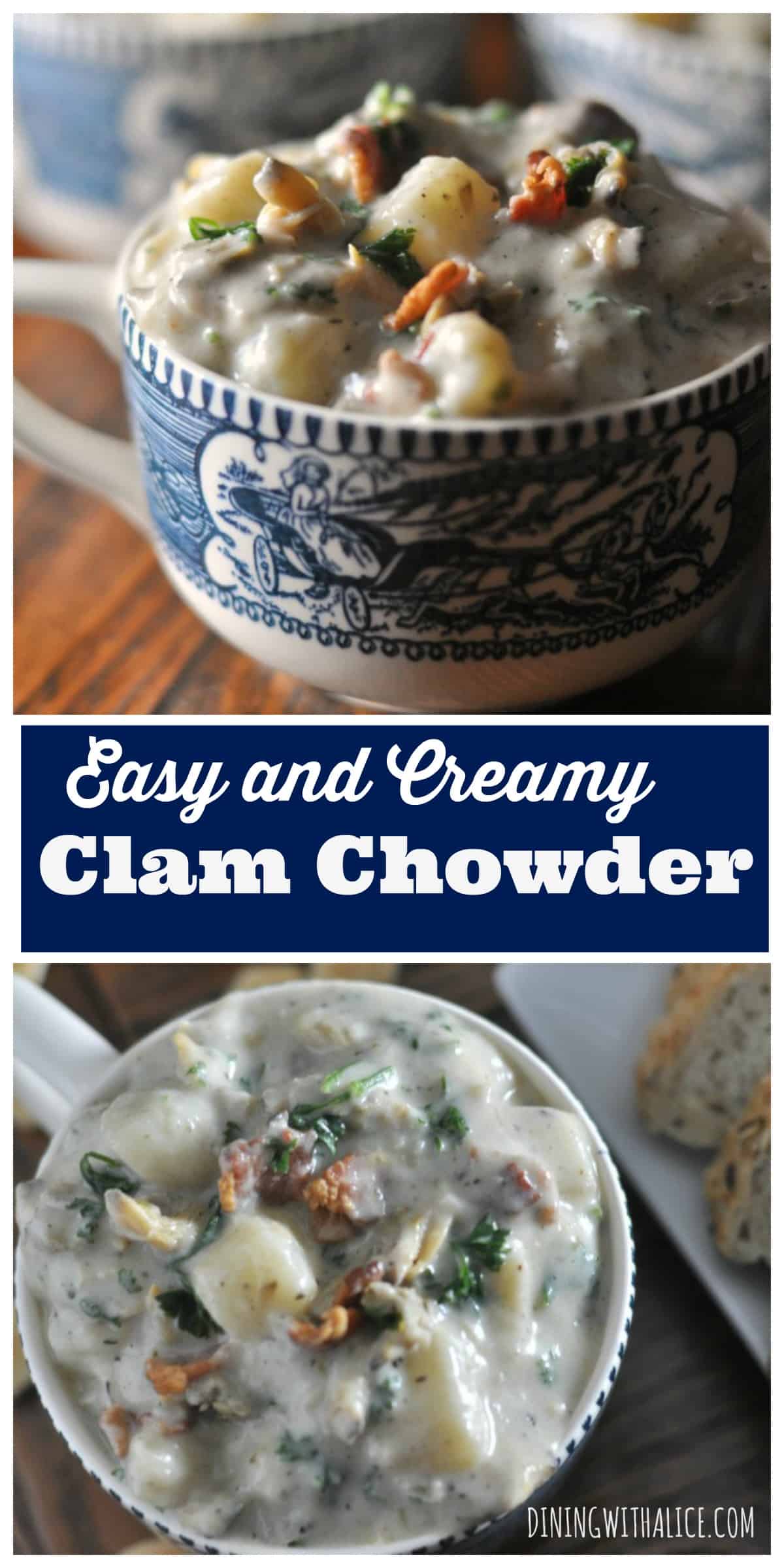 My recipe for Manchester By The Sea-inspired New England Clam Chowder is just one example of some of the delicious and creative bites you can enjoy during the Academy Awards! Click below to check out all Academy Awards-inspired recipes.