This Instant Pot Tomato Soup recipe is super easy to make and takes just a few ingredients. It makes a delicious creamy tomato soup that is perfect for a family-friendly dinner or a special meal to share with others.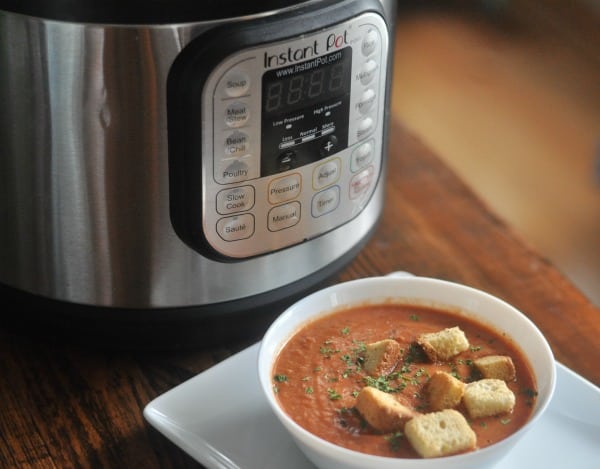 This Instant Pot Tomato recipe is the next recipe in my Instant Pot series. I bought my Instant Pot (affiliate link) after hearing from friends who swore the kitchen appliance was saving them time in the kitchen each week. I love using my Crock-Pot Slow Cooker and wasn't initially convinced I needed a new kitchen gadget but really was open to trying anything that might help with meal planning. Now I'm totally convinced, the Instant Pot is one of my most used cooking appliances and because of the speed, it helps me each week with meal planning.
What do I make in my Instant Pot? Soups, meat like ribs and roasts, rice, mashed potatoes, vegetables, sloppy joes, and hard-boiled eggs.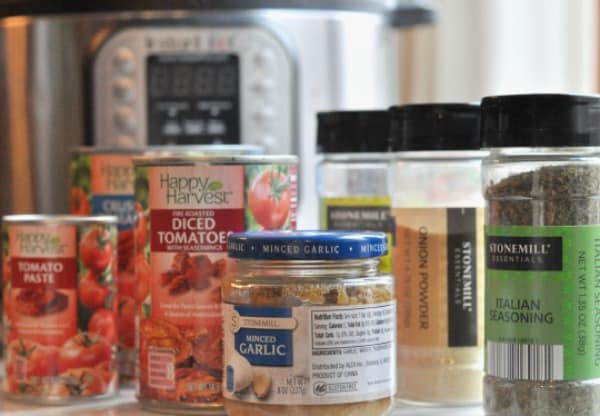 I've found that the more time I spend meal planning or using tools that cut cooking time, the more time I get to spend with my family. My blog is about sharing essays, tips, and recipes that help you savor and celebrate your life. The Instant Pot is helping me do just that.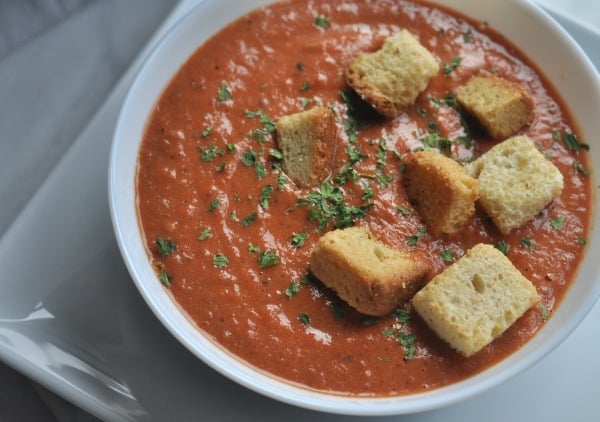 An unexpected thing happened when I created this recipe. Sure, my family totally loved it, but I found it was a really great meal to share with others. This soup is now my go-to meal for when a mom has just had a baby, or a friend or family needs some kindness. A couple months ago, I made a couple batches and delivered it to some moms who I thought could use some kindness. One of my friends shared that the gesture was just what she needed in that moment, someone to love on her and care for her like a mom would, and in this case, with some creamy tomato soup. I also made it for a meal swap with friends and a friend sent me a note that her husband doesn't normally like tomato soup but loved this version! It's been a very big hit with many people, and for that, I'm really grateful. It feels good to feed people good food.
This is a really simple recipe with simple ingredients, yet it is full of flavor and when shared with your family or a friend in need, really meaningful. Sharing this soup has been a good reminder for me to continue to show up for other people when they need kindness. Sometimes a simple soup expresses your love in a big way.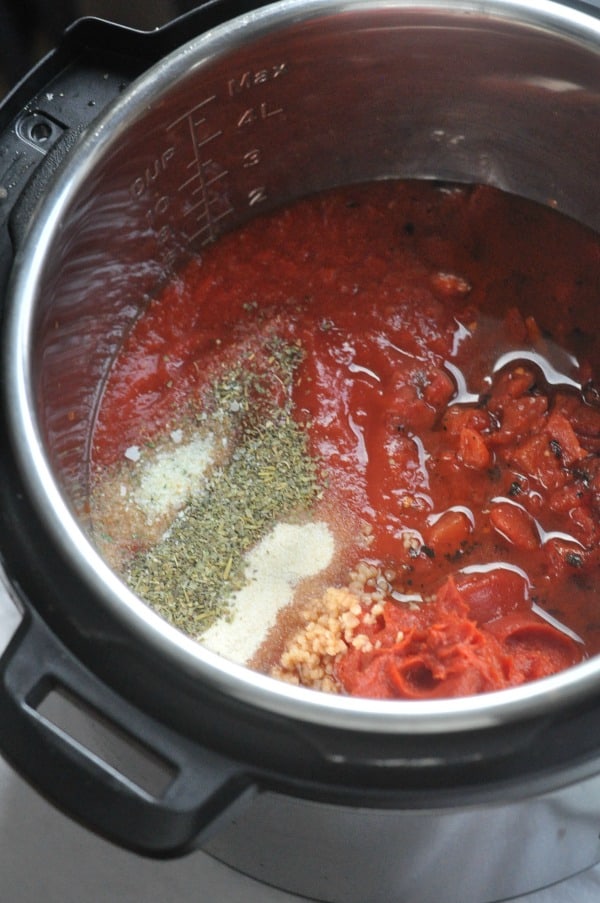 To make this Instant Pot Tomato Soup recipe, you put all the ingredients except the half and half and brown sugar in your Instant Pot. Cook for five minutes on manual high pressure. Use an immersion blender to puree the soup and then add half and half and brown sugar.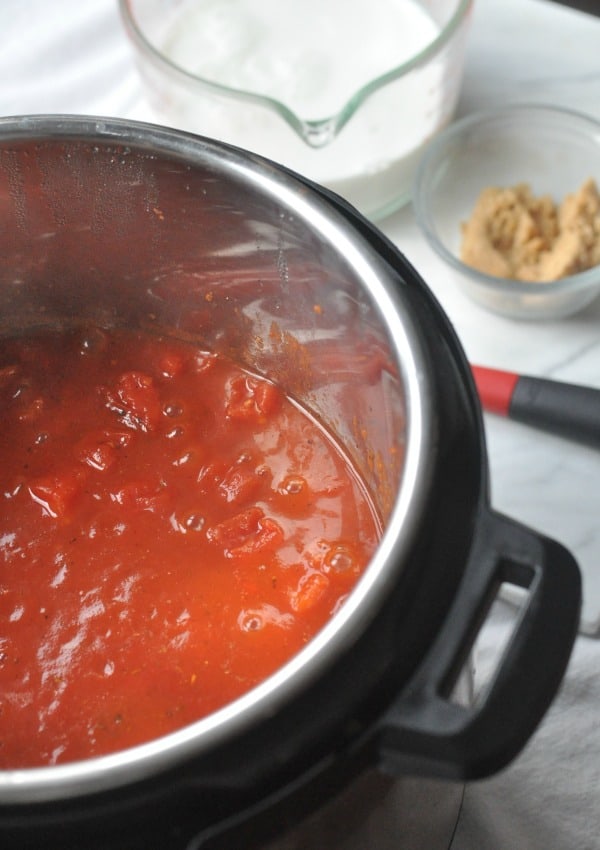 Kitchen Tools for this Instant Pot Tomato Soup Recipe
For tips on how to use your Instant Pot and video on how to do the quick pressure release, check out my Instant Pot Perfect Pot Roast recipe.
Instant Pot Tomato Soup Tips
I like to top this soup with Grilled Cheese Bites. See the note in the recipe for instructions. I make a really big batch of grilled cheese bites and store them in my freezer. Other heartier toppings include croutons, noodles, or meatballs. You can also add some parmesan, ricotta, fresh herbs, or even a drizzle of balsamic glaze.
I've been packing this for school lunches and the kids really love it. I heat it up in the morning and put it in a thermos with sides packed for them to add to the soup during lunch.
This Instant Pot tomato soup is a really great soup to bring to a new mom, a friend needing kindness, or a family going through a hard time.
I use ingredients from Aldi for this recipe. If you like shopping at Aldi, check out my Blueberry French Toast Bake recipe featuring ingredients from Aldi.
Instant Pot Tomato Soup
Ingredients
2 (14.5-ounce cans) Fire Roasted Diced Tomatoes
1 (28-ounce can) Crushed Tomatoes
1 (6-ounce can) Tomato Paste
1 tsp Minced Garlic
1 tsp Onion Powder
1 tsp Dried Italian Seasoning
1 tsp Garlic Salt (I like to use the Garlic Salt with dried parsley)
2 cups Half and Half
2 TB Brown Sugar
Instructions
To your Instant Pot, add diced tomatoes, crushed tomatoes, tomato paste, minced garlic, onion powder, dried Italian seasoning, and garlic salt. Stir to combine the ingredients.
Seal the lid on your Instant Pot, make sure valve is pointed to sealing, and cook on manual (high pressure) for 5 minutes.
Do a quick release or allow to manually release pressure.
Open lid, stir and use an immersion blender to blend until smooth. Add half and half and brown sugar. Stir to mix and serve with crackers or grilled cheese bites.*
*For Grilled Cheese Bites, I use sourdough sliced bread that is buttered with mayo and filled with mozzarella cheese. I grill the sandwiches on my stove and once cooked, sprinkle the garlic salt on the sandwiches and slice into bite-size pieces.
If you don't have an Instant Pot, you can cook the ingredients (except for the half and half and brown sugar) on the stovetop or in your slow cooker. Let the ingredients come to a boil and then bring the temp down and set the soup off the burner. Use an immersion blender to puree the soup. Add the half and half and brown sugar.