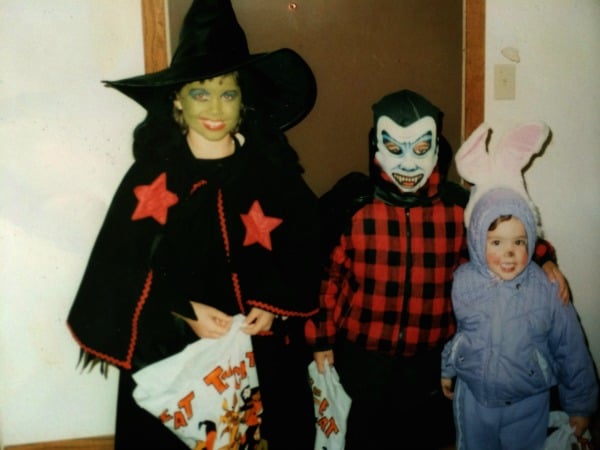 When I was a kid I vividly remember trick-or-treating.  I remember my single mom, returning from her full-time job getting all three of us kids dressed and her trying to keep us from bursting through the front door before it was too soon. No matter the year, I always remember she made us sit down and eat dinner. It was the same meal every year-soup and sandwich. Hot soup to warm our bellies before we headed out to an inevitably chilly Minnesota night. Sometimes there was snow and in 1991 there was quite a bit of snow. Minnesota Public Radio showed that in 1991, when I was just a 13-year-old trick-or-treater that Halloween Blizzard was the biggest snowstorm in the Twin Cities releasing 28.4 inches of snow. But we still went trick-or-treating.
My Halloween History
I remember years when I trick-or-treated with a pillowcase. Who needs those small plastic pumpkins when you can carry a pillowcase and fill it with candy! Thinking of the pillowcase candy bag, I picked up the phone and called my mom.
Me: Mom, remember when I used to trick-or-treat with a pillowcase? Where did all that candy go?
Bubbie: Ahh why?
Me: I'm just curious. I was thinking about the fact that I carried around a pillowcase and filled it with candy. Where did all the candy go?
Bubbie: SILENCE
Me: Mom? Where did the candy go?
Bubbie: What do you mean?
Me: I mean, I had a pillowcase of candy, that's a lot of candy for one kid to eat-did you just let me eat it all?
Bubbie: Well I ate some. You ate some. I threw away anything I didn't like you having-suckers, gum, you know things I didn't want getting stuck in the carpet or furniture. But I guess I threw most of it away. Alice, things always seem bigger when you are a kid. Your pillow case was only about 4 inches full.
Me: Examining the ruler in my desk.

Halloween Today
My kids are five and two and really just starting to get the idea of trick-or-treating. As a child I remember it being about family and community-going out with my siblings and seeing friends and neighbors.  There was a sense of wonder and fun.  There was excitement in going to the houses and nibbling on candy as we went along.  We were proud of our costumes even when they were just plastic masks.  Sure, the candy was great but that really didn't make the night memorable. Last night our neighbors invited us to go trick-or-treating with them. Stella actually didn't even want to go out trick-or-treating-I don't blame her it was around 30 degrees. But we convinced Stella to put on her costume (she had several to choose from) and we joined our neighbors. The kids raced up and down the stairs and yards of neighbors, giggling and sampling candies as they went along.  My husband and I drinking craft beer from our coffee mugs and watching as Bubbie too, laughed and marveled at the fun her grandchildren were having.  It just felt good. It felt like community. It made my heart soar to see the joy and wonder as my children went door-to-door laughing and having fun.  Even if it was only 30 degrees.
The Candy
I had thought about the candy days before Halloween. I knew there would be too much.  Just as my mother had once thrown my candy away, I knew ours would likely have a similar fate.  About a year ago I started a prize box (an old silverware box) with the kids. There was so much candy coming into the house, I just didn't know how to distribute it in a fair and balanced way, so I started the prize box.  Whether it be Halloween, a birthday party, Valentine's Day, Easter, you name it-if candy was brought home it went in the prize box.  When the kids did something extraordinary or I wanted to reward them, I let them pick something from the prize box. It's been a great system and when I looked in the prize box the other day, I was surprised to see it was completely full.
I started calling around to see if anyone would want the candy that would inevitably be coming on Halloween.  The Children's Hospital and local family shelter for abuse victims both said no. The night of Halloween in my news feed on Facebook was a plea for any extra candy. The candy would be given to chemotherapy patients because often candy is the only thing to take away the metallic taste in their mouth from treatment. I knew this was my answer to the abundance of candy. It touched me personally because my Dad had gone through cancer treatments and I remember him sharing the struggles he had with taste and eating food during his numerous chemotherapy and radiation treatments.  I clicked on the post and in it were comments after comments of parents just like me that knew their houses didn't need to be overflowing with candy and they'd rather see it go to chemotherapy patients.

The Day After Halloween
The kids woke from their Halloween sugar buzz the next day and we chatted about the fun we had.  Even my little guy recalled the previous night's activities and today's favorite phrase was, "Only one, Mommy." We laughed about the fun we had and they have already asked if we can do it exactly the same way again next year. Out of curiosity I weighed the candy; it was almost three pounds.  The candy was just a piece of the celebration, our kids enjoyed the treats last night and even today. Heck, even mom and dad enjoyed a few pieces.  Instead of letting that candy sit around in our house, end up in my kids' bellies or hit the trash, I'm going to drop my kids' Halloween candy off on the doorstep of this woman who posted on Facebook and share the joy that for one night it gave to our family.