Simple Instant Pot Mashed Potatoes recipe made with butter and garlic. This is a super easy side dish to make for your family or holiday gatherings!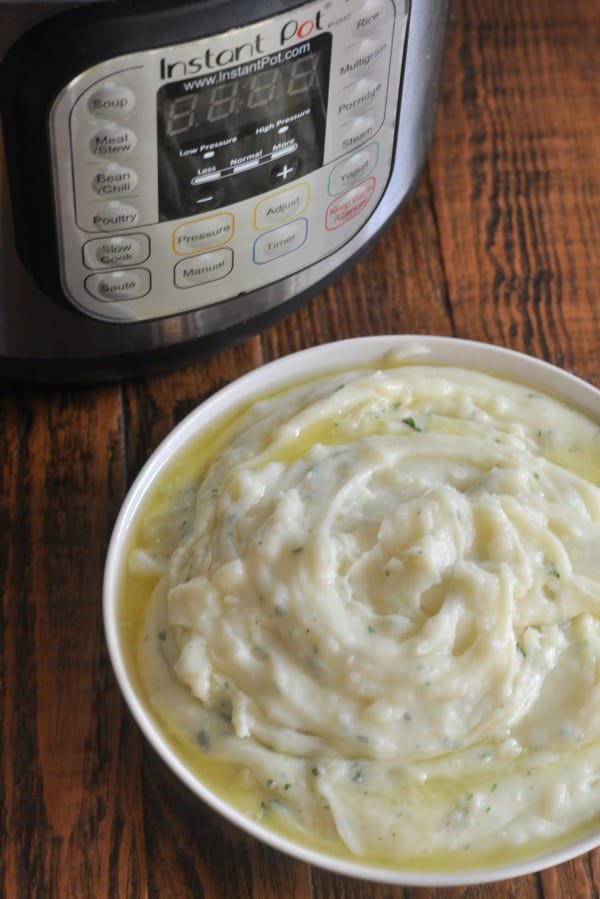 This Instant Pot Mashed Potatoes recipe is part of my Instant Pot series about how the Instant Pot is helping me with meal planning and cooking for my family. This post contains affiliate links for products that I use and endorse.
I bought my Instant Pot after hearing from friends who swore the kitchen appliance was saving them time in the kitchen each week. I love my Crock-Pot Slow Cooker and wasn't initially convinced I needed a new kitchen gadget but really was open to trying anything that might help with meal planning.
I've found that the more time I spend meal planning or using tools that cut cooking time, the more time I get to spend with my family.
After unpacking the Instant Pot, I was initially scared of the setup process but then I took a few minutes to actually read the directions and do the recommended test, and then I was off to the races trying my Instant Pot. You can find my quick pressure release tips in my Perfect Pot Roast recipe post and simple tips for starting out in my hard-boiled eggs recipe.
I've also been making lots of soups, sloppy joes, ribs, and I love how easy it is to cook squash and other vegetables.
I wanted to create an Instant Pot mashed potatoes recipe to go along with meatloaf, roast, ham, or other cooked meats I make. And I hate watching pots of water boil! I love using my Instant Pot is because it is fast, but I also don't need to babysit the cooking process. I can pop everything in and go do something else.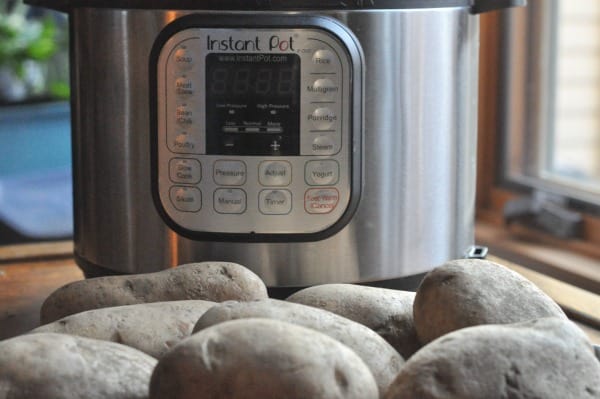 For this recipe, you need 5lbs of Russet Potatoes.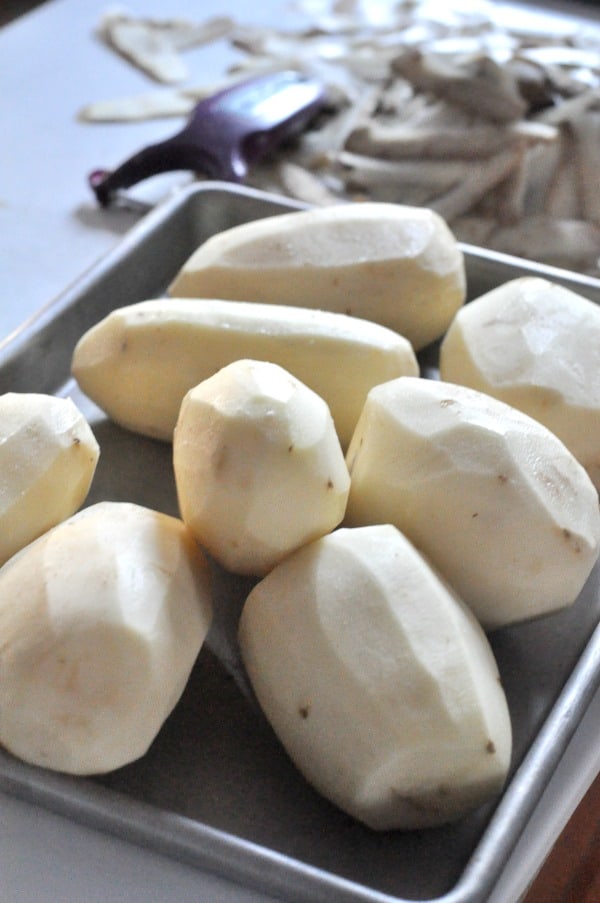 Peel the potatoes.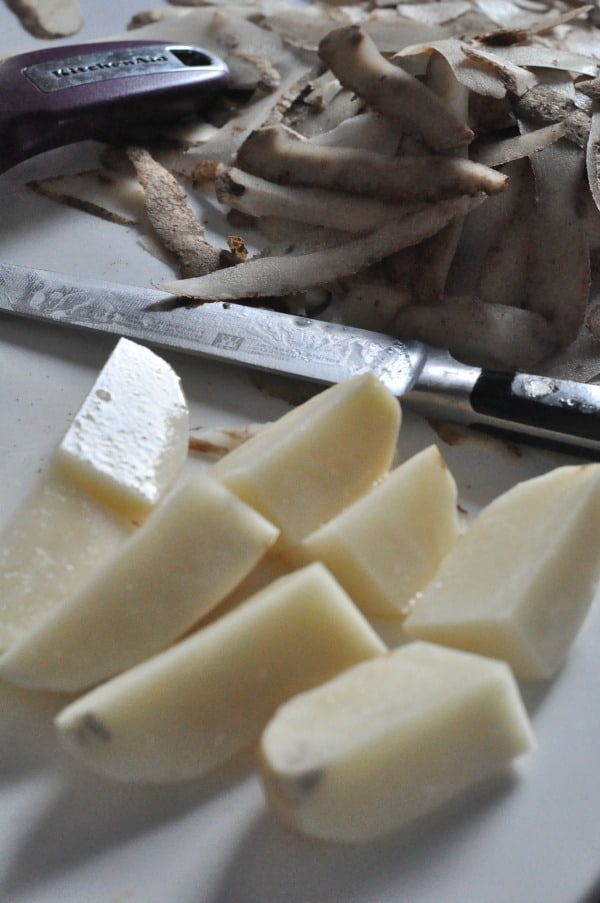 Slice each potato into eight pieces.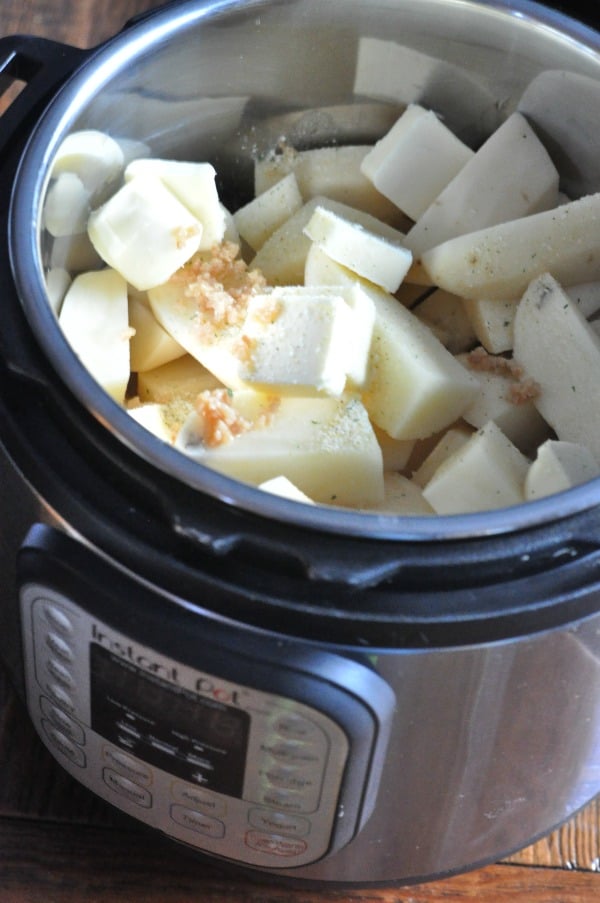 Add chicken stock, potatoes, 8TB of butter, minced garlic, and garlic salt to the pot. Once it is cooked, add the remaining ingredients and mash or use your immersion blender to make them extra creamy!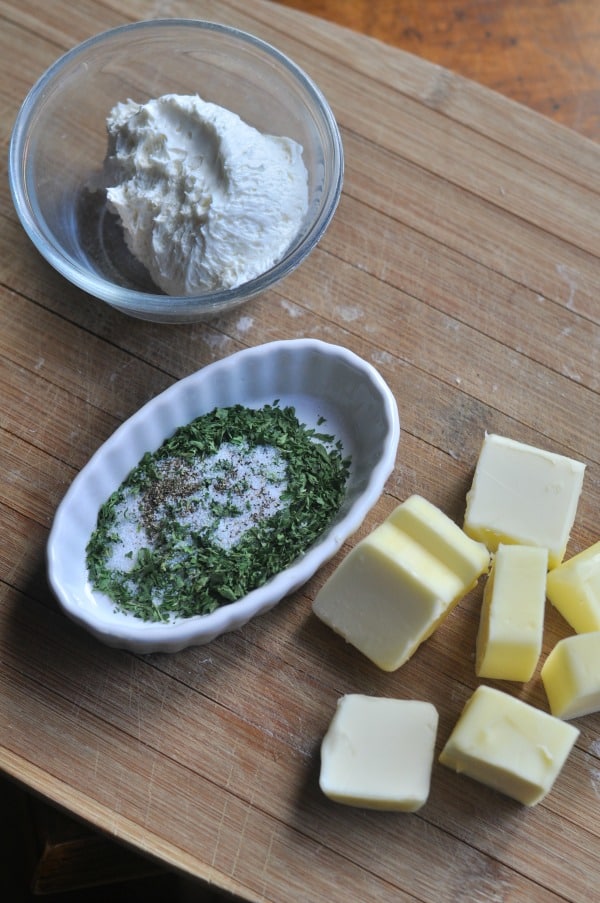 I was in charge of mashed potatoes for my mom's Christmas celebration. And to be honest I wasn't super excited about making mashed potatoes, well, or really participating in celebrations that day. I was super tired and just wanted a relaxing day. My husband and I had a fight about who took the last Advil. The holidays felt rushed and not fun.
There is so much rushing during the holidays.
Rushing to make holiday cookies.
Rushing to buy presents.
Rushing to decorate.
Rushing to attend parties and programs.
Rushing to send the holiday cards.
Rushing to host family.
Rushing to make an appetizer, meal, or dessert.
It feels exhausting.
I wanted to sit by the fire with my stretchy pants on, drink coffee, and read my book.
Instead, I did all the things. It was exhausting.
Thinking about the list that we accomplished today is exhausting.
But it was worth it.
In the moment, all of the rushing and stress do not seem worth anything.
Why are we doing all of this?
Maybe you catch yourself muttering that same thing.
Celebrating as a family takes work. It takes a willingness to come together, share food, exchange gifts, have a conversation, and it even takes an effort to have fun.
Gathering with friends to exchange cookies takes work. It takes a willingness to make cookies, check in on people whom you care about, and take the time to show up during a busy season.
Sending cards takes work. It is taking time and monetary investment and it is saying to someone else that they matter in your life and you want to share that with them.
Whatever actions that you take during the holidays should be investments in the beliefs, people, activities, and causes that are important to you. And if you are doing things now that truly don't bring you joy or celebrate the holiday in alignment with your beliefs, it is likely time to stop.
We also need to acknowledge that activities we love and that bring us true joy, do take effort. We have to show up for the activities and people who bring us joy. Yes, it sometimes does feel really rushed.
We savor and celebrate the holidays by clinging hard to the traditions, beliefs, and activities that really bring us joy even when it feels rushed and busy. Yes, all of our investments take effort but it is so incredibly worth it.
At the end of these rushed days, what a blessing if we can say we gathered with the people who really matter to us and did the activities that made us filled with joy.
I brought my Instant Pot mashed potatoes to the celebration. It was a tough day but worth the laughs, memories, and great meal we shared together. I hope this recipe helps you savor and celebrate with those whom you love.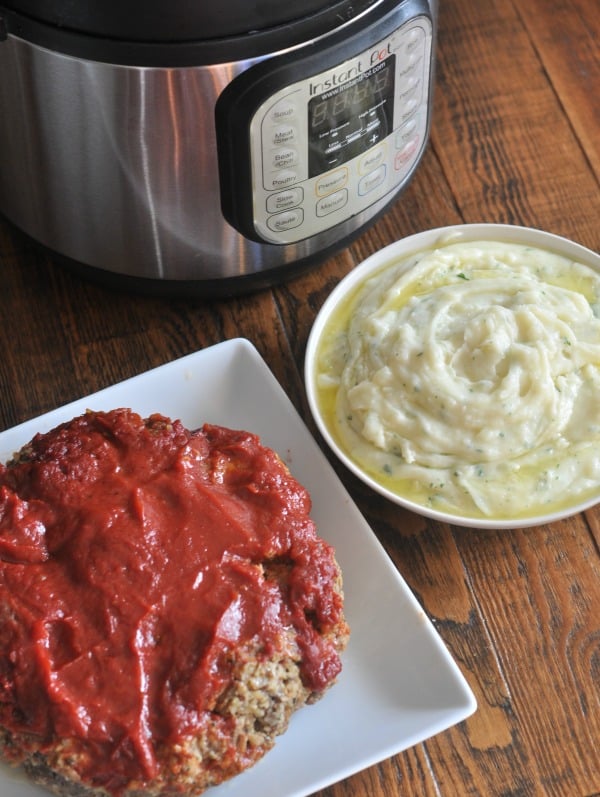 Instant Pot Mashed Potatoes Tips
For these Instant Pot Mashed Potatoes, I use Land O'Lakes European Style Butter. I like using it because of the richer flavor and I think it gives the potatoes an extra creamy taste.
I like to add dried parsley to my potatoes but you could also add grated parmesan or even bacon crumbles.
I slice my potatoes because when I've tried this recipe putting the potatoes in whole it takes an extra 10 minutes in the Instant Pot and it's easy to slice up the potatoes and save on the cooking time.
These potatoes are really great with my Instant Pot Perfect Pot Roast or my Instant Pot Meatloaf.
How do I get them so creamy? I use my Immersion Blender right in the Instant Pot to get them super creamy!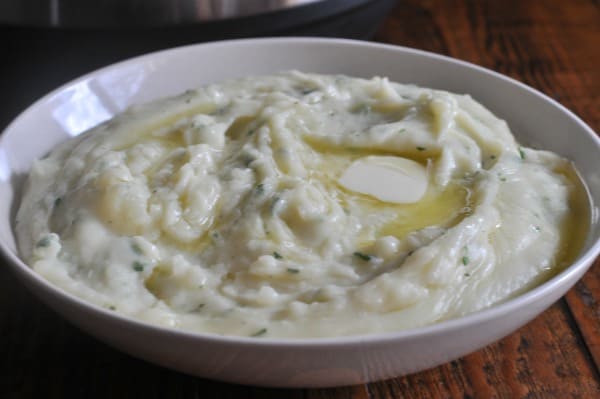 Instant Pot Mashed Potatoes
Ingredients
5 lbs Russet Potatoes (About 8-9 medium-sized potatoes)
1 cup Chicken Stock
16 TB Salted Butter, divided (I like Land O'Lakes European Style Butter)
1 tsp Minced Garlic
1 tsp Garlic Salt with Minced Parsley
½ cup Whipped Cream Cheese
½-1 tsp Salt (depending on taste)
⅛ tsp Ground Black Pepper
2 tsp Dried Parsley Flakes
Instructions
Peel potatoes and slice each potato into 8 pieces. Set aside.
Add chicken stock to the Instant Pot and add sliced potatoes. Add 8 TB of butter (I like to slice it into tablespoons before I add it), minced garlic, and garlic salt.
Cook on manual, high pressure for 10 minutes. Make sure the valve it is set to seal.
Once the potatoes are done cooking do a quick pressure release.
To the pot, add the remaining 8 TB of butter (again, I like to add it in chunks of Tablespoons), whipped cream cheese, salt (I use 1 tsp), ground pepper, and parsley flakes.
Use a potato masher to mash up the potatoes. Mash until you get the consistency you like or use a hand mixer or immersion blender to make them super creamy.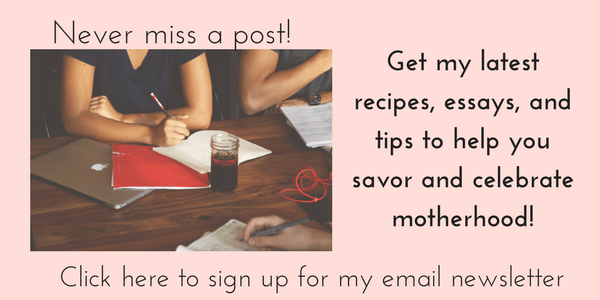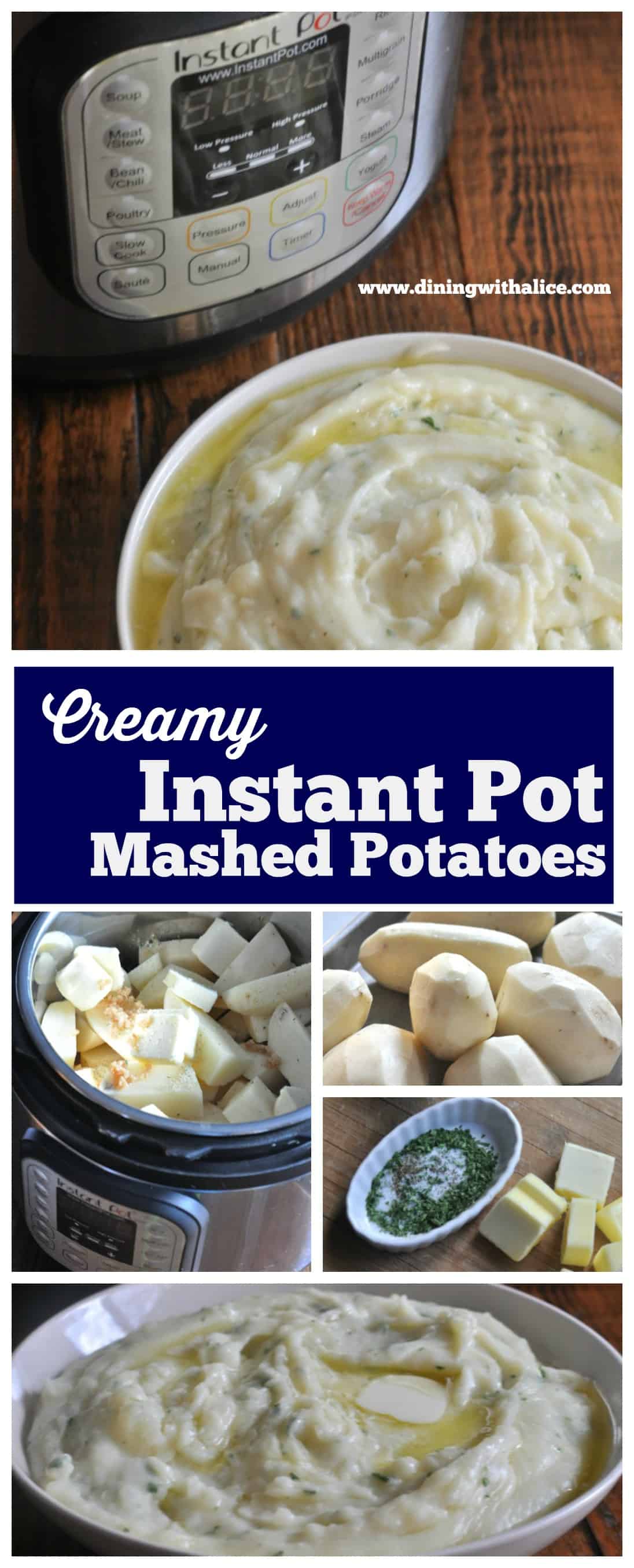 SaveSave
SaveSave
SaveSave
SaveSave
SaveSave