About the importance of finding mom time just for you as a woman and mom.
Mom time? What's that? It's easy to forget about yourself.  During the infant years with my kids, I'd often forget to brush my teeth and dry shampoo was what made my bun look freshly washed. Before leaving the house for a Target run I'd have my husband check for baby bodily fluids on my clothes. I was underwater with sleep deprivation, living day-to-day and thinking about time for myself was laughable.  Fast forward to the toddler and preschool years and while much of my time is spent picking up toys I swear I just put away and trying to find the time to get the clean laundry from a pile in the guest room to actually in my kid's closets, I'm learning to find time just for me. I'm learning. I'm in no way good at it, but I'm learning. The first step was asking myself, "What activities make just ME happy?"
[bctt tweet="What activities make ME happy? #momtime #momsrockexpo"]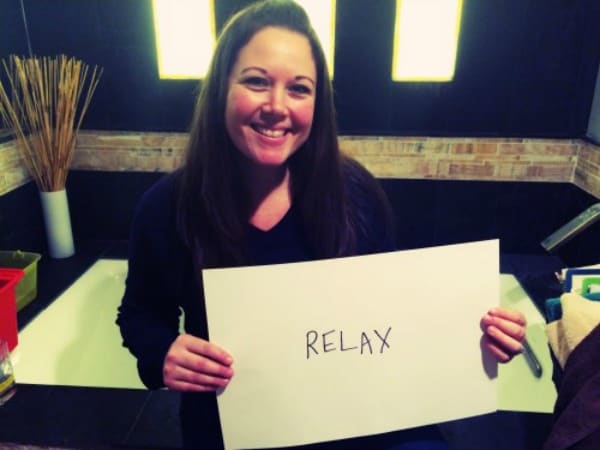 When Aimee at Why I Left My Job asked me about my New Year's Resolution. I thought it would be the perfect opportunity to put my mom time plan into action.  Many years were filled with broken resolutions, I wanted to pick something that would help me be a better woman, mom and wife. I wanted to pick a resolution that was positive and encouraged me to do something rather than not do something.  My resolution was to relax more.  I often find myself wound up like a rubber band ball, rigid and bouncing from one activity and event to the next.  What if I took more bubble baths? Went to yoga? Stayed in my jammies longer? What would happen?
Well guys, I'm doing it. I've been relaxing and taking mom time. March is a good check in time, three months in and I've been going to Buti Yoga (this deserves its own post) and I'm out of bubble bath because I've taken so many baths. And the pajamas?  Guys, it's Monday and I took the day off-all by myself and I'm in my pajamas and it's 10:24am. I'm sipping coffee, my hair is in a messy bun, my body sandwiched inside my favorite yoga pants and cozy sweatshirt, I'm relaxed. And I'm still learning how to take mom time.
Taking mom time is a hard lesson and it never ends in our motherhood journey. Maybe we sneak away alone for a cup of coffee at our local coffee shop, sweat away the stress at an exercise class or immerse in a bubble bath with a favorite book.  I'm here now, maybe my mom time in the future will mean taking a moms trip with friends or gasp, going on a trip ALONE. Mom time is different for everyone but the journey and purpose is the same for all of us-it makes us better women and moms.  When we take mom time, we feel rejuvenated, more calm and ready to take on the next challenge-even if it's that giant laundry pile in our guest room.
 [bctt tweet="The purpose of #momtime is the same for all of us-it makes us better moms. #momsrockexpo"]
Looking for an opportunity to take some mom time? Moms Rock! Expo (May 2-3, 2015) is two amazing days, just for moms, filled with inspiring and informative Keynote Speakers, Real Talk Panels, "We Get Moms" career information sessions and a whole bevy of demonstrations, tips, ideas and resources to help all moms Live Life Easier & Healthier in the best way possible.  If Minnesota is to remain a great place to live, work, and play, we need to celebrate Moms and Support Families! Moms Rock! Expo is two special days (just for moms, women and girls) that will showcase the Best that Minnesota has to offer to help moms Live Life Easier! For more information you can watch the video here and purchase tickets here.
I'm serving on the Moms Rock Expo! blogging team and I'm looking forward to seeing my Twin Cities Live family, Mandy Tadych and Elizabeth Reis, on the Moms in the Media panel!
Want to go to the Moms Rock! Expo? I'm giving away a 4 pack of tickets! For a blog comment entry, tell me how you spend your mom time.
Moms Rock! Expo
U.S. Bank has teamed up with Moms Rock! Expo to create and sell this exclusive Military Moms Rock! T-Shirt! 100% of the proceeds benefit military families. The goal is to support Operation Shower; an organization that provides baby essentials and organizes group baby showers for expectant moms whose husbands or partners are or will be deployed during the pregnancy. See more at: http://bit.ly/1xKpcsw
Moms Rock! Expo is sponsored by 3M, U.S. Bank, Target, Medtronic, Microsoft, Truvia, KARE 11, myTalk 107.1, TPT and MSP Magazine.
Disclosure: This post is sponsored by Moms Rock! Expo. Thank you for supporting the organizations, companies, people and events that I choose to work with, sponsored content helps me grow my blog and as always, opinions are my own.