Easy Crock Pot Ham made right in your slow cooker with apple juice, apples, brown sugar, butter and cinnamon.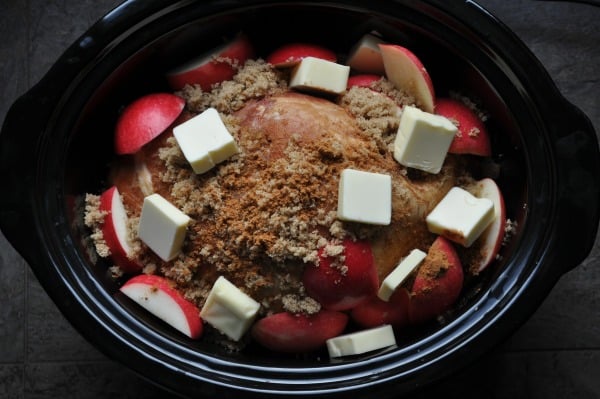 As I guessed, spring made a very short appearance in Minnesota and then poof! Back came the snow and chilly weather. I was so enjoying having cocktails on the deck! So the grills rolled back into the garages and the Crock Pots back on the counters.  This winter we had a very special addition to our family.  I told you about it here. Yes, I wrote a birth announcement for my newest Crock Pot slow cooker. I still sing "Isn't she lovely?" to her.
What? She really is! Here is the link to buy the iStir from Crock-Pot (affiliate link).  This winter I'm logging some serious mileage with my newest Crock Pot and making my very favorite pot roast recipes, Maple Bourbon Pot Roast and Coffee and Chocolate Pot Roast but I thought it would be fun to make a Crock Pot Ham.
Here's a quick video to show you how easy this recipe is to make in your slow cooker. Just six ingredients!
Many families love ham for holiday dinners but making Crock Pot Ham is really something that doesn't need to be saved for a holiday.  It's a great meal to make on a Sunday afternoon and enjoy it for several meals during the week.  But if you want to make it for a holiday-lucky you! You can just get the ingredients in the Crock Pot, enjoy your company or prepare other dishes for the meal and let your Crock Pot do all the work!
[bctt tweet="Take the holiday off and make this easy #CrockPot #Ham made right in your slow cooker! "]
Never miss a recipe, parenting post or event announcement from Dining with Alice! Click here to join my monthly email newsletter!

Crock Pot Ham
Ingredients
6.5 lbs Classic Semi-Boneless Half Ham
½ cup Brown Sugar
1 tsp Cinnamon
4 Pink Lady Apples
1 cup Apple Juice
8 TB Butter
Instructions
Place ham in oval crock pot. Rub ham with brown sugar and cinnamon. Core apples, slice into quarters and add to crockpot. Pour juice over ham and apples. Slice butter on top of ham and cook in slow cooker on high for 4 hours.
Reserve liquid to serve as au jus with the meal and for storage to keep meat juicy.