While I'm usually cooking up a storm as the Kitchen Star on Twin Cities Live, they recently asked me to to share my favorite places to hang out with my kids. I immediately thought of these three neighborhood places in St. Paul.
Click here to watch the March 25, 2014 Twin Cities Live segment with my Best Kept Secrets.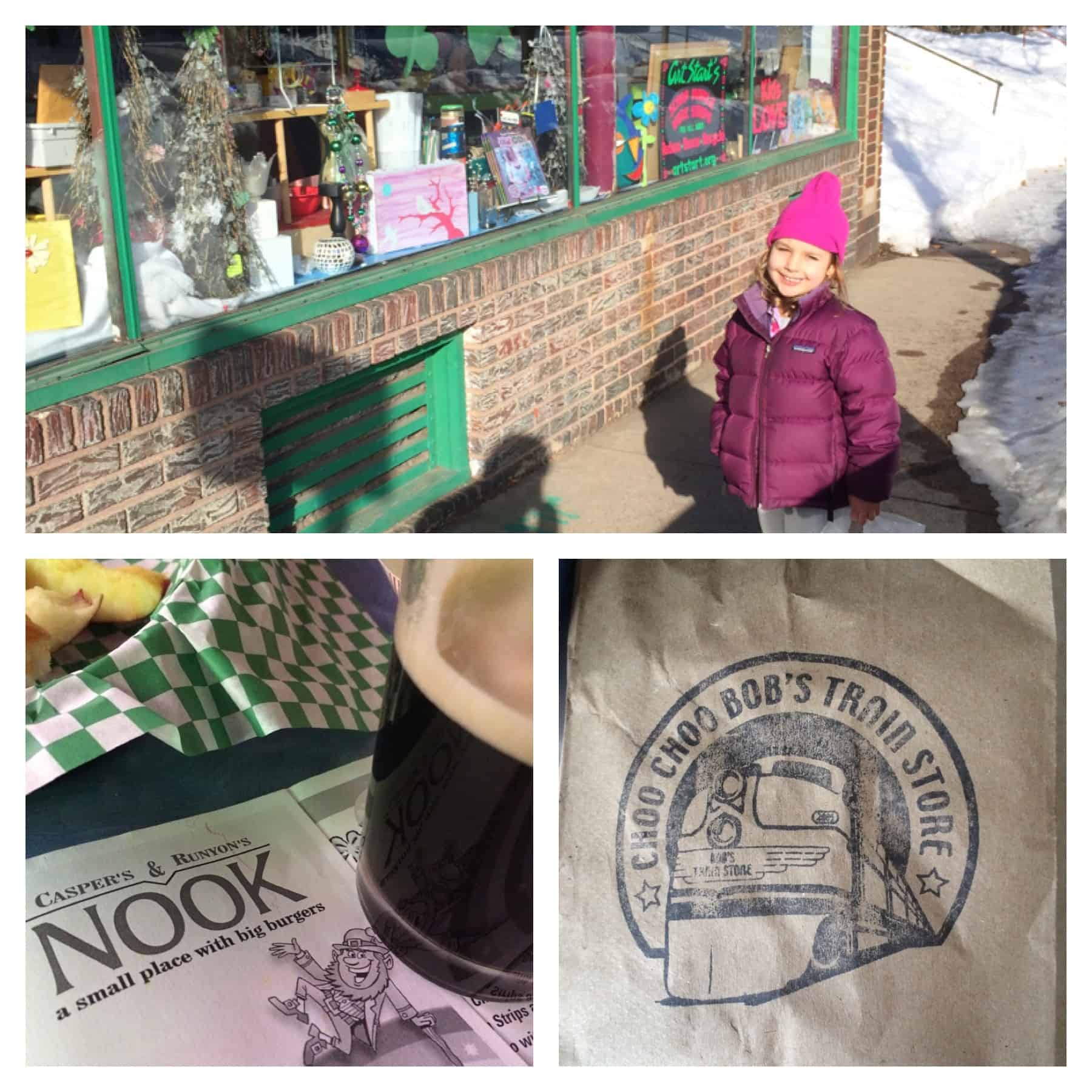 Choo Choo Bob's Train Store
2050 Marshall Ave.
St. Paul, MN 55104
651-646-5252
Facebook: https://www.facebook.com/choochoobobs
About Choo Choo Bob's Train Store: Choo Choo Bob's Train Store is a store in St. Paul where there are operational trains running and interactive train tables where kids can try out all the trains.  They also host birthday parties and story times.  Check out their Emmy-winning train television show in the Twin Cities on Saturdays at 2:30pm on channel 45!

What I love: As a daughter of a train master, I get a bit nostalgic about trains.  I've taken my dad there and kids and grandparents alike arrive in wonder.  I love that the kids can really try out the trains and everything is there to purchase if you want.  This is a perfect place to meet up with someone and have a playdate-the kids play close and there are benches where you can sit and chat.
ArtStart's ArtScraps Reuse Store
1459 St. Clair Ave.
St. Paul, MN 55105
651-698-2787
Facebook: https://www.facebook.com/artscraps
About ArtStart's ArtScraps Reuse Store: ArtStart is a non-profit arts organization that provides art education in schools and the community.  Their reuse store, ArtScraps sells donated scraps, overstock, factory rejects-things normally going into the landfill and resells them to anyone interested in reusing the materials for projects or art.  The proceeds of the store go to the school and community programs of ArtStart. They host birthday parties, summer camps and even adult craft parties. They are also celebrating their 25th Anniversary this year!
What I love: Everything is so inexpensive, you can literally buy things by the bag or bucketful! Each time I go, there are new things.  One of my favorite things to buy is fabric and I recently just bought some awesome vintage fabric to make napkins.  I love that it inspires creativity, I let my daughter grab a bucket and she grabs things she likes-buttons, beads, glitter, old pictures and then we go home and make projects!
The Ran Ham Bowling Alley at the Nook
490 Hamline Avenue South
St. Paul, MN 55116
651-698-0252
Facebook: https://www.facebook.com/pages/Ran-Ham-Bowling/156808407676080
About the Ran Ham Bowling Alley at the Nook: I know you love the Nook and their amazing burgers, but do you know what's in the basement at the Nook?  A bowling alley! The Ran Ham Bowling Alley has several lanes and you get to do old-school scoring!  They have bumper bowling and a ramp for the kids who can't roll the ball yet.
What I love: The Nook is our family's favorite restaurant. Going there for our birthdays has become a family tradition.  As most parents know, going out to dinner with kids can be a bit chaotic especially if a wait is involved.  At the Ran Ham Bowling Alley you can call ahead and reserve a bowling lane, do some bowling with your family, order your Nook burgers at the bar and eat right at the lane.  And bonus, kids eat free with paid adults on Sunday!
In celebration of these wonderful places in St. Paul, I have a great giveaway for you! Follow the Rafflecopter instructions to enter.  For a blog comment entry, tell me the place you'd most like to check out and why! Contest only open to those living in Minnesota. Prizes must be picked up at each location by the winner.
a Rafflecopter giveaway