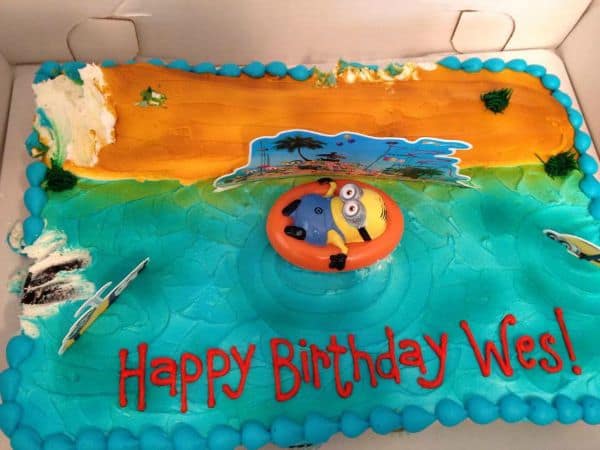 I clicked the phone down and rubbed my eyes with my fingers. The alarm had rung at 5:30 am earlier in the day. My Kindergartener who sleeps between my husband and I every night took turns slugging me in her sleep and pulling my blanket off. This store said the same thing, "Out of kites for the season."
I was calling toy stores, looking for plastic kites during my lunch break. The party was in two days. I needed party favors. I made disparaging comments about myself for being so forgetful, so unorganized and for putting so many other important things in front of buying party favors. Some quick planning weeks ago could have resulted in a nice box of kites from Oriental Trading Company or Amazon sitting patiently in my living room.
Still not willing to give up, I drove myself to the nearest dollar store after work. It was a last-minute panic that had set in days approaching the party. For some reason, I needed to buy favors for the party. It made no sense, I hate party favors. The plastic pieces from other parties hit our kitchen garbage the minute we walk in the house. I admittedly, say, "not more plastic crap," when I see the bubbles, pens, glasses, and even cups filled more junk or worse, candy. But here I was right down the rabbit hole, perusing which plastic piece of crap I would send to my so-called friends' homes.
My cart was loaded up to the brim with goodies that would've made all the manufacturers in China proud. And then as I wheeled my cart to the front, I turned around. I put everything back on the shelves and I walked out, with nothing.
I didn't feel like a good mom and I was trying to find some empty way to make myself feel better and I thought it was through party favors. I had combined my children's birthday parties in an effort to make it easier and manageable for our family. They both wanted a party in the park and a puppet show performed by their uncle. It was going to be simple and it made me uncomfortable to take shortcuts and not do everything that all the other parents do. No jumpy castles. No favor bags. No Pinterest crafts. And, despite the fact I'm a food blogger, no homemade food. Unless you count Crock-Pot hot dogs, then yes, there was homemade food.
We sat on blankets from home. We took a chance that the crisp fall air would keep the rain away. We ate fried chicken (from a restaurant), hot dogs, chips, watermelon and pull-apart cupcakes. The kids and adults belly laughed at the sweet and silly puppet show. They climbed and ran until their bodies collapsed for nap time. It was a great party, I talked to parents, I took in all the beautiful birthday moments and I really did enjoy it because I took shortcuts. My mom, who helped me chop watermelon at the park minutes before friends arrived, said, "I'm proud of you."
I knew what she meant as she looked me right in the eye. Historically a perfectionist, she was proud that I let go. Proud, that I could see the delicate steps of walking between over commitment and doing my best, attempting to find some sort of balance in my motherhood. That balance, today was store-bought food, family entertainment and relaxing in the park. Today was simple and it felt good.
In my early days of motherhood, my best friend told me, "You know what happens when you have your cake and eat it too? You throw up." I find this fitting in motherhood that when we push for perfection, we miss the good, imperfect moments of motherhood. For the first time in my children's lives, I didn't make cupcakes for their birthday parties and they loved having a character cake. My son so much so, he snuck his tiny hands in the crack of the box before the party and snagged more than one fistful of frosting. And we laughed. My husband and I belly laughed. And we will remember that.
After the park was cleaned up, the excitement gone and the day quiet, we sat together at home in our living room. "Thank you for setting up our party, mama," my daughter reached  around me and rested her sweaty head on my belly. My son, uniformly repeated what his sister said, but with a genuine heart. And I was so proud.
You are doing a good job, mama. Your pursuit of perfection will never taste good. And you'll never catch it. Give for today, treasure what is and what you can achieve in your best effort at this moment. While not perfect, it might just be magical and just right.