New beer, food pairings and fun places to enjoy craft beer at the Minnesota State Fair.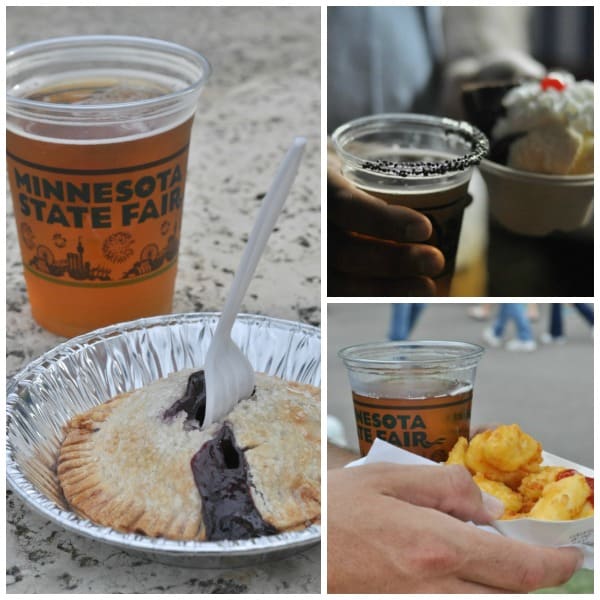 With over 500 food items being served at the Minnesota State Fair, a gal gets thirsty. Not to worry, the Minnesota State Fair has you covered with over 300 beers and ciders being offered at over 20 locations throughout the fairgrounds. To get through the 300 beers in the 12 days of the Fair, you'd have to drink about 25 beers per day. Since that's not an option, unless you are visiting the State Fair with a softball team, I'm here to give you my picks for the best beer at the Minnesota State Fair and where to drink it. I recently shared some of my favorites for 2016 on the television show, Twin Cities Live and you can watch the video on the Twin Cities Live web page.
Favorite Special Beers at the Minnesota State Fair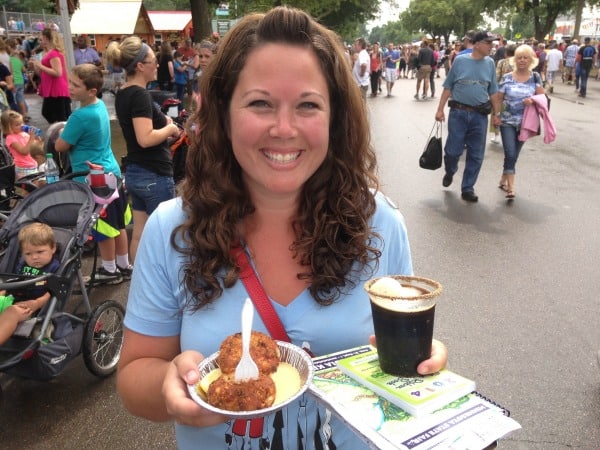 S'mores Beer
"This chocolate-infused campfire original features the Cygnus X-1 Porter, an old English recipe with a natural hint of chocolate, a touch of smoke and added rye malt. Each glass of S'mores Beer is rimmed with chocolate, dipped in crushed graham crackers, and topped off with a soft, fluffy marshmallow. 6.5% ABV. Brewed in St. Paul, Minn. by Flat Earth Brewing Co."
In 2014, my first stop at the Minnesota State Fair was to Giggles' Campfire Grill to drink the new S'mores beer and I've been making this stop every year since. I loved the porter's smoky chocolate flavors and the chocolate graham rim. This is a great way to celebrate summer. Order your beer in the front and then walk to the back to enjoy a lumberjack show or hang out in their patio area and listening to music and enjoy their great craft beer selections. Also very important to note is that if you are visiting the fair with kids, Giggles has a Kids meal for $1.25. Yes, you read that right. Chicken fingers, fries and a cookie for $1.25.
Available at Giggles' Campfire Grill Southeast corner of Lee Ave. & Cooper St. at The North Woods.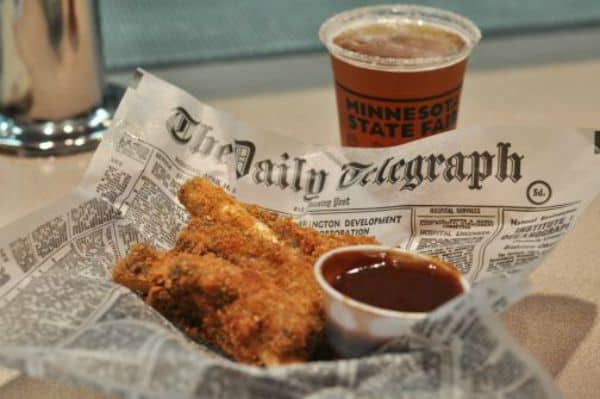 Mini Donut Beer
"This creative beer's warm tan color, malty base and natural flavors are reminiscent of a fresh State Fair mini donut. This sweet, summer sipper has enough rich flavor not to overwhelm the palate. Each glass of Mini Donut Beer is served rimmed with cinnamon sugar to enhance the aromas. 5.0% ABV. Brewed in Stillwater, Minn. by Lift Bridge Brewing Co."
When I think about the Minnesota State Fair, this beer is what I dream about. One of my very favorite beers of the State Fair, it is super drinkable and pairs perfectly with the Ball Park Cafe's deep fried ribs and garlic fries. I love the malty and sweet flavors of the beer and the cinnamon sugar rimmed glass. Don't miss this one. Pull up a chair at the Ball Park Cafe's awesome patio, sit outside with your friends and family and take a moment to relax and enjoy this great beer and the many other great craft beers they have on tap.
Available at Ball Park Cafe, east side of Underwood St. between Dan Patch & Carnes avenues.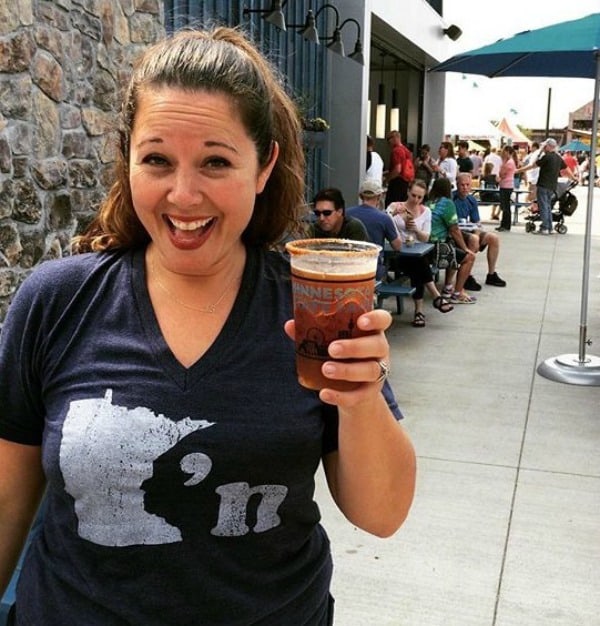 Caramel Apple Pi Beer
"This blend of apple cider with barley malts creates a warming caramel apple pie taste. This comfort cider-beer is light, fresh and flavorful, welcoming in Minnesota's autumn season and apple harvest. 5.4% ABV. Brewed in Minneapolis, Minn. by The Freehouse."
This beer was new in 2015, the Caramel Apple Pi beer is delicious and competitive, leaving Fairgoers contemplating whether they like the Pi or Mini Donut beer more. The Caramel Apple Pi is a serious contender for best special beer at the Fair and it is no surprise as it comes from the Blue Barn, known for their creative comfort food. This sweet and refreshing beer would be great with the Blue Barn's new Spicy Pork Bowl. Pull up a picnic table, enjoy some creative spins on Minnesota comfort food and sip this refreshing apple beer.
Available at The Blue Barn at West End Market, south of the History & Heritage Center.
Grain Belt Frozen Blu Beer
"The Radler-style Grain Belt Blu is a summery, refreshing and delightfully subtle twist on the classic Grain Belt Premium American lager. The familiar Premium beer is blended with freshly juiced blueberries for a light and crisp taste without any syrupy consequences. Make it a Frozen Blu by topping it with frozen Grain Belt Blu foam. 4.6% ABV. Brewed in New Ulm, Minn. by August Schell Brewing Co."
A newbie to the Fair in 2014, the Blu and Frozen Blu were the Fair darlings in the newly constructed West End Market. The frozen beer was innovative and people are still impressed. When I was standing in line this year, a woman leaned over and said, "Have you tried the Frozen Blu?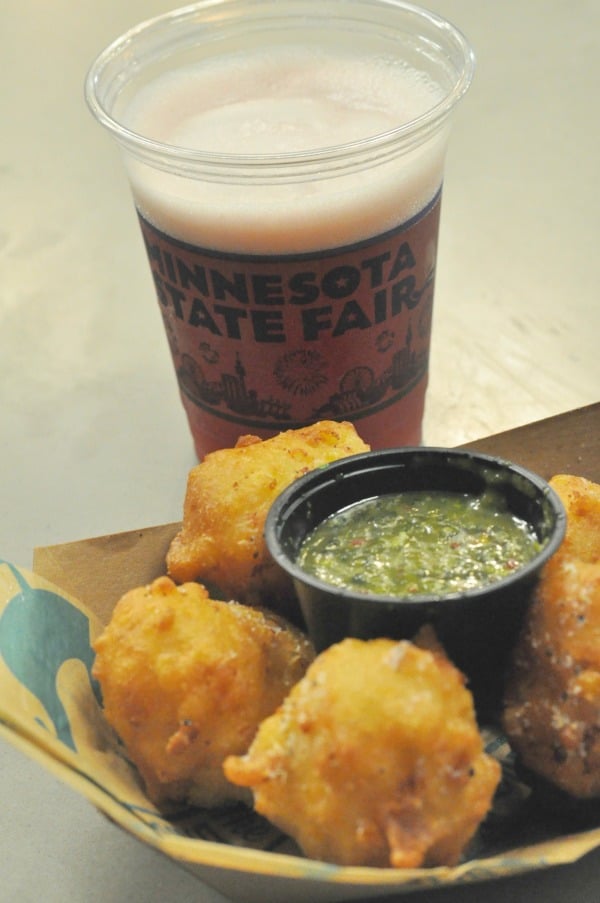 Red Citrus Sangria Beer & Frozen Red Citrus Sangria Beer
"Light and refreshing, this citrus lager epitomizes a carefree summer day and can be served as a standalone or as a frozen foam floated atop any of the beers served at the Schell's Pavilion. 4.8% ABV. Brewed in New Ulm, Minn. by August Schell Brewing Co."
New in 2016, this refreshing summer sipper isn't too sweet and is the perfect beer to consume on a hot fair day. I had mine served with a bit of the frozen foam on the top. I love this new addition to the frozen beers and think it's a great beer to enjoy with the Blue Barn's Blue Cheese Corn Fritz (also available in the West End Market). The saltiness of the corn fritters is a perfect match for the red citrus flavors in the red sangria beer.
Both the Grain Belt Blu and Red Citrus Sangria Beer are available at the Schell's Pavilion at West End Market, south of Schilling Amphitheater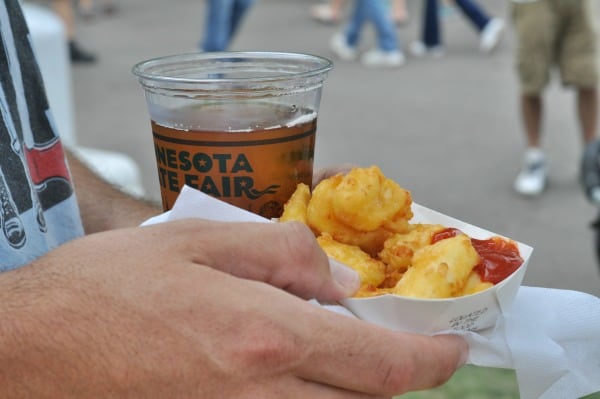 Sweet Corn Summer Ale
"Freshly picked sweet corn directly from Untiedt's Vegetable Farm in Monticello, Minn. is the highlight of this light summer beer. A hint of sweetness and noticeable corn flavor bring to mind fair food favorites, farm freshness and family fun. 5.1% ABV. 31 IBUs. Brewed in Minneapolis, Minn. by Lakes & Legends Brewing Company."
For those wanting to try a Minnesota State Fair beer that is a perfectly drinkable summer beer with a light sweetness of corn, this Sweet Corn Summer Ale is for you. No frills, just a summer beer perfect for pairing with some salty cheese curds (my favorite are from the Food Building). Grab a chair at O'Gara's because it's a great place to hang out and listen to music or relax on their patio. I'm also a big fan of their Reuben Bites.
Available at O'Gara's at the Fair, located on the southwest corner of Dan Patch Avenue and Cosgrove Street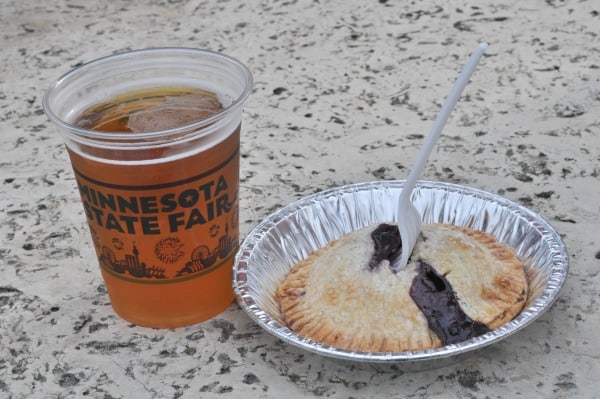 Bent Paddle Hopmosa
"This summer sipper puts a new spin on an old brunch favorite. Combining the Bent Hop Golden IPA with a huge burst of orange aroma and flavor, the citrus infusion highlights a number of hops in the IPA with effervescence akin to champagne. Not just for brunch anymore, this "Hopmosa" can be enjoyed all day long. 6.2% ABV. 68 IBUs. Brewed in Duluth, Minn. by Bent Paddle Brewing Co."
This is my favorite beer of 2016. It is a hoppy beer with pops of citrus and I love the tiny bubbles of effervescence they have created with this beer. I think this beer pairs perfectly with a Boozy Blueberry Lemon Pie from Sara's Tipsy Pies just around the corner in the Food Building. The pie is baked with wild blueberries, lemon zest, cream, and a beautiful Rosé wine from Chateau Saint Croix. Pick up your pie and grab your Hopmosa and relax on the Ball Park Cafe's great patio.
Available at Ball Park Cafe, on the east side of Underwood Street between Dan Patch and Carnes avenues, outside The Garden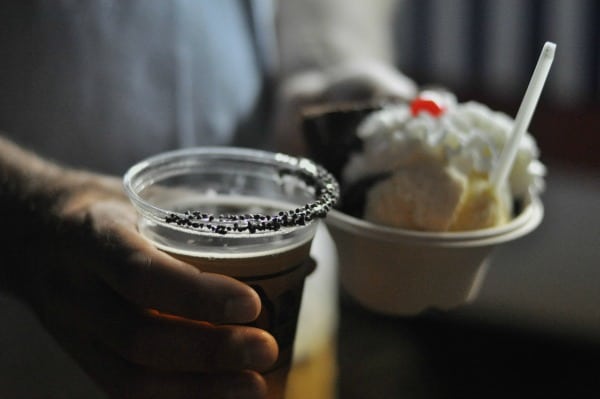 Chocolate Chip Cookie Beer
"Honoring two State Fair traditions — chocolate chip cookies and craft beer — this sweet sipper with a malty backbone is golden tan in color and features hints of chocolate and vanilla. Each glass is served rimmed with semi-sweet chocolate. 5.2% ABV. 25 IBUs. Brewed in White Bear Lake, Minn. by Big Wood Brewery."
When I saw this new beer announced I was so excited. To me, the Minnesota State Fair is about really fun food, beer and activities. Totally unique and special, this Chocolate Chip Cookie beer is a perfect addition to the Minnesota State Fair beers. This malty golden ale has pops of chocolate and vanilla and the glass is rimmed with special chocolate chips that only melt in your mouth. This is a great beer to end your night at the Minnesota State Fair, while you could totally grab cookies to pair with this beer, I recommend walking around the corner and grabbing a Hot Fudge Brownie Sundae from Bridgeman's Ice Cream, located at the Northeast corner of Judson Ave. & Liggett St. ($2.50 off one hot fudge brownie sundae in the Blue Ribbon Book) The sundae is chocolate brownie, vanilla ice cream, hot fudge, whipped cream and a cherry.
Available at Andy's Grille, located on the south side of Carnes Avenue between Liggett and Nelson streets
I shared some of my favorite 2016 food and beer pairings on Twin Cities Live, watch the video on the Twin Cities Live web page.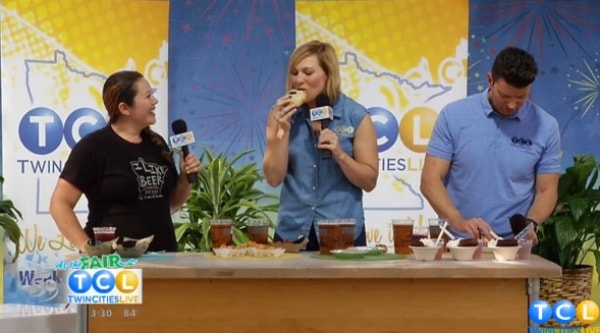 Enjoy these tasty beers and have a great time at the Minnesota State Fair! Tell me your favorites!