Crispy bacon and cheese turn your turkey leftovers into a casserole your whole family will love, Leftover Turkey Tater Tot Hotdish!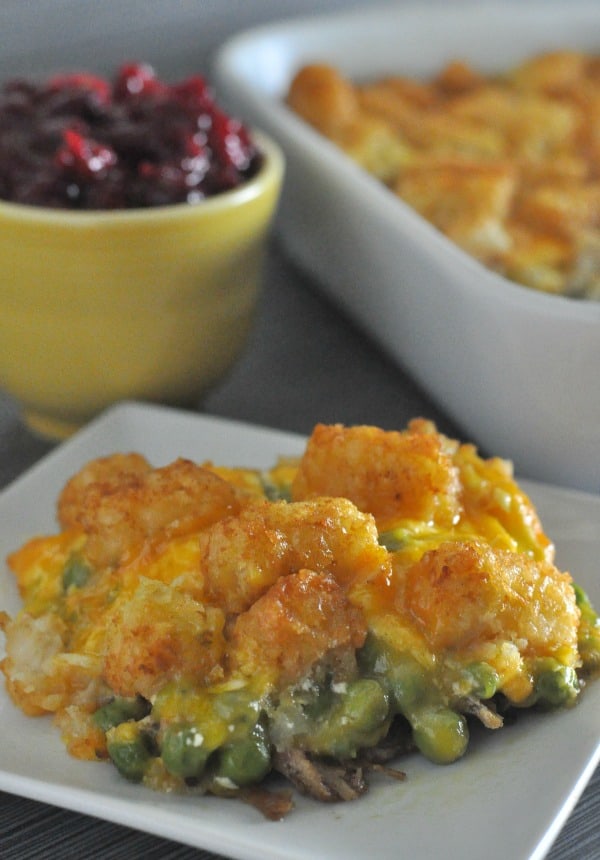 Thanksgiving is over and we've had our fill of turkey sandwiches. I took the last of my roasted turkey and decided it was perfect for the Minnesota classic: Tater Tot Hotdish. Sautéed with crispy bacon and layered with cheese, this is a perfect way to create a new comfort food classic using up leftover turkey.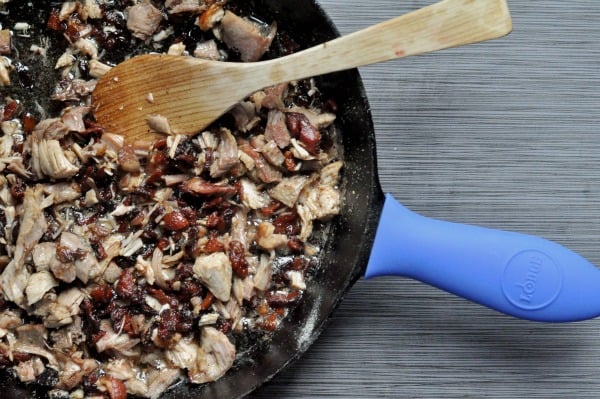 One of the most used pans in my kitchen is my Lodge Cast Iron Skillet (affiliate), it's affordable and a great piece to use to saute the base of your dishes, as well as sear your meat (perfect for all those winter roasts you'll be making). Since my husband knows how much I love my pan, he bought me this cute blue holder (aff) which makes it super easy to move the pan off the stove or out from the oven.
When I make this hotdish, it's really important to get that bacon super crispy. Doing this will keep the bacon crispy in the casserole and gives off really great smoky bacon flavor to the turkey. Adding seasoning like garlic salt and rubbed sage, brings out the turkey flavor and makes it a perfect post-Thanksgiving leftover meal. I used frozen peas in my casserole, but you could also use leftover green beans or even layer green bean casserole right in there. The gravy beans will fit right in!
[bctt tweet="Minnesota Classic Meets Leftover Turkey!"]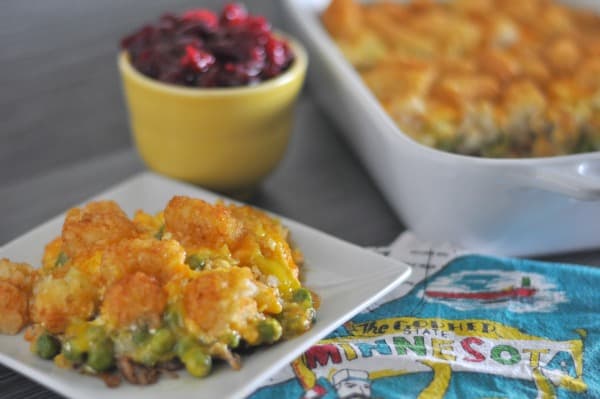 Leftover turkey is perfect in this new Minnesota classic, Leftover Turkey Tater Tot Hotdish. Looking for other creative ways to use up Thanksgiving Leftovers? Check out my post on 10 Ways to Use Thanksgiving Leftovers. If you have any questions on how long to keep leftovers safely after the holiday, check out my post on Leftovers Food Safety.

Leftover Turkey Tater Tot Hotdish
Ingredients
16 ounces bacon ends or 16 ounces thick-cut bacon (cut into small pieces)
3 cups cooked turkey (chopped)
1 tsp onion powder
1 tsp garlic salt
1 tsp rubbed sage
16 ounces frozen peas
2 (10¾ ounces) cans Cheddar Cheese soup
1 container (8 ounces) sour cream
2 cups Sharp Cheddar (shredded)
1 package (32 ounces) of Tater Tots
Instructions
Preheat oven to 375.
Over medium heat in a frying pan, cook bacon until very brown and crispy. Add cooked turkey, onion powder, garlic salt and rubbed sage. Sauté over low heat for 8 minutes. Drain fat from pan and pour meat mixture into the bottom of a 9x13 casserole pan.
On top of the meat mixture, add frozen peas. Then spread cheddar soup, sour cream, and shredded cheese. Top with tater tots.
Bake 1 hour uncovered.