Pumpkin Mussels is an easy one pot meal perfect for the fall, made with fresh mussels, canned pumpkin and pumpkin beer.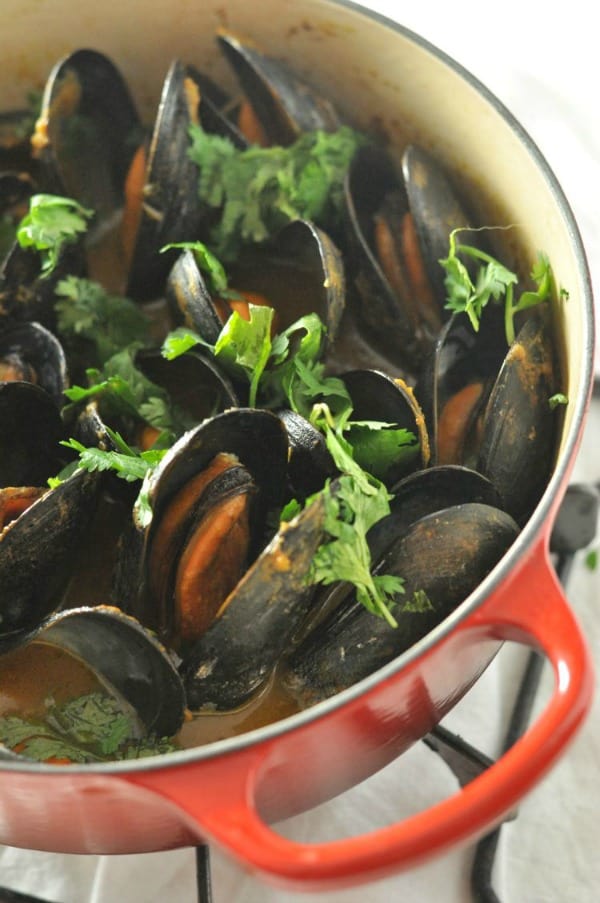 Fall brings cool weather and comfort foods that are perfect for cozy nights inside. One of my favorite seafood dishes to share when I'm on a date with my husband is steamed mussels. We love sharing a big bowl and sopping up all that yummy seafood broth with buttery grilled bread. When the temps start to dip in Minnesota, date nights at home sound really good and recreating one of our favorite date night seafood dishes with a fall spin sounded perfect.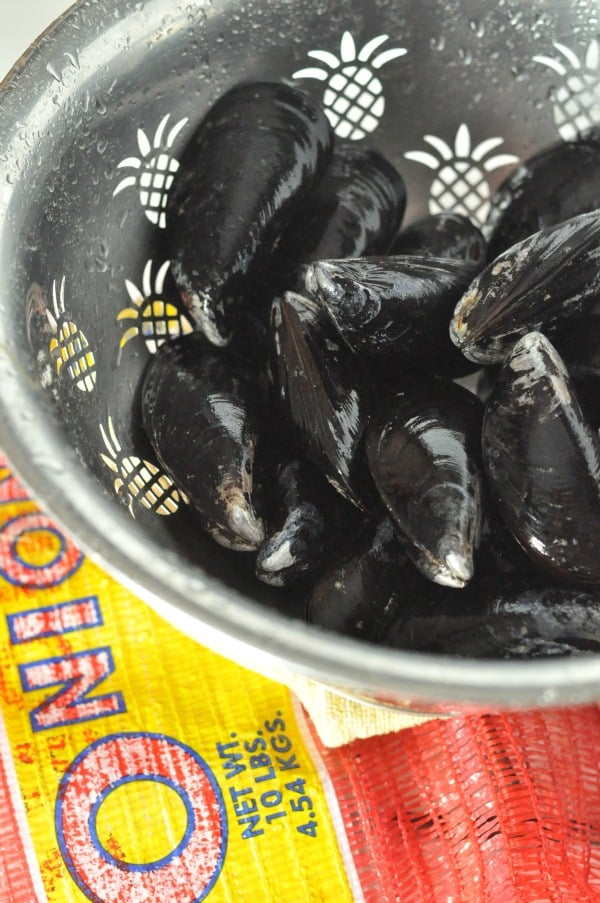 Tips for Buying, Storing and Preparing Mussels
The first step in preparing seafood at home is planning ahead. I bought my live mussels from the local seafood monger in St. Paul, Coastal Seafoods. You should buy your fresh seafood the day you plan to cook it. To prepare mussels for cooking, you want to store them in an open bag in your fridge, then before cooking rinse with cold water and remove any dirt or beards (black strings on the shell). We've all been told not to eat shellfish that has opened up, right? Warning, these mussels are tricky. I took mine out of the fridge and most of the shells had opened. I was frustrated because it is seemed like almost all the mussels had died. Instead, I kept them under running cold water and they tucked right back into their shells and were still alive.
The next day I called my fish monger to confirm that indeed, mussels can be tricky. The fish monger confirmed that I should give them a few minutes in cold water to close back up and he said most people aren't as patient and then incidentally toss them in the garbage.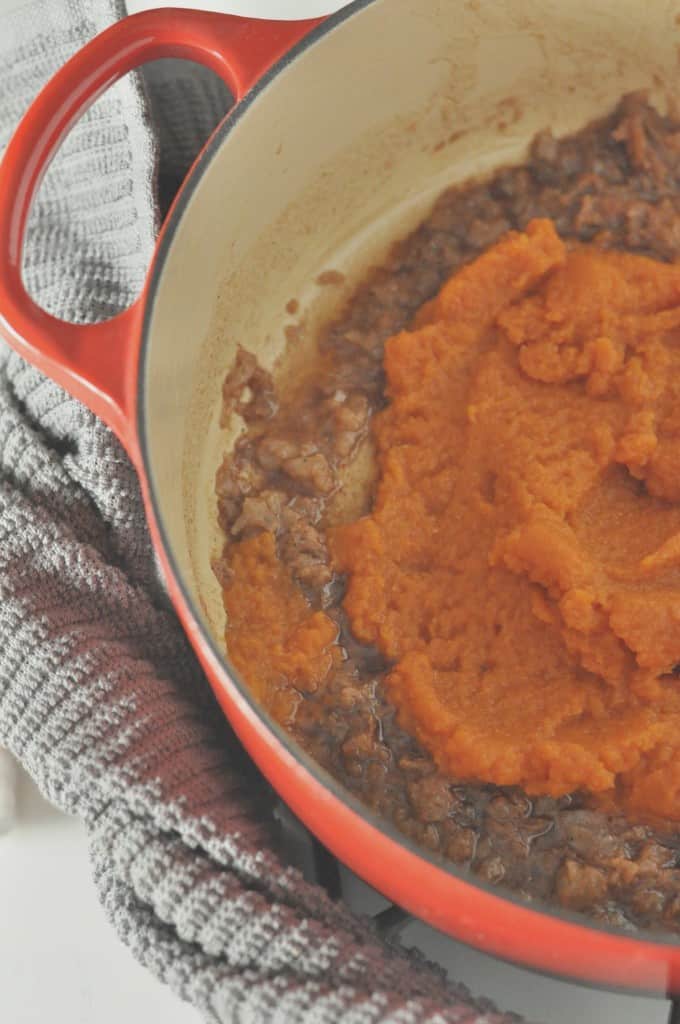 This is a one pot dish and one of my favorite ways to use my French/Dutch Oven. I bought this red LeCruset one a couple years ago for my birthday and it has been one of my favorite pieces of kitchen cookware. And when we are talking about hunkering down for the winter and cooking soups, stews and slow-cooked braised meats, this cooking pot is perfect for that. I highly recommend it as a cookware piece to add to your collection, you can find a really affordable one on Amazon here (affiliate link).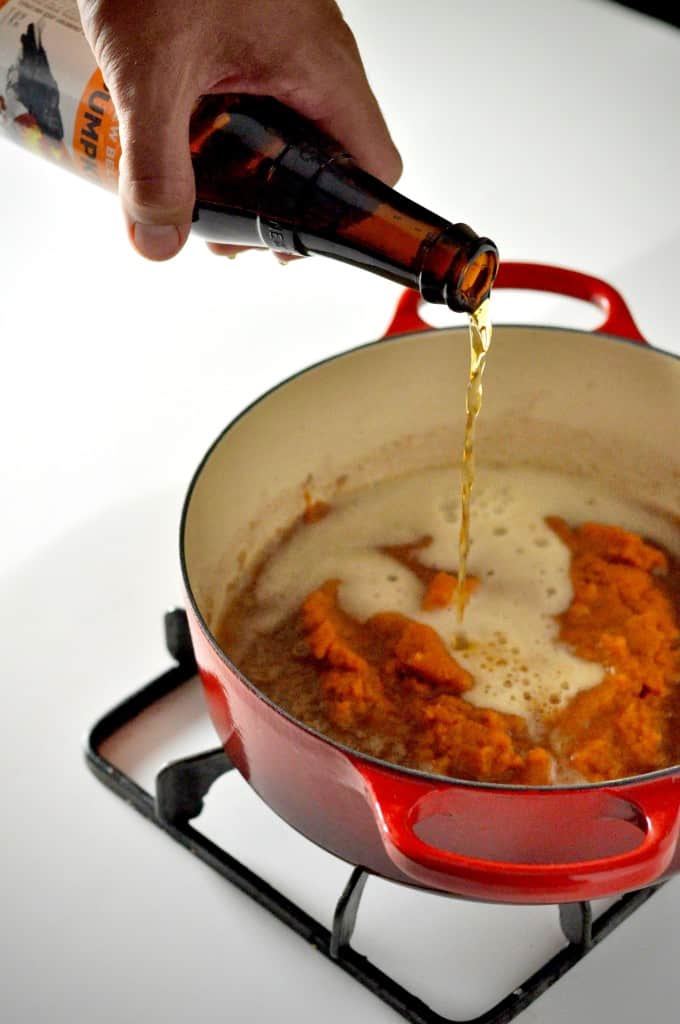 For the Pumpkin Mussels, you make a buttery base and saute the onion with pumpkin spice and canned pumpkin. Pumpkin beer provides the steaming liquid and once the mussels are in, just under ten minutes before you'll be sharing a beautiful fall meal together right at home. I love to garnish this dish with cilantro and make lots of toasted bread to soak up the golden seafood broth.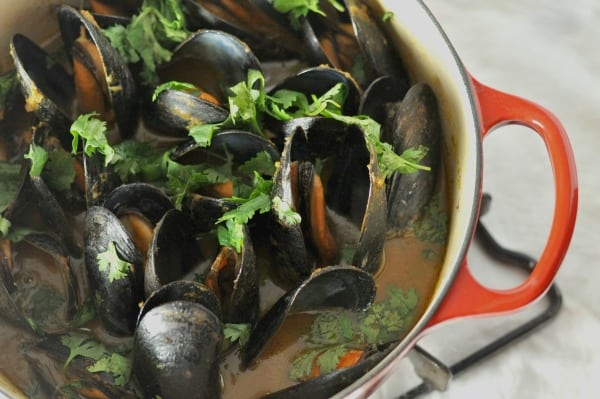 Pumpkin Mussels
Ingredients
¼ cup Sweet Onion (chopped)
4 TB Butter
1 tsp Salt
1 tsp Pumpkin Pie Spice
1 cup Pure Pumpkin
1 (12 ounces) Pumpkin Beer (I like New Belgium Pumpkick)
2 lbs Live Mussels (in the shell)
Garnish with 1 cup Cilantro leaves
Serve with Buttery Toasted Bread
Instructions
In a French oven pot, over medium heat, sauté the onion in butter.
When onion is soft, add salt and pumpkin pie spice.
Sauté for two additional minutes and then add the pure pumpkin and pumpkin beer.
Scrub the mussels under cold water, wash off dirt and remove any beards (black strings on outside of shell) and discard any mussels that have not opened (if you have just taken the mussels out of the fridge, give them a few minutes to be under the cold water and close their shells).
Place mussels in the pumpkin sauce and cook for 8 minutes with a lid on the pot.
Serve with buttery toasted bread.
Notes
Purchase live mussels on the day you intend to cook the meal.
Store mussels cold (in your fridge) in an open bag.
Eat any leftovers within 24 hours.