Filled with the flavors of fall, Pumpkin Spice Granola is simple and filled with pumpkin seeds, pumpkin spice and sweet honey.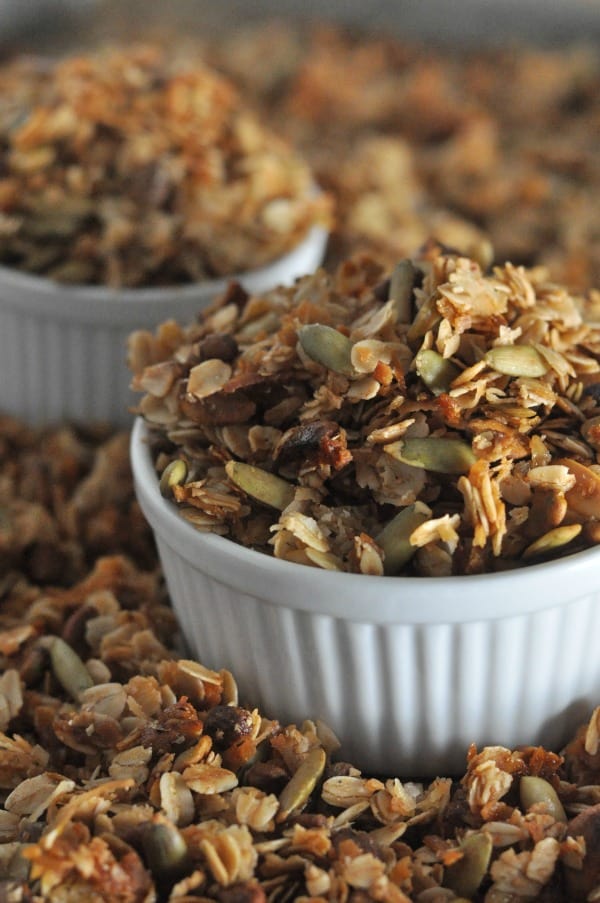 I love fall and all the cozy parts of the season. There's some peace about the time, in that we finally start to feel a little more relaxed. I start to crave slow weekends, opening the windows for fresh crisp air and letting a big pot of soup cook on the stove. Feeling like life is a bit slower, I have more time for meal planning and prepping for the week.
On the weekends my oven slowly hums along, roasting vegetables, sometimes meatloaf or a roast and regularly, granola. I make a basic homemade granola and modify it with different fruits and when I want something sweet, I make a cherry chocolate gluten-free version.
Because it is fall and I am obsessed with all things pumpkin, I thought it was a good time to create a fall-inspired, Pumpkin Spice Granola. I love the hint of pumpkin spice and sweet honey and the pistachios and pumpkin seeds in this granola. While I love to add dried fruit to my granolas, I love this one without dried fruit too. It's great on yogurt, in milk or even mixed in meatloaf.
Here are my tips for making great homemade granola: make this recipe in a jelly roll pan and if making in a different pan, closely watch the granola so it doesn't burn. Also, oven temps vary so keep an eye on your granola when it goes in for the second batch of baking. Pull it out when it reaches your desired level of browning. Leaving it in for too long can burn it so I try and make this recipe when I have plenty of time to keep an eye on it. As in, not when my kids are taking a bath. I may have done that and emptied a whole pan of granola in the trash. Don't be like me friends, watch your granola, let it brown and enjoy. Happy fall!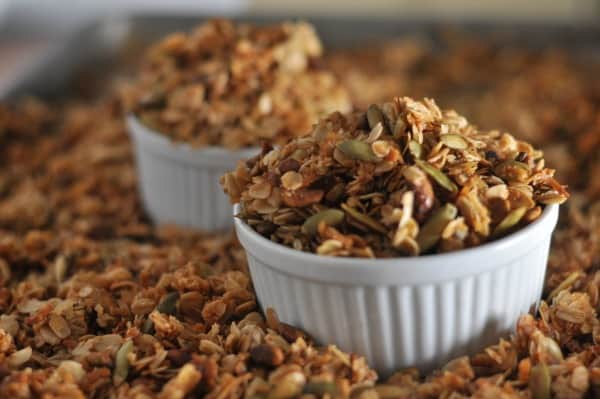 Pumpkin Spice Granola
Ingredients
4 cups Old Fashioned Oats
2 cups Shredded Coconut
¾ cup Oil (Coconut or Olive Oil)
½ cup Honey
1 cup Pistachio Nut Pieces
1 cup Pumpkin Seeds (shelled-no white exterior)
2 tsp Pumpkin Pie Spice
If desired, dried chopped fruit: Dried Cherries, Dried Apples
Instructions
Preheat oven to 350.
In a large bowl, combine oats, coconut, oil, honey, nuts, seeds and pumpkin pie spice. Spread in a jelly roll pan lined with parchment paper and bake on a middle rack for 20 minutes, stir and return to the oven for another 5-8 minutes until golden brown (keep an eye on it, in case your oven cooks hot, decrease the time). Allow the granola to cool and then add dried fruit.