Braised Pumpkin Chicken, rubbed with pumpkin spice and paprika cooked in a savory pumpkin sauce filled with bacon and carrots.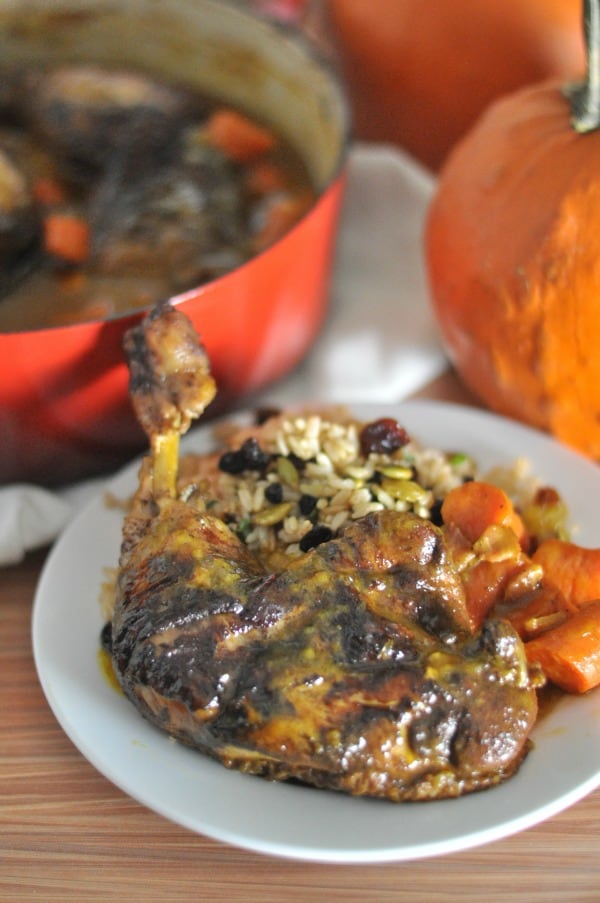 We don't tolerate boring chicken meals in my house. I love a hearty and delicious chicken dinner and when I was doing some recipe brainstorming, I thought a Pumpkin Chicken sounded perfect for the fall. I know, it's not the norm, but you have to trust me on this one. I combined flavors of smoky paprika, pumpkin spice, carrots, creamy pumpkin and bacon and of course, chicken to create a one-pot meal that you can serve for your family on a fall night or for an adult dinner to savor autumn.
I served this to my husband and I quote, "This deliciousness is dancing in my mouth."
He doesn't normally talk like that.
So yeah, this chicken dish is pretty amazing and far from boring.
Mississippi Market has sponsored this post and asked me to check out their Essentials program and create a recipe. Sometimes people are afraid to step foot in a co-op because of the prices, expecting the organic and local products to be out of their price range. Knowing this fear, Mississippi Market has made sure the essentials-the basics, are affordable and accessible. One of their products on the Essentials program list are chicken thighs from Kadejan Farm in Glenwood, Minnesota and they are perfect in this recipe.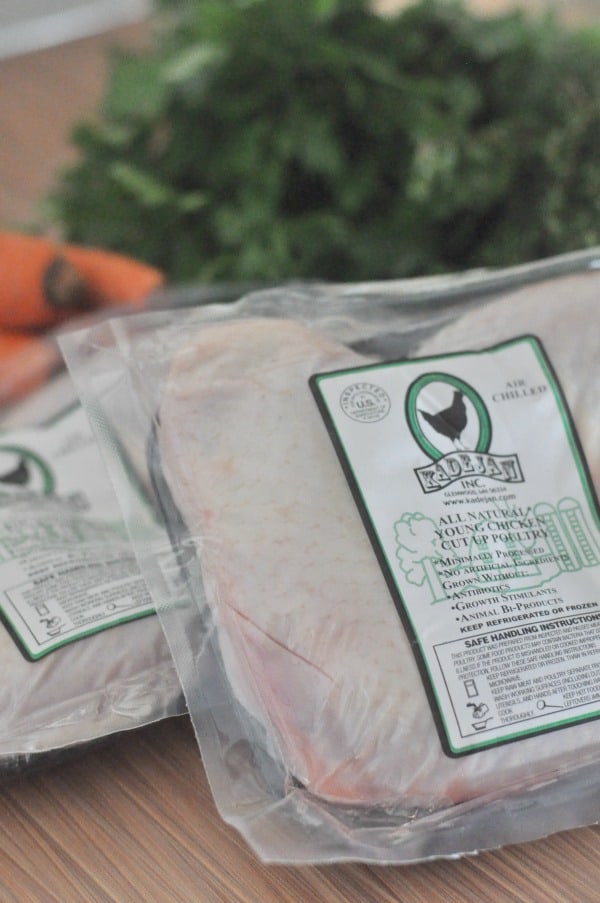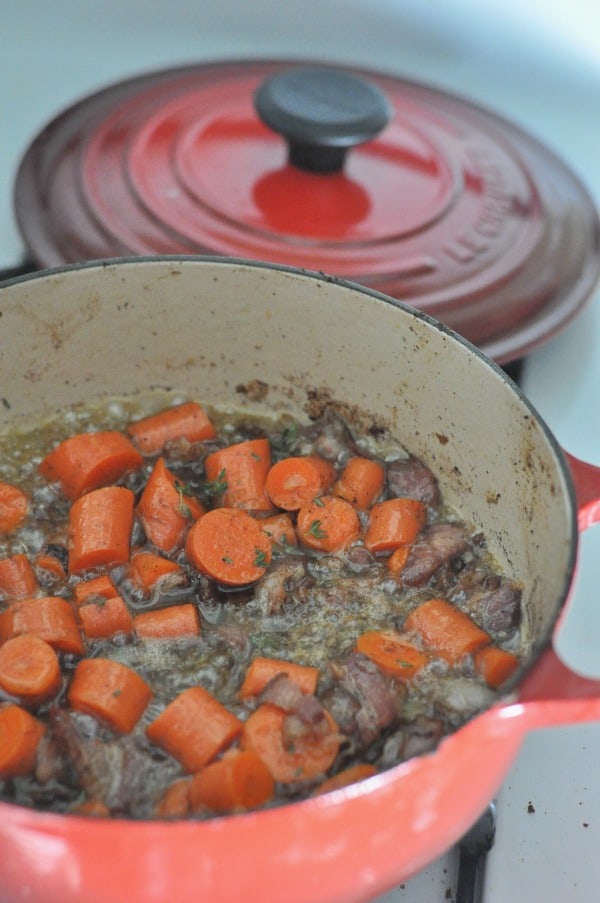 For this recipe, you can use chicken thighs or legs. The chicken is rubbed with smoked paprika and pumpkin pie spice (both spices you can find in bulk at the co-op). One of my tips for saving money at the co-op is using the bulk spice bins, because many times for recipes you only need a small amount, saving you between $2-10 for each spice you need.
One of the secret elements of this recipe is searing the chicken first to get a nice texture on the meat, then I remove the chicken and saute bacon, onion and carrot and then put the chicken in back in with pure pumpkin and chicken broth allowing it to braise in the oven.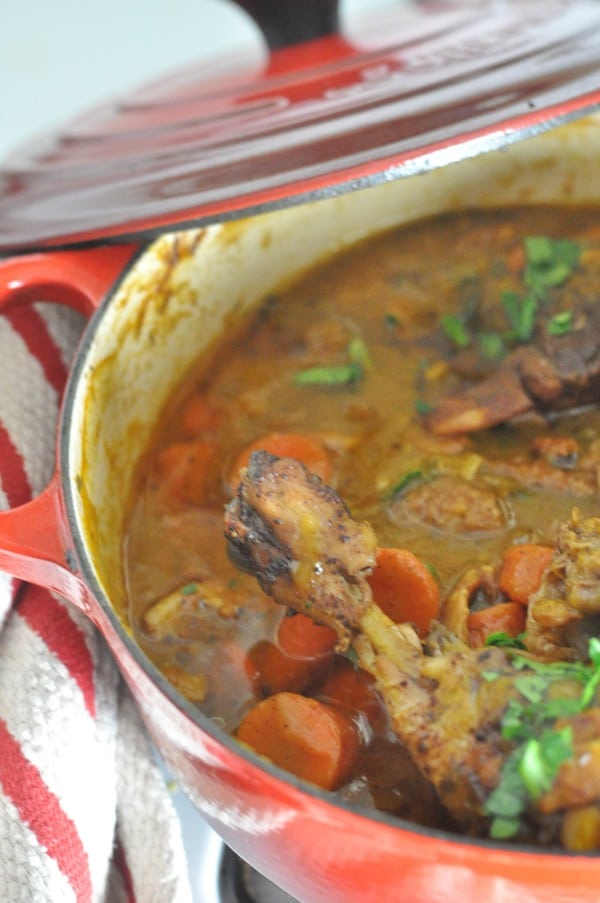 Once cooked, the chicken just falls off the bone and is in a beautifully bright and savory pumpkin sauce. I love to cover the dish with fresh herbs and serve it with my Pumpkin Rice.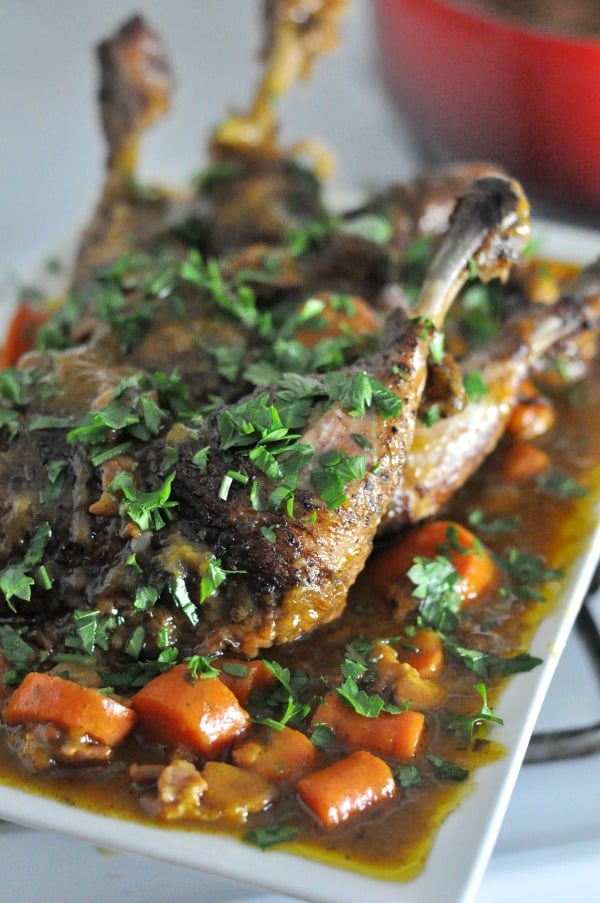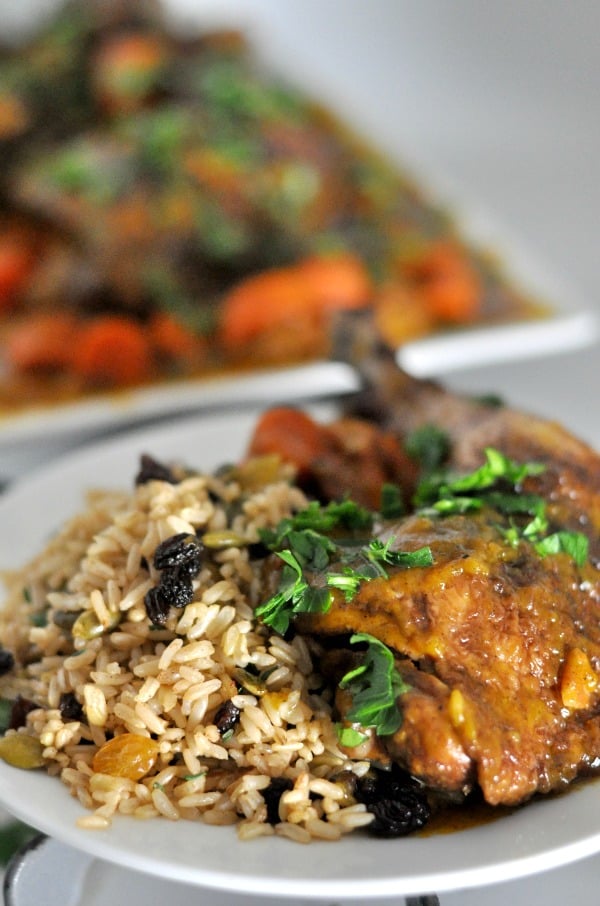 Brown Rice is another item included in the Essentials program. For my Pumpkin Rice, I added fresh herbs, dried fruit and seeds (also available at the co-op in bulk and at a significant cost savings).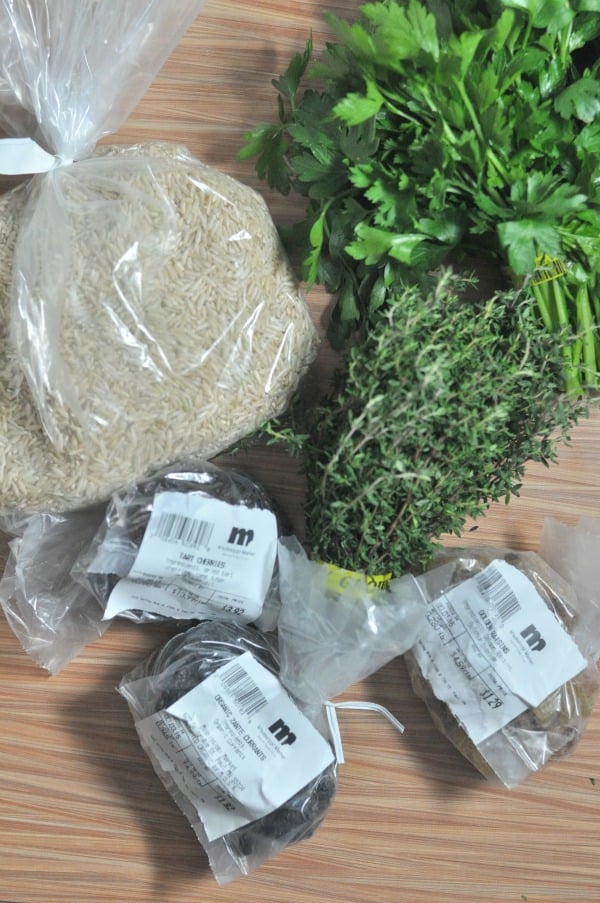 I also had a helper when I was shopping and who also loves the bulk bins at the co-op. He found the chocolate bins!
Using the Essentials program is a super easy way to save at the co-op and I've found shopping there to be a really affordable way for us to buy our groceries and buy local. Enjoy this delicious fall Pumpkin Chicken and all the great flavors of autumn. Scroll down to find out how to enter to win a gift card to Mississippi Market!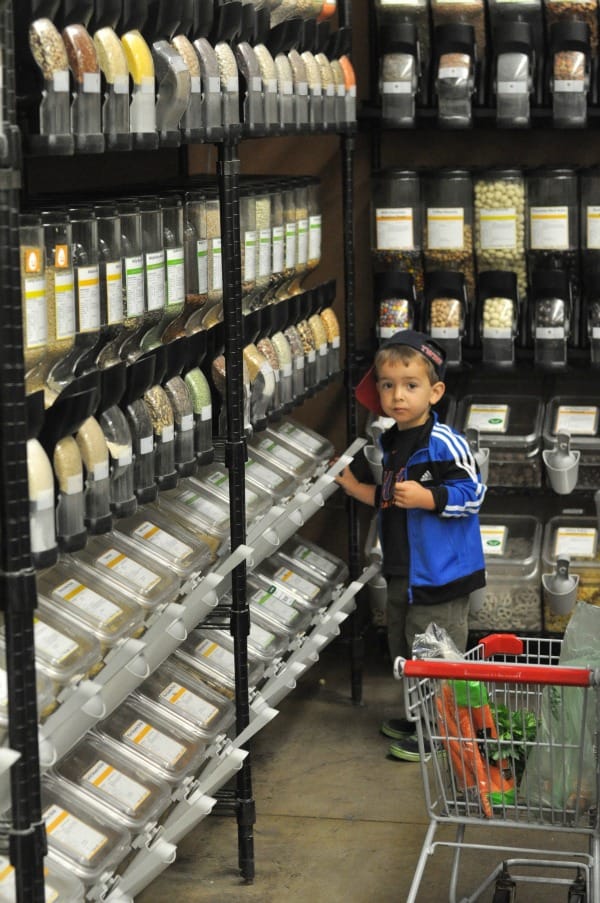 Pumpkin Chicken
Ingredients
4 chicken legs (with thigh attached) or thighs (use 2.5-3 lbs meat total)
1 TB Pumpkin Pie Spice
2 tsp Salt
1 tsp Smoked Paprika
2 TB Olive Oil
½ lb Bacon (chopped)
⅓ cup Sweet Onion (finely chopped)
5 carrots (not peeled, chopped into medium/large pieces)
15 ounces canned Pure Pumpkin
1 cup chicken broth
Instructions
Preheat oven to 350.
Dry chicken with a paper towel.
In a small bowl combine pumpkin pie spice, salt and smoked paprika. Rub this all over the chicken.
Add two tablespoons of oil to a 4.5 quart or larger French Oven and bring to medium heat.
Sear chicken 5 minutes on each side until browned.
Remove chicken and set aside.
Add bacon and cook until lightly browned. Add onion and carrots. Cook for 5 minutes.
Add canned pumpkin and chicken broth. Place chicken back into French Oven.
Bake for 1 hour.
Serve with Pumpkin Rice and salt chicken as desired.
Disclosure: This post is sponsored by 
Mississippi Market Natural Foods Co-op
. This fall I have partnered with Mississippi Market to share several recipes highlighting their local foods and affordable shopping. Thank you for supporting the organizations, companies, people and events that I choose to work with, sponsored content helps me grow my blog and support my family. As always, opinions are my own.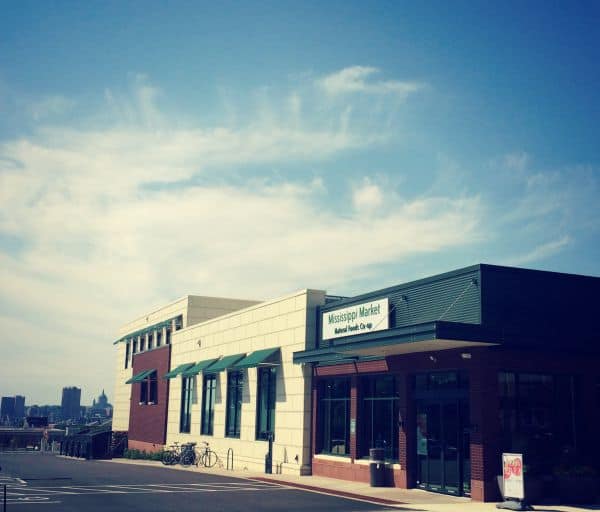 In celebration of Mississippi Market's new East 7th Street store, I'm hosting a $50 gift card giveaway! Follow the Rafflecopter directions to enter for your chance to win $50 in groceries to use at any of their St. Paul stores! For a comment entry, tell me your favorite fall vegetables! For more details about the new East 7th Store and fresh food news, follow the Mississippi Market Facebook page.