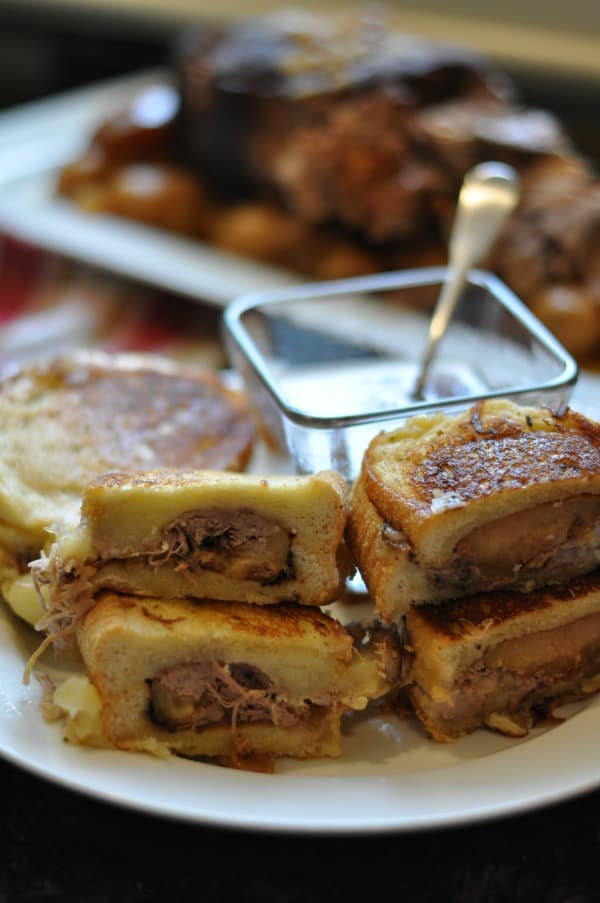 So you've made my Maple Bourbon Pot Roast and you have some leftovers? Put your seat belt on. Seriously.
Why do kids get to have all the fun with grilled cheese? I think we deserve an adult grilled cheese sandwich? Here! Here!
Ok, so you made my Maple Bourbon Pot Roast, that is if you followed my instructions to not drink the bourbon cocktail and actually use it in your roast.  So you want to use up the leftovers in an easy way? Well we're pressing the sweet and juicy pot roast into a Pot Roast Grilled Cheese Sandwich. We're also sneaking in some of those baked apples from the crock pot.  The bread? Texas Toast.
Wait, what? You say.  Texas Toast? Yes, friends this is the adult grilled cheese sandwich secret. You need a hearty thick bread that will hold together the pot roast, apple and white cheddar.  You also need this bread because if you are smart you reserve the liquid from the crock pot and use it as a sweet au jus to dip your sandwich into! But it also is already completely covered in butter! You can totally skip the buttering in the normal grilled cheese sandwich-making process! Press these sandwiches until they are nice and brown and dip into that sweet au jus!

Pot Roast Grilled Cheese Sandwiches
Ingredients
8 slices Texas Toast (defrosted)
2 cups Shredded Pot Roast
7 ounces White Cheddar Cheese
4 Baked Apple Halves
Instructions
Heat frying pan over medium heat.
Top 4 slices of Texas toast with pot roast, white cheddar and apples. Press with remaining bread. No need to butter bread.
Fry sandwiches until lightly browned on each side.