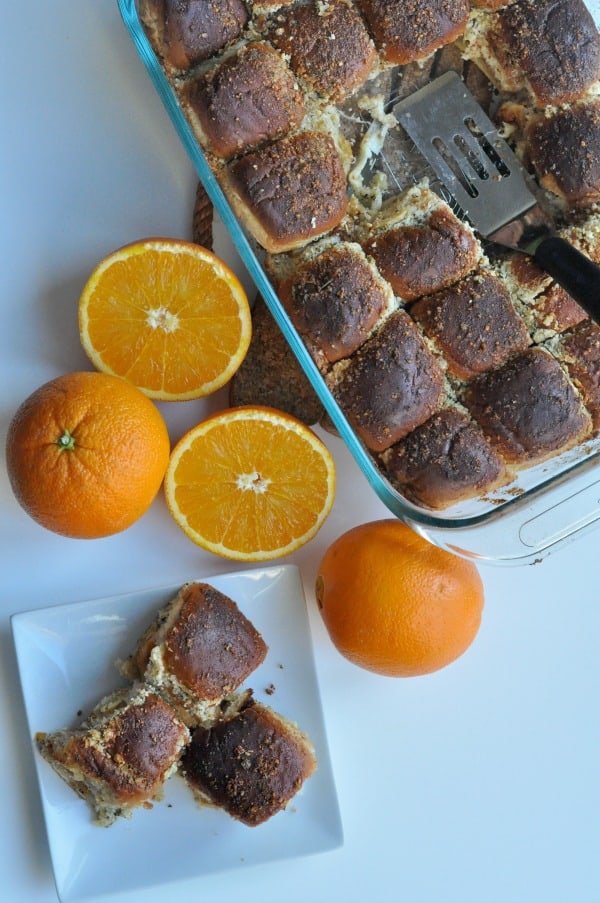 Orange Baked Chicken Sandwiches are a super simple appetizer made with chicken nuggets and orange marmalade inside Hawaiian rolls. And the tops of the rolls are brushed with a garlic parmesan butter sauce. These are a great appetizer for a party or kid-friendly meal!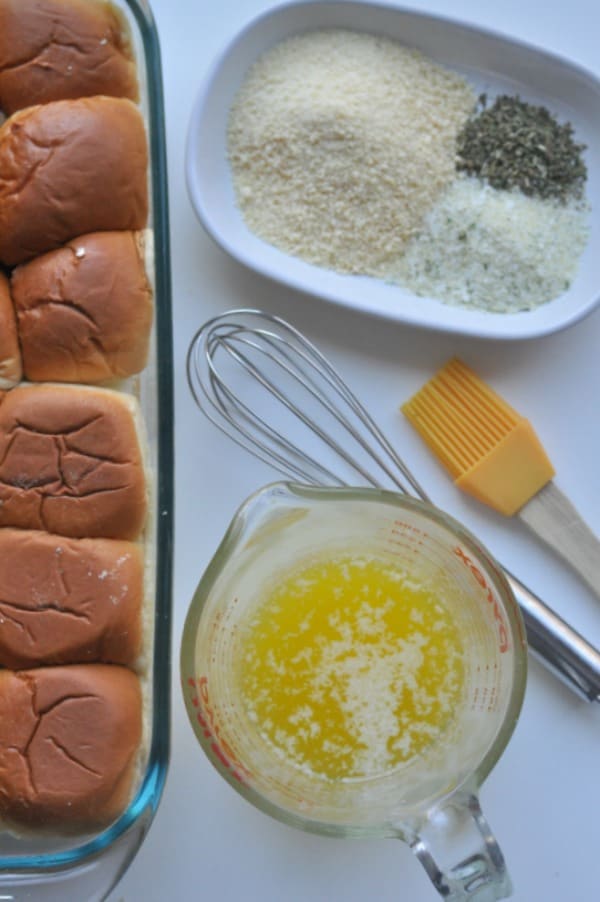 Each year a group of my blogging friends from across the country gets together to put together an amazing spread of Best Picture Inspired Oscars recipes. Each of us gets paired with a Best Picture nominated movie and creates a recipe inspired by the film. At the end of this post you can click through all the recipes for 2018! This is my fourth year participating and in past years I've made Nutella Milkshakes, Crock-Pot Ribs, and New England Clam Chowder. This year my best picture movie was Lady Bird and I created these Orange Baked Chicken Sandwiches as an inspiration from the movie.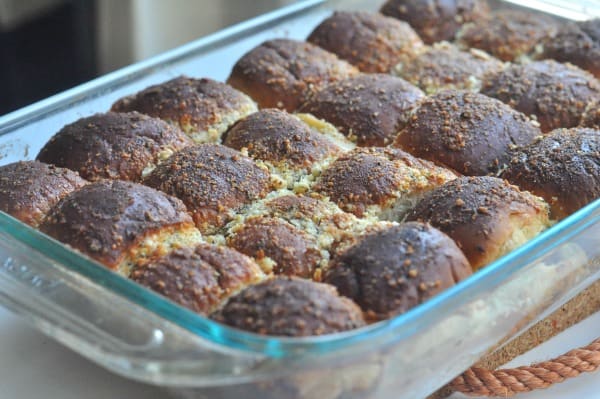 Before I tell you about these tasty sandwiches, let me tell you about the movie. Lady Bird is about a teenager figuring out who she is, how she is loved, and what she wants to do after high school. Much of the movie details Lady Bird's relationship with her mother and the clash between a coming of age teenager versus mom. Lady Bird is not the character's real name but highlights her creative spirit and individuality. The movie made me think about how we need to love our children for who they are and how moms love in the very best way they know how.
Since I was an awful teenager to my mother, and we had so many great fights growing up, I thought it would be fun to see this movie with my mom. We both really loved it. I bawled my eyes out finding so many parallels with my own life as a jerk teen and my mom, I think, finds joy in knowing I'll likely be in for some good karma someday with my own kids.
I told my mom I was going to make Orange Baked Chicken Sandwiches as inspiration from the movie, and she's like, "I don't get it." I'm like, "Mom, Lady Bird and Chicken, get it? Bird?"
We are still working on understanding each other.
These Orange Baked Chicken Sandwiches are similar to my Chicken Parmesan Sandwiches. They are super easy and I thought for this version it would be fun to have a unique pop of flavor in honor of Lady Bird. The Orange Marmalade gives the sandwich a fresh sweet citrus pop and with the sweet rolls, there is a really yummy sweet and savory balance.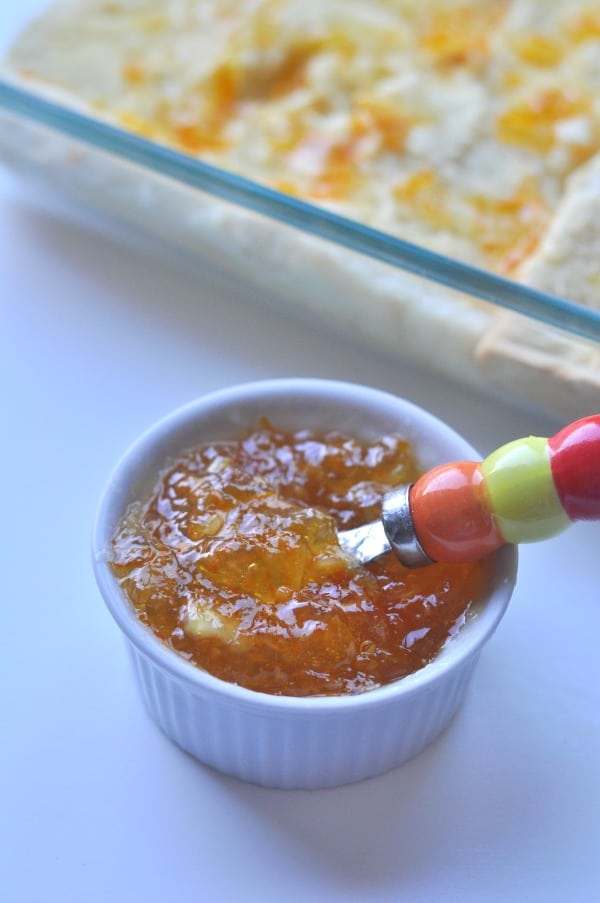 I hope you get a chance to see this movie, go see it with your mom if you can. Or at least give your mom a call or a hug. Through all those crazy teenage years, I come away thinking about how I wish I was a much nicer person to my mom and how I am so thankful to know her as an adult and be her friend and that she actually says yes when I ask her to a movie.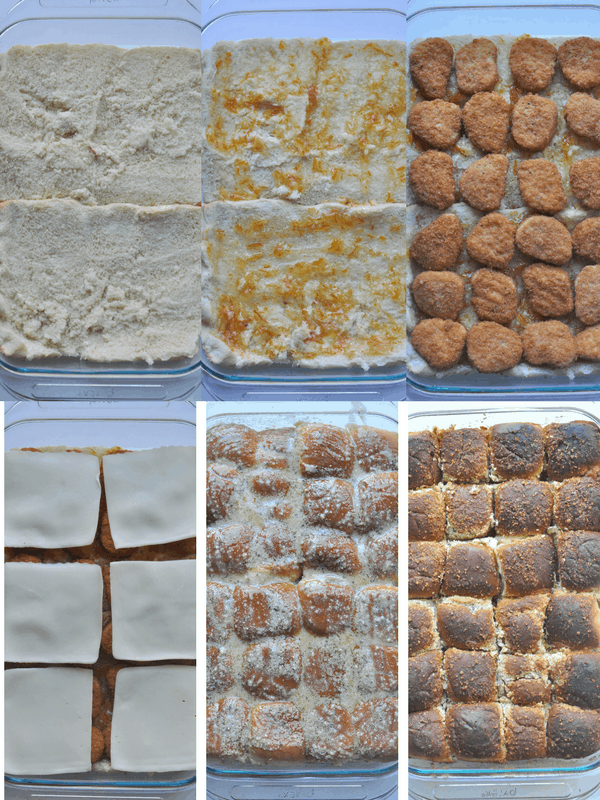 Tips for Making Orange Baked Chicken Sandwiches
Once you have the sandwiches assembled and before you pour on the butter sauce, press the sandwiches down into the pan with your hands. Use a butter knife to make space around the edges so the butter sauce has room or it will spill out of the pan.
Use a pastry brush to brush on the butter sauce.
I think these sandwiches are best served right out of the oven but I also make them and freeze for future meals and school lunches too.
When the sandwiches come out of the oven, I use a butter knife to separate the 24 sandwiches and use a small metal spatula to cut around the sandwiches.
This is a great recipe to bring to a party, also good for baby showers or family gatherings. And a super great meal to bring to a family who just had a baby or who needs some extra kindness.
Here is the full list of Best Picture Inspired Recipes
Darkest Hour: Chocolate Tuile Cigars with Whisky Ganache from Suzanne of Flour Arrangements
Dunkirk: Strawberry Brie Crostinis from Sharon of The Honour System
Call Me By Your Name: Peach Focaccia from Kara of K&R Adventures
Get Out: Black and White Cookies from Julia of Girl Meets Kitchen
Lady Bird: Orange Baked Chicken Sandwiches from Alice of Dining With Alice
Phantom Thread: Mushroom Toasts from Haley of Cheap Recipe Blog
The Post: Orange Vanilla Martinis from Holly and Lane of With Two Spoons
The Shape of Water: Tuna Fish and Avocado Appetizer from Greta of Pickles Travel

Orange Baked Chicken Sandwiches
Ingredients
24 King's Hawaiian Sweet Rolls (1 package of 24 or 2 packages of 12)
24 Frozen Chicken Nuggets (defrost in the microwave)
6 slices Mozzarella Cheese
½ cup Orange Marmalade
8 TB Land O'Lakes Butter
2 tsp Garlic Salt (coarse with parsley)
1 tsp Italian Seasoning
⅓ cup Parmesan Cheese (100% grated)
Instructions
Preheat oven to 350.
Evenly cut the tops off the rolls. Place the bottoms of the rolls in a greased 9x13 pan.
Spread the Orange Marmalade over the rolls.
Defrost the chicken nuggets in the microwave.
Place 24 chicken nuggets on top of the rolls spread with orange marmalade. Add sliced cheese.
Put the tops on the rolls.
In a microwave-safe dish, melt the butter. Add the garlic salt, Italian Seasoning, and Parmesan Cheese. Whisk and then evenly pour over the rolls.
Cover dish with tinfoil.
Bake covered for 15 minutes.
Remove tinfoil and bake an additional 15 minutes.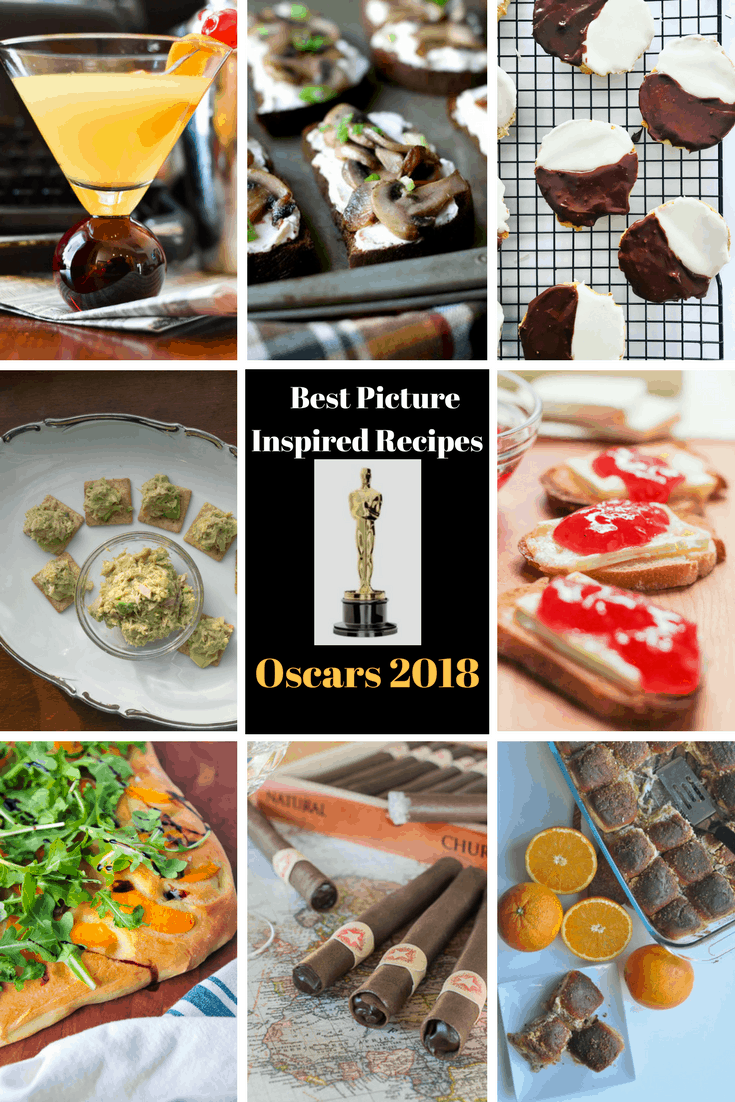 Save
Save