Rainbow Kabobs are made with a rainbow assortment of veggies and fully-cooked meatballs and served with a creamy cilantro sauce! Super easy weeknight meal!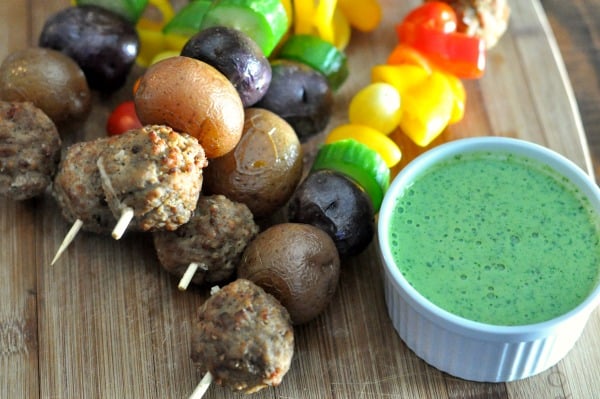 I've partnered with the Cooked Perfect Brand to share this post. Thank you for supporting the organizations, companies, people, and events that I choose to work with, sponsored content grows my blog and supports my family.
In the summer, I get really off track when it comes to meal planning. During the school year, is another story. During the school year, I am very strict about planning the meals every weekend, cooking almost all the weekly meals on Sunday, and writing down everything on our dry erase board in our kitchen. Do I love doing all this work? Oh my gosh, no. But, I do know that when I prep, cook, and write it all down, I get more relaxed time with my family during the week, we eat healthier, and I save money by not picking up takeout.
Well, guess what? School starts here next week so I thought I better start getting back in my routine! Last weekend I mapped out our week via my dry erase board, took meals out of the freezer and prepped a few for the week. I forgot how smooth it makes the week go and for me, it was a super busy week and I needed some stability! One of my other challenges is coming up with new meal ideas that my kids will like and that are easy to prepare (especially on a weeknight).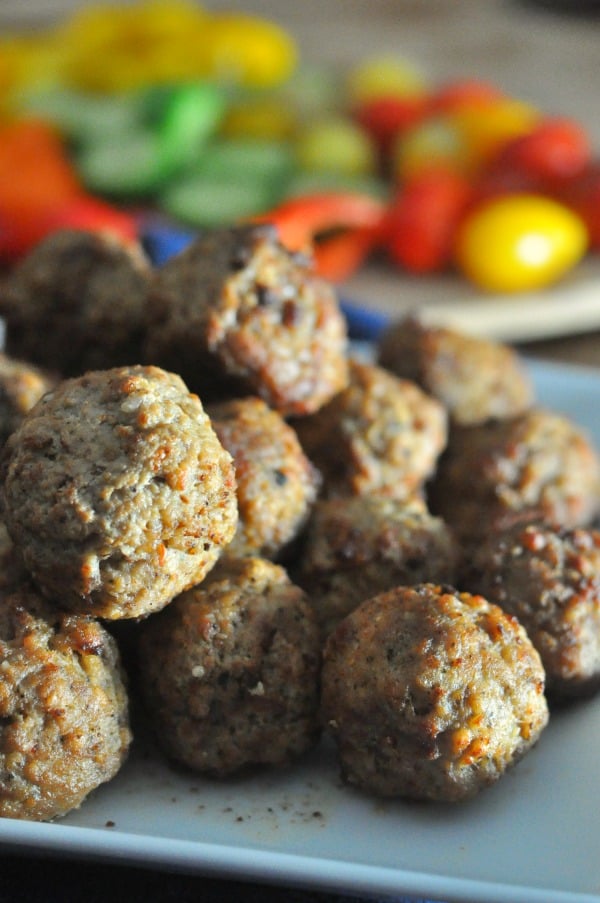 Frozen meatballs are one of my favorite easy quick cook meal staples. For these Rainbow Kabobs, I'm using Cooked Perfect Frozen Meatballs. Here's why I like them for this recipe, they are flavorful even just freezer to microwave. The meatballs are made from select cuts of meat and flame broiled to seal in flavors and juice. And did I mention easy? I just microwaved to heat them up and serve! And I'm not the only one who thinks they are a quality meatball, they are ranked the #1 Frozen Meatball in the United States! You can find them in the freezer area of your local grocery store.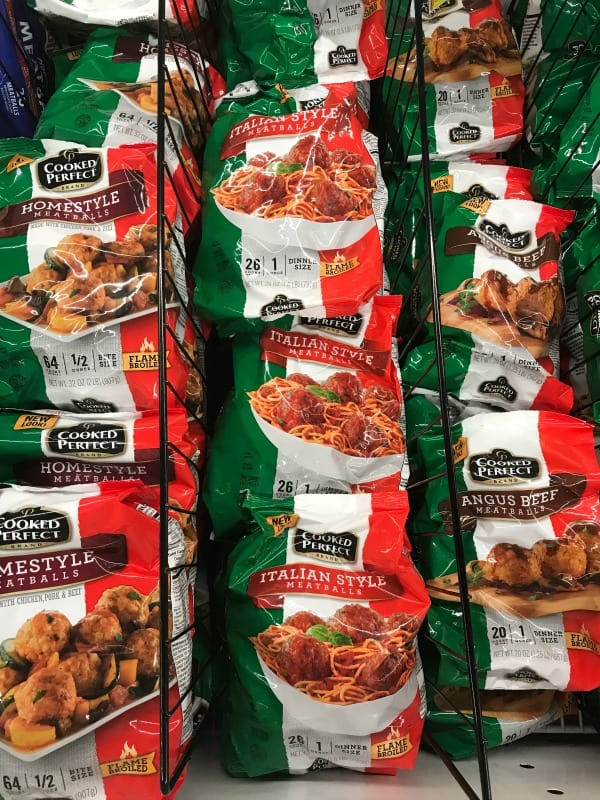 Recently we were on vacation with my husband's family and my sister-in-law made kabobs for dinner one of the nights. The kids absolutely loved the kabobs and I can honestly say I don't remember the last time I made them for our family for dinner. It was a great reminder to add kabobs to our family's regular meal rotation! Inspired by her meal, I came up with these easy Rainbow Kabobs as a fun and easy meal for our family.
Rainbow Kabob Tips
I like to use the Cooked Perfect Angus Beef Frozen Meatballs for this recipe.
The only real cooking you need to do for this recipe is to bake the potatoes. The meatballs just heat in the microwave.
Serve your favorite rainbow veggies with this recipe. I had my kids help me shop for the veggies. We love Persian cucumbers and they are easy to pop on a kabob and great for kids' lunches.
This cilantro sauce is so easy and I made variations of it all the time. For this recipe, I make a yogurt-based sauce. I just blend it all up and keep it in a container in my fridge for dipping, drizzling, and dressing our meals! And kids love to dip and I like offering this instead of ranch. This cilantro sauce is on the sweet side and I think that's what makes my kids love it.
When you serve your meal, set the ingredients all out on a big cookie sheet and let everyone make their own rainbow kabobs!
One of my favorite side dishes to serve with this meal is a pre-packaged saffron yellow rice and once cooked, I add in sliced green olives.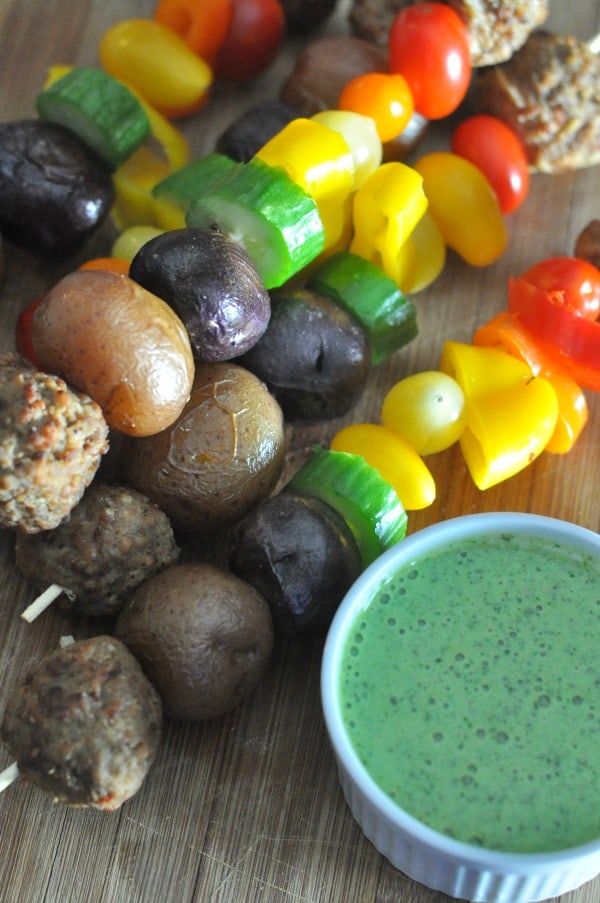 Rainbow Kabobs with Cilantro Sauce
Ingredients
10 small Potatoes (Blue and Purple)
2 TB Olive Oil
¼ tsp Salt
10 Cooked Perfect Brand (Angus Beef) Meatballs (defrosted and heated)
12-15 small Heirloom Tomatoes (red, orange, and yellow)
3 mini peppers (red, orange, and yellow sliced)
1 Persian Cucumber (sliced into small pieces)
Cilantro Sauce:
1 cup Greek Yogurt (I use a vanilla flavored but plain works too)
1 bunch Cilantro
2 TB Sugar
Instructions
Preheat oven to 375.
Coat potatoes with olive oil and salt. Bake for 20 minutes on a rimmed baking sheet.
While potatoes cook, prepare cilantro sauce by blending Greek yogurt, cilantro, and sugar.
Once potatoes are removed from oven, allow to the potatoes to cool for a few minutes. Heat meatballs.
Set up an assembly system with all of your ingredients (arrange colors) and then begin to distribute the potatoes, meatballs, veggies in a rainbow on your skewers.
Serve with the Cilantro Sauce and Yellow Rice.
I hope your transition to back to school meal planning goes well and this recipe helps you put an easy and kid-friendly meal on the table for your family!
If you are looking for more easy recipes, Cooked Perfect Brand has some great recipes on their website including this Meatball Gyro recipe. And for all my Minnesota friends, they have Swedish style meatballs!
Connect to the Cooked Perfect Brand via the web and Facebook.
This post is in partnership with the Cooked Perfect Brand. All opinions are my own. Thank you to the Cooked Perfect Brand for the opportunity to partner on this project.