New Foods for 2018 Minnesota State Fair! Try these new foods and drinks at this year's MN State Fair!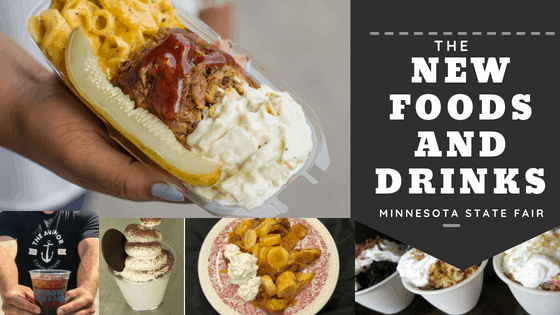 It's the end of August and you know this bittersweet time well, don't you? For our family, it usually means a family vacation, getting ready for school to start, and soaking up the very last minutes of summer. While this time is bittersweet, it is also marked by our State's very special celebration, the Minnesota State Fair. If you've been following my blog for a long time you know I love the Minnesota State Fair and have been sharing my picks for new foods and drinks for years. I love talking about the new beers, kids activities, and of course, new foods (you can check out the last three years here in 2017, 2016, 2015) One year I made a spreadsheet in order to tackle all the new foods!
Last night, we just returned from vacation. I got some quality time with my husband and kids and I'm ready for the fair!  Well, I have to go to work today but my husband and kids are likely going without me (I am having a really hard time with this). But I'll be there on Saturday the 25th and then I'll be cooking on Twin Cities Live on Friday, the 31st at the Fair.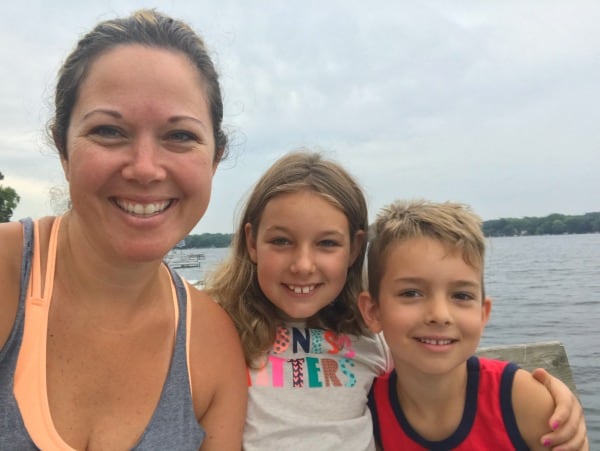 Each year, the Minnesota State Fair hosts bloggers for a special sneak peek of the new foods for the year. It is such a fun time! I love trying the new foods and being surrounded by people who love the Fair just as much as I do! I usually get to try five new things before the Fair even opens! In this post, I'm sharing a few foods that I tried that I love and few that I haven't yet tried that are on my list for when I go to the Fair this year!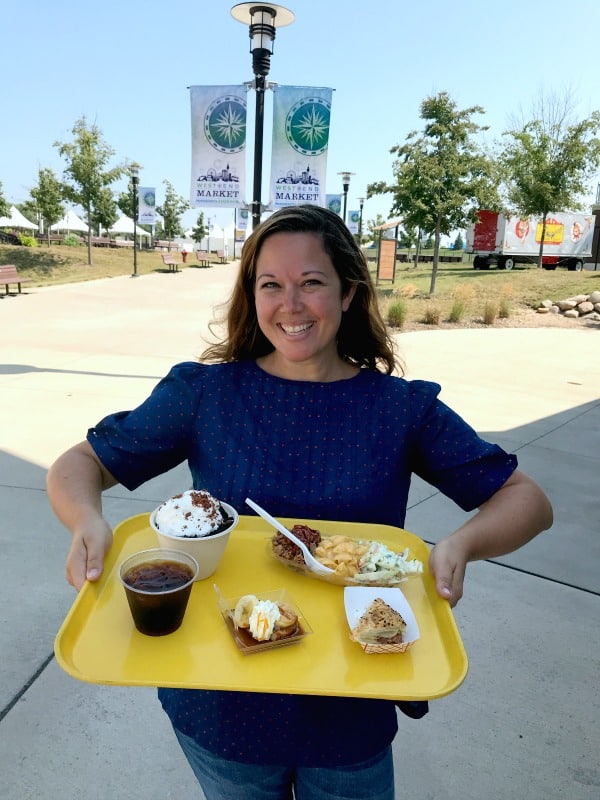 Can I be more happy?!? My tray was loaded up with some yummy foods!
New Foods for 2018 Minnesota State Fair: Foods I've Tried and Love!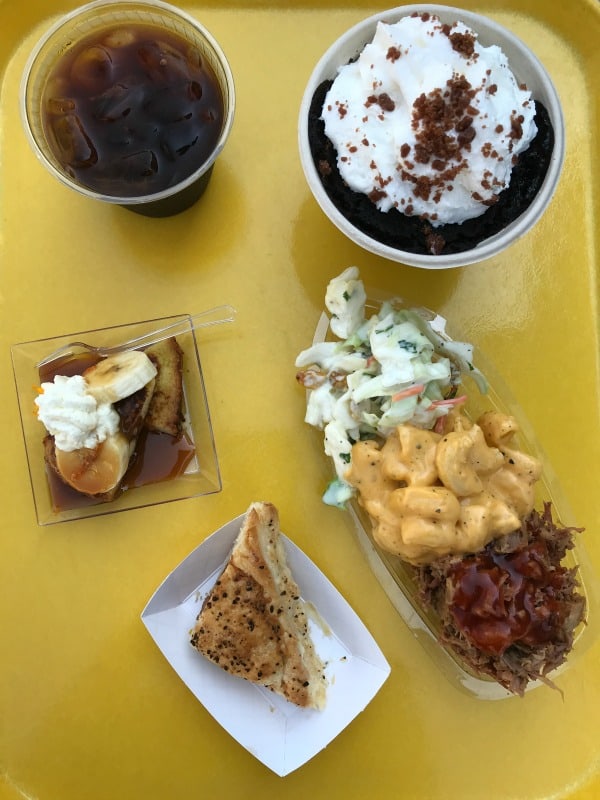 These are all of the new foods I tried at the blogger event and some have made my must-try list!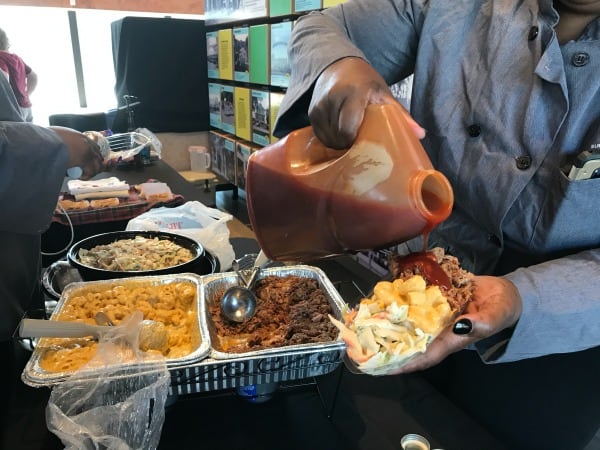 BBQ Split (Only August 29-Sept. 3) Did you read that? It is only available for certain days of the Fair. So a smart person would totally plan their Minnesota State Fair outing based on this food! So good. I absolutely loved it. I love the flavors, I love getting to try a few things in one purchase and it is awesome to share. Surprise: the coleslaw is not a quiet side, instead, is flavorful and yummy!
Description: Scoops of BBQ pulled pork, mac & cheese and coleslaw served side-by-side with a pickle spear. (Available Aug. 29-Sept. 3 only)
Location: Midtown Global Market's Mama D's In the Taste of Midtown Global Market's booth at the International Bazaar, east wall.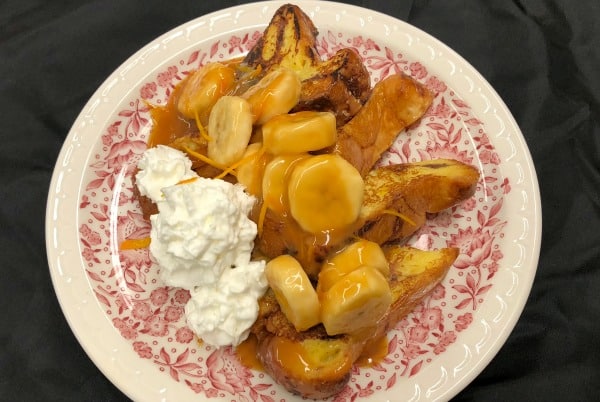 Hamline Church Dining Hall is one of my key spots to hit when I am with my kids at the Minnesota State Fair. Did you know that churches and fraternal organizations dominated the food scene at the Fair in 1900s? True! I learned this at the blogger event. The Hamline Church Dining Hall is a great place to pull up a seat, rest, have a meal you don't have to hold with your hands (and it is home cooked by amazing volunteers). I had their Bananas Foster French Toast and it was awesome. Have it for breakfast or breakfast for dinner when you are at the Fair.
Description: Cinnamon swirl French toast topped with slices of fresh bananas in an orange-rum-flavored caramel sauce and finished with a dollop of whipped cream.
Location: Hamline Church Dining Hall North side of Dan Patch Ave. between Underwood & Cooper streets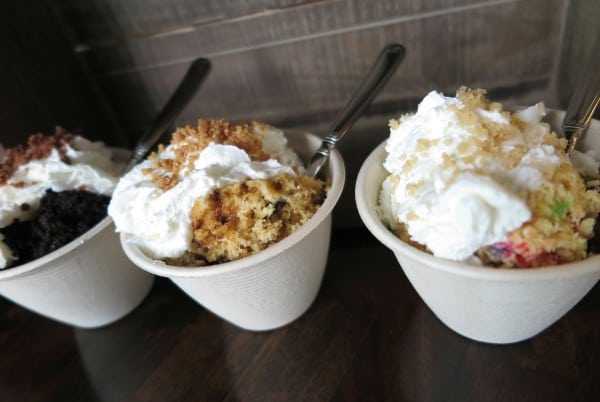 The Minnesota State Fair is our big celebration and what a perfect way to celebrate with this yummy cake. I tried the black forest and loved it. My kids would love the birthday cake. If you have a birthday celebration in your house during the Fair, you could totally celebrate with this cake when you are there!
Description: Choice of black forest cake, birthday cake or chocolate peanut butter cake, baked in a cup packed with Sassy Pecan toffee bits and served warm, topped with real whipping cream and more toffee bits.
Location: Sweetie Cakes In the Food Building, south wall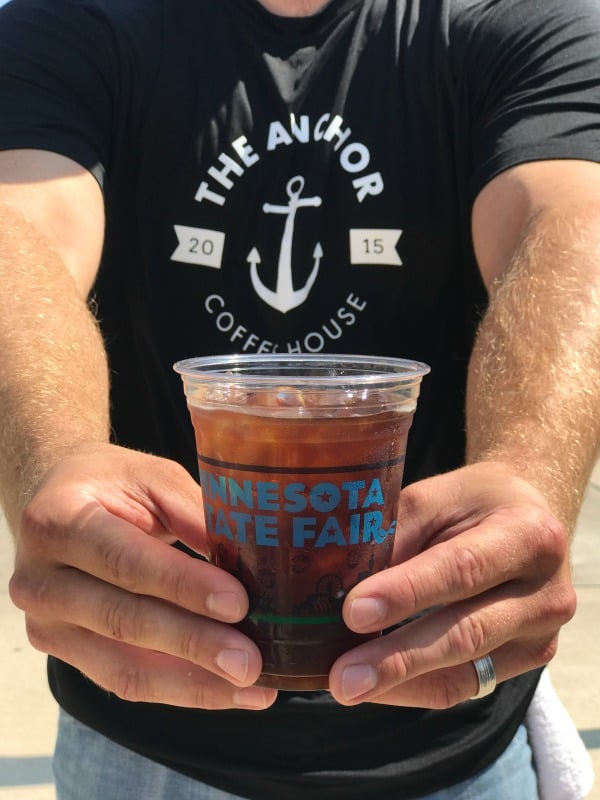 New Vendor to Check Out: Anchor Coffee House
Yay! A local business from my area! But better yet, really awesome coffee! I can't drink craft beer all day at the Fair and I need a day drink like this yummy cold brew coffee! This is a must try!
Description: Serving cold brew coffees (including nitro cold brew, vanilla cream, caramel cream & chocolate cream), lattes (including vanilla, caramel, mocha & chai tea), fresh-brewed drip coffee, banana chocolate chip gluten-free muffins and stroopwafels.
Location: West side of Underwood St. between Carnes & Judson avenues outside Ramberg Music Cafe
New Foods for 2018 Minnesota State Fair: Foods I'm Going to Try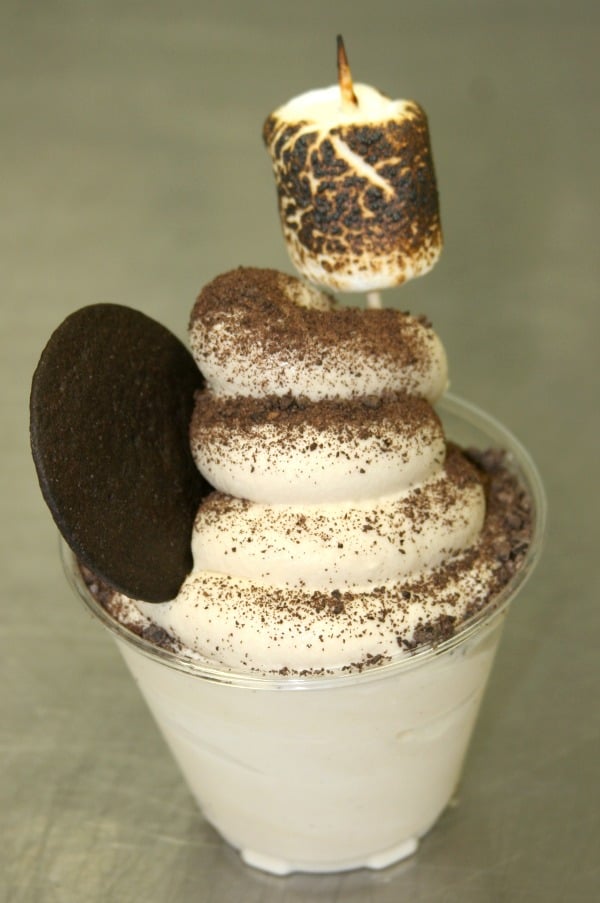 I'm really excited about this ice cream and can't wait to try it!
Description: Cold-smoked cream available in two flavors, all made on-site: Cold Brew Coffee infused with cold-smoked Arabica beans and topped with chocolate espresso dust, a toasted marshmallow and a chocolate cookie on the side; Muscovado Sugar Vanilla combines vanilla bean and cold-smoked molasses-rich cane sugar served with a toasted marshmallow and bacon candy round on the side. Optional sauces available: bourbon-soaked cherries or hot chocolate
Location: Blue Moon Dine-In Theater
Northeast corner of Carnes Ave. & Chambers St.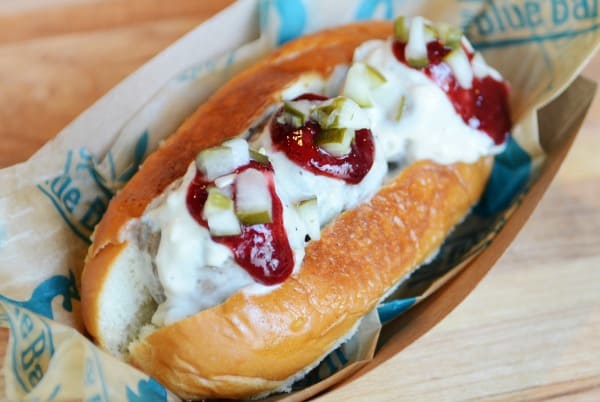 I love all things being made at the Blue Barn and I'm really excited to try this Swedish meatball sandwich!
Description: Meatball sandwich with three traditional Swedish pork and beef meatballs topped with white gravy, lingonberry sauce and dill pickles.
Location: The Blue Barn At West End Market, south of the History & Heritage Center
New Foods for 2018 Minnesota State Fair: Drinks
One of my very favorite things to try at the Minnesota State Fair are all the new drinks, especially the craft beer! You can find the Full list and map there but here are a few of my ones I can't wait to try!
Juicy LuLuLucy
This hazy, northeastern-style IPA provides a fresh, juicy orange and grapefruit-like hop flavor. 6.7% ABV. 40 IBUs. Brewed in Minneapolis, Minn., by Surly Brewing Co. At LuLu's Public House, located at West End Market, south of the Schell's Stage at Schilling Amphitheater
Key Lime Pie
A refreshing squeeze of key lime in a light biscuity golden ale, sweetened with a touch of lactose and rimmed with sugar. 4.5% ABV. 13 IBUs. Brewed in Stillwater, Minn., by Lift Bridge Brewing Company. At Café Caribe, located on the south side of Carnes Avenue between Chambers and Nelson streets
The Shandlot Pink Lemon Shandy
This pink, lemony concoction is a classic summery brew infused with strawberries and hibiscus. 4.5% ABV. 15 IBUs. Brewed in Minneapolis, Minn., by Bauhaus Brew Labs. At Ball Park Cafe, located on the east side of Underwood Street between Dan Patch and Carnes avenues, outside The Garden
Strawberry Mint Fro-Lé
This summer sipper features frozen strawberry lemonade with a hint of fresh mint. 5.0% ABV. Made by The Blue Barn. At The Blue Barn, located at West End Market, south of the History & Heritage Center
I hope you have a great time at the Minnesota State Fair! Here are few more details to help your visit!
Resources for New Foods for 2018 Minnesota State Fair
Connect with the Minnesota State Fair
The Minnesota State Fair website is the best place to get all your information about the Minnesota State Fair. They are really active on Instagram this year and doing some fun things like giveaways and featuring your Fair photos! Use the hashtag #MSFPhotos for a chance to be featured.
Disclosure: I love the Minnesota State Fair and partner with them each year to share my favorite new foods on my blog. I'm not compensated for my reviews but I do agree to share my thoughts by participating in their food preview event. Photos and food descriptions from the Minnesota State Fair used with permission.