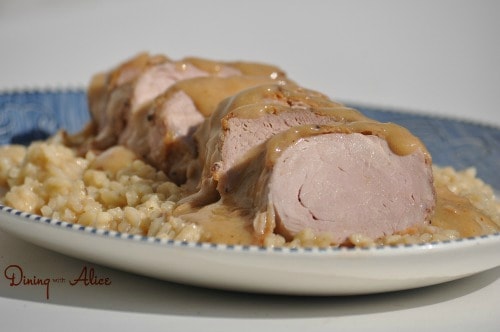 I'll tell you a secret.  I don't like mushrooms and I really don't like canned mushroom soup. One of the only times I eat mushrooms is during Thanksgiving when I make homemade mushroom soup for Green Bean Casserole.  So I'll be honest I wasn't sure what I would think of Alessi's Porcini Mushroom Soup. It was super easy to make, just boiling water and the package mix. And…it tastes like homemade mushroom soup, seriously.  Preparing the tenderloin for the recipe is super easy by just adding the tenderloin, flour and seasoning to a 2 gallon bag.  Don't skip the searing instructions for the pork.  This is what crisps up the outside and gives it such great flavor.  When you take the pork out of the pan, the white vinegar helps get the yummy pork pieces off the pan and then you pour those juices over the pork and then pour that mushroom soup right over it.  After it baked in the oven, I thought it looked amazing but the first thing I did was dip my spoon in that mushroom soup that now mixed with the juice from the meat turned into a tangy gravy. Yes, the girl who doesn't like mushrooms went straight for the mushroom gravy. This is eat over the stove food. And that's exactly what I did.
Click here to watch the video from Twin Cities Live on October 14, 2014 when I made this recipe.

Alessi Pork Tenderloin
Recipe from Alessi Foods Alice's Tips: This recipe calls for 2-2 ½ lb pork tenderloin. Most grocery stores sell pork tenderloin in 1-1.25 lb packages so you can use 2 (1 lb) tenderloins for the recipe. When you are ready to dredge the pork, fill a 2-gallon plastic bag with the flour, ground pepper and I also add about a tsp of Alessi salt. Put the tenderloins in the bag and shake until coated. When cooking the risotto, I have a gas stove so it tends to heat fast so I just cook it without the lid on the pan and keep the heat low. If rice sticks to the pan, I add a bit of water and it will keep it creamy. To reach a pork temperature of 145, I cooked my pork for 35 minutes in a 400-degree oven.
Author:
Alice Seuffert, Dining with Alice
Ingredients
1 package Alessi Porcini Mushroom Soup
2- 2½ lb. pork tenderloin
1 cup flour
2 tablespoons freshly ground Alessi Peppercorns
3 tablespoons butter
½ cup Alessi White Balsamic Vinegar, divided
1 package Alessi Funghi Risotto
Instructions
Preheat oven to 400.
Bring 3½ cups of water to a boil. Add porcini mushroom soup and whisk while boiling for 1 minute. Reduce heat to medium and simmer for 15 minutes, stirring occasionally.
Meanwhile, dredge pork in flour and then roll in peppercorns to coat evenly. In a large sauté pan, melt butter over medium-high heat. Sear pork loin until browned on all sides, then transfer to a baking dish. Add balsamic vinegar to pan to deglaze and pour liquid over the pork.
Spoon all of the cooked soup over pork in baking dish. Bake in the oven until the internal temperature at the thickest part has reached 145. Meanwhile, cook the risotto according to package directions.
Let cooked pork rest 5-10 minutes before slicing into 1" thick slices. Serve pork with the risotto and spoon porcini mushroom gravy over the pork and risotto.
I partnered with Alessi and received payment for my television appearance.  
Disclosure and Privacy Information