The ultimate Minnesota State Fair Foods 2016 must-try list. 10 new savory and sweet foods you must eat at the Great Minnesota Get-Together.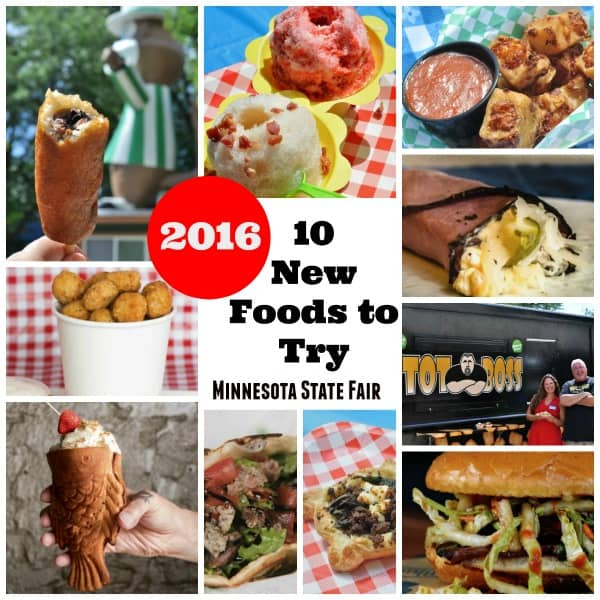 Our favorite summer memories are swirling in our heads and hearts because the last days of summer are upon us. We know this bittersweet season also marks the most spectacular time of the year: the Minnesota State Fair. This uniquely Minnesota event is celebrated with a plethora of foods. In addition to the food favorites of cookies and curds, the Minnesota State Fair keeps us wanting more with a list of new foods to try and while we can't possibly taste everything on the new foods list, I've put together this Minnesota State Fair Foods 2016 must-try list.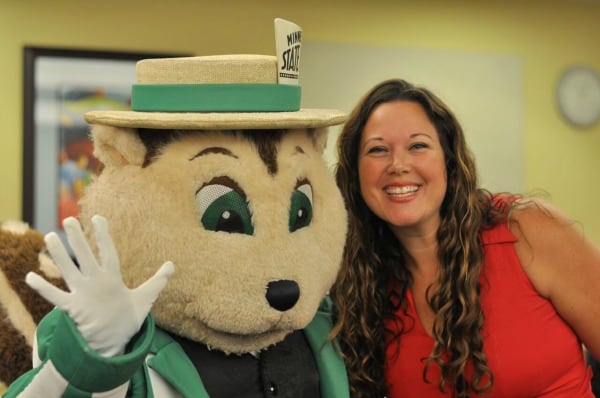 I tried a few of these new foods at a blogger sneak peek event and met up with this handsome guy.
Research. So lucky, I know.
Here's my list of must-try new foods for 2016 and then once you finish reading, follow the Rafflecopter form to enter for a chance to win a family pack from the Minnesota State Fair that includes admission tickets, midway tickets and a Blue Ribbon Bargain Book!
Minnesota State Fair Foods 2016: 10 Must-Try Foods
1. Minnesota Corn Dog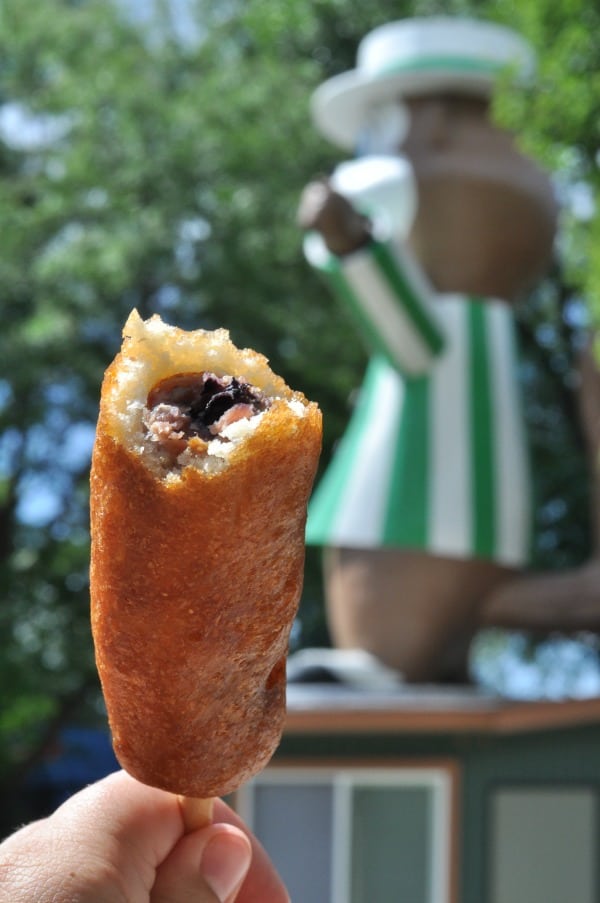 "Custom ground sausage on-a-stick made with blueberries, apples, wild rice, maple syrup and cayenne dipped in a homemade corn dog batter and deep-fried."
Like most loyal Minnesota State Fair fans, I have particular locations for annual favorites. Take the corn dog for example, the best corn dog is right next to the Giant Slide. So I wasn't sure what I would think of the new spin on one of my favorites. Turns out I love this Minnesota-inspired corn dog. I love this blueberry-speckled dog and I think this Minnesota interpretation is a must try in 2016.
Available at Gass Station Grill on the west side of Cooper Street between Dan Patch and Judson avenues, outside the southeast corner of the Food Building.
2. SPAM Curds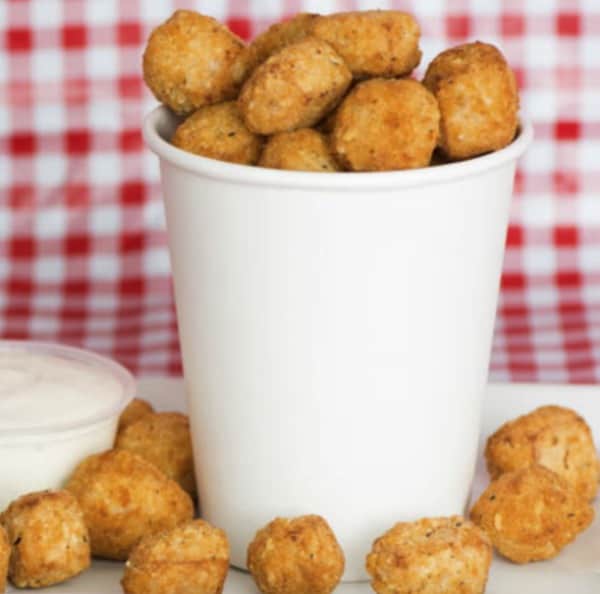 "Cheese-flavored SPAM® that has been cubed, battered and deep-fried, served with a side of ranch dressing."
I feel like since I attended the SPAM Jam in Hawaii this year, I can spot a really awesome recipe featuring this Minnesota favorite. And these SPAM curds look amazing. Cheesy SPAM deep fried and dipped in ranch, yes, please.
Available at SPAM® east of Chambers Street, just south of the Grandstand
3. Rustic Beef Pastry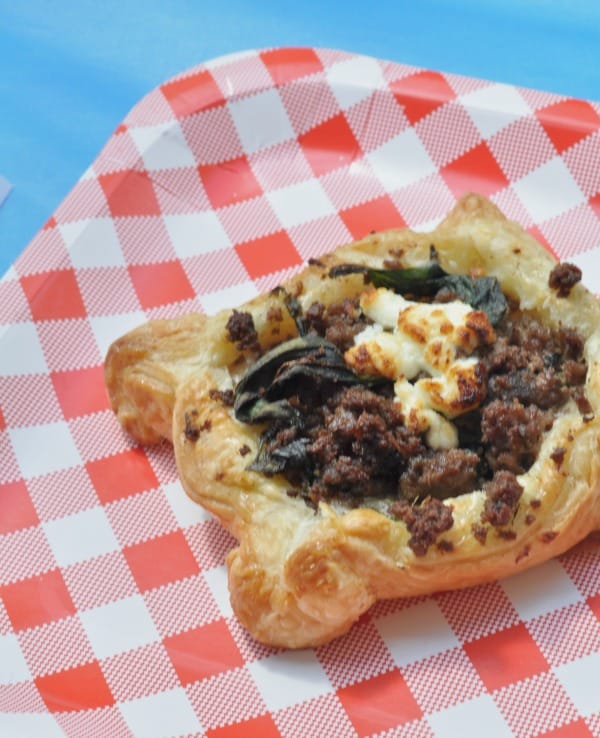 "Moroccan-spiced, grass-fed beef and baby spinach topped with creamy goat cheese and nestled in a flaky butter crust."
This savory pastry aptly challenges deep-fried favorites with a dish packed with delicious flavors with each bite. I love the pops of spice matched with goat cheese in this recipe. When you have had your fill of fried foods, and you want something fresh and flavorful, this dish is for you.
Available at French Meadow Bakery and Cafe on the north side of Carnes Avenue between Nelson and Underwood streets
4. Italian Taco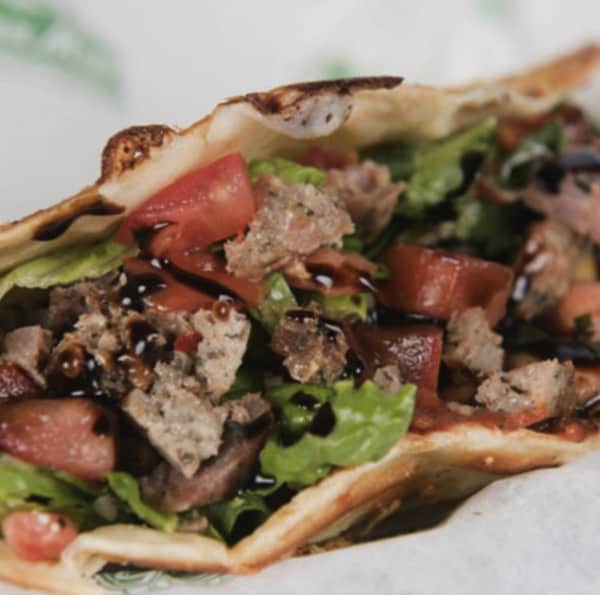 "A flour tortilla baked with butter and shredded parmesan, filled with Italian sausage and mozzarella, topped with roasted bruschetta, romaine lettuce, Caesar dressing, pesto, pizza sauce and parmesan cheese, and then drizzled with a balsamic glaze."
I love the concept of this new fair food, using their expertise in pizza, Green Mill has given fairgoers a refined twist to pizza and tacos. The tortilla is stuffed with fresh bruschetta and sausage and topped with balsamic glaze. Balsamic glaze is my new favorite condiment and you'll find me enjoying this new food while my family checks out all the great family-friendly activities in Baldwin Park.
Available at Green Mill, on the east side of Cooper Street, between Randall and Wright avenues, at Family Fair at Baldwin Park
5. Candied Bacon BLT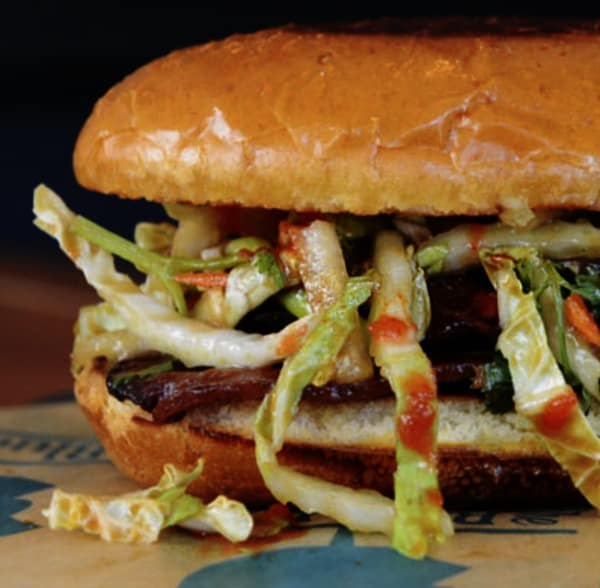 "Crispy, thick candied bacon, rancher's slaw and green tomato spread on a sweet egg bun."
This sweet little sandwich is going to be in my hand while I enjoy some shopping and music over in the West End Market of the fair. This new food had me at candied bacon. And I can't wait to get a taste of that green tomato spread. This is going to be the go-to late night sandwich after a few state fair craft beers.
Available at Blue Barn at West End Market, south of the History & Heritage Center
6. Reuben Pickle Dog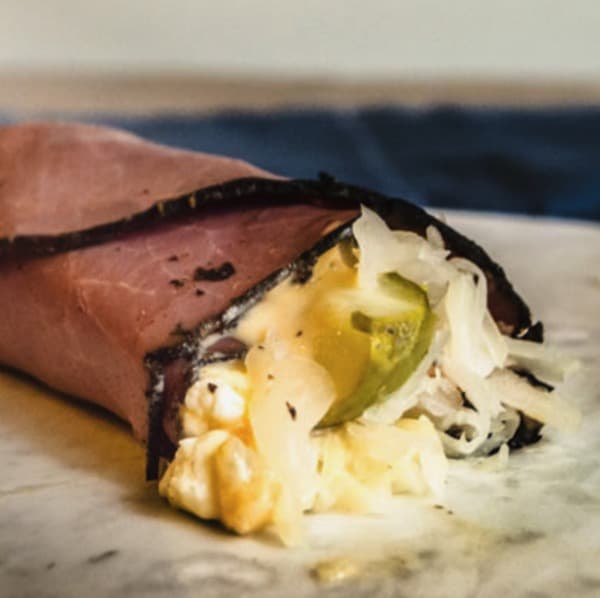 "A dill pickle spear with sauerkraut and Thousand Island dressing wrapped in a slice of pastrami."
I'm a Pickle Dog newbie and I'm putting this highly-anticipated Reuben Pickle Dog on my must-try list. This new twist on the Minnesota ham and pickle appetizer will surely have fans lining up. The smoky pastrami and creamy Thousand Island dressing is a perfect pairing for a crunchy dill pickle.
Available at Pickle Dog on the south side of Carnes Avenue between Liggett and Chambers streets.
7. Grilled Cheese Bites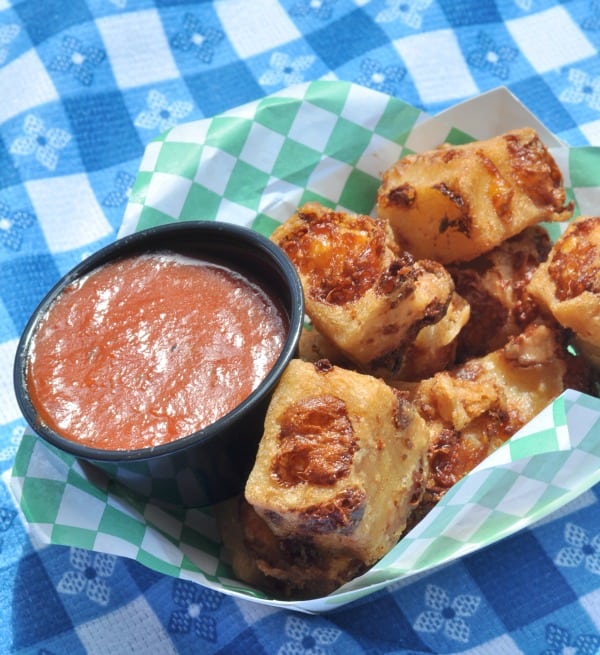 "White cheddar cheese blended with beer batter, cubed and deep-fried for a taste reminiscent of a grilled cheese sandwich. Served with a bloody mary mix marinara."
Kids and adults will be asking for their grilled cheese cubed after visiting the state fair this year. These melt-in-your-mouth grilled cheese bites are beer-battered and perfect for sharing. They come with a bloody mary mix marinara dipping sauce and pair perfectly with a Minnesota craft beer out on the patio at O'Gara's.
Available at O'Gara's at the Fair on the southwest corner of Dan Patch Avenue and Cosgrove Street
8. Minnesnowii Shave Ice: Maple Bacon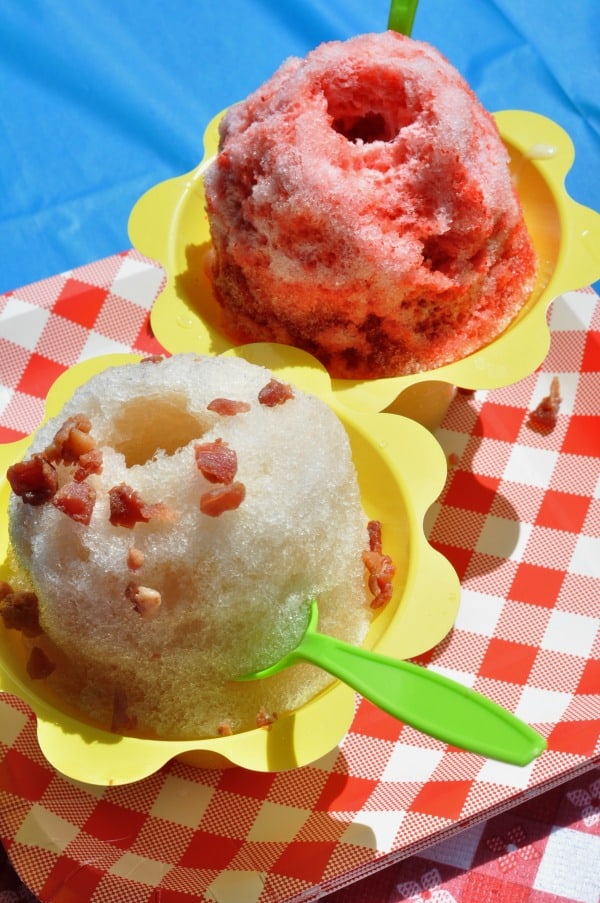 "100% sweetened condensed milk drizzled over your choice of flavored shave ice for a creamy, sweet twist. Maple Bacon shave ice is topped with bacon bits and a maple syrup drizzle."
If you are looking for a sweet treat to share with your kids, get yourself a Maple Bacon shave ice. I loved the sweet maple shave ice and the giant pieces of bacon on top. I'm also a big fan of these bowls that a prevent sticky mess with your kids.
Available at Minnesnowii Shave Ice at West End Market, south section
9. Tot Boss Tots
"Tater tots, loaded tots (cheese sauce, bacon crumbles, sour cream), chili tots (cheese sauce, chili, sour cream, chives), bacon tots (bacon wrapped tots with cheese sauce), tots'N'tenders (serving of tots with chicken tenders), tots'N'dogs (tots and mini corndogs), poutine tots (tots covered in beef gravy and cheese curds), tater tot nachos (nacho cheese, seasoned beef, tomatoes, lettuce sour cream, salsa) ."
The Tot Boss is a new vendor at the state fair this year. The food truck favorite will be serving every kind of tater tot combination you can think of. This is a perfect family-friendly food vendor serving super indulgent versions of our hotdish topper. I'm a big fan of the tater tot nachos and will be getting in line for an order of poutine tots at the fair! Also, this is a great vendor to visit if you have gluten allergies in your family.
Available at Tot Boss, East side of Underwood St. between Wright & Dan Patch avenues, south of the Kidway
10. Carpe Diem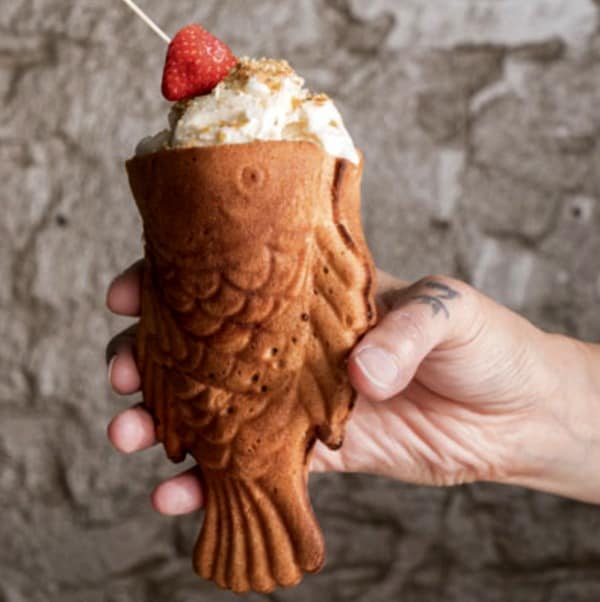 "A Taiyaki (fish-shaped) buttermilk miso waffle cone filled with balsamic-roasted strawberry compote and topped with vanilla ice cream, graham cracker crumble and a fresh strawberry."
The Minnesota State Fair is the epitome of food fun and indulgence and I love the concept of this fun fish-shaped waffle cone ice cream treat. I picture Minnesotans walking around the fair with this fish cone, inspiring interest to try the savory and sweet dessert. I can't wait to try the balsamic-roasted strawberry compote and make an ice cream toast to the end of the summer and a great Minnesota State Fair.
Available at The Rabbit Hole at the Midtown Global Market booth at the International Bazaar, east wall
Fill your bellies and have a blast, guys. Happy Minnesota State Fair!
How would you like to win a family pack to the Minnesota State Fair? Follow the Rafflecopter directions to enter for a chance to win. For a comment entry, tell me your favorite Minnesota State Fair food. 
Want more yummy details about Minnesota State Fair Foods 2016 and shopping experiences? Get the details from all these Minnesota bloggers:
New State Fair Foods 2016 by Stacie Raye
New State Fair Foods 2016 by More Than Just Desserts
Guide to the 2016 Minnesota State Fair by Family Fun Twin Cities
MN State Fair 2016 Preview by The Beth Next Door
Minnesota State Fair: Food, Fun and Finds by Minnemama Adventures
Rachels State Fair Preview by Rachel in the Cities
New Foods at the Minnesota State Fair by Peyton's Momma
Eating, Shopping and More at the Minnesota State Fair 2016 by The Mad Mommy
Eating, Shopping and More at the Minnesota State Fair 2016 by Twin Cities Moms Blog
New Foods and Shopping at the Minnesota State Fair 2016 by Twin Cities Frugal Mom
My State of Bliss: A Minnesota State Fair Preview by Social Sara
Minnesota Made Food at the Minnesota State Fair by Mommie Isn't Made of Money
The Minnesota State Fair: Food, Fun and Shopping by First Time Mom
For a full list of the all new Minnesota State Fair Foods 2016 and fun shopping experiences, check out the Minnesota State Fair web page. Some of the food photos featured here are courtesy of the Minnesota State Fair. Thank you to the Minnesota State Fair for sponsoring the Family Pack giveaway.