The ultimate MN State Fair Foods 2015 must-try list. 10 new savory and sweet foods you must eat at the Great Minnesota Get-Together.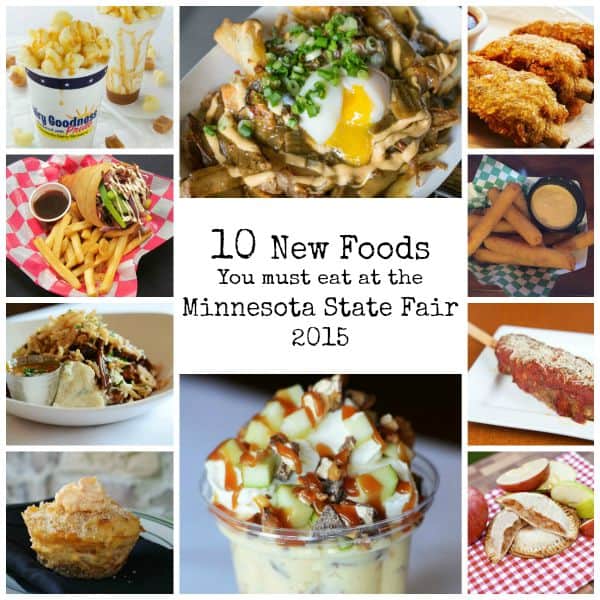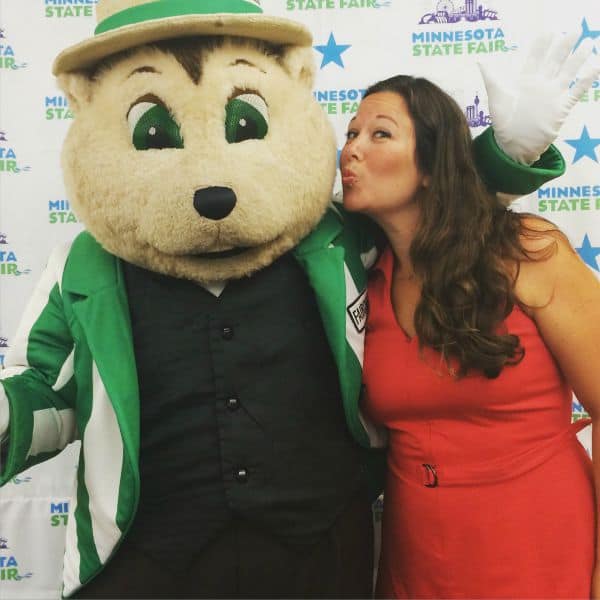 The Minnesota State Fair is almost here and I could just kiss you. And Fairchild. Well, I actually did kiss him.
Oh golly, I'm excited.
If you follow me on social media, you have likely seen my countdowns to the Fair: here, here and I really love this one here.
But it's time now. The Minnesota State Fair commercials are playing on the radio and you are making your spreadsheet of what you want to try. Wait, you don't make a spreadsheet of food and activities? That's just me? Oh, carry on then.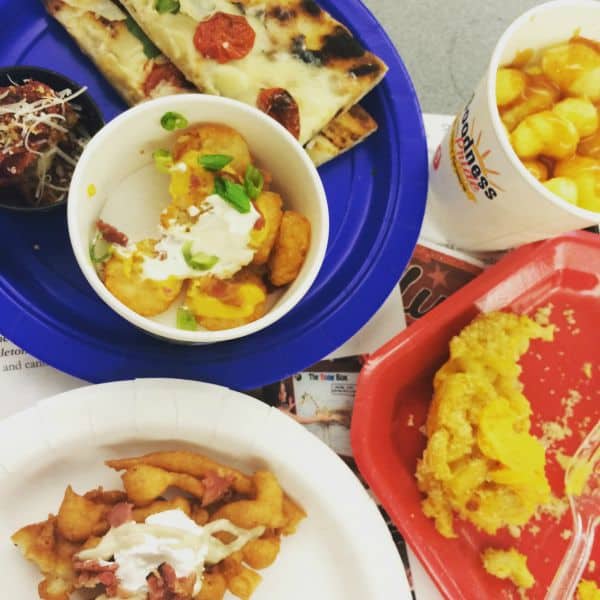 Okay. Let's talk new MN State Fair Foods 2015. I tried a few of these foods already at a blogger sneak peek event. I know, how amazing, right? Check out my plate above. It was like a State Fair eating training session. I'm trained and ready to go. I've studied the new foods list and have a plan for eating. I'll be making my way through this list of 10 new foods you must eat as soon as that gate opens on August 27. I'll be the one crying tears of joy.
Here's my list of must eat new foods for 2015 and then once you finish reading, follow the Rafflecopter form to enter for a chance to win a family pack from the Minnesota State Fair that includes admission tickets, midway tickets and a Blue Ribbon Bargain Book!
10 New Foods You Must Eat at the Minnesota State Fair 2015
1. Salted Caramel Puff Malts and Sundaes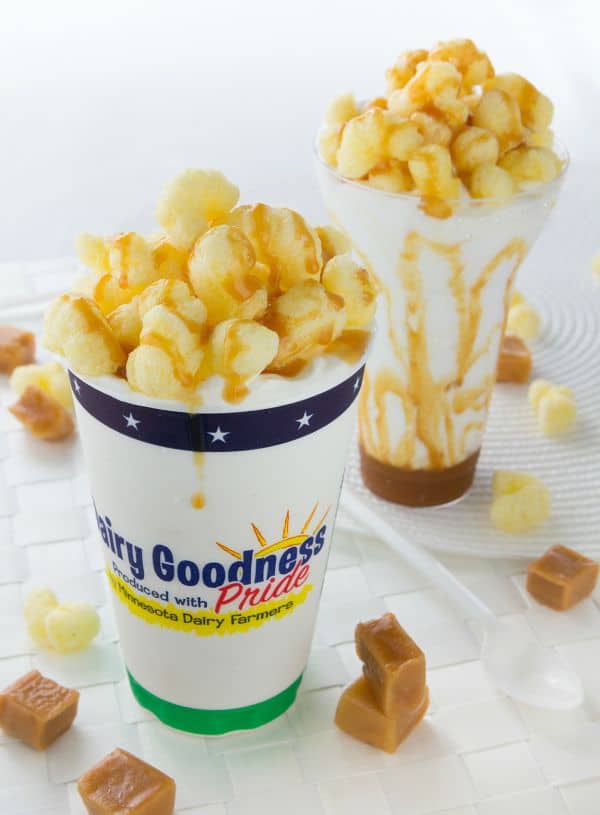 I admit that I most look forward to salty, fried foods when it comes to Minnesota State Fair food, but, oh my goodness this dessert. Salted caramel is drizzled on buttery puff corn served right on top of a sweet vanilla malt or sundae. Grab one of these treats before heading to check out the Princess Kay butter sculptures also located right in the Dairy Building.
Available at the Dairy Goodness Bar in the Dairy Building.
2. Cowboy Dave's Cluck & Moo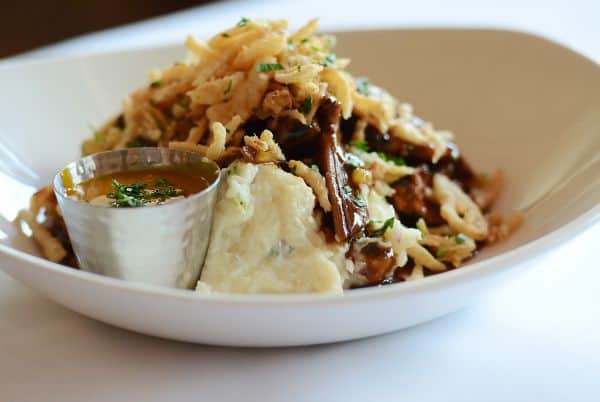 "Smashed potatoes, roasted beef and grilled chicken covered with beef gravy, crispy onions and mustard BBQ sauce."
It is a fact that if I could live at the Minnesota State Fair, I would live at the Blue Barn in the West End Market.This vendor is turning out serious food competition perfectly fit for the Minnesota State Fair. If I could only eat at one Minnesota State Fair vendor stand, the Blue Barn would be it. Blue Cheese Corn Fritz, Chicken in a Waffle and two of my must try ten foods are Blue Barn foods. But this, Cowboy Dave's Cluck & Moo. Oh my, oh my; I can't wait to get this gravy covered comfort food into my belly.
Available at The Blue Barn, located at West End Market, east side, south of the History & Heritage Center.
3. Prime Rib to Go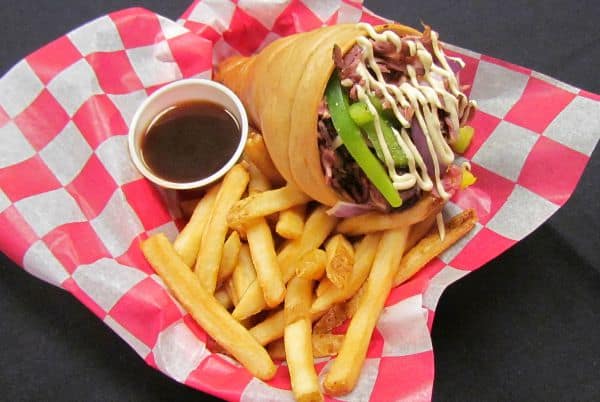 "Thinly sliced choice prime rib, sautéed peppers, onions and mushrooms (optional) in a soft bread cone with a side of au jus, horseradish or Parmesan garlic sauce."
Holy moly. This is a cornucopia of awesomeness. A bread cone filled with prime rib. Prime Rib is a treat normally reserved for fancy holiday parties and supper clubs, but I'll be drenching mine with horseradish and a Minnesota IPA while I people watch.
Available at Coasters, located on the southeast corner of Carnes Avenue and Liggett Street.
4. State Fair Rhubarb Blue Hunny Do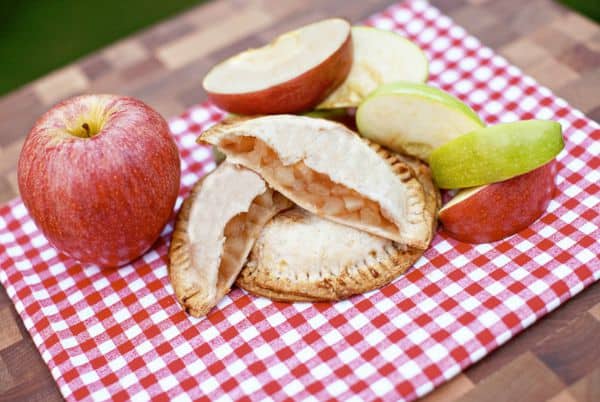 "A blend of fresh local strawberry rhubarb and baby blueberries baked with Hunny Do Wheat Beer, a honey dew melon-flavored beer, and topped with a Hunny Do Tipsy Topping."
I love this Minnesota mom's story about following her passion. And I really love that she incorporates Minnesota craft beer into her pies. Wheat Beer and Rhubarb? She is speaking my language.
Available at Sara's Tipsy Pies, located in the Food Building, south wall.
5. Limerick Stix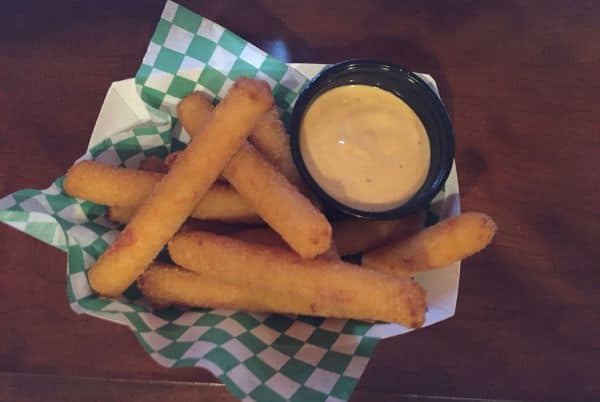 "A blend of pimento cheese and cayenne pepper coated in a cornmeal mix, deep-fried and served with custom dipping sauce."
My husband and I always have a date night at the fair and O'Gara's is always a stop. Music. Beer. Appetizers. Outdoor patio. What more do you need? One of our favorite appetizers at the Fair are their Reuben Fritters and inspired my recipe for Reuben Donuts. And now they found a way to fry pimento cheese? Sign me up.
Available at O'Gara's at the Fair, located on the southwest corner of Dan Patch Avenue and Cosgrove Street
6. Stuffed Meatloaf On-A-Stick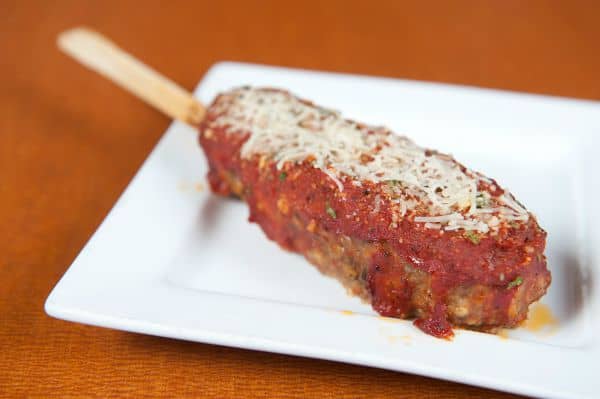 "Italian meatloaf stuffed with Mozzarella and pepperoni, topped with marinara sauce and a Parmesan herb blend and served on-a-stick."
Our family loves hanging out in Baldwin Park and this Italian meatloaf will be in our hands as we check out all the fun kid activities. Portable comfort food; this is the Minnesota State Fair. I tried this and ate every last bite, perfect for the kids and adults.
Available at Green Mill, located on the east side of Cooper Street between Randall and Wright avenues at Family Fair at Baldwin Park.
7. Kimchi 'n' Curry Poutine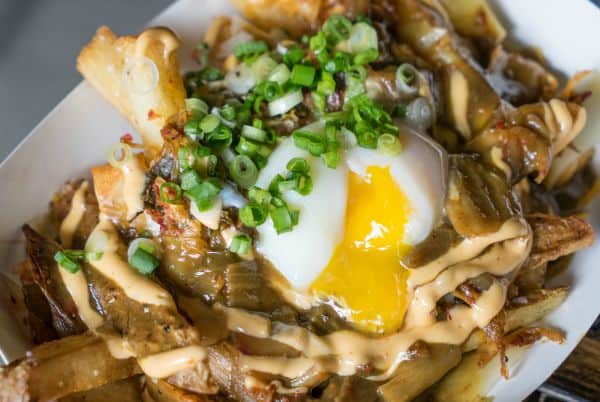 "Braised pork and potatoes smothered with curry gravy and cheddar cheese, then topped with kimchi and a poached egg."
You had me at poutine. I bet you don't know this but there is a place in St. Paul that has a special secret menu poutine named after me (I made a special order late one night). So I'd say I know my poutine and this special edition kimchi poutine with curry gravy is a must try if you are visiting the state fair between September 2-7. Oh and did you see that egg? Oh my goodness.
Available at The Rabbit Hole, located at Taste of Midtown Global Market at the International Bazaar, east wall. Note: Only available Sept. 2-7, 2015.
8. Deep Fried Ribs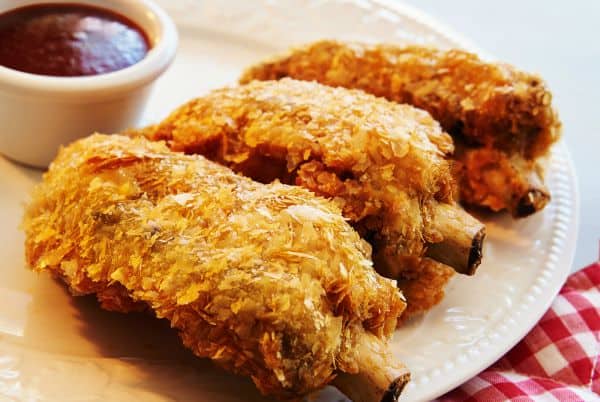 "Smoked baby back ribs, breaded, fried and served with BBQ sauce."
Just when you think a food can't get any better, we deep fry it. Right? I can't wait to sink my teeth into these fried baby back ribs. Look at that flaky crust! Looks like a perfect pairing for my Mini Donut beer at Ball Park Cafe.
Available at Ball Park Cafe, located on the east side of Underwood Street between Dan Patch and Carnes avenues outside The Garden
9. Mac & Cheese Cupcake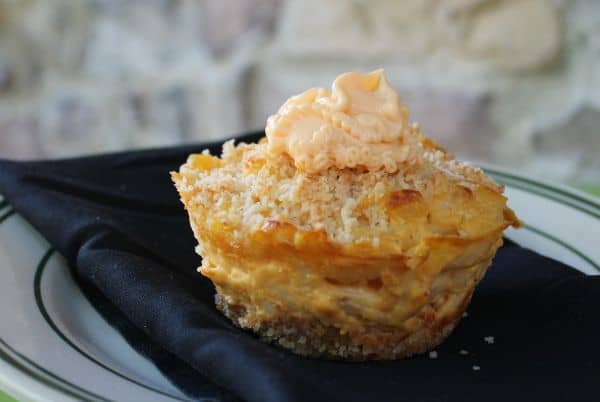 "Mac & cheese nestled in a breadcrumb crust, then sprinkled with breadcrumbs and frosted with a dollop of Cheez Whiz."
Now this is my kind of cupcake. Creamy mac and cheese shaped to go.  A perfect meal for the kids at the fair while mom and dad enjoy their frozen beer or a rumored frosty bloody mary concoction that apparently is in the works.
Available at LuLu's Public House, located at West End Market, west side, south of Schilling Amphitheater
10. Grandma Deb's Snicker Bar Salad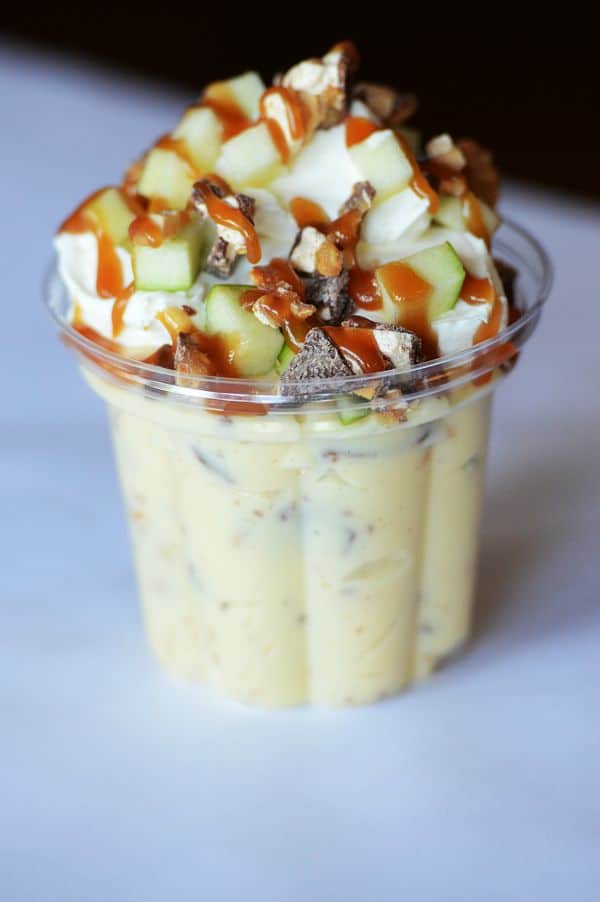 "Chopped Snickers® bars and Granny Smith apples tossed in vanilla pudding with whipped cream and drizzled with caramel sauce."
Evidence that I am a true Minnesota gal, I fell in love when I had this Snicker Bar Salad. Hello, my name is Alice and I asked for a second portion. I really did. This is the Minnesota Fair, guys: a salad with no vegetables. I'll eat all my vegetables on September 8, I promise. And if you are wondering what beer to pair with this, might I recommend their Apple Pie beer?!? Yes, I'm serious. The Blue Barn will have a Pi beer. Again, I want to live at the Blue Bar.
Available at The Blue Barn, located at West End Market, east side, south of the History & Heritage Center
Fill your bellies and have a blast, guys. Happy Minnesota State Fair!
How would you like to win a family pack to the Minnesota State Fair? Follow the Rafflecopter directions to enter for a chance to win. For a comment entry, tell me your favorite tips for visiting the Minnesota State Fair. I may even feature your tips in a future post!
a Rafflecopter giveaway

Want more yummy details about MN State Fair Foods 2015 and family fun? Get the details from all these Minnesota bloggers:
Minnesota State Fair 2015 Preview from Katie Looking Forward
Minnesota State Fair Preview Part 1 and Part 2 from the Whimsy Factory
Minnesota State Fair Preview Food and Family Activities from Writing with Bangles
50 Things to Do at the Minnesota State Fair and 10 Ideas for Free Family Fun from Family Fun Twin Cities
Minnesota State Fair Giveaway and Sneak Peek from The Mad Mommy
Kids and Family Fun at the MN State Fair from The Beth Next Door
Minnesota State Fair Food Preview from More Than Just Dessert
The 2015 Great Minnesota Get Together from SKIDaddlers
New Minnesota State Fair Foods 2015 from Mplsgossipgirl
The Great Minnesota Get-Together from Carpe Diem with Jasmine
Grandma Deb's Snicker Bar Salad from Red Current
New Family-Friendly Foods Coming to the 2015 Minnesota Fair and The Number One Family-Friendly Activity to do at the 2015 Minnesota State Fair from Twin Cities Kids Club
New Foods at the Minnesota State Fair 2015 from TC Frugal Mom
Family-Friendlify Your Minnesota State Fair Adventure from Minnemama Adventures
5 things to do with your kids at the Minnesota State Fair from Samara Postuma on Star Tribune
2015 Minnesota State Fair Preview from Wonderfully Unkempt
Minnesota State Fair 2015: A Family Guide from Twin Cities Moms Blog
How to Do the Minnesota State Fair with an Infant from First Time Mom MN
I Tried Delicious MN State Fair Cuisine and it was Awesome from Our Crazy Ever After
For a full list of the all new MN State Fair Foods 2015 check out the Minnesota State Fair web page. All food photos courtesy of the Minnesota State Fair. Thank you to the Minnesota State Fair for sponsoring the Family Pack giveaway.