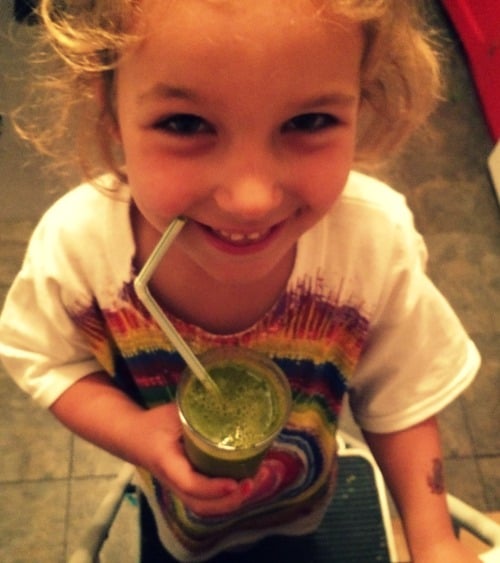 Right now my garden is bursting with Kale.  I am trying a new format with my garden this year, trying to grow more edibles and I think I went a bit wild with the Kale.  We've been eating Kale salads and there's no stopping it-I see lots of Kale hitting the freezer this fall.  Last winter I drank smoothies every day and actually bought my Kale and just stored it in the freezer.  It is such an easy veggie to throw in the blender and not too strong of a taste that anyone will turn their nose up at it.
Weston's class was having a bunny theme and his teacher asked if I had a good bunny-themed recipe. I created this recipe just for his class and even had a chance to volunteer in his classroom and make the recipe with the kids.  You think cooking on TV is nerve-racking? Try cooking for two-year-olds!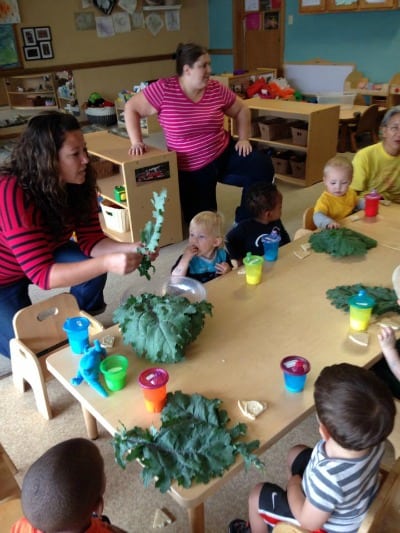 The first thing I did was show the kids the smoothie ingredients and talk about the colors and who eats those veggies-bunnies! I also let them touch the big Kale leaves and rip the leaves from the seam.  This is an easy thing you can do when cooking at home with your kids. Don't underestimate what your kids can do in the kitchen. You can talk about colors, smells, origin of food but your kids can also dump ingredients for you after you measure and press buttons on appliances. My biggest piece of advice is just try not to worry about the mess-it will happen! This smoothie is packed with kale, peaches, banana and the most important bunny food-carrots!

Green Smoothies
Ingredients
1 cup Carrot Juice
2 Bananas
1 Peach (pit removed)
2 cups Kale (chopped)
16 ice cubes
Instructions
n a blender add carrot juice, bananas, peach, kale and ice. Use high or ice-crushing setting on the blender. Blend until are ingredients are combined and ice is smooth.
Makes Approximately 5.5 cups (2 Adult and 2 Child-Size Smoothies)