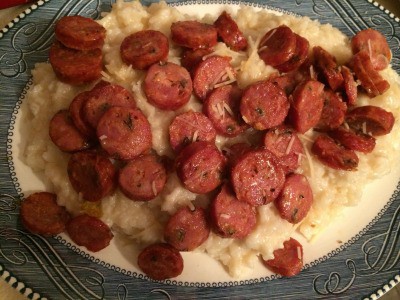 I've been making risotto in the crock-pot for years.  It is a perfect week night meal because it can be made during nap time or the night before and you can reheat it and serve it a variety of ways.  This recipe is for my cheesy crock-pot risotto.  It is so creamy and pairs perfectly with pulled chicken or pork, sausage or make it vegetarian and pair with veggies and beans.
Ingredients:
1 ½ cups Arborio Rice
2 TB Onion (chopped)
¼ cup Butter
¼ cup Coconut or Olive Oil
2 tsp Salt
¾ cup White Wine (I like to use sweet whites like a Vino Verde)
4 ¼ cups Chicken Broth (32 ounce box)
1 package (8 ounce) Crystal Farms Asiago and Parmesan Blend
Directions:
In a crock-pot add rice, onion, butter, oil, salt, wine and broth.  Stir to combine.  Cook on high 1 hour 55 minutes. Once cooked, add Asiago and Parmesan cheese.  Serve with your favorite sausage.
Serves 6
SaveSave