The classic Gin and Tonic gets a delicious twist with strawberry syrup for a Strawberry Gin and Tonic.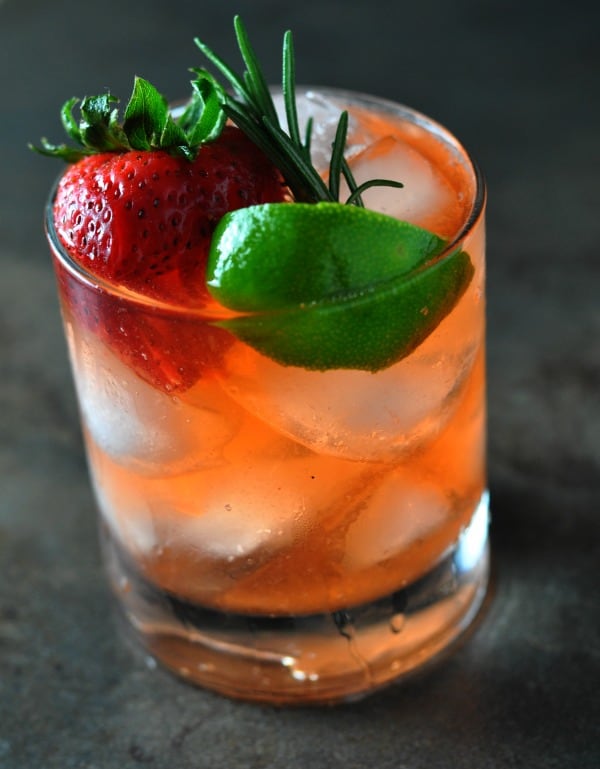 My husband walked up to the window and said goodbye. The taxi cabs and shuttle buses zipped around him as he tried to reassure me that the week would go by fast when he was out of the country. He couldn't convince me that attending a business trip wasn't a luxury vacation. A full night's sleep, time to read, coffee delivered to your door and gourmet meals. And don't get me started about beer gardens. I watched as he rolled his suitcase away, the automatic door sucked him into the airport and with that he was gone. I looked back at my kids tucked into their car seats. They appeared sweet and innocent. We will see about that in 168 hours.
Normally my husband leaves me a few gifts before he leaves on a trip. A chocolate bar, my favorite craft beer, food magazines but this time he forgot. So after we left the airport I took the kids to Trader Joe's and I proceeded to buy myself a few "trip gifts." A special dark chocolate bar, flowers, and a quick whirl around the liquor store resulted in a bottle of my favorite gin (Hendrick's) hitting the cart.
Coasting off of a day of successful parenting alone I thought I would crack open my new bottle of gin. I was feeling confident and sassy and well, I deserved a stiff drink. So I poured myself a gin on the rocks. I slurped it back like I had done it a million times before and then I coughed, for five minutes.
I cannot drink gin on the rocks.
I can drink Gin and tonics.
I've been busy lately making delicious cocktails and making my own Rhubarb and Strawberry Syrups. So I thought I would add the syrup to my gin and tonic and make a Strawberry Gin Tonic.
Smooth and sweet, I sipped my Strawberry Gin and Tonic, feeling accomplished that today's joy was that I survived my husband's business travel and the kids were asleep. And what a delicious gift to give myself.
My Strawberry Gin and Tonic calls for a Strawberry Syrup recipe. This is a great syrup to make in the summer and add to lemonade (maybe with some vodka), soda water or even drizzle on pancakes.

Strawberry Gin and Tonic
Ingredients
2 ounces Hendrick's Gin
3 ounces Tonic Water
2 TB Strawberry Syrup: https://diningwithalice.com/drinks/strawberry-syrup/
2 springs of Rosemary
1 quarter of a lime
1 Strawberry
Instructions
In a glass filled with ice add gin, tonic water and strawberry syrup.
Garnish with rosemary sprig, a piece of quartered lime (squeeze in juice) and strawberry.