Planning a visit to the Red Barn Pizza Farm in Minnesota? Here's everything you need to know for your visit!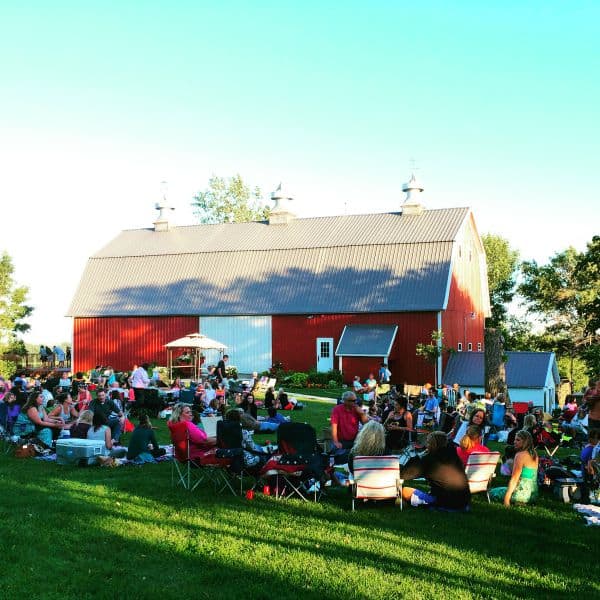 Our first visit to the Red Barn Pizza Farm in Minnesota was for a wedding. We went without our kids and enjoyed checking out the farm, dancing in the barn and of course, eating pizza. We had promised each other we'd return for pizza night. And well, life happened.
On the summer bucket list that I keep in my head, I was committed to checking out the pizza night this year. It was Monday and our plans for Wednesday canceled. Unarmed with any information other than their web page details, my husband decided we'd check it out. We drove an hour from St. Paul and turned on the gravel road and followed the hand painted signs directing us to the Red Barn Farm.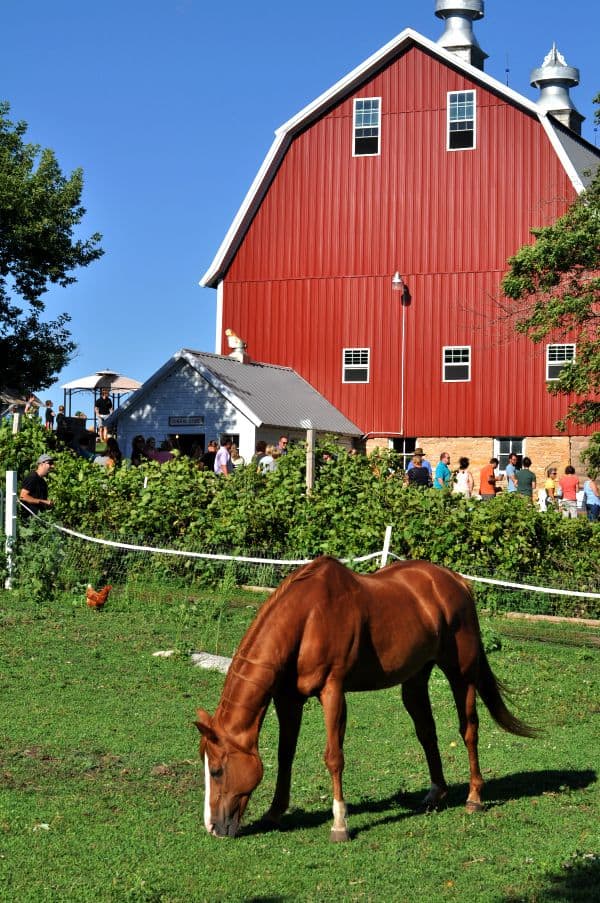 We turned into the parking area and we were in complete shock. It was a Wednesday night and it was packed. I'm not sure why I thought the pizza farm was our little secret, but it was clearly not. Not at all. We found space in the almost full parking lot and started walking towards the long line that was winding around the barn. Every direction I looked, Minnesotans spread across the lawns, sharing appetizers, pizza and drinks. It was beautiful, it's what we dream about in January.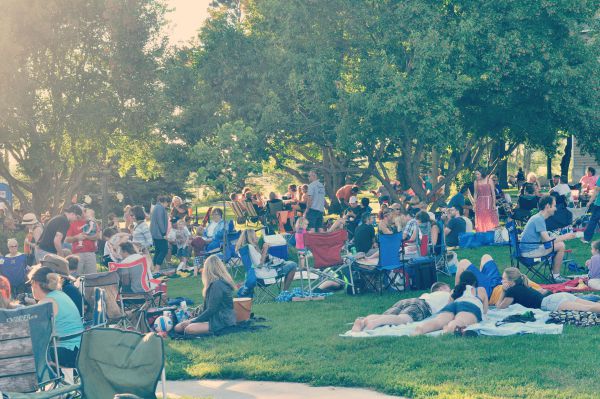 We drove with my sister and her family so we sent the guys to wait in the line with their beers and we took the kids to visit the farm. They have horses and chickens and our city slicker kids had a blast checking out the animals and running through the gardens.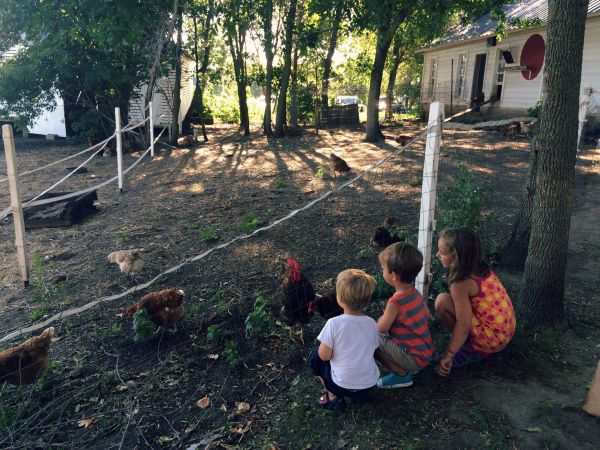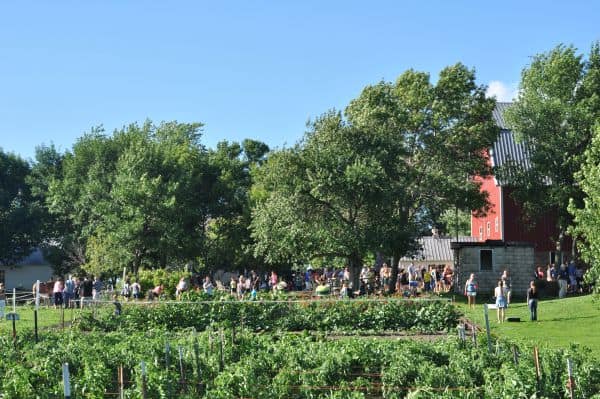 After we checked out the farm we stopped in the general store where you can buy pop, chips and salsa, snow cones and popcorn.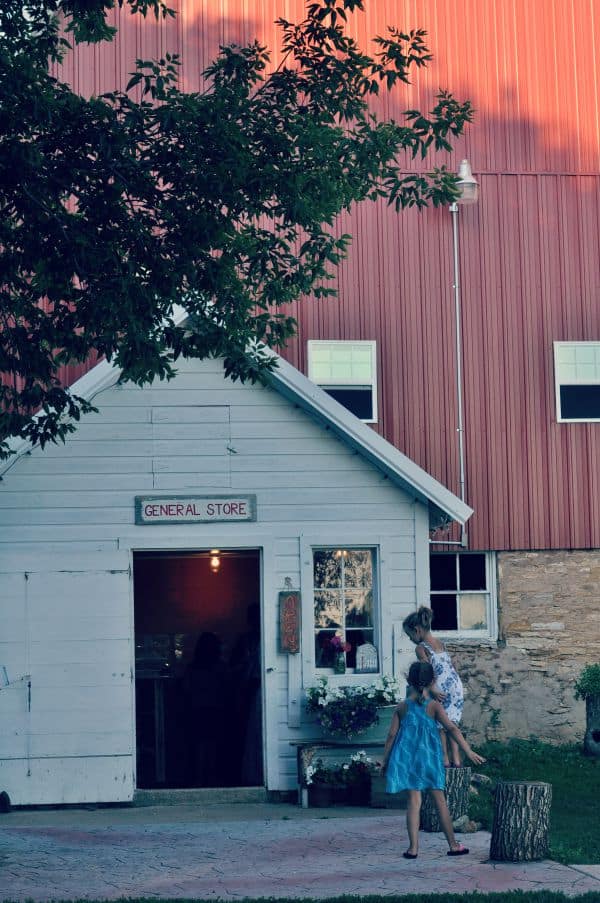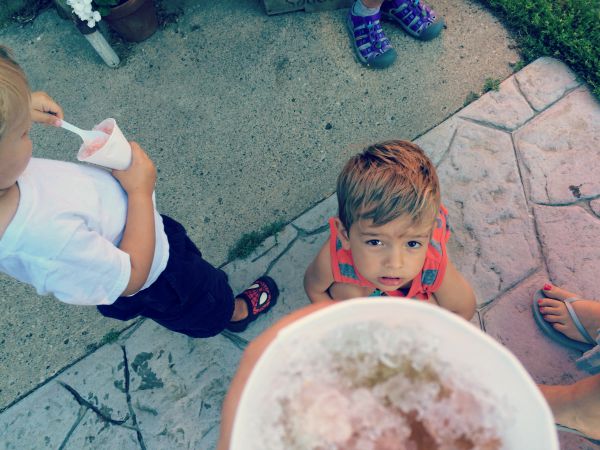 Once you get to the front of the line, you order your pizza, pay in cash and they give you a number. The green picture board displays the current pizza number so you can see how much time you have until your pizza is ready. Once you have your pizza ordered you can get go to your picnic space, enjoy some appetizers, drinks and conversation.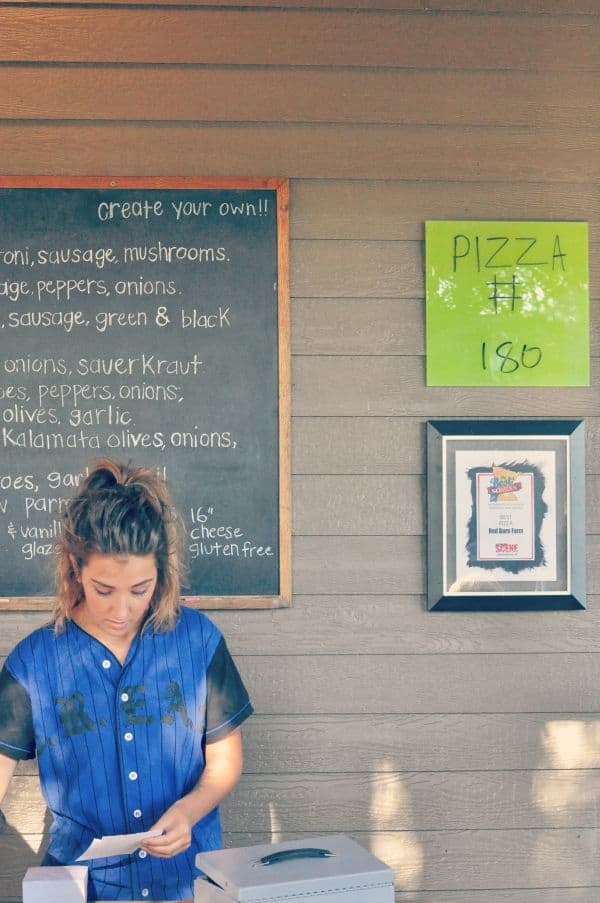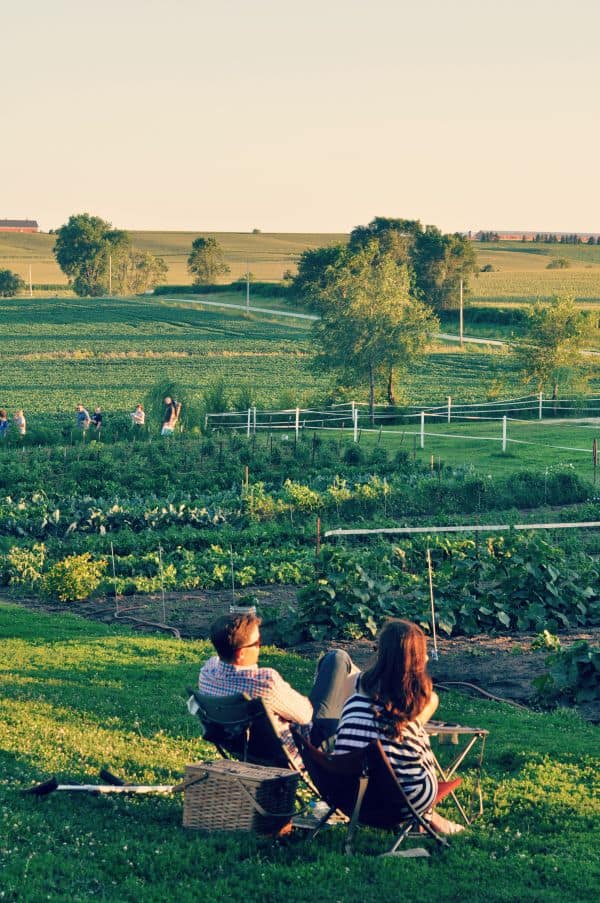 And if you have kids, it's a perfect time to let them run around and enjoy the big space and soak in the gorgeous Minnesota summer night.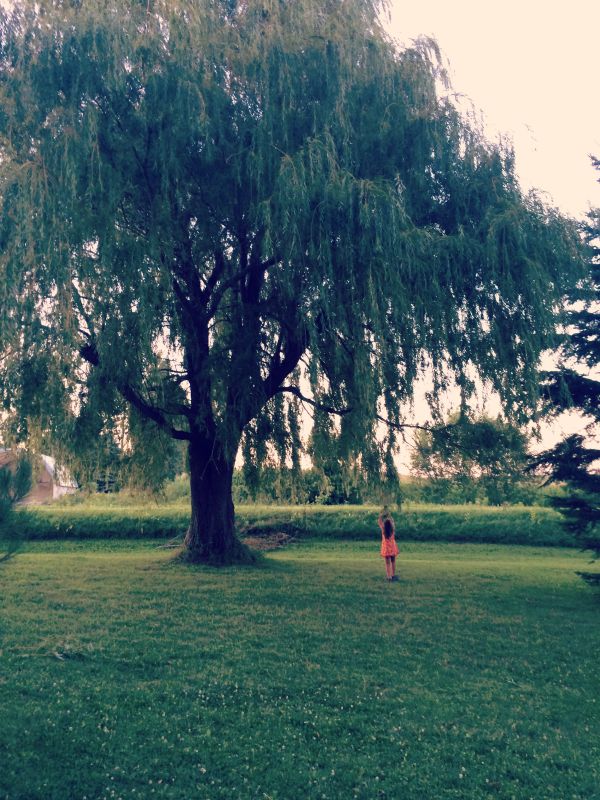 Once your number is up it's time to pick up your wood fire pizza. They slice and box it up and you are ready to head back to your picnic.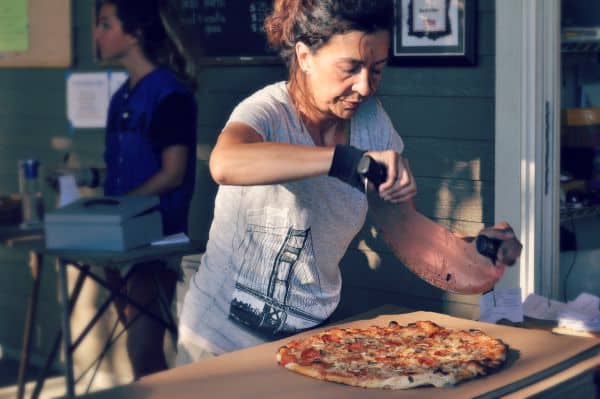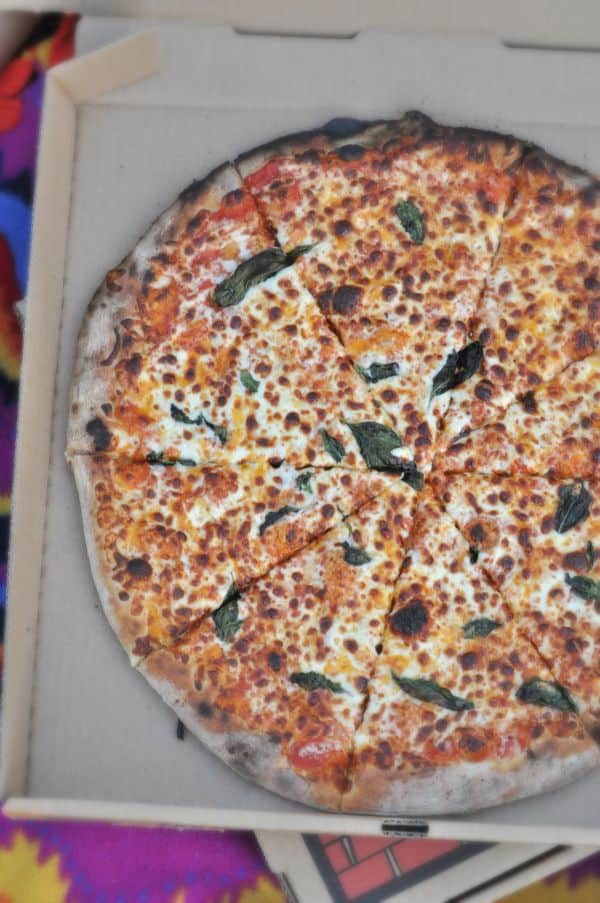 Red Barn Pizza Farm in Minnesota Tips
We went without much preparation but here's what I think you need to know about visiting:
First, if you don't like to wait in lines and take it slow and easy, stay home. Seriously. This adventure will involve driving time, waiting upwards of an hour in line to order your pizza and then upwards of another hour before you get your pizza. We love going to places like Sea Salt in the Twin Cities and have figured out the best way to manage long lines, even with kids. We usually divide and conquer, one person takes the kids and the other does line time with a beer.
You still here? Okay, the next super important thing is bringing appetizers, delicious drinks and dessert. If you read the note above you know that you will have at least two hours of time to relax and enjoy your favorite cheeses and craft beer. If you are going in a group, make it an appetizer potluck.
Kids inflexible? Maybe not the best option for you or maybe make it a date night or adult get together. If your kids are okay in the car for an hour there and back, plus two hours running around a farm, snacking on appetizers, pizza and falling asleep on the way home in the car (bring their jammies to change into), then yes, this is for you. If kids are coming with, then bring them snacks, drinks and anything you want to keep them happy. There are several signs about watching your kids, so while the Red Barn may love having your family visit, they don't want to watch your kids.
This is a cash only operation. No cash? No pizza. Or chips and salsa, snow cones, popcorn or treats. Check their web page for pizza pricing and so plan accordingly. We bought two pizzas for our family but could have been just fine with one pizza with all snacking we did. But it was nice to have some really great pizza leftovers. My favorite was the cheese with basil. I loved their pizza and really appreciate that their dough is homemade and the toppings come from their gardens. They also offer a special pizza of the night and have a dessert pizza. Connect with the Red Barn on Facebook for more information on specials.
Bring plates, silverware and cups. Also important, trash and recycling bags because you are responsible for bringing your trash home including pizza boxes.
Bring something to sit on, chair or picnic blanket. If you like you may also bring a portable table to set up your food and drinks.
Check their page for hours depending on the season (closes earlier in the fall). If you can, head out early so you can get there when it opens and you'll have a longer time to enjoy the farm and relax. There are pizza nights on Wednesdays and certain Sunday afternoons.
Sitting there on the grass made me think that this is what Minnesota summers are all about. Relaxing, enjoying beautiful weather, hanging out with friends and family. Put this on your summer bucket list and get it checked off this year. Did you visit the Red Barn Pizza Farm in Minnesota? Tell me what you thought!
Red Barn Pizza Farm in Minnesota
10063 110th Street E Northfield MN 55057
1.507.664.0304