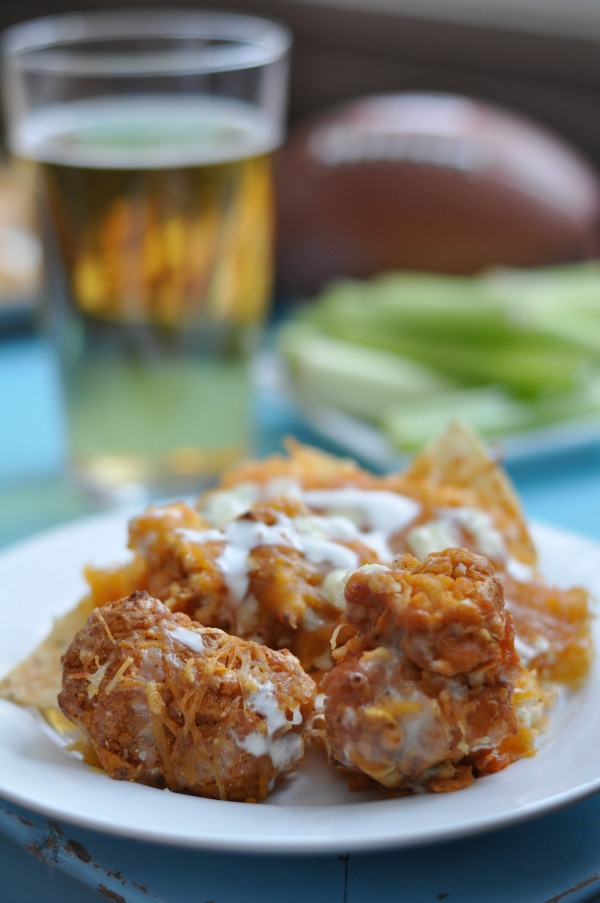 Game day nachos topped with saucy buffalo popcorn chicken, bacon and four cheeses to make unbeatable Buffalo Chicken Nachos.
The other day went something like this:
Hubs: "Babe, are you going to make some really good appetizers for this weekend?!?"
Me: "Sure, I like appetizers."
Hubs: "You know there's a really big game this weekend, right?"
Me: "Mmmm No. But I'll make you Buffalo Chicken Nachos."
#redemption
Whoops. Yeah I'm not a follower of big games, well any games.  Will should know better.  When we go to sporting events I'm most concerned about the food.  I will spend my time at stadiums doing laps like a fitness walker. Walking, eating and negating calorie loss with calorie consumption. Eating makes a girl thirsty so I find craft beer too. I'm really just trying to find the best for my husband, trying it all out so I can recommend the best food and beer options. Yes, that's it.  I want him to have the very best and I'm willing to try every piece of fried cheese, bacon-topped burger and cheesy nacho until I find the best stadium food. It's all about him. On our honeymoon we went to AT&T Park in San Fransisco and I walked during most of the game trying different foods (finding the best for him) and loving up my Anchor Steam beer.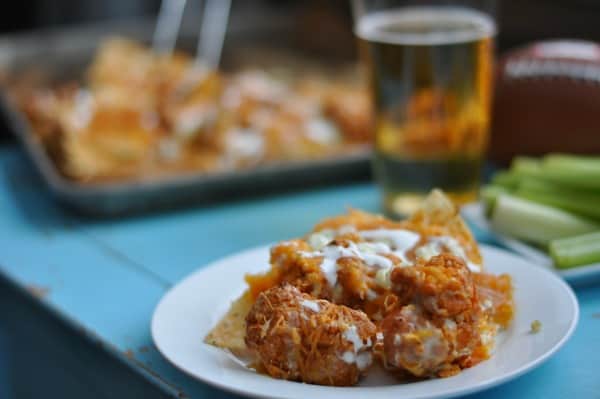 Speaking of love. My husband is in love with nachos. And especially Buffalo Chicken Nachos. Oh you know that kind of love-that Tim the Tool Man Taylor from Home Improvement grunt love.
It's barbaric.
I love it.
I'd say leaving a plate of these Buffalo Chicken Nachos in the living room and going back to the kitchen and hearing the tool man grunt is one of my favorite things.
Oh I don't leave all the nachos in the living room, I have a stash in the kitchen for me.
These are so easy, just Market Pantry Popcorn Chicken tossed with the best wing sauce around, Frank's Red Hot. Seriously friends, it's my jam. Well, not really jam, but sauce. You get it. And you should get it. This is the sauce to use.
Oh yeah and there's bacon. Seriously, you know me. I'd feel like a horrible person if I gave you nachos without bacon. I mean come on. Everyone knows that bacon makes everything better. And there's four kinds of cheese-cream cheese, shredded cheese,  crumbled blue cheese and Crema Mexicana.
Grunt.

Buffalo Chicken Nachos
Ingredients
1 bag Tortilla Chips (13 ounces)
8 ounces Cream Cheese
⅔ cup Frank's Red Hot Wing Sauce
3 ounces Cooked Bacon
1 bag Frozen Market Pantry Popcorn Chicken (25 ounces)
4 cups Shredded Mexican Blend Cheese
4 ounces Crumbled Blue Cheese
1 cup Crema Mexicana
Instructions
Preheat oven to 425.
Line a jelly roll pan with parchment paper and fill with tortilla chips.
In a microwave-safe bowl, combine cream cheese, wing sauce and bacon pieces.Cook 2 minutes, stir and then return to microwave for 2 additional minutes. Toss with chicken.
Spread chicken mixture, shredded cheese and blue cheese over chips.
Bake for 15-20 minutes. Until cheese is melted and chicken is cooked.
Drizzle Crema Mexicana over nachos before serving.