Hawaiian SPAM Skillet Dinner is an easy weeknight meal made with seasoned Pineapple and Mango.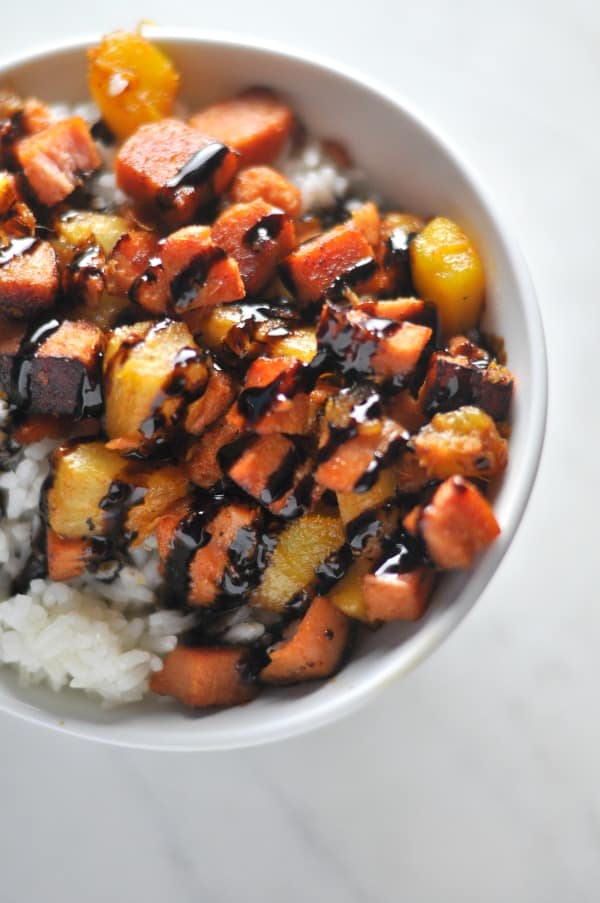 Today I'm sharing my Hawaiian SPAM Skillet Dinner, a super easy, weeknight meal that combines SPAM, Pineapple and Mango with a savory seasoning, cooked right in a skillet. Preparation and cook time all under 15 minutes. Also, I'm sharing some super exciting news about a trip I'm taking! Keep reading to find out the awesome news!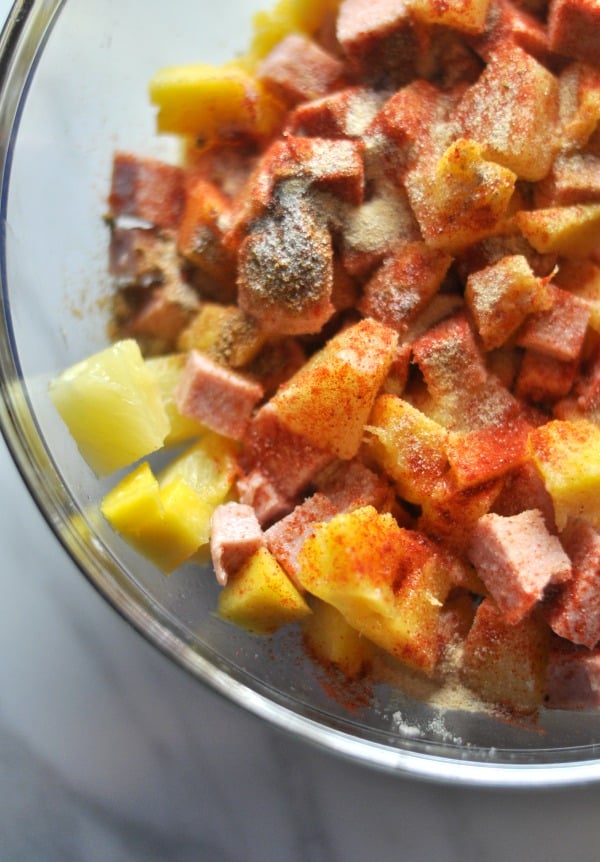 For the recipe, I'm using SPAM with Bacon and I just cubed it up and combine it with pineapple, mango and my favorite savory spices. Once combined, I just get all that goodness cooking in a skillet. Five minutes on one side and three on the next and you have dinner ready. I serve this over rice, veggies or even on soft taco shells. And I love giving it a little balsamic glaze drizzle too.
Okay, I need to tell you something. Something crazy.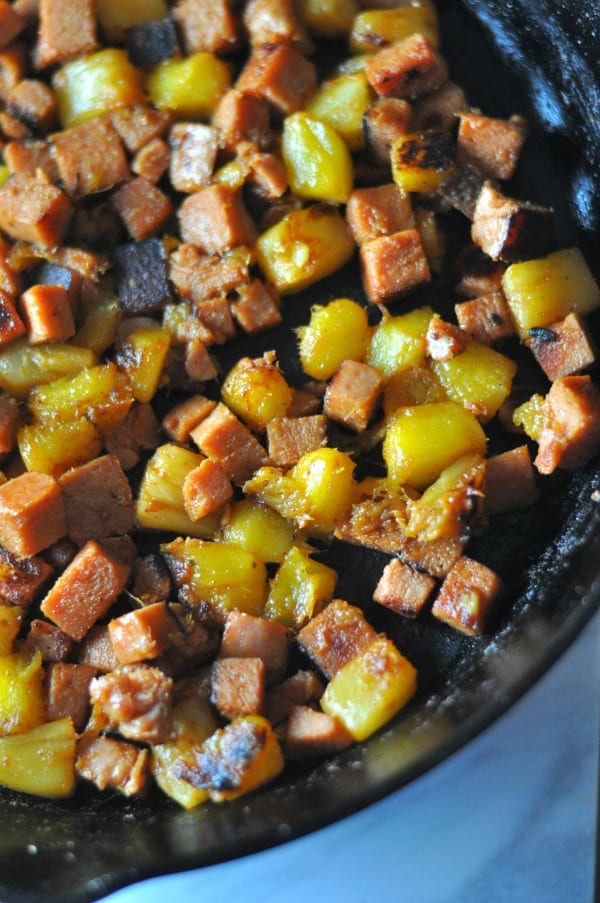 A couple weeks ago I got a call asking me if I wanted to attend the 14th annual SPAM Jam Festival.
Other person: Alice, we want to invite you to attend the SPAM Jam Festival.
Me on phone: Silence.
Other person: Alice? Do you know where the SPAM Jam Festival is? It is in Waikiki Beach, Hawaii!!
Me on the phone: Um, yes. More Silence. Alice proceeds to fall over from shock.
And the truth is, I did know. I've been entering the Minnesota State Fair SPAM competition since I started entering the State Fair food competitions. I think going on almost ten years now.
With the support of my boss, grandma babysitter lined up, and an empty tummy, I am on my way right now to Waikiki Beach. Hawaii.
Friends, I need to pause for a moment here.
Pinch me. Hit me over the head with a pineapple. Wait, no don't hit me with a pineapple. Use the pineapple to make this recipe.
Seriously, this is really happening. I'm going to Hawaii for the Waikiki SPAM Jam festival.
The Waikiki SPAM Jam festival will feature sample SPAM dishes prepared by some of Hawaii's favorite local restaurants, there will be live music and I get to try the 2015 national grand prize winning recipe made by a Wisconsin mom.
I am the only Minnesota food blogger and one of only two continental U.S. bloggers selected to attend the event.
Where's that pineapple?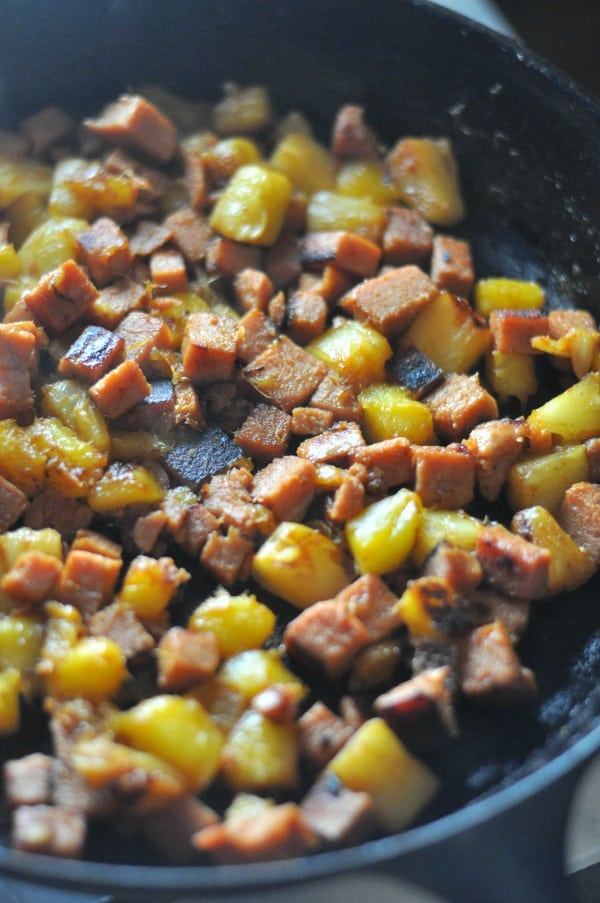 I'm so darn excited, you guys.
It is a blessing that I get the opportunity to share my love of comfort food and motherhood experiences with you. During my trip and during the Waikiki SPAM Jam I'll be sharing all my experiences via social media. And after I return, I'll be back here on the blog telling you all about it.
Thank you for reading.
Thank you for cooking the recipes I put here.
Thank you so very much for your support and always cheering me on.
Mahalo.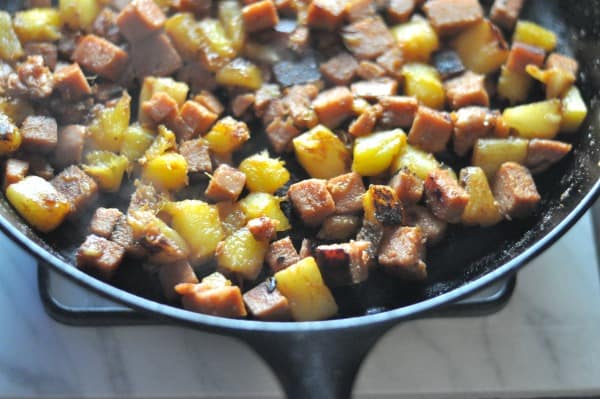 See all my fun food and sun adventures in Hawaii by following me on Twitter and Instagram!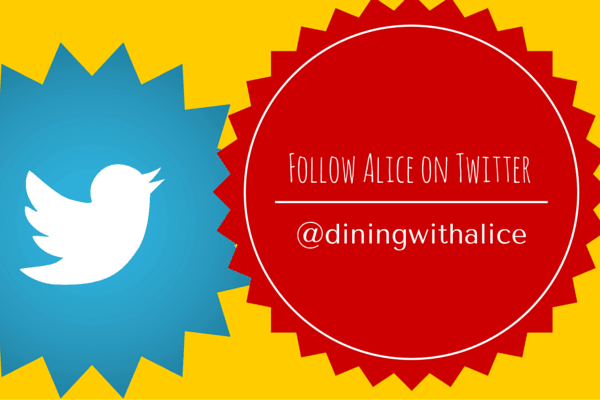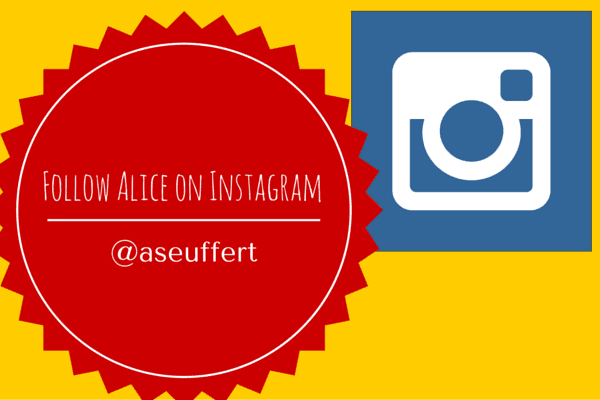 If you love SPAM, try my SPAM and Tater Tot Egg Bake available only in my Freezer Meals for Moms ebook!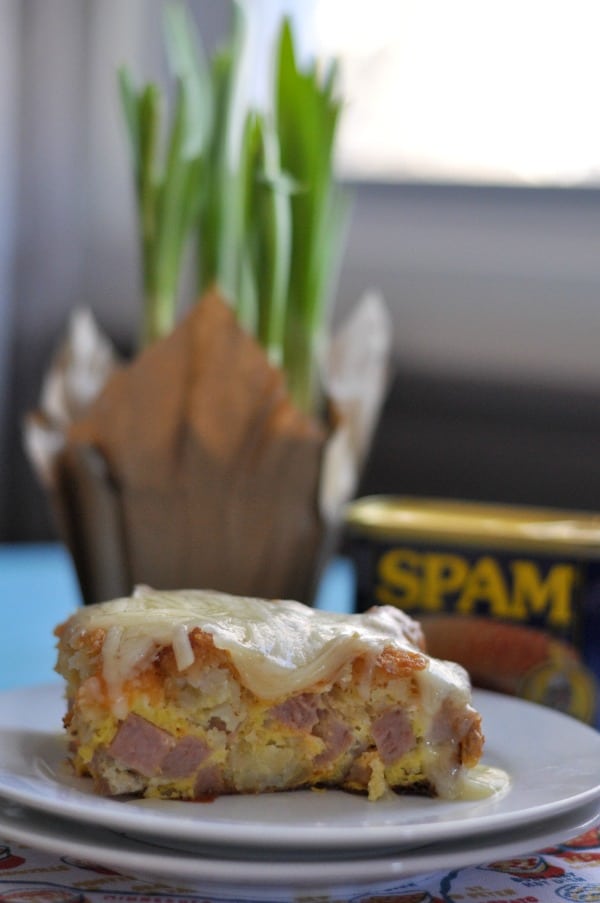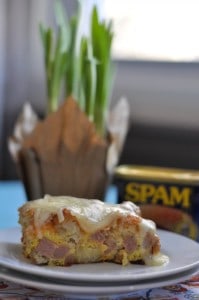 Hawaiian SPAM Skillet Dinner
Ingredients
12 ounce can SPAM with Bacon
1 cup Pineapple (chopped)
1 cup Mango (chopped)
½ tsp Ground Cumin
½ tsp Smoked Paprika
½ tsp Salt
½ tsp Garlic Powder
Garnish: Balsamic Glaze
Instructions
Chop SPAM into small cubes. In a large bowl, combine chopped SPAM with chopped pineapple and mango. Add cumin, paprika, salt and garlic powder. Stir to combine.
Heat a cast iron skillet over medium-high heat and add SPAM and fruit mixture. Let cook for five minutes and when nicely browned, start turning mixture. Cook an additional three minutes.
Serve over rice and drizzle with Balsamic Glaze.
Disclosure: 
I received a compensated trip to the
Waikiki SPAM JAM®
from the Blue Ribbon Group and event sponsors including flight accommodations from Alaska Airlines and lodging from the Outrigger Waikiki Beach Resort.
Thank you for supporting the organizations, companies, people and events that I choose to work with, sponsored content grows my blog and supports my family. As always, the content and opinions are my own.