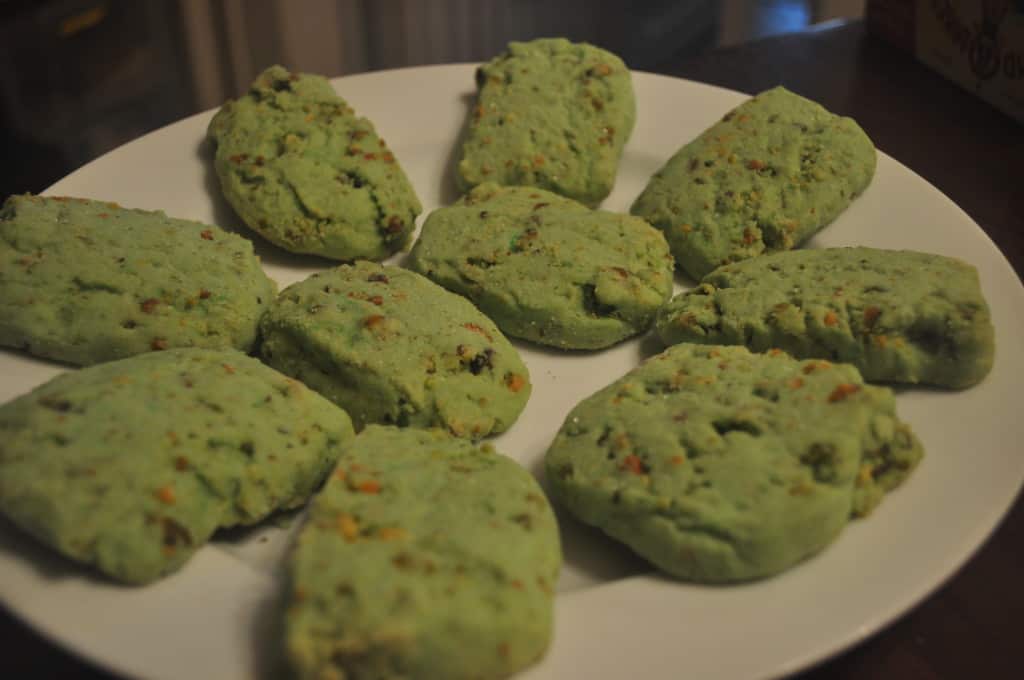 It's not easy being green.  Emerald green and often misunderstood.  Sound like someone?  This fall I took my mom to Wicked.  Going into the theater I didn't know much about the story.  But there I sat the whole time, on the edge of my seat, loving the story of the Witches of Oz.  My favorite of course was Elphaba, the Wicked Witch of the West.
Every year I am honored when Twin Cities Live asks me to be in their 12 Days of Cookies sponsored by Land O'Lakes.  This year they had a special request, would I be in it and make a cookie to celebrate the Ordway's production of the Wizard of Oz?!  So of course I picked a cookie to celebrate the Wicked Witch of the West.  This cookie is salty, a little bit nutty and spicy-just like Elphaba.  It is a lovely shortbread cookie that will compliment any holiday cookie tray-the emerald green color makes it stand out amongst all the other cookies.  It is also a great make ahead cookie-you can make the dough weeks in advance and then defrost, slice and bake.  It may not be easy being green, but it sure is fun! Enjoy!
Click here to watch the Twin Cities Live segment on December 11, 2013 when I made this recipe!
Ingredients:
2 ½ cups Flour
½ tsp Baking Powder
1 cup Pistachio nuts (finely chopped)
½ tsp Ground Cardamom, plus ½ tsp for dusting
2 sticks Land O'Lakes Butter-salted
½ Cup Sugar, plus 3 TB for dusting
1 tsp Vanilla Bean Paste or Vanilla Extract
1 Egg
15 drops green food coloring
Directions:
Preheat oven to 350.
Mix flour, baking powder, nuts and cardamom together and set aside.
Cream butter, sugar and vanilla. Add egg, 15 drops of green food coloring and mix.  Gradually add in flour mixture and mix until combined.
Form dough into a roll on waxed paper.  Chill for 5 minutes. Slice into 30 pieces.  Sprinkle pieces with 3 TB of sugar mixed with ½ tsp of Cardamom. Bake on a greased cookie sheet.
Bake for 14 minutes.
Makes about 3 dozen