The Twin Cities Best Picnic Spots for enjoying a meal and having a good time with your family! Here are my favorite spots and some from my readers!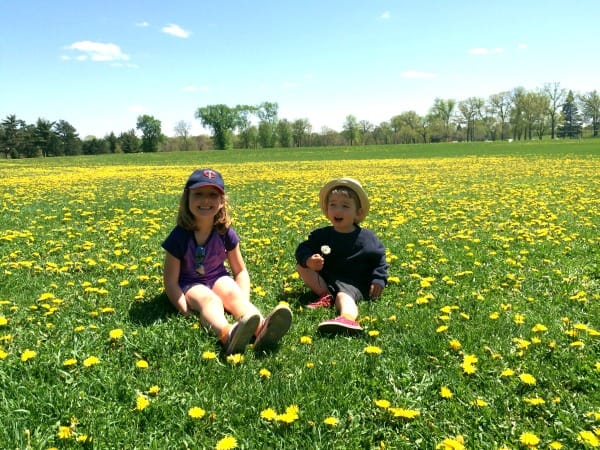 Como Regional Parks is one of my Twin Cities Best Picnic Spots because of the access to the Como Park Zoo & Conservatory, Como Regional Pool and Como Lake. We love packing sandwiches and just relaxing on the fields when there aren't any games. There are several picnic areas in the park, some covered. We went recently and the kids spent an hour picking dandelions in the field and just exploring the area. In one of the picnic areas there is a park and we like taking a spin on the carousel. We love the pool nearby and parking can get really busy especially on the weekends, so make it a day trip. Go see the zoo, maybe take the zip line into the pool or even a walk around the lake (and check out the new Como Dockside for a cocktail).
No time to pack a picnic?
Pick up sandwiches here in St. Paul: Acme Deli or Nelson Cheese & Deli.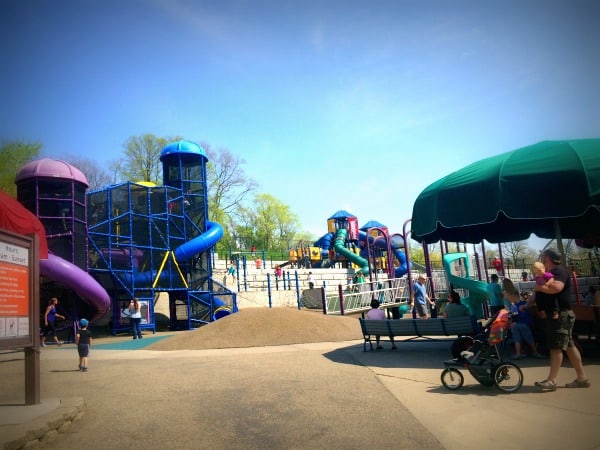 2. Three Rivers Park District: Hyland Play Area
The Three Rivers Park District continues to amaze me. Each time I go visit a new place within this park system I am so thankful for the great parks and outdoor fun we have in Minnesota. The Hyland Play Area (also called Chutes and Ladders) is located in Bloomington and is a great place to bring a picnic and let your kids have a blast and check out the huge playground. There are picnic tables near the park and there are so many great patches of grass to throw a blanket down. Put the kids in their swimsuits because there are sprayers. Also not to miss in the Three Rivers Park District this summer? The Gale Woods Farm and the Lake Minnetonka Swimming Pond!
Learn more about the Hyland Play Area from Nicki at Minnemama Adventures.
Looking for a fun and easy appetizer dip to bring? Bring my Ham and Pickle Dip
Or ready for dessert? How about my No Bake Banana Cream Pie!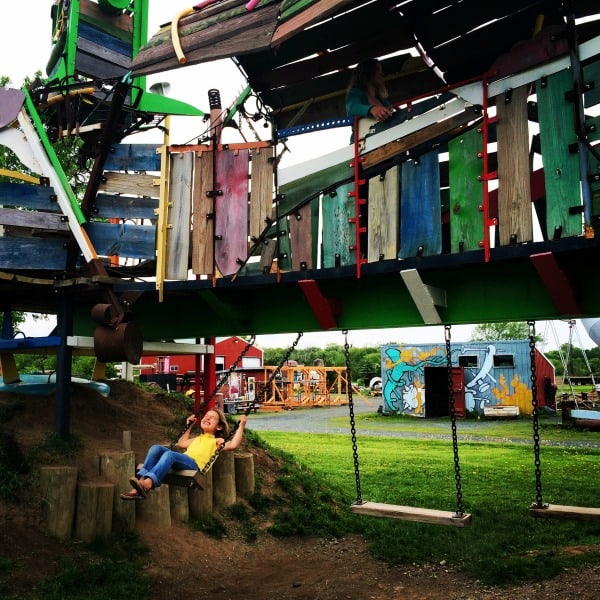 Just outside the Twin Cities, the Franconia Sculpture Park is one of the Twin Cities Best Picnic Spots because of the fun and family oriented atmosphere to enjoy art and be outside. The outdoor sculpture park is set up so that visitors are welcome to walk around and enjoy the art, even play on some. Our kids loved the playground pieces and they even sell freeze pops to enjoy while you walk. Pack a picnic, make it a day trip and settle down at one of their tables or spread out a blanket on the grass. For more about the park, visit Nellie Bellie's post.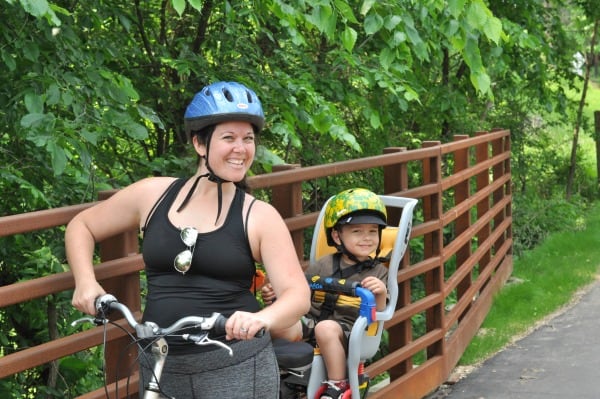 4. Stillwater
Downtown Stillwater is one of our favorite cities to visit with our family. There are so many fun things to check out: the waterfront, Teddy Bear Park, Nelson's Ice Cream and even breweries like Lift Bridge and Maple Island. A great place to picnic is right on the grass near the waterfront. On a recent visit, we parked downtown and brought our bikes (with bike seat and ride-along bike for the kids). We picked up the Brown's Creek Trail and rode about three miles until we got out at a park and had a picnic. After lunch we took the trail three more miles and turned around and did the six miles back into Stillwater. It was a beautiful and well-cared for trail. We made stops along the way to check out the creek and it was very family friendly.
Pack my Poppy Chicken Salad and make sandwiches for your picnic!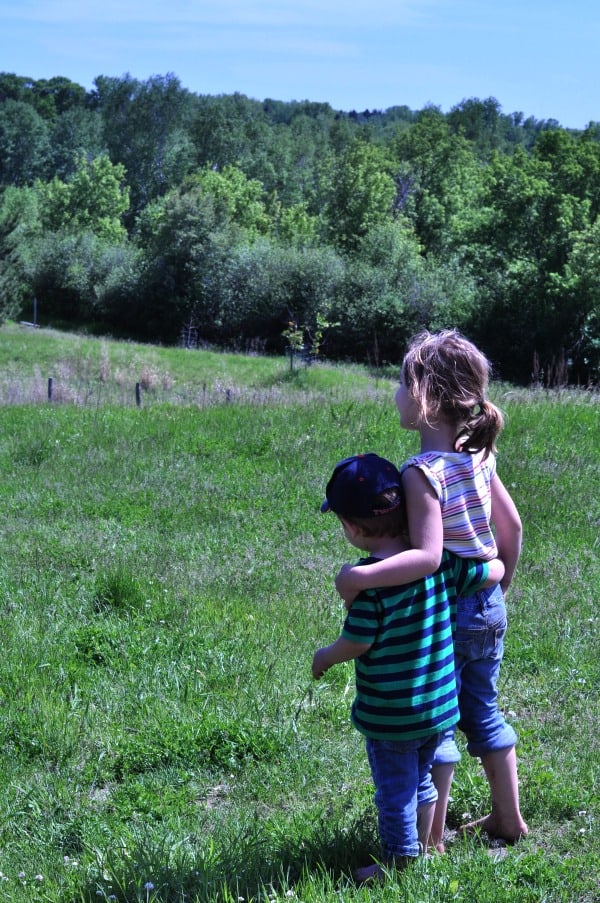 If you'd love to take advantage of being outdoors in the summer, Tamarack Nature Park is a great place to pack a picnic and let your family explore the outdoors. The kids had a great time constructing houses made of large sticks, digging in the sand and water, climbing the rock wall and running in the open field. There is a large patch of grass near the entrance and it is a perfect place to throw a blanket and enjoy a meal together in the shade. Be sure to check out the inside of the building too. There are animal pelts, bones and teeth and some live animals. There are also bathrooms inside.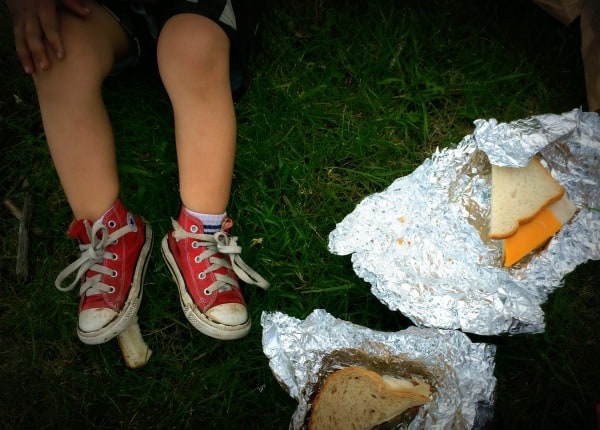 I asked my readers about their Twin Cities Best Picnic Spots and here are some of their favorite spots:
Where is your favorite place to picnic? I'll be checking out places this summer and adding them to the list. So share your favorite, I may check it out!
And my favorite place that so many people said, their own backyard! Enjoy your picnics!