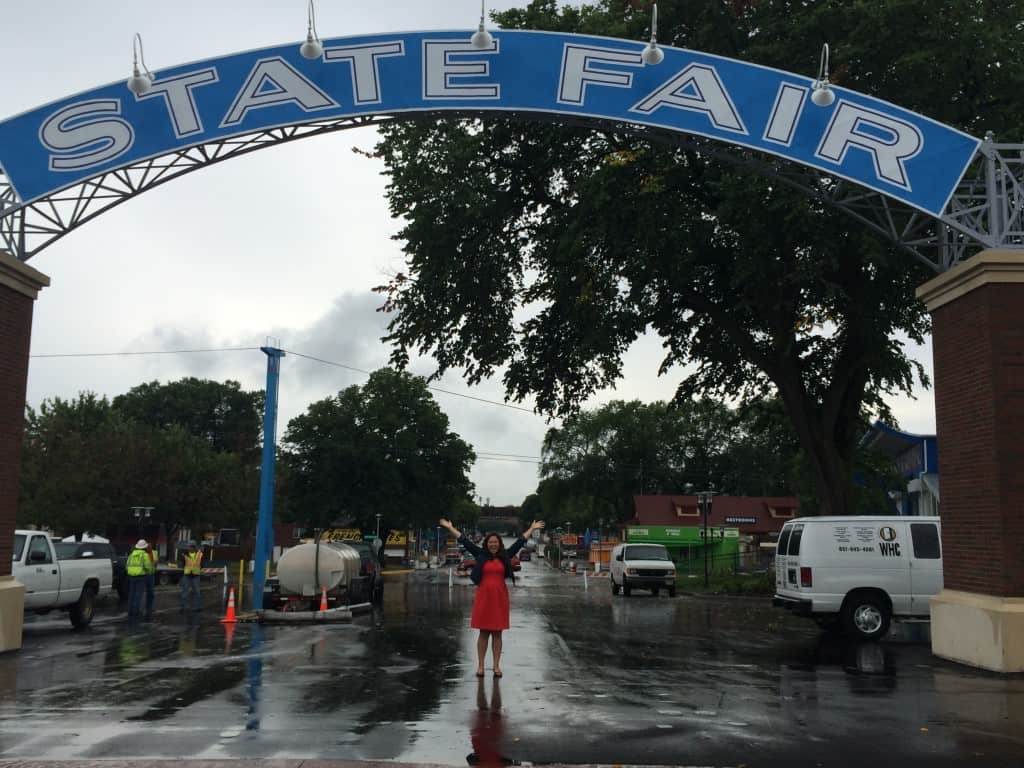 Friends, check this out, I was at the 2014 Minnesota State Fair before it even opened! I feel like such a lucky girl-not only did I get to check out some of the new exhibits, I got to sample some of the new 2014 State Fair Foods. I know you share in my passion and love for the Fair, I posted a picture of the foods I sampled and you went wild.  So here for you is a sneak peek at some of the new foods you'll find at the fair this year and my review.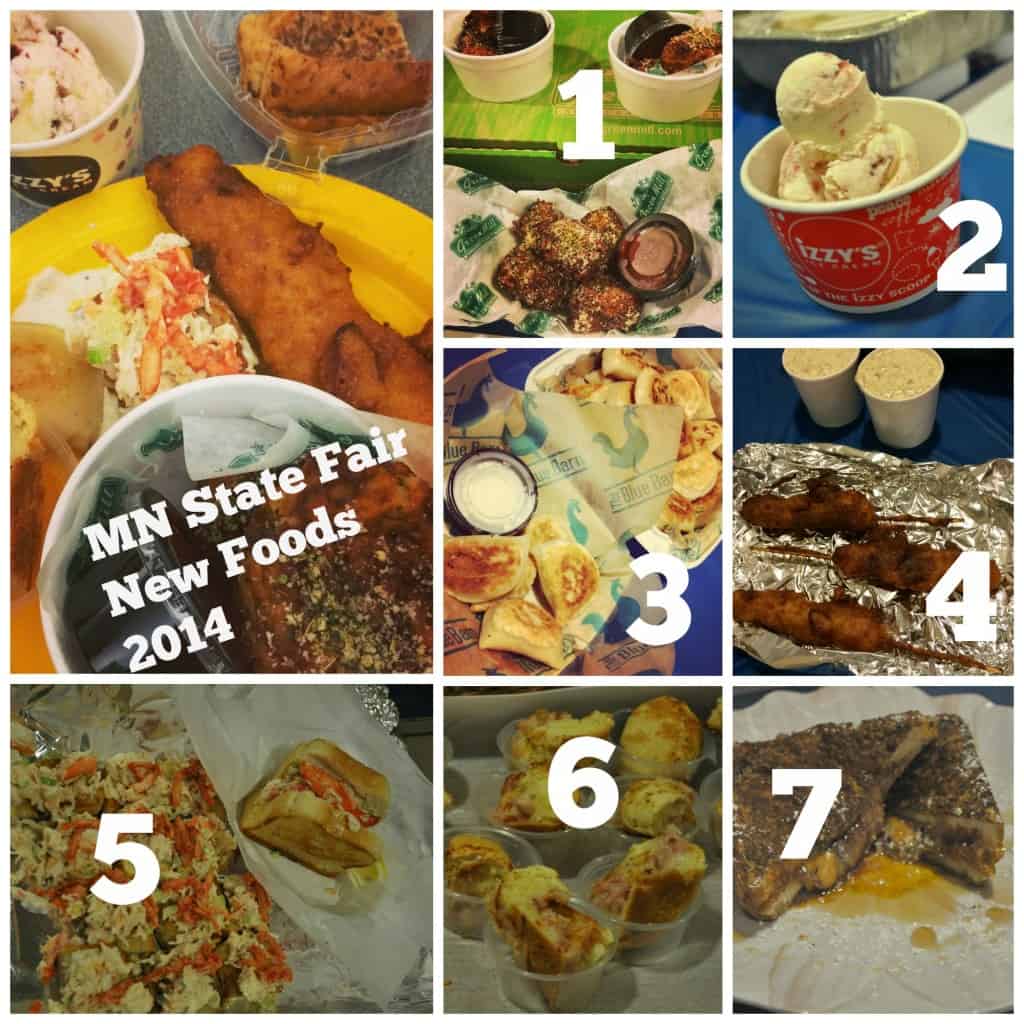 1.
Food: Pizza Tots
What is it: These handmade pizza tots combine sausage, pepperoni, mozzarella, seasonings and hash browns, and they are then dusted with Parmesan cheese and served with a side of pizza sauce.
Where to get it: Green Mill (West of the Family Fair Stage in Baldwin Park)
What I love: I remember drooling over these when the new fair food list was released.  Tater tots are on my favorite comfort foods list and oooh these are good, I even snuck some back to the office for my boss to try. A perfect blend of meaty pizza goodness and the comfort of buttery crisp tater tots. Green Mill, will you please put these on your regular menu?!?
2.
Food: Jello Salad Ice Cream
What is it: Inspired by the classic Minnesota potluck dessert (and served in church dining halls everywhere), this jello salad treat features a sweet cream base flavored with fresh lime juice, swirled with cranberry sauce and blended with marshmallows dipped in marshmallow crème.
Where to get it: Hamline Church Dining Hall (on Dan Patch Ave. near the Visitors Plaza)
What I love: This is the most "Minnesotan" food on the new foods list and do I love it? You betcha. Just like the Jello "salad" this ice cream offers a sweet creamy goodness complete with pops of mini marshmallows. Don't just stop for dessert, the Hamline Church serves up some awesome meals, we love taking our family here for a moment of zen amid the chaos.
3.
Food: Iron Range Pierogies
What is it: An authentic Polish favorite, these deep-fried dumplings are stuffed with potatoes and cheddar cheese, topped with crispy onion strings and served with a zingy horsey sauce.
Where to get it: The Blue Barn (at the new West End Market)
What I love: Deep-fried dumplings-you had me at deep-fried. Well actually you had me at horsey sauce. I love these and plan to double-fist with the Blue Cheese and Corn Fritz-also being served at the Blue Barn this year.
4.
Food:Deep-Fried Lobster On-A-Stick
What is it:Canadian lobster pieces poached in butter, dipped in a corn batter, deep-fried and served with a spiced dipping sauce.
Where to get it: LuLu's Public House
What I love: I've been made fun of by my in-laws far too many times about the way I crack my lobster. No more ridicule for this lobster-loving Minnesota girl! Fear not poor lobster crackers! No need to crack or peel, here we have a delicious juicy lobster tucked in a blanket of deep-fried goodness. If you are looking for me during the fair, you will find me on the deck of LuLu's Public House eating this lobster and drinking a beer slushy-yes you read that right, start packing your state fair bags now!
5.
Food: Caribbean-Style Lobster Roll
What is it: Chilled lobster salad tossed in a citrus chipotle mayo seasoned with Caribbean flavors — including cayenne pepper, allspice and nutmeg — served on a soft buttered and grilled roll.
Where to get it: Cafe Caribe (on Carnes Ave. near Chambers St.)
What I love: Being married to a New Englander, I have been educated in the proper consistency of a lobsta roll. You have to have the right amount of the mayo and the bread toasting is key. Minnesotans get your mouths ready, this is it-this is what a lobsta roll should be.
6.
Food: Rustic Stuffed Scone
What is it: A savory, Parmesan-crusted, baked butter scone stuffed with all natural ham, Swiss, mozzarella and Parmesan cheeses, and a creamy house-made béchamel sauce.
Where to get it: French Meadow Bakery (on Carnes Avenue between Underwood St. and Nelson St.)
What I love: A buttery baked good stuffed with ham, cheese and béchamel sauce, yes please. Don't just eat this for breakfast, you need this for brinner. Also, I learned they have a machine that is made for stuffing scones, that is amazing and I want to borrow it.
7.
Food: PB & J French Toast
What is it:The ever-popular peanut butter & jelly sandwich is fused with French toast, then sprinkled with powdered sugar and served with your choice of ham, bacon or sausage.
Where to get it: Robbinsdale OES Dining Hall (on Underwood St. next to FAN Central)
What I love: A simple kid's sandwich gets a serious makeover here, folks.  This gooey sandwich was delicious and this isn't just for the kids, adults make this a must-stop on your fair list. P.S. It comes with bacon, I think I might just peel open the sandwich and pop that inside!
I know this has you super pumped for the Fair, right? Ok, well hold onto your cowboy boots-I have an amazing giveaway for you! I'm giving one reader 2 tickets to the Tim McGraw Grandstand Concert (August 27, 2014) and 2 Minnesota State Fair Admission tickets. Follow the Rafflecopter directions and for a comment entry, tell me your about your favorite concert or a concert you saw at the Minnesota State Fair!
The Minnesota State Fair provided this giveaway. Thank you!
A big thank you to Chris Noonan and the Minnesota State Fair for the opportunity to try the new foods and check out the State Fair before it opened.  I attended the sneak peek with an amazing group talented Minnesota women who love blogging and the Minnesota State Fair. Check out their blogs and support these awesome Minnesota Mamas: